By Beth Deitchman
He's won Tony® Awards, Grammy® Awards, and even a Pulitzer Prize. He's a star of stage and screen, and now Lin-Manuel Miranda adds another feather to his cap. On May 11, fans will hear the multi-award-winning actor, playwright, composer—and lifelong DuckTales aficionado—in the role of Gizmoduck in a brand-new episode of the animated series, premiering at 8 p.m. EDT/PDT on Disney Channel and DisneyNOW.
As reimagined by executive producer Matt Youngberg and co-producer and story editor Francisco Angones, Gizmoduck (aka Fenton Crackshell-Cabrera) is Duckburg's preeminent hero. In our introduction to the character, who has Latin roots, the brilliant young scientist Fenton is recruited by Launchpad who is feeling menaced by tech genius Mark Beaks' newest invention. "I'm really excited that a new generation of kids will be growing up with DuckTales," Miranda said. "As a huge fan of the original series, I love that I can share this new version with my sons."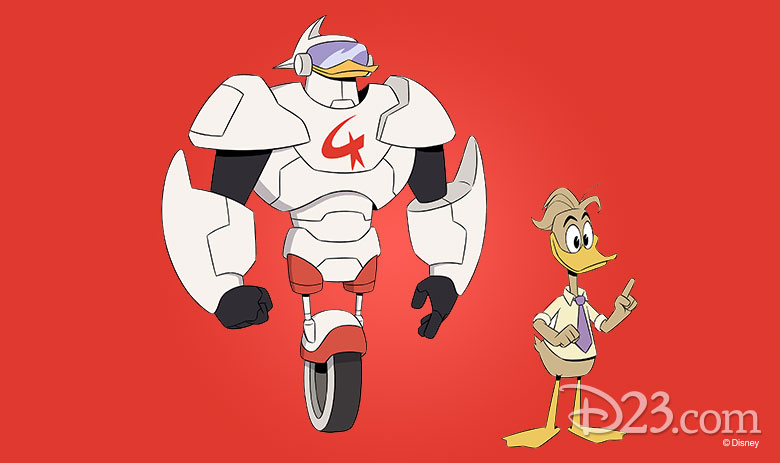 You'll be able to grab on to some DuckTales action throughout the month of May. Beginning May 1, the Emmy®-nominated series will air daily on Disney Channel. New episodes will debut every Friday in May, and fans can look forward to new tales of derring-do throughout the summer across Disney Channel, DisneyNOW, and Disney Channel YouTube.
May 1 also marks the day that DisneyNOW debuts "DuckTales Treasure Hunt LIVE!"—an interactive experience on-air and in the DisneyNOW app. The hunt begins on DisneyNOW, where visitors may select a team based on a DuckTales character—Team Huey, led by Isaak Presley (Stuck in the Middle); Team Dewey, led by Sofia Wylie (Andi Mack); Team Louie, led by Isaac Ryan Brown (Raven's Home); and Team Webby, led by Ariana Greenblatt (Stuck in the Middle). Watch the daily episodes of DuckTales (8 p.m. EDT/PDT) to discover secret treasures that can then be found in DisneyNOW to earn points for the team. Every Friday in May, Disney Channel will give a quack-out to the team with the most points, leading up to a big finish on May 25, when the winning team is announced on-air by the Team Captain (and will receive an exclusive in-app surprise).
Guests can also search for some of the same treasures at Disney's Animal Kingdom at Donald's Dino-Bash! at DinoLand U.S.A.—where you'll also be able to meet a couple of V.I.D.s (very important ducks), Launchpad McQuack and Scrooge McDuck.
A duck-blur of activities are planned for Disney Channel's inaugural "Duck Week," which kicks off on Sunday, May 6. In addition to the premiere of Miranda's debut episode, "Beware the B.U.D.D.Y. System!" on May 11, look for a DuckTales product line at Disney store and shopDisney.com, Augmented Reality-branded experience for kids, and a special Snapchat lens allowing fans to jump into a virtual Money Bin with DuckTales characters, all in collaboration with Unity Technologies; a PSA celebrating diverse families as part of Disney|ABC Television's annual Foster Care Awareness campaign with FosterMore; new shorts featuring Webby and interstitials featuring baby ducks in reimagined scenes from favorite Disney Channel shows including "Andi Quack," "Raven's Pond," and "Duck in the Middle."
But that's just the beginning. Still to come this summer are books from Disney Press including DuckTales: Solving Mysteries and Rewriting History!; comic books and graphic novels from IDW Publishing; and a brand-new toy line from PhatMojo, including action figures, plush, and collectibles exclusively at Target. And, for the first-time ever, on June 5 Disney Studios will release DuckTales: Destination Adventure!, an episode compilation DVD with two bonus classic DuckTales episodes.