By Courtney Potter
Take in a preview of Disney Cruise Line's next ship, and find out when you can bring home the music from Frozen 2… Read more, along with other news from around Disney, in this week's news briefs!
Take a Wish-ful Peek at the Next Disney Cruise Line Ship
If you attended the incredible "Sneak Peek! Disney Parks, Experiences and Products" panel inside Hall D23 at the recent D23 Expo—or you read about it right here at D23.com—you know there was a veritable cornucopia of amazing announcements… one of which, as fans of Disney Cruise Line (DCL), made us ridiculously excited! Of the three new ships coming to the DCL fleet, one's official name was announced to the enraptured crowd by Disney Parks, Experiences and Products Chairman Bob Chapek—the Disney Wish. And just this week, thanks to our pals at the Disney Parks Blog, we were treated to a special look at the new ship; check out the clip, above.
The Disney Wish is scheduled for delivery in late 2021, and is expected to set sail in January 2022; guests will be welcomed by an airy and elegant three-story grand atrium that evokes the beauty of an enchanted fairy tale. Like her two new brethren, the Disney Wish will be powered by liquefied natural gas—and at approximately 144,000 gross tons (and featuring 1,250 guest staterooms), they'll all be slightly larger than the Disney Dream and the Disney Fantasy. Plus, you may have spotted the iconic character who'll be adorning the Disney Wish's stern: none other than Rapunzel from Tangled!
Keep your eyes peeled for more Disney Wish updates as they become available.
Save the Date!
Be sure to mark these upcoming Disney events on your calendar:
D23 and Walt Disney Archives


October 4, 2019


The Muppets Take Manhattan—Exclusive Screening in Manhattan
October 13, 2019
D23 Heads to the Hollow
October 14, 2019
Be Among the First to See Disney's Maleficent: Mistress of Evil!


October 21, 2019


The Official Walt Disney Studios Tour—Presented by D23
October 21, 2019
D23's Sip & Stroll at Epcot


October 29, 2019


D23's Mostly Ghostly Halloween on The Walt Disney Studios Lot


November 14, 2019


D23's Behind-the-Scenes Experiences: A Day at the Studio Lot


January 17, 2020


Get VIP Tickets to Disney's Frozen The Hit Broadway Musical


January 31, 2020


Disney's Aladdin the Hit Broadway Musical VIP Tickets


August 9, 2020


Adventures by Disney Rhine River Cruise Presented by D23
Parks
August 16, 20, 23, 27, 30;
September 2, 6, 8, 10, 13, 15, 17, 20, 22, 24, 27, 29; October 1, 3, 4, 6, 8, 10, 11, 14, 15, 17, 18, 20, 21, 24, 25, 27, 29, 31;
November 1, 2019


Mickey's Not-So-Scary Halloween Party at Magic Kingdom park


August 29—November 23, 2019
2019 Epcot International Food & Wine Festival
September 17, 19, 22, 24, 26, 29, 2019;
October 1, 3, 6, 8, 10, 13, 15, 17, 20, 22, 24, 27, 29, 31, 2019


Oogie Boogie Bash – A Disney Halloween Party at Disney California Adventure park


November 8, 11, 12, 14, 15, 17, 19, 21, 22, 24;


December 1, 3, 5, 6, 8, 10, 12, 13, 15, 17, 19, 20, 22, 2019


Mickey's Very Merry Christmas Party at Magic Kingdom park
November 29—December 30, 2019
2019 Epcot International Festival of the Holidays
December 5, 2019
Star Wars: Rise of the Resistance opens at Disney's Hollywood Studios
January 17, 2020
Star Wars: Rise of the Resistance opens at Disneyland park


March 4

—

June 1, 2020
Epcot International Flower & Garden Festival at Walt Disney World Resort



Studios




October 18, 2019


Maleficent: Mistress of Evil opens in U.S. theaters


November 22, 2019


Frozen 2 opens in U.S. theaters


December 20, 2019


Star Wars: The Rise of Skywalker opens in U.S. theaters


March 6, 2020


Onward opens in U.S. theaters


March 27, 2020


Mulan opens in U.S. theaters


May 29, 2020


Artemis Fowl

opens in U.S. theaters




Television


October 1-31, 2019
Freeform's 31 Nights of Halloween
November 5, 2019
ABC airs The Wonderful Word of Disney Presents The Little Mermaid Live! (8—10 p.m. EST)
November 16, 2019
Big City Greens Kicks Off Season Two on Disney Channel (9:30 a.m. EST/PST)
More Frozen 2 News Than You Can Shake a Snowflake At…
The mega-anticipated premiere of Walt Disney Animation Studios' Frozen 2 is just around the corner—and that means it's time to learn about the film's sure-to-be-incredible soundtrack. Seven all-new songs have been penned for the film by Frozen's Oscar®-winning team, Kristen Anderson-Lopez and Bobby Lopez, and you can hear a snippet of one of those new songs—"Into the Unknown," sung by Idina Menzel as Elsa—in the clip above!
Frozen 2's soundtrack, with all those new songs as well as the original score by Grammy® nominee Christophe Beck and end-credit artists Panic! At The Disco, Kacey Musgraves, and Weezer, is set for release from Walt Disney Records on November 15. But you can pre-order on digital now—or even pre-save it on Spotify or pre-add it on Apple Music. (And for all you record-album lovers out there, the film's vinyl soundtrack will be available the same day.)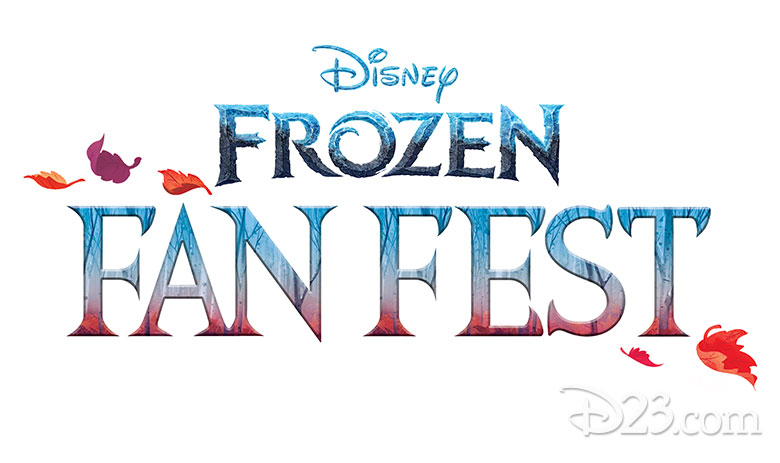 But there's more fun-'n'-frosty Frozen 2 news: Frozen Fan Fast (with its musical moments, in-store events, and so much more) has now begun—and this Friday, October 4, will see all manner of amazing new products debuting worldwide! Everything from clothing and Pandora charms, to toys and home accessories… essentially, it's all you need to complete your holiday shopping a few months early. Plus, if you're lucky enough to be visiting Disneyland or Walt Disney World Resorts this weekend, be on the lookout for more Frozen 2-themed fun, including photo opportunities for guests in Anaheim and special food and beverage offerings in Orlando.
Look for Frozen 2 in theaters beginning November 22!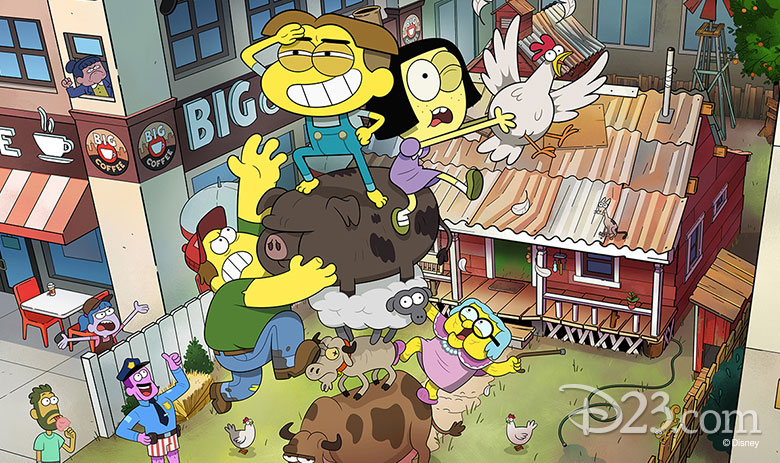 Big City Greens Kicks Off Second Season This November
Ready to reacquaint yourself with Cricket Green and his wacky family? You won't have to wait too much longer, because Disney Channel's hit animated series Big City Greens is returning for its big second season on Saturday, November 16, at 9:30 a.m. EST/PST.
The series will continue to follow all of Cricket's hilarious adventures, now that he and his family—older sister Tilly, father Bill, and Gramma Alice—have moved from the country to the "big city." Guest stars for Season Two include NBA All-Star Karl-Anthony Towns, Alfred Molina (Spider-Man 2), Jonathan Van Ness (Queer Eye), Christopher Lloyd (Back to the Future), Cheri Oteri (Saturday Night Live), YouTube sensation SungWon Cho, and many more. Plus, the second season includes a holiday musical featuring seven original songs—and a video game-themed episode with CG animation.
And here's something else to look forward to: After appearing in an episode of Disney Channel's new animated short-form YouTube series Broken Karaoke, Tilly Green will join brother Cricket in several new Random Rings shorts—in which the siblings calling unsuspecting real-world people (yes, really!); the shorts will continue to roll out every Sunday through October 27 on Disney Channel and Disney Channel YouTube.
Earth's Mightiest Heroes Need Your Help in Avengers: Damage Control
It's time to suit up! There's a new virtual reality, multi-sensory fan experience coming to The VOID at Downtown Disney District at the Disneyland Resort (as well as to locations in New York City, Atlanta, and Santa Monica) for a limited run… and it puts you right in the thick of it with some of Earth's Mightiest Heroes!
Avengers: Damage Control, from Marvel Studios and ILMxLAB, will give fans the chance to step into the action and become part of the Avengers story for the very first time. Fans will be enlisted by Black Panther's Shuri (Letitia Wright, heard in the trailer above) to test her latest prototype design: Emergency Response Suits, created with a proprietary blend of Wakandan and Stark Industries technology. When sinister forces intervene, guests at the Wakandan Outreach Centers will soon find themselves recruited into action, exploring iconic locations throughout the Marvel Cinematic Universe. Draftees will fight side by side with Avengers like Doctor Strange, the Wasp, Ant-Man, and more.
Avengers: Damage Control begins October 18, for a limited time only—don't miss your change to "assemble" with some of your MCU favorites!