By Courtney Potter
Let go of the past and get reacquainted with some Arendelle favorites, and find out where Disney Cruise Line is sailing in early 2021… Read more, along with other news from around Disney, in this week's news briefs!
New Frozen 2 Trailer Offers a Sneak Peek at Chills and Thrills…
It's one of the most highly anticipated films of the year—and it's almost here! Just this week, the world was gifted with a brand-new trailer for Walt Disney Animation Studios' Frozen 2; if you haven't yet taken a gander (or, y'know, 26 ganders—but who's counting?), check out the chilltastic clip, above.
Why was Elsa born with magical powers? What truths about the past await Elsa as she ventures into the unknown to the enchanted forests and dark seas beyond Arendelle? The answers are calling her—but also threatening her kingdom. Together with Anna, Kristoff, Olaf, and Sven, she'll face a dangerous but remarkable journey. In 2013's Frozen, Elsa feared her powers were too much for the world; in Frozen 2, she must hope they are enough. From the Academy Award®-winning team of directors Jennifer Lee and Chris Buck, producer Peter Del Vecho, and songwriters Kristen Anderson-Lopez and Robert Lopez—and featuring the voices of Idina Menzel, Kristen Bell, Jonathan Groff, and Josh Gad—Frozen 2 opens in theaters across the country on November 22.
D23 and Walt Disney Archives


September 28, 2019


D23's Magical Screening Series: Indiana Jones and the Temple of Doom on the Lot


October 1, 2019


Freeform's Second Annual Halloween House at the Hollywood Athletic Club, Los Angeles


October 4, 2019


The Muppets Take Manhattan—Exclusive Screening in Manhattan
October 13, 2019
D23 Heads to the Hollow


October 21, 2019


The Official Walt Disney Studios Tour—Presented by D23
October 21, 2019
D23's Sip & Stroll at Epcot


October 29, 2019


D23's Mostly Ghostly Halloween on The Walt Disney Studios Lot


November 14, 2019


D23's Behind-the-Scenes Experiences: A Day at the Studio Lot


January 17, 2020


Get VIP Tickets to Disney's Frozen The Hit Broadway Musical


January 31, 2020


Disney's Aladdin the Hit Broadway Musical VIP Tickets


August 9, 2020


Adventures by Disney Rhine River Cruise Presented by D23
Parks
August 16, 20, 23, 27, 30;
September 2, 6, 8, 10, 13, 15, 17, 20, 22, 24, 27, 29; October 1, 3, 4, 6, 8, 10, 11, 14, 15, 17, 18, 20, 21, 24, 25, 27, 29, 31;
November 1, 2019


Mickey's Not-So-Scary Halloween Party at Magic Kingdom park


August 29—November 23, 2019
2019 Epcot International Food & Wine Festival
September 17, 19, 22, 24, 26, 29, 2019;
October 1, 3, 6, 8, 10, 13, 15, 17, 20, 22, 24, 27, 29, 31, 2019


Oogie Boogie Bash – A Disney Halloween Party at Disney California Adventure park


November 8, 11, 12, 14, 15, 17, 19, 21, 22, 24;


December 1, 3, 5, 6, 8, 10, 12, 13, 15, 17, 19, 20, 22, 2019


Mickey's Very Merry Christmas Party at Magic Kingdom park
November 29—December 30, 2019


2019 Epcot International Festival of the Holidays




Studios




October 18, 2019


Maleficent: Mistress of Evil opens in U.S. theaters


November 22, 2019


Frozen 2 opens in U.S. theaters


December 20, 2019


Star Wars: The Rise of Skywalker opens in U.S. theaters


March 6, 2020


Onward opens in U.S. theaters


March 27, 2020


Mulan opens in U.S. theaters


May 29, 2020


Artemis Fowl

opens in U.S. theaters




Television




September 1—30, 2019


Freeform's 30 Days of Disney
October 1-31, 2019
Freeform's 31 Nights of Halloween
November 5, 2019
ABC airs The Wonderful Word of Disney Presents The Little Mermaid Live! (8—10 p.m. EST)
Disney Cruise Line Announces Amazing Early 2021 Itineraries
If you're looking for a truly spectacular way to travel, look no further than our friends at Disney Cruise Line (DCL)—who offer up some of the coolest cruises around. Case in point: the incredible early 2021 itineraries that DCL just announced! After their upcoming inaugural season in "the Big Easy" next year, DCL has revealed that they'll be returning to New Orleans with several voyages beginning in late January 2021. A limited-time engagement, these Disney Wonder cruises out of Louisiana to the Bahamas and Caribbean—including visits to Disney's private island paradise, Castaway Cay—highlight DCL's early '21 lineup of popular itineraries…
The five-night cruise to the Western Caribbean includes a visit to Progreso, Mexico, a new port of call for DCL on the Yucatan Peninsula; this quaint town is filled with treasures for the whole family to explore together, from ancient Mayan ruins to hidden, crystal-clear swimming holes. Other magical voyages out of "N'Awlins" include a four-night Western Caribbean cruise; three seven-night sailings to the Bahamas (with a stop at Castaway Cay); and a 14-night Panama Canal cruise. And if all that wasn't cool enough, the Wonder will also return to a few other popular home ports—Galveston, Texas, and San Diego, California—in early '21.
For more information, and/or to book an incredible trip of your own, visit DisneyCruise.com.
These Delectable Plant-Based Dishes Will Tickle Your Disney Taste Buds
You don't have to be vegan or vegetarian to enjoy a delicious plant-based meal… so the next time you visit Disneyland or Walt Disney World Resorts, make sure to check out one of their 400 (you read that right!) fabulous plant-based dishes, including several brand-new options. For a rundown of the delights available—including a festively food-filled clip from our pals at the Disney Parks Blog—click here.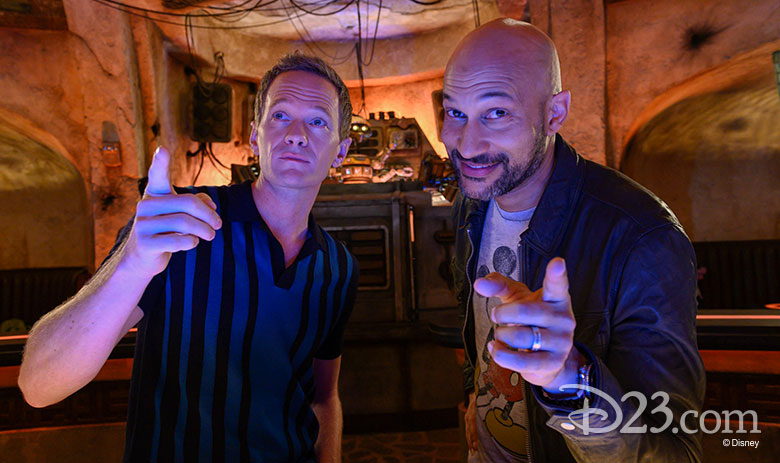 This Sunday: Celebrate Star Wars: Galaxy's Edge with New Freeform Special
All week long, the Disney family of networks has been celebrating all things Star Wars: Galaxy's Edge—from a sneaky Easter egg in the season premiere of 1980s-based The Goldbergs, to a very special new look at the anticipated Star Wars: Rise of the Resistance attraction on Thursday's Good Morning America, and all manner of TV shows in between. And to wrap up the festivities, Freeform is airing a new Galaxy's Edge special this Sunday, September 29, at 8 p.m. ET/PT.
Hosted by Neil Patrick Harris, Star Wars: Galaxy's Edge—Adventure Awaits will take viewers on an exploration of these epic new lands (now open at both Disneyland park and Disney's Hollywood Studios park) and how they brought the planet of Batuu to life. With appearance by celebrity guests including Kaley Cuoco, Keegan-Michael Key, Jay Leno, Sarah Hyland, Miles Brown, and more, the special also includes Walt Disney Imagineers, Lucasfilm executives, and Disney cast members sharing how they helped create the largest single-themed land expansion in Disney Parks history…
Don't miss out on all the galactic fun!
ICYMI: Emmy® Wins for The Walt Disney Company's Portfolio of Brands
More primetime TV stars than you can shake a streaming device at descended on the Microsoft Theater in downtown Los Angeles last Sunday for the 2019 Emmy Awards®—and The Walt Disney Company's portfolio of brands had several nifty, noteworthy wins. Read up about the ceremony right here at D23.com.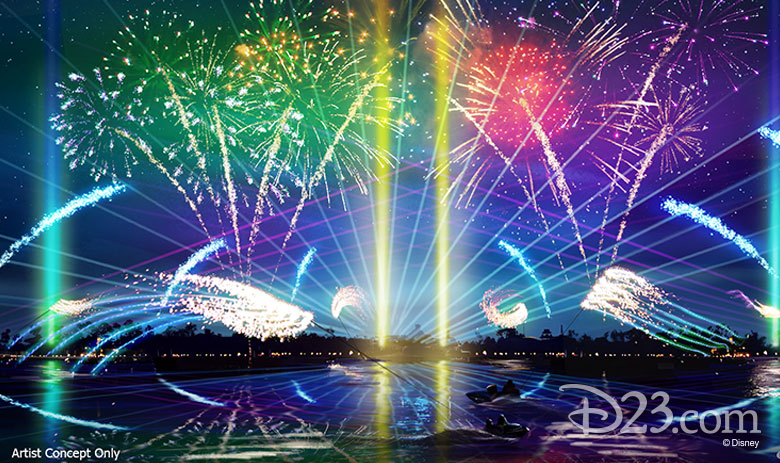 Livestream the Debut of Epcot Forever on October 1
Fans of Epcot, majestic music, and incredible firework displays (hey—that's us on all counts), we have some great news: You'll be able to watch the premiere of Walt Disney World Resort's newest nighttime spectacular live on Tuesday night, October 1!
Beginning at 8:50 p.m. ET (which, for us West Coast folk, is 5:50 p.m.), the Disney Parks Blog will livestream the debut of Epcot Forever, the new limited-time spectacle of music, lighting, lasers, fireworks, and über-cool choreographed special-effects kites around and above the World Showcase lagoon. The show takes viewers on a journey through the past, present, and future of Epcot—and it features a stirring collection of songs that paint a colorful picture of the park, with a look towards the future and all the magical possibilities still to come.
Should you want to get in on the magic yourself, submit your best Epcot pictures to the Parks Blog via Twitter (using the hashtag #DisneyParksLive), and you may just see them during the livestream!
The Wonderful World of Disney presents The Little Mermaid Live! Adds Cast
We already knew that Auli'i Cravalho, Queen Latifah, and Shaggy would be starring in this November's ABC special The Wonderful World of Disney presents The Little Mermaid Live! (as Ariel, Ursula, and Sebastian, respectively)—and this week, we got a bit more scoop on who will be joining them! Find out who's set to delight audiences as Chef Louie and Prince Eric by clicking here.