By Jocelyn Buhlman
With Rogue One: A Star Wars Story only a tantalizing week and a half away, we can hardly wait to meet all the new characters joining our favorites in a galaxy far, far away. One of these characters, K-2SO, is a unique droid stolen and reprogrammed from an Imperial base. He joins not just the impressive roster of beloved Star Wars characters, but a long list of unforgettable Disney characters, as well. Long before venturing with Lucasfilm to worlds like Jakku and Hoth, Disney was creating a wide variety of animated and live-action mechanical characters. We've rounded up a list of the most notable, lovable, and recognizable robots from Disney films you know and love.
Mickey's Mechanical Man (1933)
In 1933, the story men at the former Disney Studio on Hyperion Avenue presented Walt Disney with a plot outline for a short called Mickey's Mechanical Man. The cartoon opens with Mickey training a clunky, clanky, metallic robot for a boxing match against the reigning champ. The robot, who "coulda been a contendah," gets the worst of it during the early rounds, but is miraculously revived into championship action by the blaring of Minnie's car horn.
Modern Inventions (1937)
Donald Duck got into the robot-plot business in 1937's Modern Inventions, in which he encounters many strange and whimsical machines in "The Museum of Modern Marvels"—including a mechanical barber chair, a robot nursemaid, and an automatic bundle wrapper. A running gag throughout the short has the robot butler grating on Donald's nerves by continually whisking away Donald's hat with the words, "Your hat, Sir."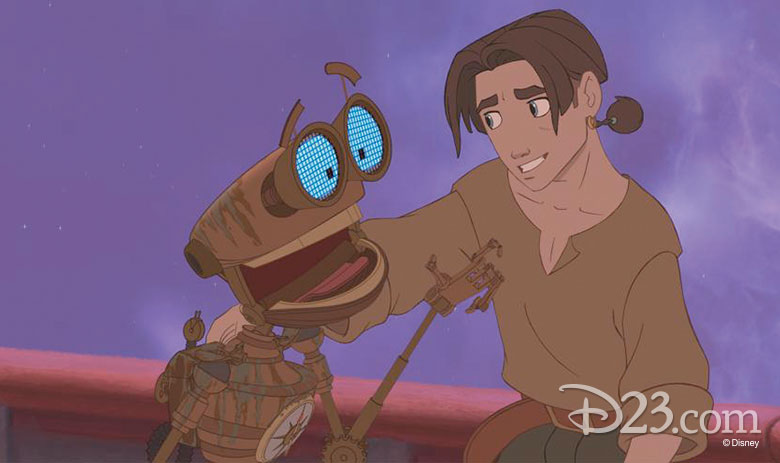 B.E.N. – Treasure Planet (2002)
Treasure Planet, a reinvention of Robert Louis Stevenson's classic adventure tale, reimagines the book's original character, Ben Gunn, as the computer-animated B.E.N. (a Bio-Electronic-Navigator). Comedian Martin Short provided the voice of this hilariously manic bucket-of-bolts robot who had literally "lost his mind" (or at least his primary memory circuit).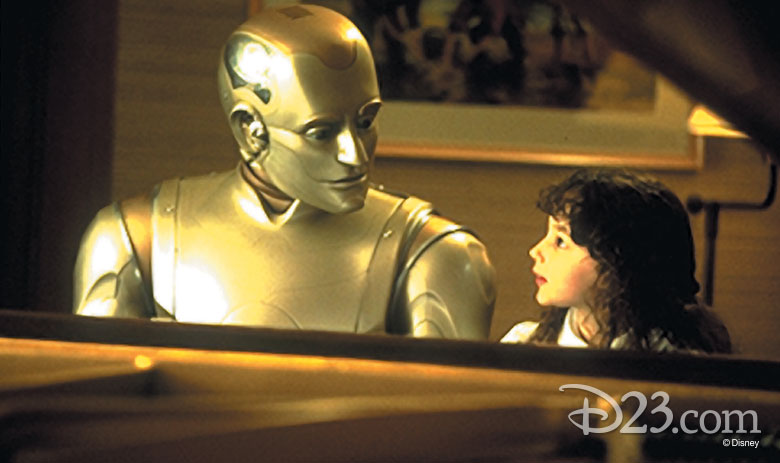 NDR-114 – Bicentennial Man (1999)
In this classic Disney film based on the short story of the same name by Isaac Asimov, Robin Williams starred as a robot called NDR-114, nicknamed Andrew. A special-effects company created a robot suit for him made up of more than 250 pieces, which were assembled into 30 wearable components weighing roughly 35 pounds.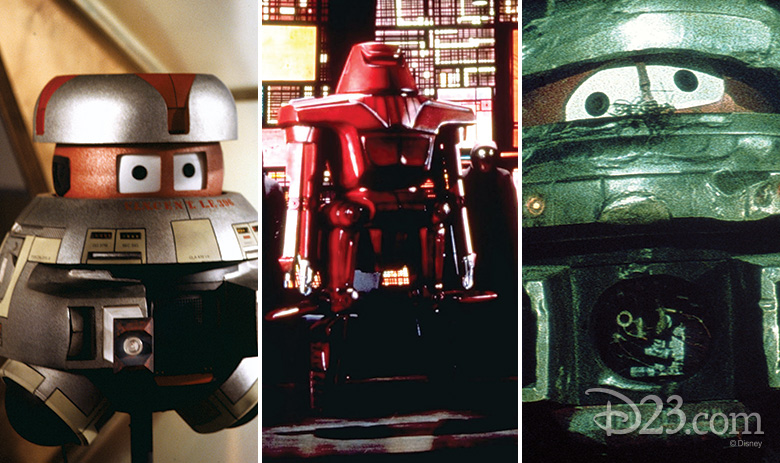 Maximilian, V.I.N.CENT, and B.O.B. – The Black Hole (1979)
By far the biggest challenge in Disney movie robotics was 1979's The Black Hole, which featured a veritable Who's Who cast of robots. V.I.N.CENT (Vital Information Necessary, CENTralized) is a valuable member aboard the exploration ship U.S.S. Palomino crew, who discover the U.S.S. Cygnus, long thought lost, hovering on the edge of a black hole in deep space. The intrepid robot, voiced by an unbilled Roddy McDowall, ventures with the human crew to investigate the Cygnus, and they come across Old B.O.B. (BiO-sanitation Battalion), a similar but outdated model of V.I.N.CENT. In the story, it's explained that B.O.B. was originally programmed in Houston, possibly explaining his southern drawl, provided by an uncredited Slim Pickens. On board the Cygnus, a mad scientist (is there any other kind?) is served by a giant robot named Maximillian. Apparently not programmed to speak, Maximillian communicated only through his action and the eerie glow of his single red optical sensor.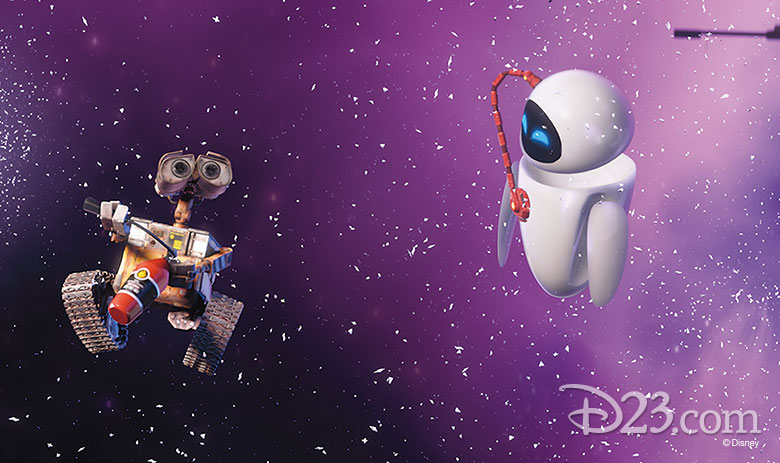 WALL•E and EVE – WALL•E (2008)
Pixar's first foray into outer space introduced us to the two robots who stole our hearts: WALL•E (Waste Allocation Load Lifter—Earth), left to wander an abandoned earth, and EVE (Extraterrestrial Vegetation Evaluator), a high-tech droid sent to study earth. Even though both were practically silent, the moments they did speak left a lasting impression on audiences everywhere: who wasn't exclaiming "WALL-EEE!" "EEVUH!" in tender imitation of the star-crossed robots when they left movie theaters?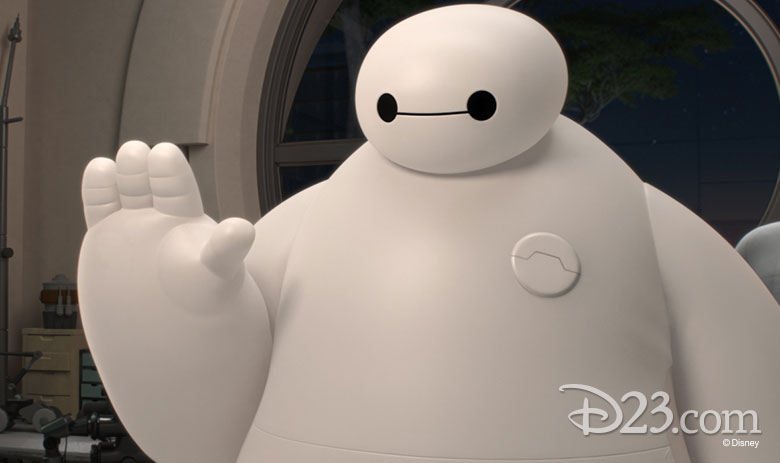 Baymax – Big Hero 6 (2014)
Walt Disney Animation Studios set out to fulfill a challenge in the design of Big Hero 6's healthcare specialist: create a robot that is huggable! Inspiration came everyone from Carnegie Mellon Univesity's soft robotics research to the study of penguin behavior. The end result is the vinyl, inflatable robot voiced by Scott Adsit, who left audiences feeling very satisfied with their care.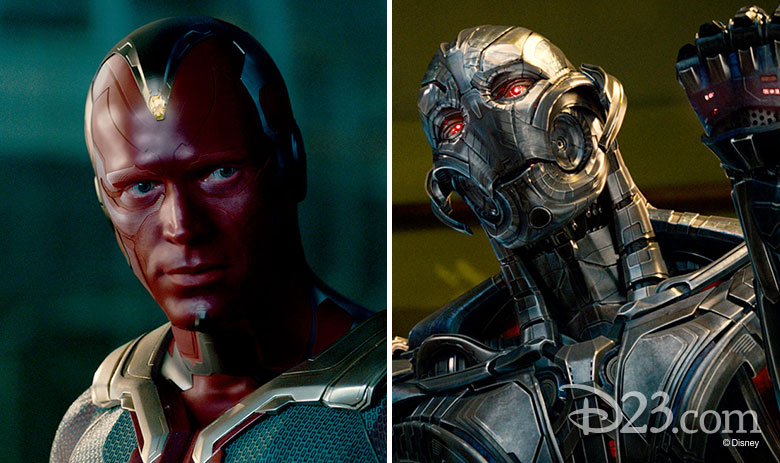 Ultron and the Vision – Avengers: Age of Ultron (2015)
The line between man and machine is frequently blurred in the Marvel Cinematic Universe, but none more than in Avengers: Age of Ultron. The movie features two androids equipped with highly complex artificial intelligences, on two very different ends of the moral spectrum. Ultron was created by Tony Stark to protect the world, but, in a chilling vocal and motion-capture performance by James Spader, he decides the only way to protect the world is to eliminate the force most motivated to destroy it: humanity.
On the other hand, the Vision is a protector of humanity, with a motivation so pure that he is the only other person so far in the Marvel Cinematic Universe to lift Thor's hammer besides Thor himself. He was created when Tony Stark's artificial intelligence computer, named J.A.R.V.I.S. (short for Just A Rather Very Intelligent System), merged into the robotic body that would become Vision. Paul Bettany provided the voice of J.A.R.V.I.S. and played the role of Vision. In his new form, Vision serves as an otherworldly addition to the new Avengers team.
Athena – Tomorrowland (2015)
Disney robots come in all shapes and sizes, from the marshmallow-like softness of Baymax to the humanoid mechanics of Ultron and the Vision. But this robot takes on another unlikely form: a little girl from the 1960s! Athena, acted with endearing optimism and intelligence by Raffey Cassidy, is a recruiter for the hidden utopia of Tomorrowland. She's always on the lookout for the brightest minds and most positive thinkers to help build a great, big, beautiful tomorrow. Even though Athena looks like a young girl, she's really a complex android programmed not only to be wise but also idealistic—never stopping in her mission to help save the world.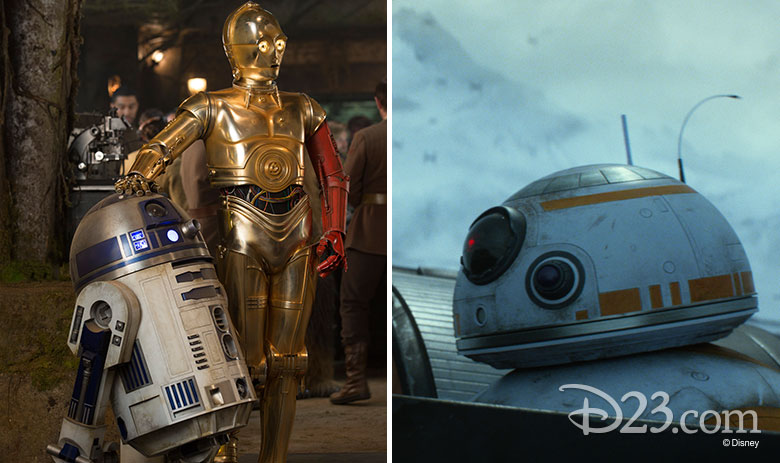 R2-D2, C-3PO, and BB-8 – Star Wars: The Force Awakens (2015)
You know them, you love them, and no Disney robot list would be complete without them: the droids of the Star Wars: The Force Awakens. Originally premiering in George Lucas' first Star Wars film, A New Hope, dynamic duo R2-D2 and C-3PO are practically our old friends at this point, having ventured across the galaxy in seven Star Wars movies, somehow always in the middle of the chaos despite being a couple of wisecracking droids. R2-D2, performed by the late Kenny Baker, is an astromech droid who speaks exclusively through unintelligible beeps and whistles—and yet we always seem to know what he means! C-3PO, performed by Anthony Daniels, is a protocol droid fluent in more than six million forms of communication—and is ready to complain in every single one of them. They are joined in The Force Awakens by newcomer and fan favorite BB-8, the loyal BB unit of hotshot pilot Poe Dameron, uniquely painted in a bright orange color scheme and rolling across the galaxy like the world's cutest soccer ball. Like R2-D2, BB-8 only speaks in little beeps and whistles, but manages to convey so much, not only from his sounds, but in the way he turns his head or gives a friendly thumbs up. Together these three droids help create the futuristic and fun galaxy far, far away that we have come to love in the Star Wars films.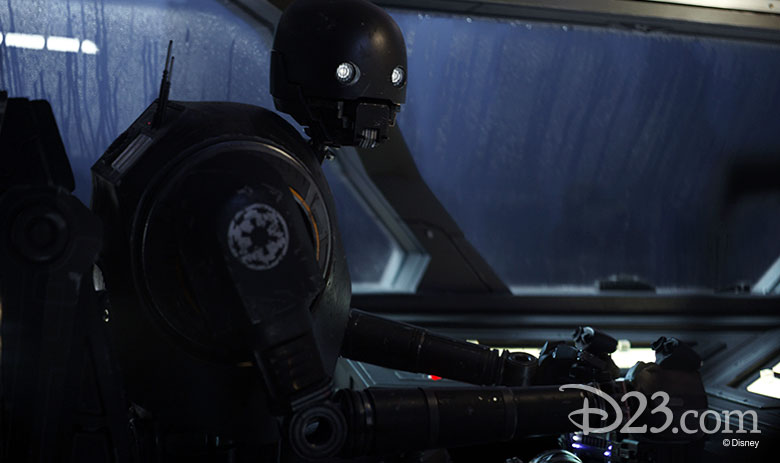 K-2SO – Rogue One: A Star Wars Story (2016)
All the Star Wars droids we've come to know so far have worked exclusively for the Republic or the Alliance to Restore the Republic. Rogue One: A Star Wars Story brings us a droid from the other side of the war: K-2SO, a reprogrammed Imperial security droid voiced and performed in motion capture by Disney voice-acting regular Alan Tudyk. While we are used to cute little round droids like R2-D2 and BB-8, K-2SO towers over humans in jet-black metal, designed to blend in on Imperial bases. With a dry wit and a somewhat ominous presence, K-2SO will be soon be in our hearts with the rest of the Star Wars droids after we see Rogue One, in theaters December 16.
This article originally appeared in a slightly different form in the June 20, 2008, edition of the Disney Newsreel company newsletter and was modified for D23.com.