By Courtney Potter
Disney Theatrical Productions announces its newest stars, and a look at every Disney movie we can't wait to see through 2027… Read more, along with other news from around Disney, in this week's news briefs!
Casting Announced for Frozen's North American Tour
Some fabulous news from our pals at Disney Theatrical Productions: In anticipation of their mega-hit Frozen hitting the road for its first North American tour later this year, the show has just announced the actresses who'll be filling the roles of Arendelle's heroic sisters… Broadway vet Caroline Bowman (Wicked) will play Elsa, and Caroline Innerbichler (Little House on the Prairie national tour) will play Anna, with additional casting to be revealed in the coming months. Hear from these two talented performers about what it's like to join the iconic Frozen family in the new video, above.
From the producers of The Lion King and Aladdin, Disney's Frozen, a Tony® nominee for Best Musical, will launch its huge North American tour this fall—beginning in Schenectady, New York, prior to an official opening at the Hollywood Pantages in Los Angeles, California, in early December. Beloved by audiences and critics alike, Frozen has already broken four St. James Theatre house records, and has placed in the top 10 best-selling shows every single week since opening in March 2018. Pretty cool, huh? (See what we did there?!)
For more info, including a list of previously announced cities, visit FrozenTheMusical.com/Tour.
Save the Date!
Be sure to mark these upcoming Disney events on your calendar:
D23 and Walt Disney Archives


May 11, 2019


D23's Magical Screening Series: The Lion King on the Lot


May 16, 2019


D23 Celebrates Mickey Mouse: From Walt to the World


June 1, 2019


D23's Behind-the-Scenes Experience: Return to Walt's Chicago


June 8, 2019


Lunch with a Disney Legend – Paige O'Hara


June 10, 2019


The Official Walt Disney Studios Tour – Presented by D23


June 13, 2019


Mickey Mouse's Roller Disco Party


June 22, 2019


The Official Walt Disney Studios Tour – Presented by D23


August 23-25, 2019


D23 Expo 2019
Parks


March 6-June 3, 2019




Epcot International Flower & Garden Festival




May 31, 2019


Star Wars: Galaxy's Edge Opening at Disneyland Resort


August 29, 2019


Star Wars: Galaxy's Edge Opening at and Walt Disney World Resort


August 29—November 23, 2019, 2019




2019 Epcot International Food & Wine Festival




November 29—December 30, 2019, 2019




2019 Epcot International Festival of the Holidays




Studios




May 24, 2019


Aladdin opens in U.S. theaters


June 21, 2019


Toy Story 4 opens in U.S. theaters


July 19, 2019


The Lion King opens in U.S. theaters


October 18, 2019


Maleficent: Mistress of Evil opens in U.S. theaters


November 22, 2019


Frozen 2 opens in U.S. theaters


December 20, 2019


Star Wars: The Rise of Skywalker opens in U.S. theaters


Television




June 21, 2019


Final episodes of Andi Mack begin airing (8 p.m. EDT/PDT)


Summer 2019


Descendants 3 premieres on Disney Channel and DisneyNOW

Planners, Rejoice: Here's Your Disney Movie Calendar for The Next Eight Years…
Sure, some of them don't even have an official title yet—but that doesn't mean we're not already ridiculously excited for all the films en route from the worlds of Disney in the years to come. And if you're anything like us and enjoy "calendar"-ing out your life well in advance, you're in luck… click here for a list (broken down by year) of said movies and their release dates. See you at the cineplex!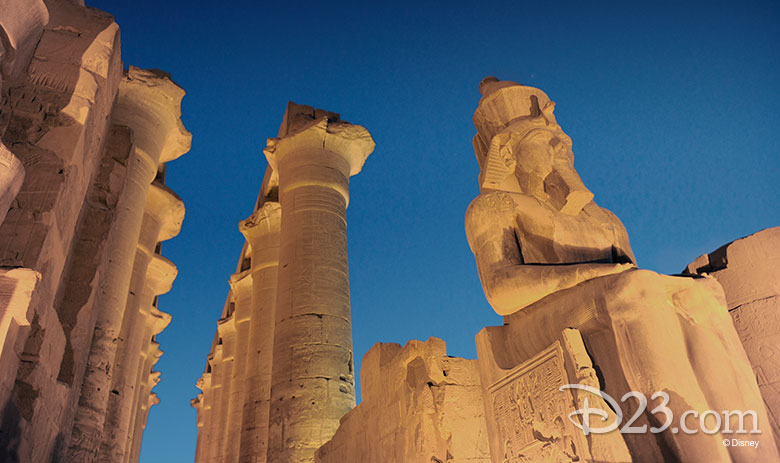 Adventures by Disney Announces Incredible Egypt Itinerary
It's a dream destination of travelers from all over the world. And now, Adventures by Disney (ABD) is adding it to its already amazing tour lineup. Beginning in 2020, ABD will transport guests to Egypt—the storied land of pharaohs and pyramids—with the launch of an unforgettable family vacation itinerary… a three-part tour featuring adventures by Egyptian land, river, and sea.
This new ABD journey will offer families some up-close encounters with legendary landmarks (such as the Sphinx of Giza; the Valley of the Kings; and the temples at Luxor) and all the rich history of ancient Egypt, complemented by interactive introductions to the customs and culture of contemporary Cairo. From there, a captivating cruise along the Nile River provides access to lesser-known (but no less stunning) relics of the old world, and a retreat on the colorful shores of the Red Sea offers a blend of fun-in-the-sun and relaxation.
But that's not all… ABD also recently announced an expansion of its adult-exclusive departures. Perfect for groups of friends, couples, extended family, and adults traveling with their parents, this sophisticated, hassle-free new programming includes a culinary walking tour of Athens' central market in Greece; a behind-the-scenes museum tour in Egypt; mango-carving and coffee-tasting activities in Laos; a search for the Northern Lights in Iceland; and so much more.
Looking to plan a truly memorable trip for you and your family? Check out AdventuresbyDisney.com for more information on all their 2020 vacations; booking begins May 16.
Go Behind the Scenes of Disney California Adventure's Tale of the Lion King
Disney California Adventure park will soon be feeling that "problem-free philosophy" of The Lion King in an all-new way, when the tuneful outdoor production Tale of the Lion King opens at the Palisades Stage starting June 7. See some of the performers in behind-the-scenes action, and hear from Creative Director Susana Tubert, in the brand-new video, above.
The show features a cast of 18 performers—actors, singers, dancers, and drummers—who form a unique ensemble of "storytellers" that travel the Pride Lands, weaving their timeless tales through song. Listen for all-new arrangements of your favorite The Lion King tunes, and look for incredible scenic, prop, and costume designs that celebrate the contemporary spirit of Africa. Tale of the Lion King is only playing for a limited time at Disney California Adventure this summer—so don't miss out!
Visiting Disney's Hollywood Studios? Here's Your "Can't-Miss" List!
Disney's Hollywood Studios at Walt Disney World Resort is celebrating its huge 30th anniversary this year… and we here at D23 are getting in on the fun by offering up our 30 favorite reasons why visiting this particular park is a "must-do" on any WDW trip. Click here to see if your own faves made the list.
Feel the Force with John Williams' Star Wars: Galaxy's Edge Symphonic Suite
There are few things in life that go together better than the Star Wars saga and the epic, memorable music of John Williams. The Academy Award®-winning composer been scoring Star Wars stories since the very first movie was released in 1977… so we're thrilled to hear his brand-new "Symphonic Overture Suite" for Star Wars: Galaxy's Edge at Disneyland and Walt Disney World Resorts. If your eardrums have yet to delight in this five-minute masterpiece for the much-anticipated new land, check out the (audio-only) video, above.
The suite is now available for purchase on Google Play, and for streaming on Apple Music, Amazon Music, Spotify, and more. We guarantee it'll get you into a galactically good Star Wars mood…
A Second Season of Disney Junior's T.O.T.S. is On the Horizon
Ahead of its series debut (on Friday, June 14, at 9 a.m. EDT/PDT), Disney Junior has already ordered a second season of its brand-new animated series T.O.T.S. The comedy—which airs on both Disney Junior and Disney NOW—follows the adventures of best friends Pip and Freddy, a tenacious penguin and a kind-hearted flamingo, who are the only non-stork delivery birds in-training at Tiny Ones Transport Service (T.O.T.S.). Every episode includes an original song, plus the recurring delivery anthem "Bringing This Baby Home"—seen in the adorable video, above.
The series voice cast includes Vanessa Williams (Ugly Betty) as Captain Beakman; Megan Hilty (Smash; Broadway's Noises Off and Wicked) as K.C. the Koala; Jet Jurgensmeyer (Last Man Standing) as Pip the Penguin; and Christian J. Simon (Disney Channel's Sydney to the Max) as Freddy the Flamingo.
Designed for kids age 2 to 7, each episode of T.O.T.S. features two 11-minute stories that highlight the use of creative thinking, teamwork, and problem solving to model for young viewers that there is more than one way to achieve a goal.