OVERVIEW
The Official Disney Fan Club and The Walt Disney Family Museum are excited to commemorate the museum's grand opening event of their brand-new exhibition: Mickey Mouse: From Walt to the World!
DETAILS
Guest curated by legendary animator Andreas Deja, in collaboration with co-curator Michael Labrie, Mickey Mouse: From Walt to the World features more than 400 objects, including rare and never-before-seen original sketches, character model sheets, and concept artwork, together with nostalgic merchandise, vintage photographs, and a variety of Mickey's earliest and most recent animated short films. The exhibition is a testament to Mickey's transcendent influence, from cartoons and comic books to real-life appearances at Disney Parks worldwide.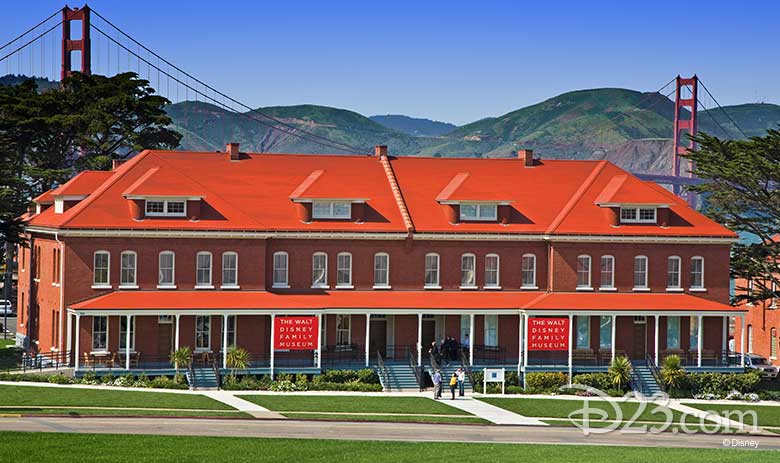 D23's exclusive opening day celebration at The Walt Disney Family Museum, located in the historic Presidio of San Francisco, will begin with a Mickey-inspired welcome reception that includes savory hors d'oeuvres and delicious refreshments. Following the reception, guests will head to the museum's theater for a special presentation by the curator of the exhibit: Disney Legend Andreas Deja. Attendees will discover how this incredible exhibition came to life not only from Andreas, but from other artists featured in the exhibition.
Then, attendees will explore the Mickey Mouse: From Walt to the World exhibition opening day during D23's exclusive access! All guests will receive general admission to The Walt Disney Family Museum for the next day, Friday, May 17, so they can enjoy the entirety of the beautiful museum.This one-of-a-kind celebration wouldn't be complete without an exclusive D23 gift, created just for you!
The event will begin at 6:30 p.m. at The Walt Disney Family Museum and will last until approximately 9 p.m. Check-in will begin at 6:15 p.m. Additional event details will be included in the confirmation email.
NOTES
D23 Gold Members may reserve a ticket for themselves and one (1) guest; D23 Gold Family Members may reserve tickets for themselves and up to three (3) guests.
Photography will be permitted at specific points during the event. No video or audio recording of any kind will be permitted during the D23-exclusive Q&A presentation.
Due to the nature of this experience, all attendees must be at least 21 years of age or older to partake in this D23 event.
There are a limited number of tickets available. D23 Members will be required to provide their membership number when reserving tickets. Tickets may be picked up only with a valid photo ID AND D23 MEMBERSHIP CARD. D23 Members who do not bring their membership card may not be admitted to the event. Ticketed Members who do not attend the event forfeit their place as well as all experiences, benefits, and gifts associated with the event.
Gifts are distributed during D23 Member events only; those who do not attend will not be eligible to receive the event amenities.
All D23 Special Events are subject to change without notice. There are strictly no cancellations or refunds, and tickets are not transferable.
PLEASE BE ADVISED: Filming, photography, and other recording will take place at The Walt Disney Family Museum during the event you will be attending. By entering the premises, you irrevocably consent to and authorize The Walt Disney Company, its affiliates, successors, and assigns (collectively "Producer"), to photograph you, make sound recordings of you, and use such photographs and recordings throughout the world, for any purpose whatsoever in perpetuity, including, but not limited to, television broadcasts and home entertainment products, including, but not limited to, home video and DVD. All such photographs and sound recordings will be the sole property of Producer.