By Jim Fanning
One of Mickey Mouse's greatest adventures, Brave Little Tailor is also one of Walt Disney's most splendid animated films. This critically acclaimed audience-pleaser, released 80 years ago on September 23, 1938, is a swashbuckling tale of a gentle tailor who vanquishes a Giant armed with only sewing shears, a needle and thread, and his wits—and is a beautifully produced mini-epic boasting eye-filling production values, action-packed storytelling, and top-shelf animated performances. As we celebrate the Year of Mickey for his 90th anniversary, let's sew things up with an 80th anniversary look at this this classic cartoon that was tailor-made for brave little Mickey.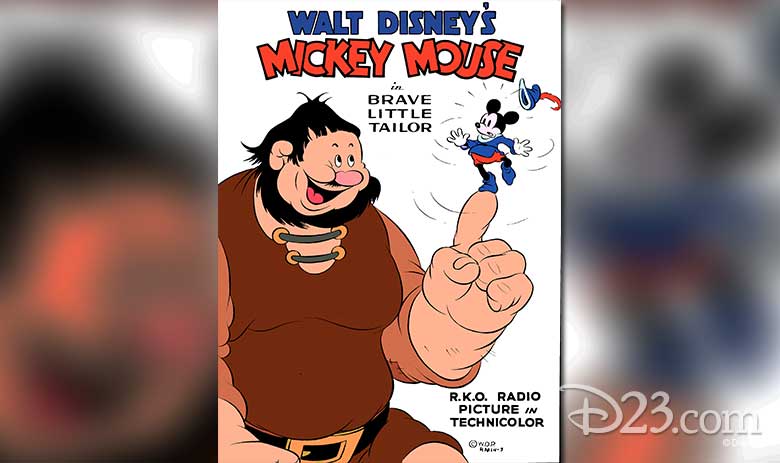 1. A Feature-Like Short
The overwhelming success of Snow White and the Seven Dwarfs (1937) didn't mean that Walt had forgotten his most beloved star. In fact, the prolific producer was inspired to seek a new project that put Mickey squarely in the spotlight. He also planned to elevate the state of the art in his short films now that he had significantly advanced the art of Disney animation with his first feature. This new Mickey short was by design to be of feature quality.
2. Back to the Brothers Grimm
Just as Snow White was based on a tale by the Brothers Grimm so Walt turned to "The Valiant Little Tailor" by Jacob and Wilhelm Grimm for Mickey. Disney artist Jack Kinney created much of the screen story. "That was the first time I had a story to do by myself," Kinney said. "Disney was trying to revitalize Mickey Mouse at the time," he remembered—so naturally Walt was completely involved. "Walt was reaching the highest standard of Mickey stories [at this time]," explained Disney Legend Frank Thomas. "Only Walt could do it—he was the best Mickey storyteller, and played up Mickey's derring-do. Yet there was so much heart and warmth."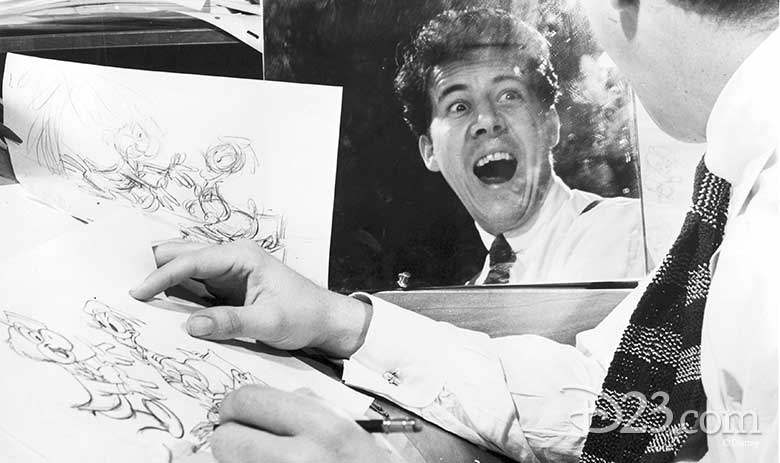 3. Mickey Maestro Fred Moore
As he had done before, Walt again turned to Mickey expert and Disney Legend Freddie Moore to craft a new model sheet. This new design allowed the animators to bring Mickey to life with even more expression and stronger acting. "It was one of the best Mickeys we ever had," said Disney Legend Frank Thomas of this latest model. "Freddie's new design brought more fullness to the cheeks, and more flexibility around the middle. The body is more pear-shaped. It's balanced, but not symmetrical."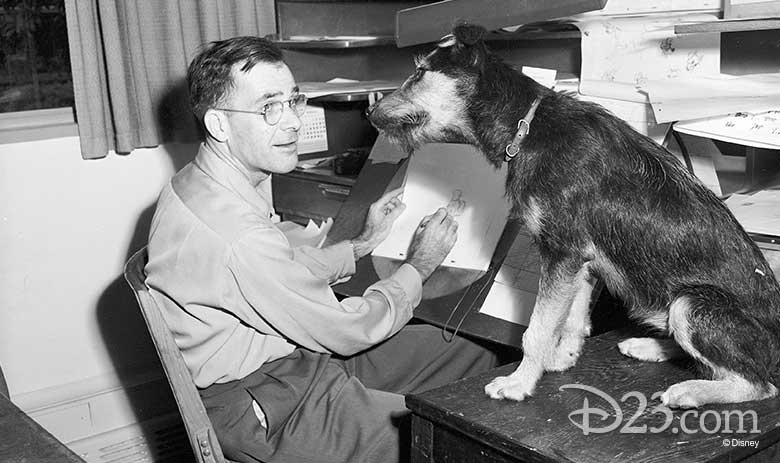 4. Thomas Tackles Mickey
Fred Moore animated two of Mickey's best scenes in Brave Little Tailor, but his role was primarily supervisory. It was Moore's former assistant, Frank Thomas, who animated much of Mickey in the film after he distinguished himself with his work on the Dwarfs in Snow White. Now he was handed this important assignment. "It was considered a great honor to work on a Mickey short," remarked Frank. "He was our star."
5. "Gosh, I Don't How to Catch a Giant": Walt Gives Voice to the Tailor
Frank Thomas' best moment in the film—and a pinnacle in Mickey's onscreen career—is his recounting of "killing seven with one blow" with the King thinking the little tailor means giants, not flies. Long stretches of dialog were usually avoided for Disney shorts in general and with Mickey in particular. But the soliloquy where Mickey milks his story for all it's worth is a tour de force vocal performance by Walt as his alter ego. Another of Walt's vocal highlights is the uncertain farewell to the cheering villagers by the reluctant battler of behemoths: "Well—I'll be seeing you—I hope!" Thomas and fellow Disney Legend animator Ollie Johnston reported that Disney artists adapted Mickey's forlorn statement as their own catchphrase, especially when heading to a review of their work with Walt. "It became a very popular phrase," Frank and Ollie noted.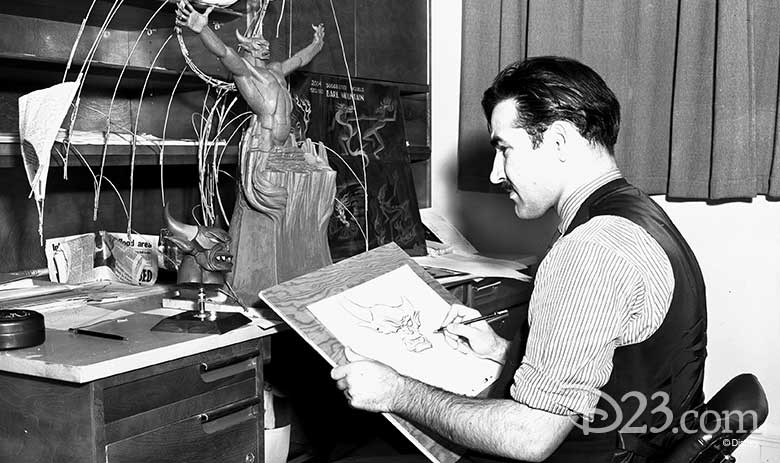 6. A Giant Talent
Another animation superstar of the Disney animation Golden Age made an "enormous" contribution to this classic short. Renowned for his powerful animation of physicality—he would go on to animate Stromboli in Pinocchio (1940) and for Fantasia (1940) the towering god of evil, Chernabog—Disney Legend Bill Tytla animated the Giant who is Mickey's oversized opponent. Disney production executive Harry Tytle took photos of Tytla sitting on a stool so that the animator could use it as a reference to animate the giant sitting atop the roof of a cottage as if was a comfy chair. Interestingly, though the Giant is unnamed in the short, his name was revealed as Gustav in the classic comic-book story Thumper Meets the Seven Dwarfs (FC #19 1943).
7. A "Special" Short
Walt set out to produce one of Mickey's greatest adventures, and the result was exactly that. Brave Little Tailor was publicized as the highlight of Mickey's 10th birthday celebration, "a world-wide event." Moreover, as a costly and prestigious production, this new Mickey extravaganza was promoted almost as if it were a full-length feature. It was among six "special" shorts given a prestige release apart from the usual roster of Disney shorts for the 1938-39 season. More than 100 manufacturers signed on for memorabilia specific to Brave Little Tailor and the other "special" Disney shorts. An elaborate coloring book, storybooks, and a Good Housekeeping magazine adaptation were among the tie-ins. In addition, on September 15, 1938, the Julien Levy Gallery opened a Walt Disney exhibit, with artwork created in the production of Brave Little Tailor as its centerpiece.
8. Report Tomorrow On Sound Stage One: Brave Little Tailor in the Sunday Comics
The film was given an extravagant showcase in the Mickey Mouse Sunday comic page from August 28 through November 27, 1938, in which the full tale (with art by Disney Legend Floyd Gottfredson) was faithfully retold. A wrap-around narrative was added to the film story, with Walt phoning Mickey to report to the Disney Studio and go before the Brave Little Tailor cameras. Mickey's only requirement in accepting the new assignment: "I hope it's got plenty of action in it!"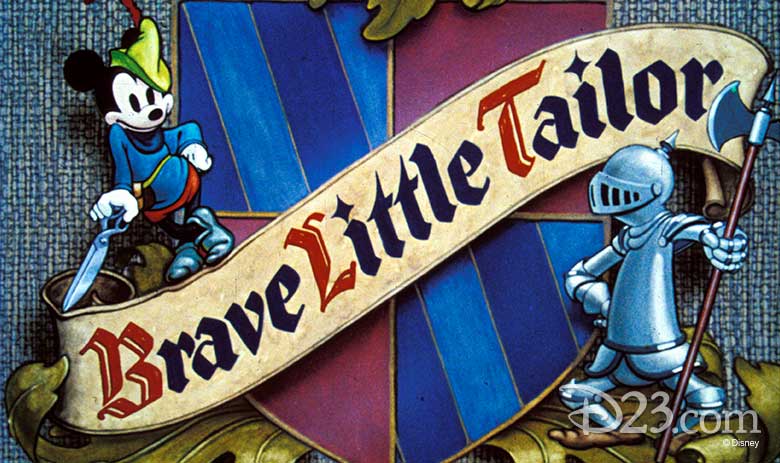 9. Up for an Oscar®
The excellence of this special animated short was recognized by the Academy of Motion Picture Arts and Sciences when Brave Little Tailor was nominated for an Academy Award, Best Short Subject (Cartoon). The third Mickey short to be so honored, Brave Little Tailor did not win the Oscar that year, but the competition was unusually tough that year. In fact, four of the five nominees were Disney productions, and Walt Disney went home with the Oscar for Ferdinand the Bull.
10. Little Tailor, Big Movie
Walt's determination to give Mickey a superior showcase had its cost. Brave Little Tailor was the most expensive cartoon short ever produced up until that time. Such spending led the Studio to look into the film's high cost. Frank Thomas for one was called on to justify the expenditures resulting from his work. "Undoubtedly," Frank stated, "some of the high cost from a story and directorial angle was due to the subtle handling that Walt so definitely wishes."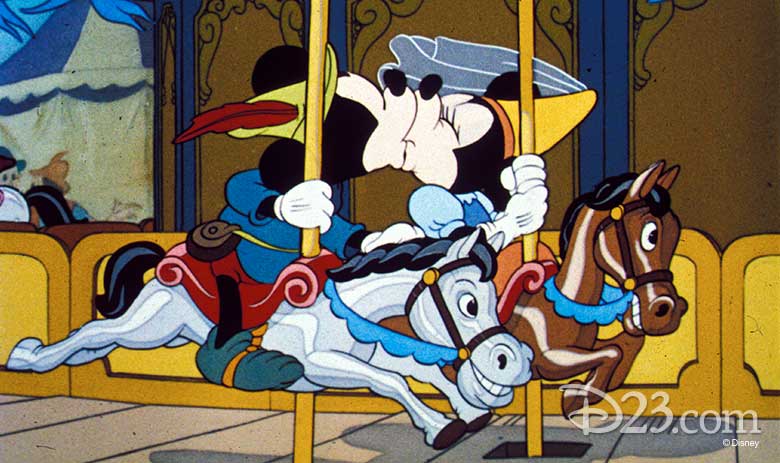 11. Celebrating a Classic
When Walt entered weekly television production with his primetime Disneyland anthology series, the great showman wasted little time in showcasing this mini-masterpiece. On March 2, 1955, "From Aesop to Hans Christian Andersen" was presented on the Disneyland series. Walt explored the age-old art of storytelling, and Brave Little Tailor was spotlighted. In 2018, in honor of Mickey's 90th, Disney will release Celebrating Mickey on Blu-ray, DVD, and Digital HD. This compilation of 13 of Mickey's most significant animated shorts, to be released on October 23, will include Brave Little Tailor, which 80 years on continues to be honored as one of Mickey's—and Disney's—best.