By Beth Deitchman
The actor—a self-proclaimed "Dis-nerd"—is reprising his role as the charming and adventurous Eugene Fitzherbert (formerly Flynn Rider) in Disney Channel's brand-new Tangled: The Series.
He's dashing… witty… and deeply loyal. We could be talking about Eugene Fitzherbert—aka Flynn Rider—who burst into Rapunzel's tower in the Walt Disney Animation Studios' 2010 hit feature Tangled and ended up sticking around for "ever after," but those qualities are just as evident in the actor who voices Rapunzel's true love, Zachary Levi. We talked with Levi recently about Tangled Before Ever After, the Disney Channel Original Movie that premieres Friday, March 10 (8 p.m. ET)—in advance of the debut of Tangled: The Series on March 24 (7:30 p.m.)—about the enduring appeal of Eugene and Rapunzel as well as Levi's enduring love for all things Disney.
"I have a massive affinity for everything Walt Disney created. He connected to the child in all of us and told really great stories that are classic and timeless."
D23: What's Eugene up to in the new series?
Zachary Levi (ZL): He's pretty content. Now he's in with the royal family and living in the lap of luxury, but he's still learning. He's not accustomed to any of this stuff and what's appropriate and what's not appropriate. He's rough around the edges but he's still learning and coming to terms with the bad decisions that he made in the past.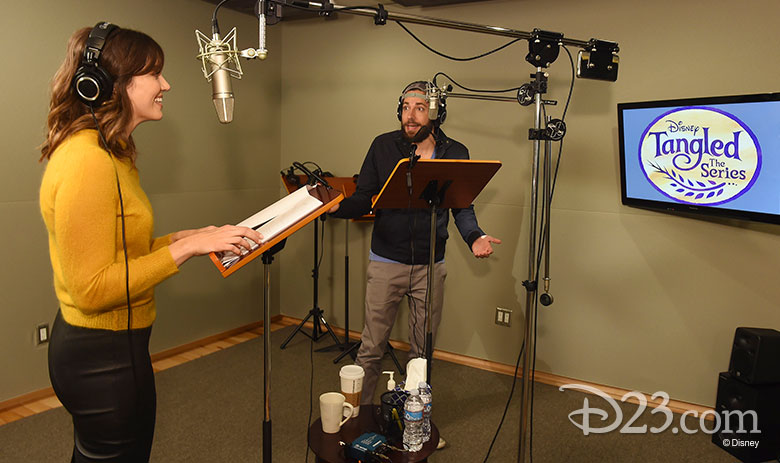 D23: Speaking of back story, Eugene is a pretty complex character. Is portraying him more of a challenge than a live-action role, given that you can only use your voice to bring him to life?
ZL: I love voice acting. Ever since I was a little kid I was a massive "Dis-nerd"—I watched everything Disney under the sun—and I always loved the idea of being able to create a character with your voice. There are cameras in the [recording] booths, so the animators kind of use a little bit of whatever you might be bringing, as far as how a character might gesticulate. I trust the animators to bring all those little bits of Eugene to life and they do in tremendous ways.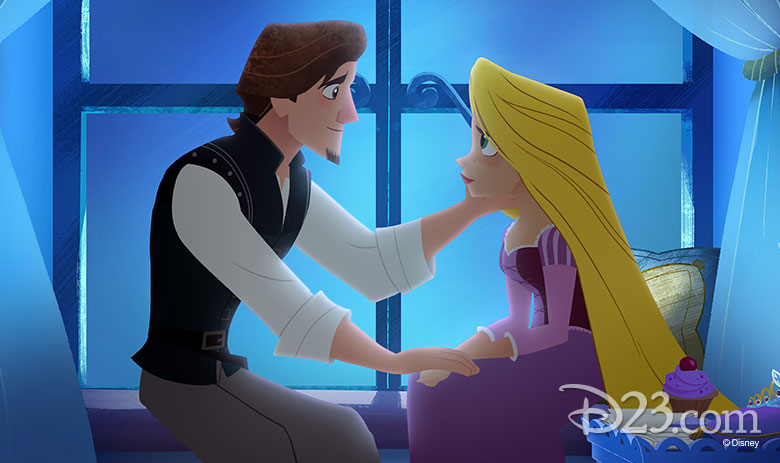 D23: Why do you think that Rapunzel and Eugene remain so beloved to fans?
ZL: Fairy tales used to be much more cookie-cutter and there was a very definitive prince and a very definitive evil character, whomever that might be. In Tangled, they really took a swing at making two well-rounded characters who aren't perfect. They fumble, they stumble, they fail, they succeed. They're there for each other, but they fight—and there's teamwork. They have fun together and really complement each other in their adventure skills and resourcefulness and the comedic tête-à-tête between them. And there's heart in them [as a couple] that fits behind all of that—Disney's never lacked heart.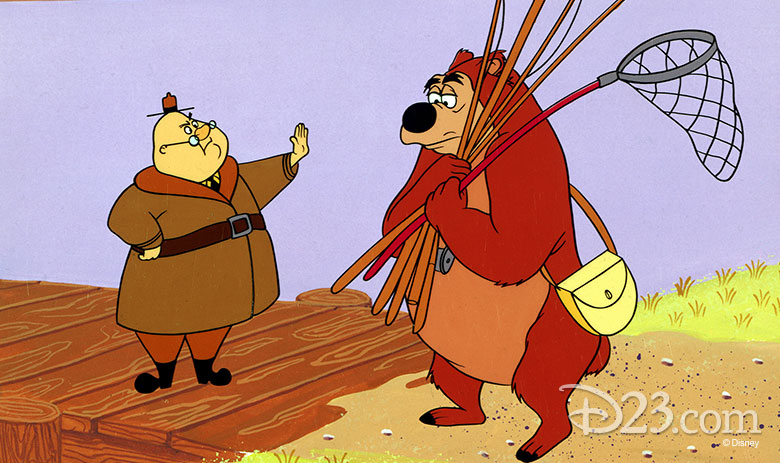 D23: You proudly call yourself a "Dis-nerd." How much of a Disney fan are you?
ZL: I grew up in Southern California, so we went to Disneyland a good amount growing up and still do. But I grew up right at the advent of the beginning of cable television, and my sisters and I would watch Disney Channel religiously. We'd watch all of the Mickey cartoons, Goofy cartoons, Donald cartoons, and Pluto cartoons, but I loved all of the other ancillary characters that came with them, like Humphrey the Bear and the park ranger, J. Audubon Woodlore, and [characters from] classic shorts like Pecos Bill, Paul Bunyan, Johnny Appleseed, and Ichabod Crane. I have a massive affinity for everything Walt Disney created. He connected to the child in all of us and told really great stories that are classic and timeless.
D23: Do you have a favorite character?
ZL: Aladdin and Genie are always kind of at the top of my list, but if I were to go "deeper cut," I'd say it was Casey Jones from The Brave Engineer. He was the best train conductor and he was never late, always on time. Johnny Fedora and Alice Blue Bonnet are also among my favorites. I just love that short [the "Johnny Fedora and Alice Blue Bonnet" segment from Make Mine Music] so much.
D23: Did you have any idea when you first breathed life into Eugene that the character, and Tangled, would be so special and would still be with you so many years later?
ZL: I always believed that if we all worked our hardest and brought all of our talents as best we could and collectively shepherded all of that, we'd have a chance at making something really special. And what a treat that we were the 50th [Disney animated feature]—I'm always a fan of anniversaries, and I think that was a really cool thing, having that special Steamboat Willie opening of the 50th Disney animated film. At the end of the day I really do feel like we were super, super blessed.