By Beth Deitchman
Her own "once upon a time" begins, magically, with a Disney movie. Long before she would play Mia Thermopolis' nemesis in The Princess Diaries or lend her voice to the motherly Nita in Brother Bear 2, a young Mandy Moore was captivated by The Little Mermaid. The little girl who ran around her house singing "Part of Your World" grew up to wonder "When Will My Life Begin?" as a new Disney Princess, Rapunzel, who inspired a next generation of would-be royals in Walt Disney Animation Studios' 2010 feature Tangled. The character—as well as that of her eventual husband, Eugene Fitzherbert (formerly Flynn Rider)—remained a fan favorite in the years that followed, leading Disney Channel to continue her adventures now in Tangled Before Ever After. The Disney Channel Original Movie premieres this Friday, March 10, at 8 p.m. ET; followed on March 24 with the debut of Tangled: The Series at 7:30 p.m. ET.
Rapunzel's story picks up "between the kisses" that come at the end of Tangled and the 2012 short Tangled Ever After, which saw the happy couple say their "I do's," and follows the princess as she reacquaints herself with her parents and the kingdom of Corona. "There's so much there to explore," Moore told D23 in an exclusive interview. "I'm excited that we have a series and a plethora of episodes to be able to do that."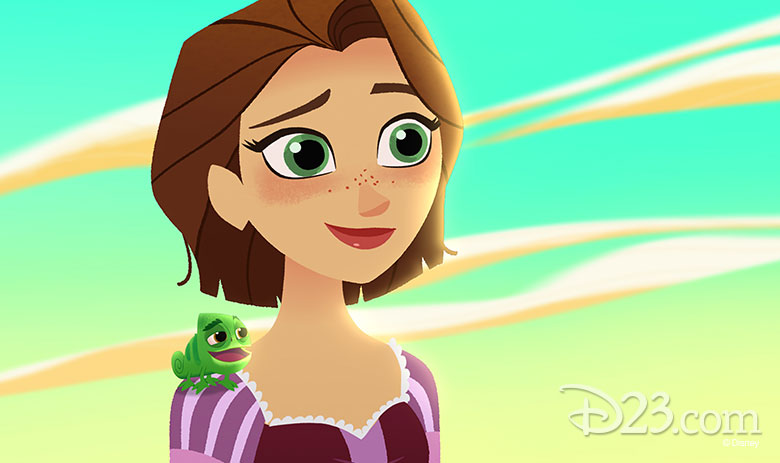 Moore was thrilled to revisit the character, who she describes as an "unstoppable force" and someone she's glad that young fans can look up to. "I think that her fearlessness and the fact that she stands up for herself and what she believes in resonates with people. She wants to learn about the world around her with her eyes wide open—and I think people really appreciate that," she theorizes.
Alan Menken's music inspired Moore as a child, and she still speaks in amazement about having the opportunity to sing the original songs he composed with Glenn Slater for Tangled. "I have so many memories of recording the music at Capitol Records with an orchestra," she enthuses, and adds that the experience of singing "I See the Light" on the Academy Awards® broadcast alongside Zachary Levi (Eugene) was "transcendent." Moore is singing new songs from Menken and Slater, and executive producer and supervising director Chris Sonnenburg has been similarly awed to witness the new musical collaboration. "For a certain amount of the process you hear Alan singing the song or you hear a scratch person singing the song. But then Mandy comes in and hits the first note and, all of a sudden, Rapunzel's in the room. You get chills," he shares.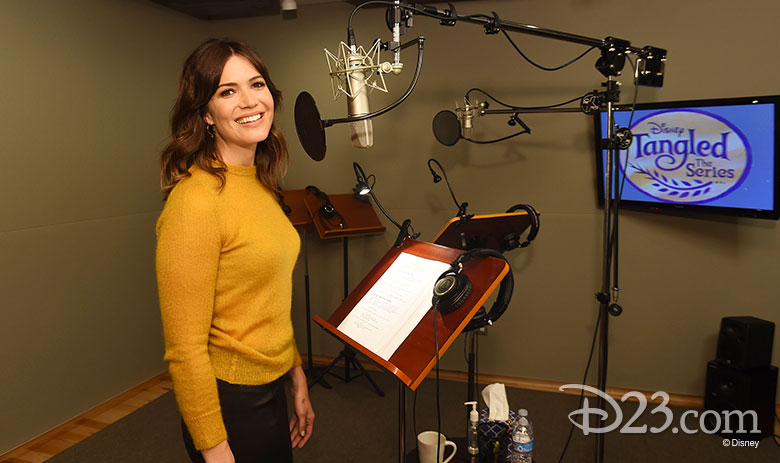 Rapunzel's unmistakable voice has wowed audiences since 2010, but it had a different, surprising effect on one young fan. "A friend once asked me to help his kid sleep. It was like, 'Can you please call as Rapunzel and leave a message saying that you like to go to bed by 7:00, and all princesses really like to get a good night's sleep and go to bed early?'" Moore remembers. "I never heard back from them, so I figured since I didn't need to do a follow-up call, perhaps it did work," she laughs.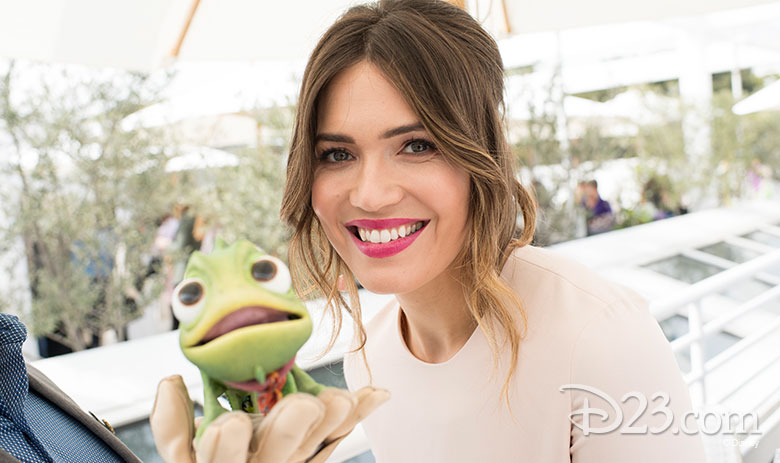 The actress shares the admiration that fans have for this modern and relatable princess. "She's ready to take on all of the obstacles and challenges that may lie before her, even things that are sort of unknown," Moore says. "She really does have this natural curiosity about the world and this irrepressible spirit." As a testament to the equally irrepressible affection fans have for Rapunzel and Eugene, Disney Channel recently announced that Tangled: The Series has already been greenlit for a second season in advance of the series debut, ensuring that the beloved princess is "hair to stay."