By Jocelyn Buhlman
MECH-X4, Disney's new, live-action series premiering this Friday, November 11 (8:30 p.m. EDT), follows the adventures of Ryan Walker, a "technopath" who controls a 150-foot-tall robot along with his friends, Harris and Spyder, and his brother, Mark. Together, they must protect the city from the threat of giant monsters and uncover the mystery behind the robot.
It's a story that strikes a familiar chord: a group of kids just trying to get through the perils of high school, only to face a challenge of the supernatural, science-fiction monster variety. The story's been told everywhere from movies to our daydreams, and there's a reason it resonates with us so strongly. "It's energized nostalgia," Executive Producer Steve Marmel describes. It's a story in which not only kids can see themselves, but their parents can relate to it, too.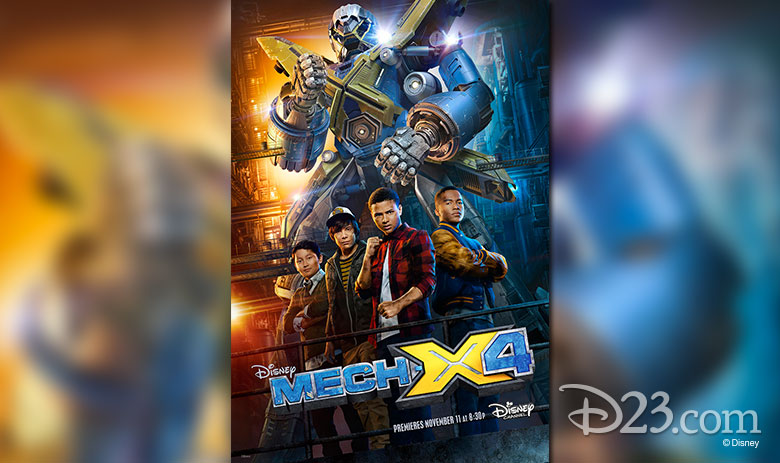 Executive Producer Anupam Nigam emphasizes, "Disney really pushed us to make it serialized and make a show that families would want to watch together." He adds, "Our running joke is that we hope that parents are the ones saying, 'Hey, MECH X-4 is on! You can finish your homework later! You don't have to eat those Brussels sprouts—come on, let's go watch the show!'"
Things are looking promising for all those families seeking something to watch together: MECH-X4 has already been picked up for a second season. What made Disney so enthusiastic about the show? Anupam describes it as, "a little bit like catching lightning in a bottle." He explains, "This is the first time in my career that a show was picked up before a season even aired. The confidence Disney has in it is amazing." Both producers credit Disney for pushing the show to be the best it can be. Steve explains they were encouraged to, "make sure every episode ends with an 'Oh my gosh!' moment that propels you into the next episode."
Anupam adds, "We're hoping that the cliffhangers and the serialized aspect of it will make kids want to talk about it on the playground or in the cafeteria. Two questions we always ask ourselves when we are talking about episodes are 'What makes the episode unmissable?' and 'What makes this someone's favorite episode?'"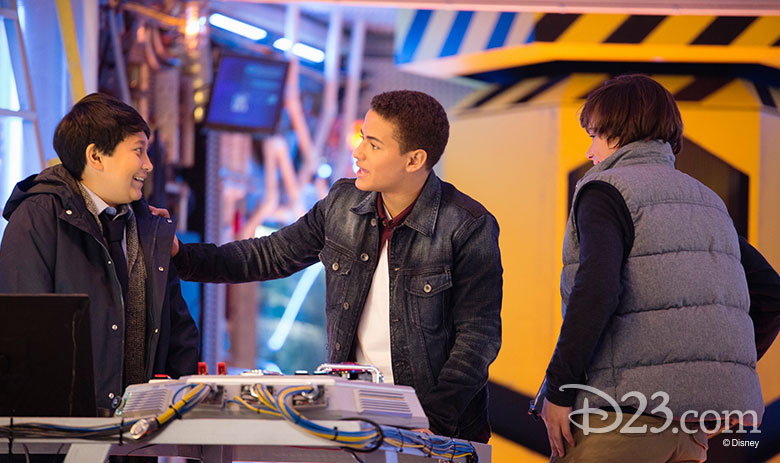 Really, though, the heart of the show is what draws the most appeal. Steve describes MECH-X4 as, "a show about two brothers and four kids who just happen to work inside a giant, monster-fighting robot." It's not just about saving the city from snake-octopus monster combinations and piloting a mysterious and cool giant robot (although we're already excited just by that!). The relationships between the characters, and how they grow to understand and support each other, is just as important as science fiction thrills. Anupam summarizes it best: "We realized that the show is greatest when they are all together as a team."
Are you ready to watch this team, and discover the mystery of MECH X-4 yourself? Pop some popcorn, grab your family and tune in to Disney Channel this Friday, November 11, at 8:30 p.m. ET to catch the start of an expanded premiere weekend that will debut 4 new episodes back-to-back through Sunday, November 13!