Star Wars: Episode VIII Begins Production
Do you feel that? There's a disturbance in the Force… and it's a good one! The next chapter of the continuing Star Wars saga, Star Wars: Episode VIII, just began principal photography at Pinewood Studios in London on this past Monday, February 15!
Star Wars: Episode VIII, written and directed by Rian Johnson, continues the storylines introduced in Star Wars: The Force Awakens—following the adventures of Rey (Daisy Ridley) and her cohorts Finn (John Boyega) and Poe (Oscar Isaac). The film will also welcome back cast members Mark Hamill, Carrie Fisher, Adam Driver, Lupita Nyong'o, Domhnall Gleeson, Anthony Daniels, Gwendoline Christie, and Andy Serkis—and includes newcomers Benicio Del Toro (Oscar® winner for Traffic), Laura Dern (Jurassic Park), and Kelly Marie Tran. Check out the film's tantalizing production announcement video, above!
Look for Star Wars: Episode VIII in December 2017.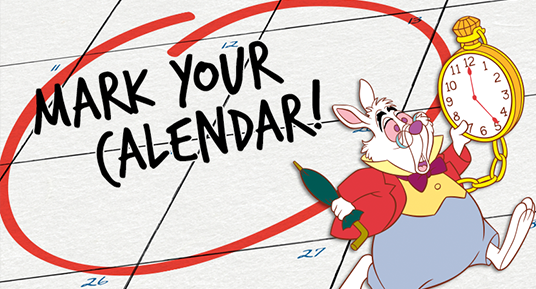 Save the Date!
Be sure to mark these upcoming Disney events on your calendar: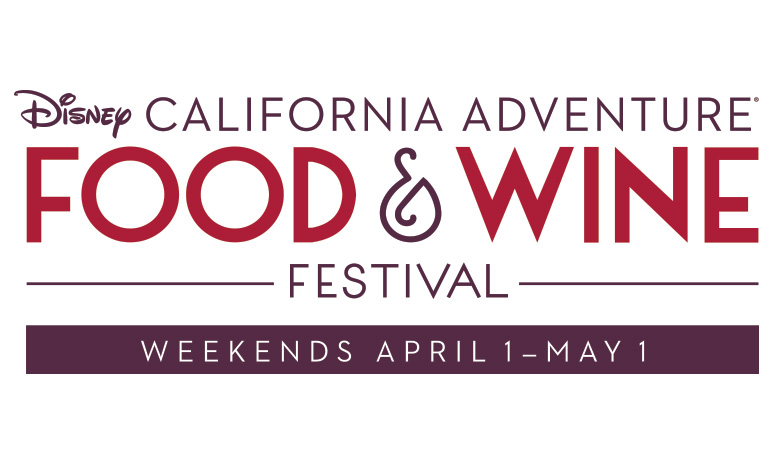 Disney California Adventure Launches Food & Wine Festival
Walt Disney World tickles the taste buds of guests every year with Epcot's popular Food & Wine Festival—and now the West Coast is getting in on the fun! Disney California Adventure Park at Disneyland Resort will soon be filled with even more fabulous food (and treats for all your senses) when the Disney California Adventure Food & Wine Festival begins this April.
The month-long fest, taking place during weekends from April 1 to May 1, will celebrate the best of California cuisine. Festival Marketplaces, a distinctive new feature, will allow guests to sip and savor delicious flavors from throughout the state of California. The Disney California Adventure Food & Wine Festival will also include culinary demonstrations, appearances by celebrity chefs, and lots of informative seminars.
Stay tuned for more information—including how you can reserve your seat for the Festival's premium experiences—as it becomes available…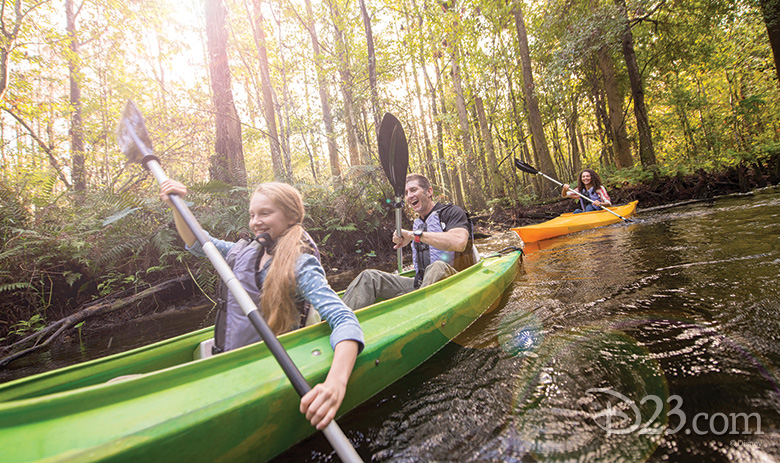 Adventures by Disney Adds Three New American Itineraries
Ever wanted to get a truly unique "backstage" view of Walt Disney World? What about "glamping" near Yellowstone? Adventures by Disney now has you covered! Disney's provider of guided group travel worldwide has announced three new American vacations available beginning Summer 2016. Exciting and educational, these vacations offer families unforgettable ways to bond and explore the good ol' U.S. of A.
Each weeklong trip is filled with activities unique to the destinations visited. For the new Central Florida trip, families will enjoy unprecedented backstage access and VIP experiences at Walt Disney World Resort, airboat through Florida marshlands, and thrill in a visit to the famous "Space Coast." The new Montana vacation offers glamorous camping, or "glamping," near Yellowstone National Park and a stay at a dude ranch in Big Sky. And American history comes alive during a visit to both Washington, D.C. (our nation's current capital) and Philadelphia (America's first capital city).
These new adventures join an existing lineup of more than 30 other Adventures by Disney guided group vacations to some of the world's most exciting destinations. Two Disney-trained Adventure Guides—along with local experts—ensure that every detail of the vacation is taken care of, allowing travelers to create amazing memories without the stress of planning. For more info on these new itineraries, check out AdventuresByDisney.com.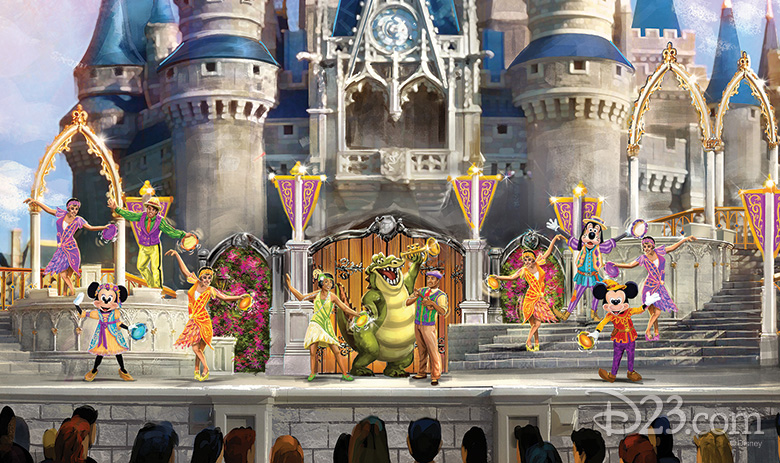 Dazzling New Summer Show to Debut at Magic Kingdom Park
Sure, it's only February, but that doesn't mean it's too early to start planning all your summertime fun! Case in point: If you're heading down to Walt Disney World Resort, don't miss Magic Kingdom Park's brand-new live stage show Mickey's Royal Friendship Faire. Against the majestic backdrop of Cinderella Castle, Mickey Mouse and his friends will welcome favorite characters from some of Disney's newest classics: The Princess and the Frog, Tangled, and Frozen.
The performance finds Mickey and his troupe of Merry Makers preparing to host a joyous festival—and they've invited friends from near and far to join their celebration. From the Land of the Bewitching Bayous, Goofy has invited Tiana, Naveen, and Louis to add a little spice of New Orleans jazz; from the Land of the Enchanted Woods, Donald Duck brings some new friends he met at the Snuggly Duckling, and Daisy introduces us to her special guests, Rapunzel and Flynn Rider; and Mickey shares a surprise with Minnie, as he has traveled to the Land of the Mystic Mountains to invite Olaf, Anna, and even Elsa—who contributes a blast of her icy magic.
The royal rejoicing of Mickey's Royal Friendship Faire kicks off at Magic Kingdom Park this summer!
P!nk Goes Through the Looking Glass with New Music
Using the backdrop of Monday night's Grammy® Awards, Disney announced its collaboration with Grammy winner P!nk on music for its upcoming film, Alice Through the Looking Glass! P!nk will write and record an original song which will appear in the movie and on its soundtrack from Walt Disney Records (featuring four-time Academy Award® nominee Danny Elfman's score). She's also recorded a cover version of the iconic song "White Rabbit" for the film's marketing campaign—as seen in the teaser shown during music's biggest night.
Get a sneak peek at the P!nk fun to come by checking out the clip, above. And mark your calendars for the debut of Alice Through the Looking Glass—starring Mia Wasikowska, Johnny Depp, Anne Hathaway, Matt Lucas, Helena Bonham Carter, Rhys Ifans, and Sacha Baron Cohen—at a theater near you on May 27.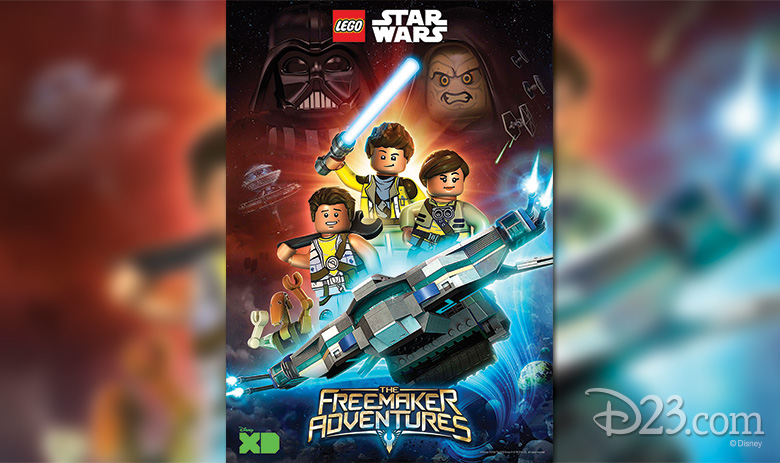 LEGO Star Wars: The Freemaker Adventures: Coming This Summer to Disney XD
As far as "pop culture mashups" go, we don't think you could get more fun than LEGO and Star Wars. Thankfully, Disney XD agrees—and they're set to debut LEGO Star Wars: The Freemaker Adventures, an all-new animated television series that will introduce new heroes and villains in exciting adventures with lots of familiar Star Wars characters!
Told in the whimsical style that audiences have come to expect from LEGO Star Wars entertainment, the series will star the Freemakers—a family of scavengers who build and sell starships from the scoured debris of space battles strewn throughout the galaxy. When their youngest discovers a natural connection with the Force through an ancient artifact—the Kyber Saber—his world is turned upside down, and he and his family are thrown into an epic struggle against the Empire to restore peace and freedom to the galaxy. Throughout their adventures, the Freemakers explore new worlds, meet new and familiar characters, and learn the true value of what it means to be a family.
More info, including premiere dates, to come…