Gravity Falls creator and executive producer Alex Hirsch surprised fans in late 2015 when he announced the series would solve its final riddles in early 2016 after two stellar seasons—and sadly, that finale is upon us. Over two jam-packed seasons, the show has followed 12-year-old twins Dipper and Mabel Pines as they spend a summer break with their eccentric great uncle Stan in the sleepy hamlet of Gravity Falls, Oregon. After uncovering a mysterious journal in the nearby woods, Dipper, Mabel, and "Grunkle Stan" use the book's magic to fend off all manner of paranormal oddities. And now, "Weirdmageddon 3: Take Back the Falls"—the final episode in a three-part, series-ending story that finds a triangular-shaped dream demon named Bill reigning end-of-times havoc on the town and its quirky residents—airs on February 15, at 7 p.m. ET/PT, on Disney XD.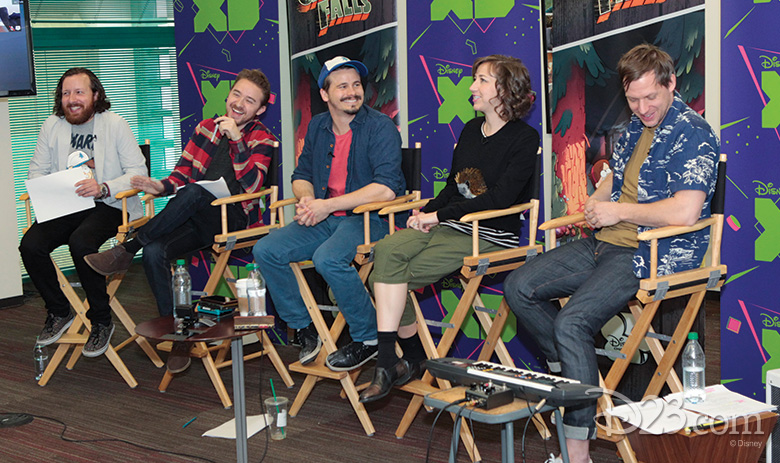 D23 was lucky enough to attend a recent Gravity Falls finale event where Hirsch not only presented a (spoiler-riffic) look at a clip from the finale episode, but also led a special "table read" of a scene from the June 2012 series premiere! In an exclusive first look at the live performance, see Hirsch (voice of "Grunkle Stan"), Jason Ritter (voice of Dipper), and Kristen Schaal (voice of Mabel) as the characters hilariously recount Mabel's early attempts at finding a boyfriend. Check it out, below!
In the Q&A that followed, the cast and crew reflected on—and celebrated—Gravity Falls' past and present, while musing about its conclusion… and possible future. Co-star Kristen Schaal may be an in-demand voice actor across TV and film (she plays Trixie the Triceratops in Toy Story 3 and several Toy Story shorts), but she holds her Gravity Falls character close to her heart: "Out of all the characters I've played, Mabel is probably the most like me—and what I most want to be. Every time I would go into the recording booth to record Mabel, no matter what mood I was in, as soon as I said the first line… it was like instant access to a well of joy that I guess I always have, but don't have an excuse to tap into. And Mabel, that was where she 'came from,' and I would always leave in such a good mood. Now that the show is over, I don't know what I'm gonna do!"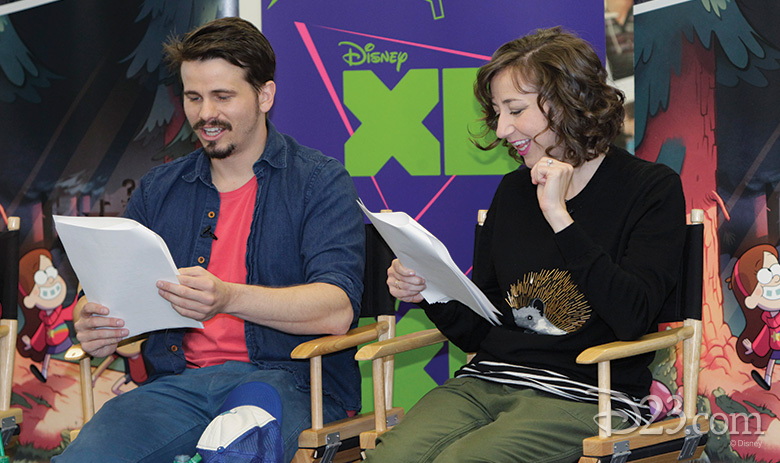 Jason Ritter grew similarly attached to the character of Dipper, and appreciates the pre-teen adventurer's growth over the course of the series. "At the beginning, Dipper is at that stage where he wants to be cool, and wants to be anything other than who he is," said Ritter. "And he has a sister who refuses to be anything other than who she is—and I think he really started to embrace himself and all of his faults. And he's also come to realize, specifically in the 'Weirdmageddon: Part 2' episode, how important Mabel is to him, and how important family is to him."
The reaction of fans—and the series' appeal to both adults and children—was one of the favorite parts of creator Alex Hirsch's entire Gravity Falls experience. "What I was trying to do with this show [initially] was to make something that would appeal to people in my own age bracket," said Hirsch. "I wanted to make something where the 'scares' would sometimes actually be scary; something that was multi-layered, with hidden jokes and secret references and codes. And I honestly thought it would go over kids' heads—not because I wasn't anticipating their intelligence, but I don't think I was anticipating the scope of their passion. And I was so pleasantly surprised… If you make something worthy of their intelligence, they will show that intelligence in ways that will sometimes shock you."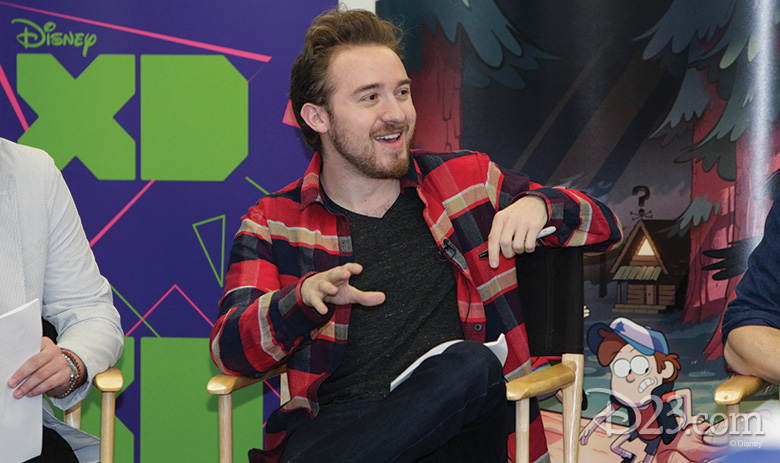 And lest you wonder why a highly successful show is ending so soon, that was always Hirsch's plan. "When I originally pitched the show, I told [executives] that this series only has a few seasons; there's a beginning, a middle, and an end—like a book with a certain amount of chapters," he explained. "It's a summer with a few big questions, and once they're answered—that's it. I'm grateful to [Disney Channel and Disney XD] for letting me tell the story the way I planned to tell it." But Gravity Falls fans can rest easy knowing Hirsch hasn't completely ruled out an eventual return to the Mystery Shack: "It's not inconceivable that, one day, we may return to this world. When people watch the final episode, they will see threads that could potentially be addressed in some future form."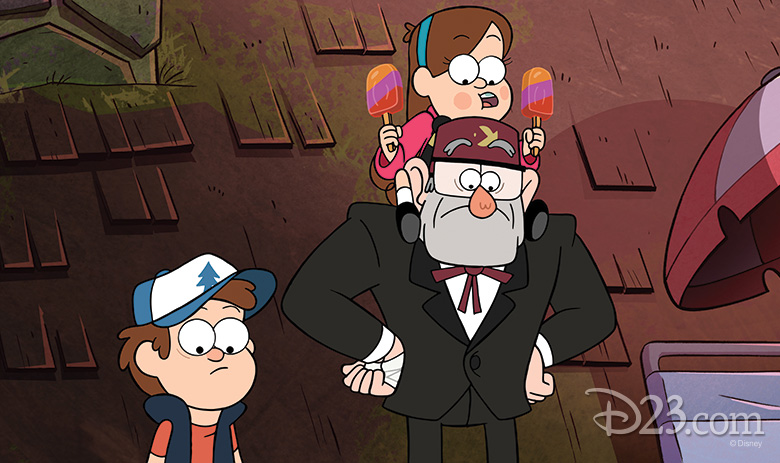 In advance of the series finale of Gravity Falls this Monday, February 15, at 7 p.m. ET/PT, you can relive Dipper and Mabel's entire summer in Gravity Falls via a 68-hour marathon that kicks off Friday, February 12 at 11 p.m. ET.
Watch an exclusive video featuring Alex Hirsch, Jason Ritter, Kristen Schaal, and Gravity Falls music composer Brad Breeck and click here for a video of the full table read!