By Courtney Potter
Live-Action Beauty and the Beast Gets Teaser-Trailer Treatment
There we were, sitting in near the fountain of our little town (it's a quiet village!), reading our favorite book—we'd just gotten to the part where the heroine meets Prince Charming… when suddenly, on our mobile screen of choice, appeared a brand-new teaser for Disney's live-action retelling of Beauty and the Beast! (We were so excited, we almost ran right into the baker on his way to get the baguettes. But that's another story…)
Beauty and the Beast stars Emma Watson (the Harry Potter film series) as iconic Disney princess Belle—a bright, beautiful, and (very) independent young woman who is taken prisoner by a beast and locked away in his castle. Despite her fears, Belle befriends the castle's enchanted staff and learns to look beyond the Beast's hideous exterior and realize the kind heart and soul of the true Prince within. Also featuring Dan Stevens (Downton Abbey) as the Beast, Luke Evans (The Hobbit) as Gaston, Josh Gad (Frozen) as Lefou, Ewan McGregor (the Star Wars prequel trilogy) as Lumiere, and Emma Thompson (Saving Mr. Banks) as Mrs. Potts, the film will bewitch audiences worldwide beginning March 17, 2017.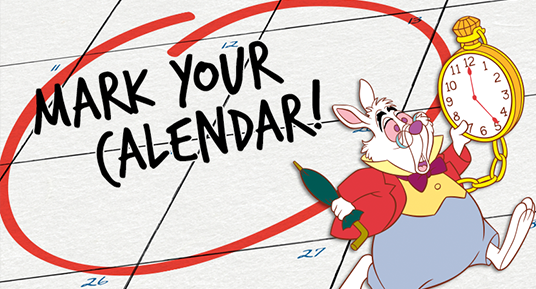 Save the Date!
Be sure to mark these upcoming Disney events on your calendar:
D23 and Walt Disney Archives


June 4


D23's Afternoon in the Sea: Finding Nemo


June 8


D23 Member Night at Newsies—On Tour in Salt Lake City, Utah


August 22-26


D23 Presents Aloha Aulani!


November 19-20


D23 Destination D: Amazing Adventures


Studios




May 27


Alice Through the Looking Glass opens in theaters.


June 17


Finding Dory opens in theaters.


July 1


The BFG opens in theaters.


August 12


Pete's Dragon opens in theaters.


November 23


Moana opens in theaters.


December 16


Rogue One opens in theaters.
Parks


March 2—May 30




Epcot International Flower & Garden Festival




June 16




Shanghai Disney Resort to open




June 17


Soarin' Around the World Debuts at Disney California Adventure and at Epcot


September 2, 8, 11, 13, 16, 18, 20, 23, 25, 29, 30 and October 2, 4, 6, 7, 10, 11, 13, 14, 16, 18, 20, 21, 23, 25, 27, 28, 30, 31




Mickey's Not-So-Scary Halloween Party at Walt Disney World Resort




November 7, 8, 10, 11, 13, 15, 18, 27, 29 and December 1, 2, 4, 6, 8, 9, 11, 13, 15, 16, 18, 22




Mickey's Very Merry Christmas Party at Walt Disney World Resort




Television




May 27




100th DCOM Celebration Kicks Off on Disney Channel at 10 a.m.




June 24


Adventures in Babysitting Premieres on Disney Channel at 8 p.m. EDT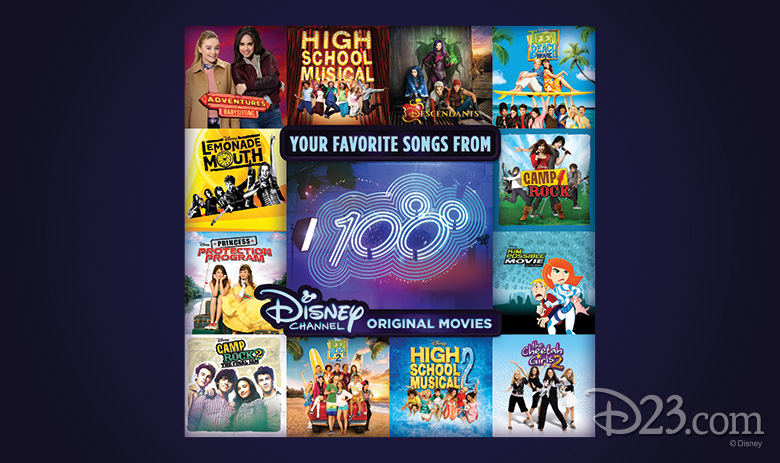 All Your Favorite Tunes from Disney Channel Original Movies on One Album!
As we gear up for the debut of Disney Channel's 100th Original Movie(DCOM)—Adventures in Babysitting, premiering June 24 at 8 p.m. ET)—Walt Disney Records keeps the celebration going with the release of a new digital album chock full of songs from chart-topping DCOM soundtracks! Your Favorite Songs from 100 Disney Channel Original Movies hits virtual store shelves on Friday, May 27 (and is actually available for pre-order right this minute, over at iTunes).
The centerpiece of the album is a medley of super-iconic DCOM songs performed by Hollywood Records recording artists Forever In Your Mind; the band's music video will also debut on Friday, May 27—during the big "100th DCOM Celebration" programming event on Disney Channel—and will be available on DisneyMusicVevo right after its TV premiere.
Look for awesome cuts like "Cruisin' for a Bruisin'" from Teen Beach Movie; "This is Me" from Camp Rock; "Rotten to the Core" from Disney's Descendants; and (of course) "Wildside" from Adventures in Babysitting. Happy listening, y'all!
New Finding Dory Trailer is Unforgettable
Here's another way to remember that Disney•Pixar's Finding Dory, the much-anticipated sequel to Finding Nemo, is about to swim into theaters on June 17: a shiny new trailer!
Set off the coast of California, Finding Dory reunites everyone's favorite forgetful blue tang, Dory (voice of Ellen DeGeneres), with her friends Nemo (voice of Hayden Rolence) and Marlin (voice of Albert Brooks) on a search for answers about her past. What can she remember? Who are her parents? And where did she learn to speak Whale? The film also features the dulcet tones of Ed O'Neill, Kaitlin Olson, Ty Burrell, Idris Elba, Kate McKinnon, Eugene Levy, and Diane Keaton.
And speaking of something "Unforgettable," check out this performance from last Friday's episode of Ellen, when Sia dropped by to sing her cover of the classic 1951 song (originally made popular by Nat King Cole), which will appear in the end credits of the film.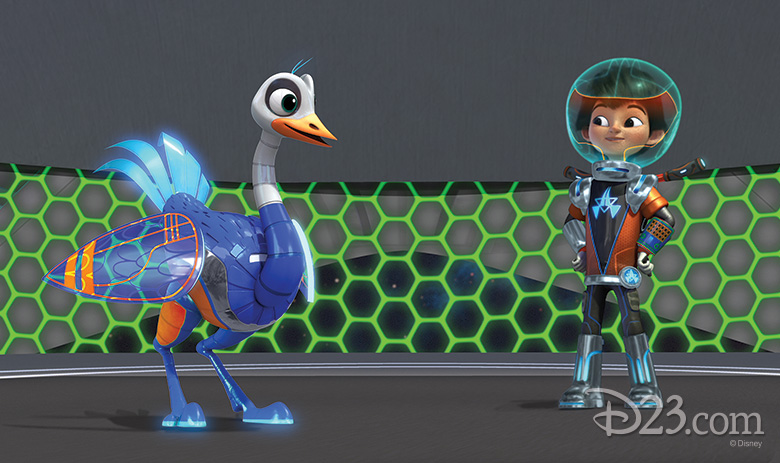 Season 2 of Miles from Tomorrowland: Coming June 20 to Disney Channel!
Disney Junior's Emmy®-nominated animated series Miles from Tomorrowland is back for Season 2—and all the new intergalactic fun kicks off this June! The series, which boasts an impressive pedigree of NASA, Google, and Space Tourism Society consultants, follows the out-of-this-world missions of young adventurer Miles Callisto and his family as they work together to help connect the galaxy on behalf of the Tomorrowland Transit Authority.
Celebrity guest stars this season include Star Trek: The Next Generation alums LeVar Burton (as Galactic School teacher Dr. Consilium), Whoopi Goldberg (as creative tech genius The GameMaster), and Jonathan Frakes (as Miles' paternal grandfather). Plus, Good Morning America's chief meteorologist and recent Dancing with the Stars finalist Ginger Zee voices Dr. Zephyr Skye, Tomorrowland's leading weather forecaster.
Look for Miles and all his interplanetary pals when Miles from Tomorrowland premieres on Monday, June 20, at 9 a.m. EDT on Disney Channel (with a preview via the Disney Junior App beginning on Monday, June 13)!
Final Countdown to Soarin' Around the World at Disney Parks Worldwide
Ever imagined flying high above the Great Wall of China? Or feeling the Australian wind in your hair whilst gliding above Sydney Harbor (with its iconic Sydney Opera House nearby)? Well, you won't have to imagine much longer: Disney Parks' Soarin' Over the World is poised to take flight beginning in mid-June! And if you're looking for a lil' sneak peek at the exhilarating journey, check out the video from our pals at the Disney Parks Blog, above.
Soarin' Over the World will premiere (as Soarin' Over the Horizon) at Shanghai Disneyland during its big grand-opening celebration on June 16—then fly into Disney California Adventure at Disneyland Resort, and Epcot at Walt Disney World Resort, the very next day. So pack those proverbial bags, cuz our flight's about to board…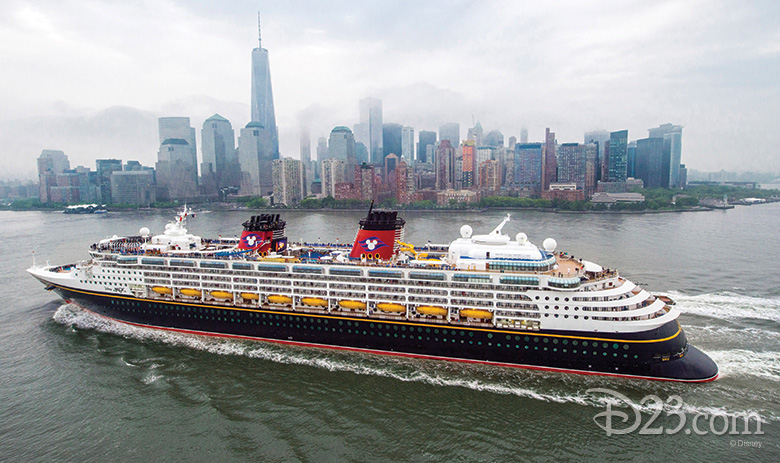 Disney Cruise Line Returning to Stateside Home Ports in 2017
If you're looking for a fantastic way to sail the globe—leaving once again from convenient locations across the good ol' U.S. of A.—look no further than Disney Cruise Line (DCL)! They've just announced a return to several popular stateside home ports for limited-time engagements…
In the fall of 2017, DCL will return to New York City with sailings to the Bahamas and the Canadian coast—including a new seven-night Canada cruise. Additionally, San Diego, California, will serve as a home port with cruises to Mexico, and Galveston, Texas, will again be home to sailings to the Caribbean and Bahamas.
For more info on all DCL's 2017 sailings, row your boat over to their website.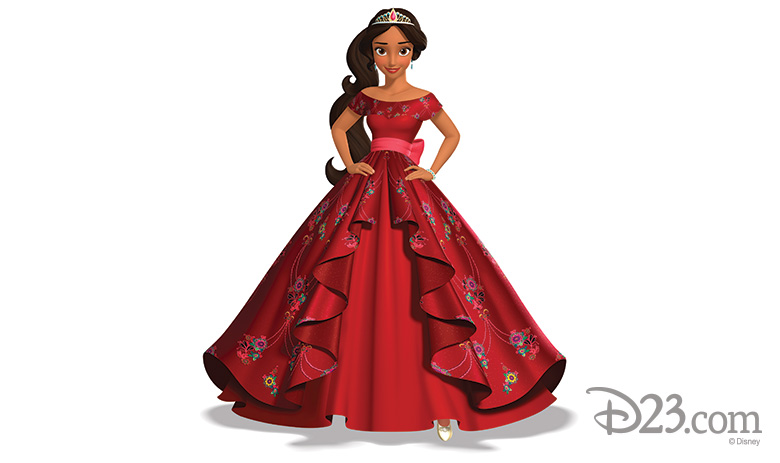 Elena of Avalor to Debut Ball Gown Designed by Project Runway Alum
"Hola! Tenemos noticias para ti!" (That's Spanish for, "Have we got news for you!") Princess Elena—the star of Disney Channel's newest animated series, Elena of Avalor—will been seen in the show wearing a beautiful ball gown inspired by her rich Latin American heritage. And that's not all: The gown was designed by Project Runway alum Layana Aguilar! Says the Brazilian-born-and-raised fashionista, "Designing a dress for a Disney princess is a dream come true for me and the proudest moment of my career so far. And as a mother, I am so excited to introduce my kids to [the new show]."
Layana's design is also the inspiration for the dress that Princess Elena will wear when she meets and greets her "royal subjects" at Disney Parks later this year! You'll be able to find the princess at Disney California Adventure at Disneyland Resort, and at the Magic Kingdom at Walt Disney World Resort. Keep your "ojos" peeled for more info on her Parks debut as it becomes available.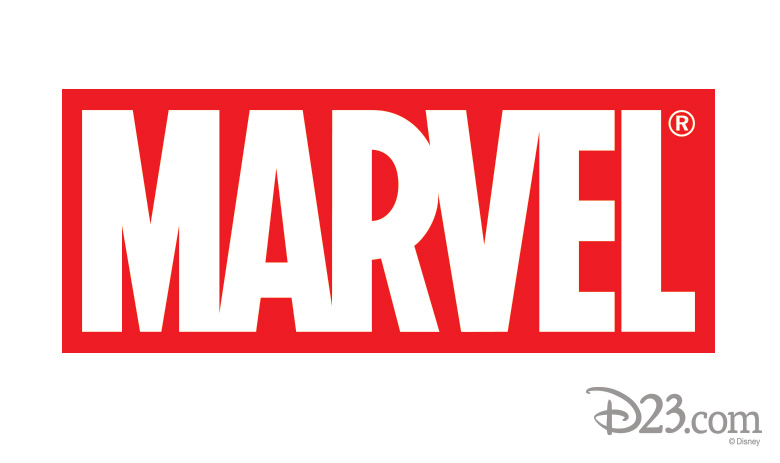 Big Casting News for Marvel's Thor: Ragnarok
A dazzling array of all-star actors will be joining Chris Hemsworth in Marvel's Thor: Ragnarok, the continuing story of the hammer-wielding Super Hero that's due in theaters November 3, 2017.
Oscar® winner Cate Blanchett (Cinderella) will costar as Hela, a mysterious new villain—and joining her are Jeff Goldblum (Jurassic Park) as Grandmaster, Karl Urban (the Star Trek trilogy) as Skurge, and Tessa Thompson (Selma) as Valkyrie. Additionally, Mark Ruffalo will reprise his Avengers role of Bruce "The Hulk" Banner.
And don't worry: Besides Chris Hemsworth in the title role, all your favorites from the first two Thor films are returning, including Tom Hiddleston as Loki, Idris Elba as Heimdall, and Sir Anthony Hopkins as Odin.