By Becky Cline
On Oscar® Sunday, February 26, Hollywood's best and brightest will again gather at the Dolby Theatre for the 89th annual Academy Awards®. Disney is nominated in six categories, with Walt Disney Animation Studios' Moana and Zootopia both nominated for best Animated Feature Film—continuing the legacy of Walt Disney, who still holds the record for winning the most individual Academy Awards in history, with 32 to his credit, including many very special ones.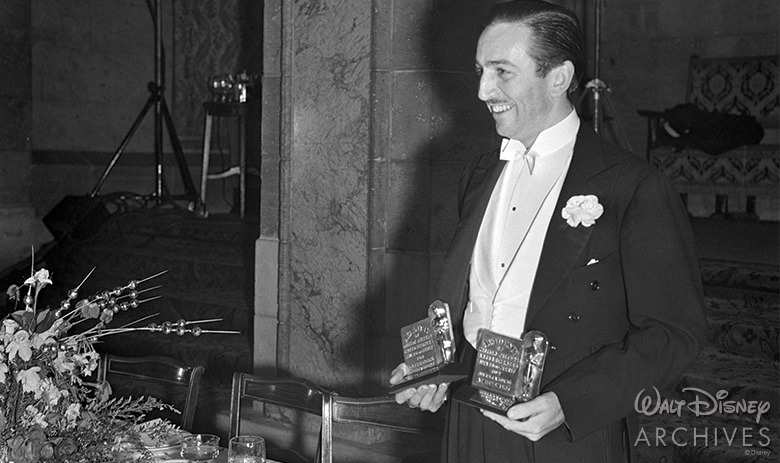 Of course, the most well-known of Walt Disney's "Oscars" is the Special Academy Award that was given to Walt Disney in 1939 to recognize the significance of his brilliant animated feature, Snow White and the Seven Dwarfs—"recognized as a significant screen innovation which has charmed millions and pioneered a great new entertainment field for the motion picture cartoon." That very special award was presented to Walt Disney by Shirley Temple, and features a full-size Oscar statuette and seven "dwarf-sized" miniature versions that accompany it. But most people don't realize that there are even smaller Oscars that have been given out.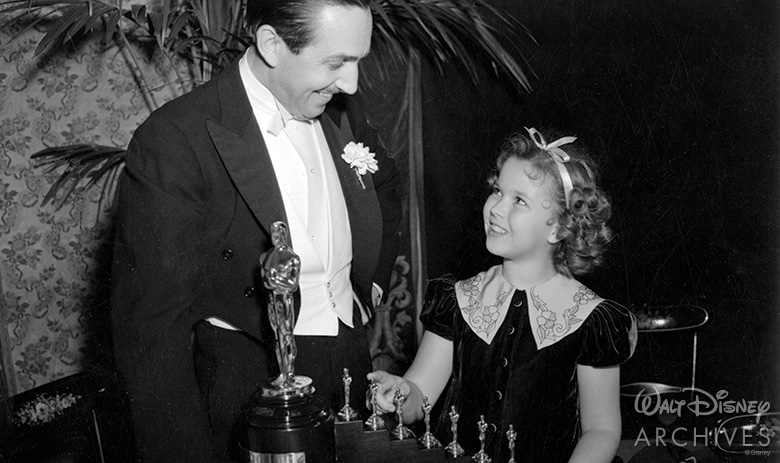 Today, actors are nominated in each acting category, regardless of their age, but that wasn't always so. In 1934, the Academy established the Academy Juvenile Award to recognize actors under the age of 18 for their "outstanding contributions to screen entertainment." This Oscar statuette was as "pint-sized" as its recipients—standing only 7 inches tall (the full award is 13-1/2" high). Disney actor Bobby Driscoll was presented the award in 1950 for his performance in the Disney feature So Dear to My Heart (1949), as was Hayley Mills in 1960 for her tour de force performance as the title character in Pollyanna (1960).
And the Oscars actually get even smaller than that!
Each year, an Oscar winner is allowed to request a special 1-inch miniature 18-karat gold charm "Oscar" for each award that is won. The charms are one inch tall and are made by a Beverly Hills jeweler under exclusive license from the Academy. Each charm is engraved on the bottom with the name of the honoree, the film that it honors, and the year that the film was released.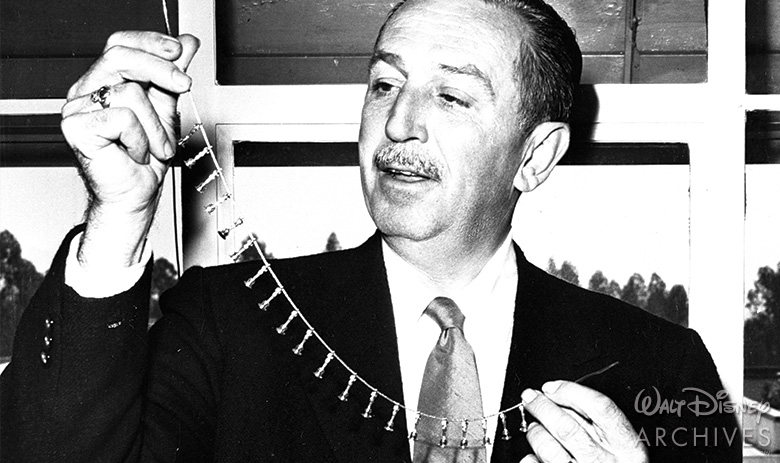 And as the record holder for Oscars… Walt Disney requested a lot of them. A photo taken in 1954 shows Walt holding up the 20 gold charms that he acquired from the Academy. His intention was to have them made into a necklace for his wife, Lillian, but when she told him she would prefer a bracelet, he had the ultimate Hollywood linked charm bracelet designed for her—a gift that she loved and proudly wore often. In her later years, Lilly gave the treasured bracelet to one of her granddaughters and today it can be seen on display at The Walt Disney Family Museum in San Francisco.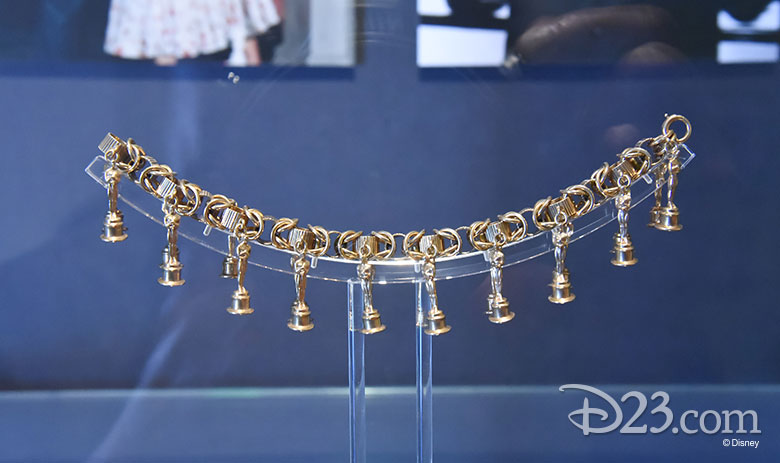 But Walt was not the only Disney Oscar winner to make a special bracelet for his love. After winning an Academy Award for Special Visual Effects in Mary Poppins in 1965, Disney Legend Peter Ellenshaw acquired one of the gold Oscar charms and created a very unique and outstandingly beautiful bracelet for his own beloved wife, Bobbie. He took the single charm and created a 7 1/4" long bracelet by adding seven hand-painted framed miniatures—all versions of subjects that he had previously painted over the years in "normal size."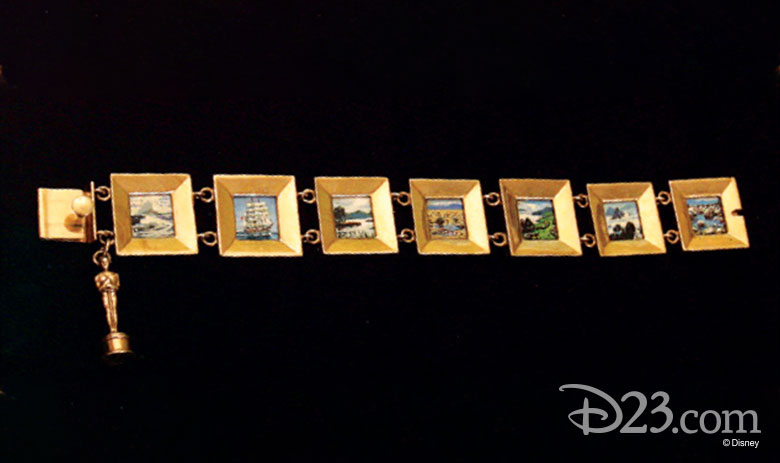 According to son Harrison Ellenshaw, who shared this photo with D23, the links feature [from L-R] a seascape (in Hawaii or California); The Sea Cloud (a clipper ship); County Kerry, Ireland; a desert scene with the San Jacinto Mountains in background; the Ring of Kerry in Ireland; the Skellig Islands, also in Ireland; and a desert pool.
Over the years, other unique awards have been presented to Walt and additional Disney luminaries. In 1932, Walt Disney was presented with his very first Academy Award, for the 1931–32 Cartoon Short Subject for Flowers and Trees, but that was also the year that he received his first Special Award from the Academy–an Oscar for the creation of Mickey Mouse. Others soon followed.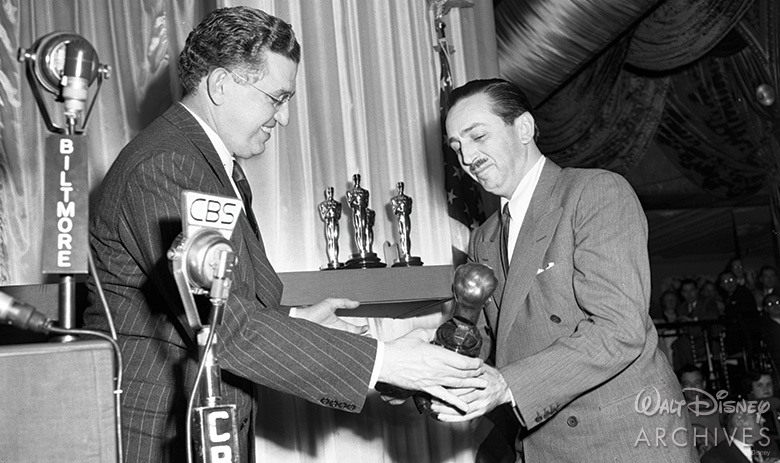 In 1942, Walt was given the very prestigious Irving Thalberg Memorial Award, which is occasionally awarded to "Creative producers, whose bodies of work reflect a consistently high quality of motion picture production." Walt Disney was the youngest person ever to win it, and when legendary producer David O. Selznick presented the award to Walt, he was so overcome by the honor that he openly wept, saying, "I want to thank everybody here. This is a vote of confidence from the whole industry." When Walt returned to his seat, Irving Thalberg's widow, actress Norma Shearer, was so touched that she went over to Walt and gave him a little kiss.
In 1948, a special Honorary Award was given by the Academy to Disney actor James Baskett to honor his outstanding performance in Disney's 1946 film Song of the South—for his "able and heartwarming characterization of Uncle Remus, friend and storyteller to the children of the world."
And finally, there are the Special and Scientific/Technical Awards that have been given to the film wizards at The Walt Disney Company over the years. The first was given to Walt Disney Productions for the design and application to production of the Multiplane Camera in 1938, kicking off decades of amazing film technological achievements. The most recent are the two newest Disney Academy Awards given out just last week to Kiran Bhat, Michael Koperwas, Brian Cantwell, and Paige Warner for the design and development of the ILM facial performance-capture solving system and to Brian Whited for the design and development of the Meander drawing system at Walt Disney Animation Studios.