By Jeffrey Epstein
D23 is celebrating the opening of Shanghai Disney Resort and bringing you along with us on an exclusive tour of this breathtaking new resort! Our second installment takes you into Shanghai Disneyland through Mickey Avenue, Treasure Cove, Fantasyland, and more. For the first installment, featuring the Shanghai Disney Resort hotels and Disneytown, click here.
Shanghai Disneyland! As the sun was rising, we were up and ready. Today we walked through the gates of Disney's newest theme park.
We had to catch our breath as the traditional "floral Mickey" came into view. The colorful arrangement welcomes guests into the park, and we knew we were in for something special.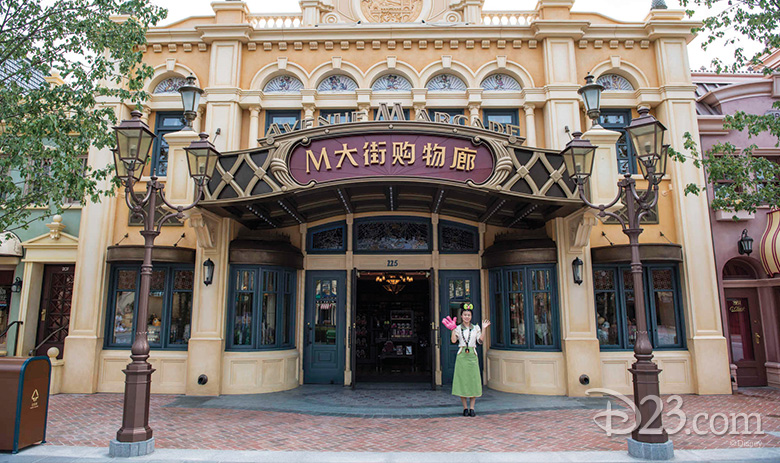 First off, if you're considering a visit to Shanghai Disneyland, plan to spend a day just gawking at Mickey Avenue. The details are astounding. Imagineers chose to craft Mickey Avenue as a place where Disney's best and brightest have set up shop. Avenue M Arcade would be the equivalent of the Emporium for guests familiar with our stateside parks. There's a little bit of everything—and a whole lot of hidden treasures. Look closely above one of the doorways and you'll find the adorable one-man-band from Pixar's Tin Toy—or Woody and Buzz in their "original packaging." We spent as much time exploring as we did perusing the merchandise.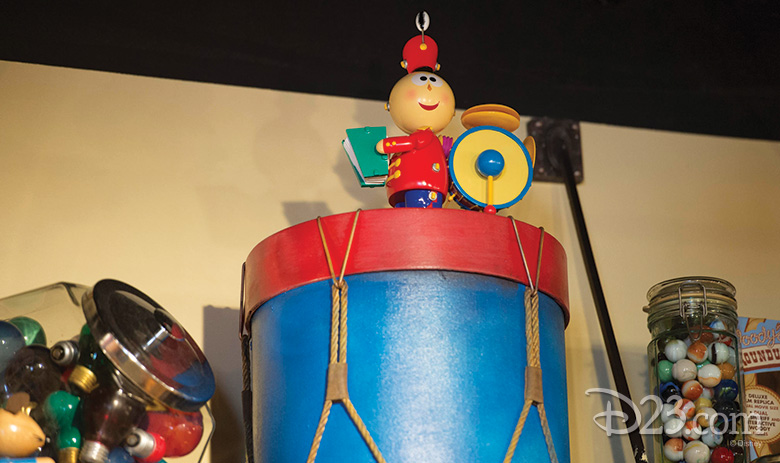 Across the street in Sweethearts Confectionary, Minnie has treats galore for any sweet tooth. And just as sweet are the adorable family portraits along the walls.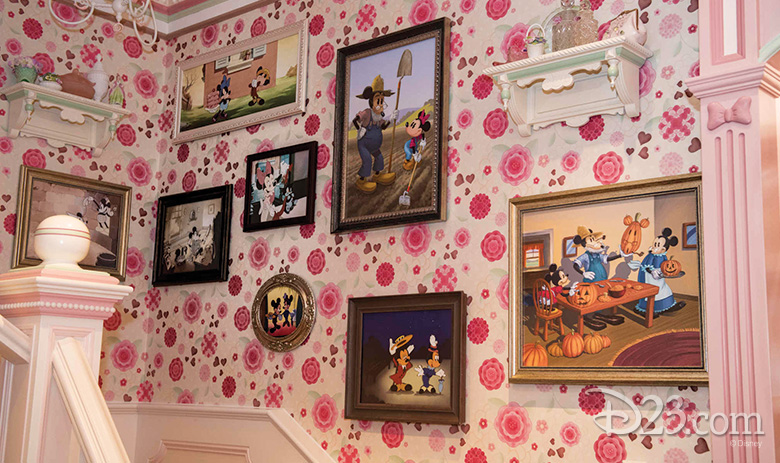 And if you want to truly go on a Disney geek scavenger hunt, that's just the beginning. Inside Remy's Patisserie you'll find Gusteau's Anyone Can Cook—in French! In Il Paperino (which features scrumptious waffles) guests will find Donald's entire family tree—and there are enough feathered friends to fill Duckburg and more. Back on the street, keep an eye peeled for the window advertising the Hotel Marceline. And the Laugh-O-Grams Photo Studio. And Floyd and Carl's Comics (an homage to comic book artists Floyd Gottfredson and Carl Barks). And in Mickey & Pals Market Café, you'll find images of Oswald the Lucky Rabbit, Hiawatha, Johnny Appleseed, and more on creatively crafted crates.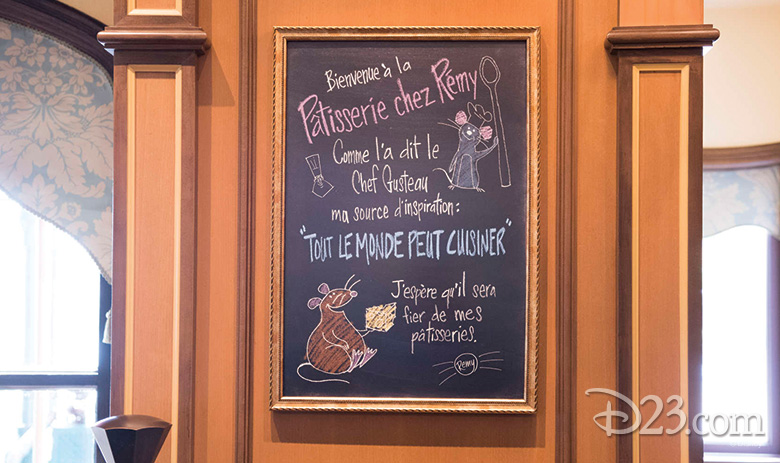 Don't miss the "1401" address on one of the buildings along a side street (the same address number as Walt Disney Imagineering's headquarters). There's an ad for Lightning McQueen's favorite: Rust-eze. Oh, and of course there's a 23! Visitors could literally spend a day just sightseeing… But there are way too many incredible attractions to get to (and shows… and parades…).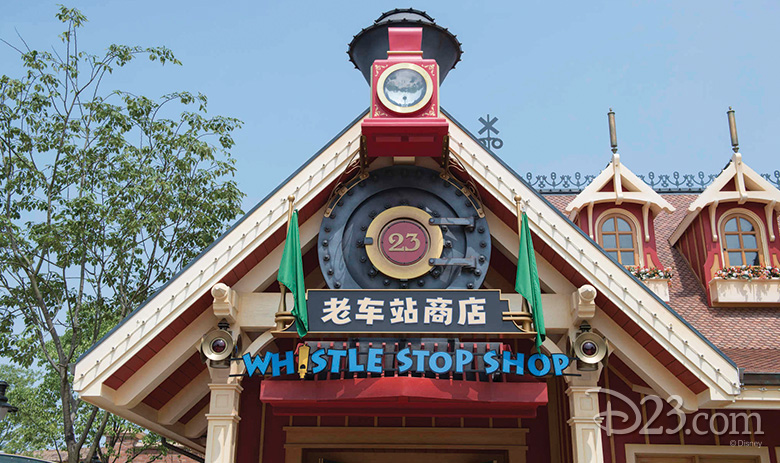 We hightailed it to Treasure Cove—the park's pirate-themed land—for Pirates of the Caribbean: Battle for the Sunken Treasure. We were totally transported into Jack Sparrow's world—and his nasty tiffs with Barbossa and Davy Jones, thanks to the incredible lifelike Audio-Animatronics® characters. And keep a weather eye out for the names of the ships (Anne Bonny!), which will have special meaning to fans of both the original Pirates attraction and the films.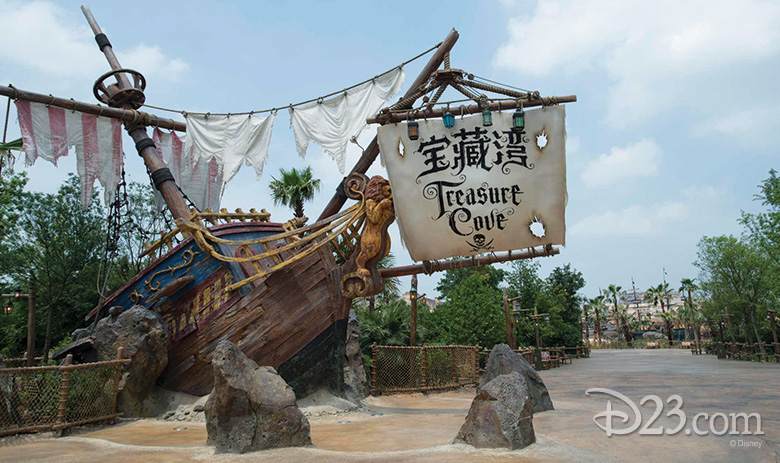 Don't think there's a moment to catch your breath. Next door is the Eye of the Storm: Captain Jack's Stunt Spectacular. The lobby is more ornately decorated than some of the most famous Broadway theaters. Our mouse ears are off to those incredible stunt performers. The sword fighting! The swashbuckling! And one intense storm. We have never seen anything like Captain Jack fending off a foe midair (untethered!) as a wild sea cyclone hits the theater.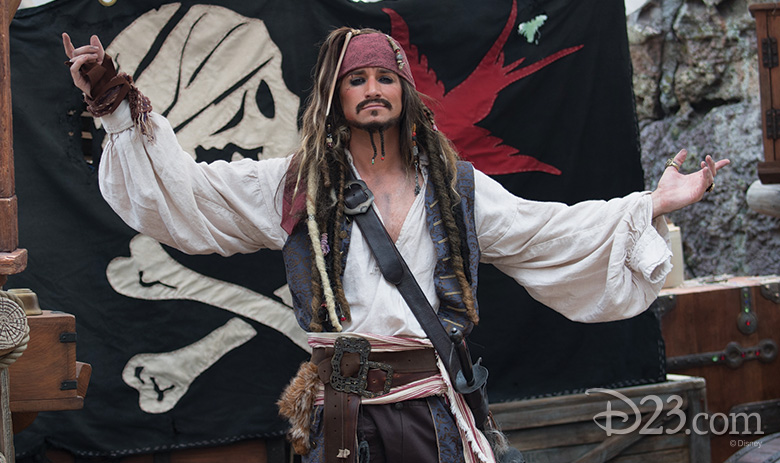 We got off our feet for a few minutes to take in Tarzan: Call of the Jungle at Adventure Isle, an epic show that retells the story of Tarzan through traditional Chinese acrobatics and theatrics. We are still in awe of what we saw—from plate spinning and aerial silk dancing to gravity defying acrobatics. The score—performed in Mandarin—remains as vibrant as ever, and Mrs. Potts even makes an appearance! (In her own subtle way.)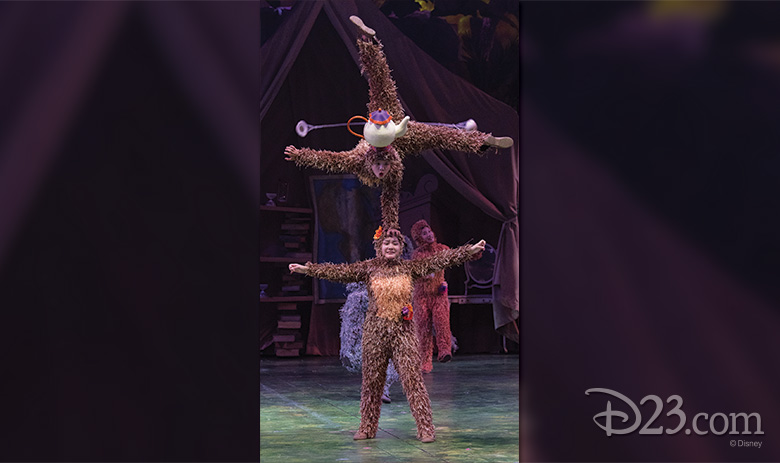 Next it was off to go Soaring Over the Horizon. Here in Shanghai the concept is that we are being lifted by a magical thunderbird and taken on a journey around the globe—concluding with a stunning view of Shanghai. After taking flight, we came back to Earth for the thrilling Roaring Rapids attraction—including drenching drops and other surprises.
After the intensity, it was time for a little fantasy. (But before you leave Adventure Isle, make sure you get a photo with Woolley, the llama!) Fantasyland is a staple of any Disney park, and in Shanghai, fantasy goes big—with the largest castle ever created for a Disney theme park, the Enchanted Storybook Castle. The craftsmanship on the castle is mind-blowing. Perla and Suzy from Cinderella are crafted into the stonework, as are Tangled's Pascal, the owl from Sleeping Beauty, and many more fairy-tale favorites. Like Mickey Avenue, we could have gawked at the artistry all day. But we chose to head inside for "Once Upon A Time" Adventure. Just as Sleeping Beauty Castle at Disneyland tells the tale of Aurora, the Enchanted Storybook Castle offers guests the chance to relive Snow White's iconic story. Some of the special effects—especially the magic mirror, which acts as your portal to the attraction, and the Evil Queen's interactive smoldering cauldron—are fantastic.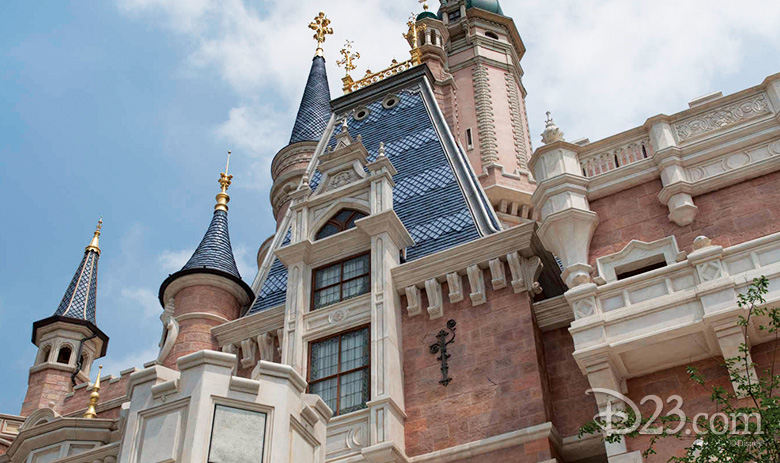 The Enchanted Storybook Castle is also unique because it is the only Disney castle with an attraction that goes through it—Voyage to the Crystal Grotto. Traveling through Fantasyland, guests relive magical moments from Disney animated films such as The Little Mermaid, Fantasia, Mulan, Tangled, and Beauty and the Beast (you may need to duck when Mrs. Potts "steams up" and a stream of water shoots out her "nose"!). It culminates in a finale under the castle in a secret chamber where magic crystals come to life. We loved seeing so many of our favorite films together in one attraction.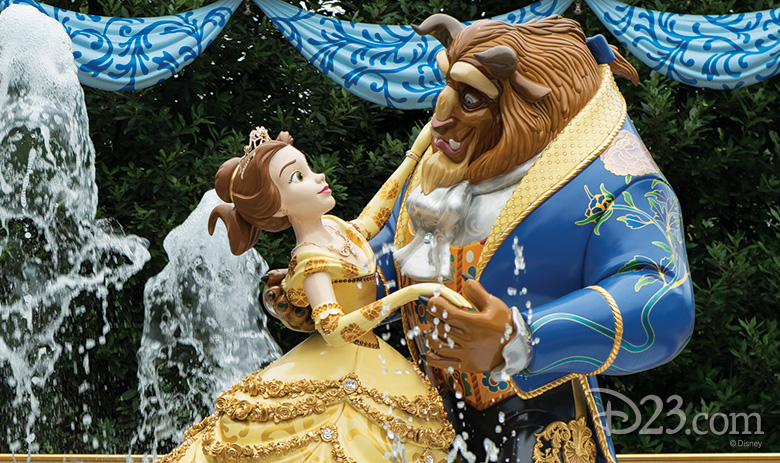 Then it was off to Never Land! We heard the Imagineers made some "enhancements" to the traditional Peter Pan attractions, and we loved every single one of them. Nana floating in air was a particular highlight. And be careful not to run into Big Ben.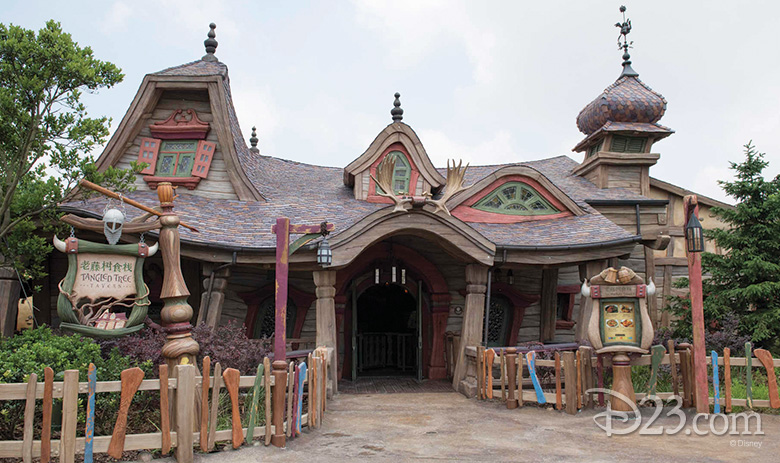 All this adventure made us hungry, so off we went to the Tangled Tree Tavern. The quick-serve eatery designed after the Snuggly Duckling from Tangled. While we didn't run into any ruffians or thugs, we did love the spicy Szechuan Chicken!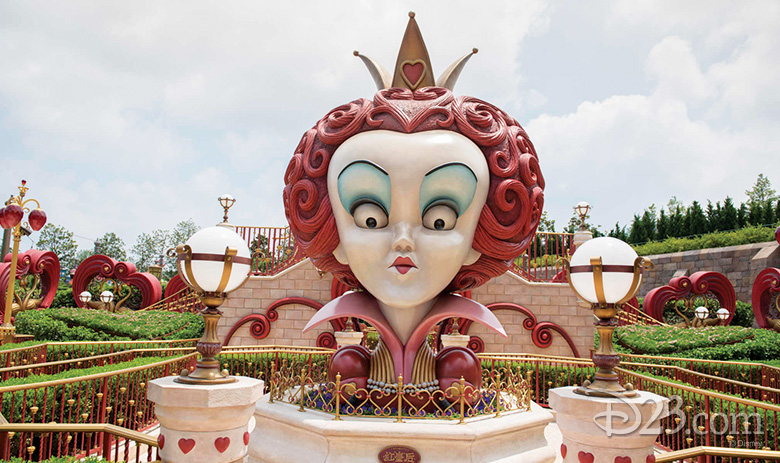 Then it was time to venture into Alice in Wonderland Maze. The labyrinth is based on the Tim Burton film, which is incredibly popular in China. At every twist and turn there was something new to see. Careful of the Bandersnatch's lair—behind the quaking door is some ferocious growling, and Alice wasn't anywhere to tell him we were just passing through. In a cavern the Cheshire Cat can be found… if you're lucky. He has a way of disappearing. And while you're getting entangled in the maze, there's an abundance of fantastic photo spots including the Red Queen, her guards, and the Mad Hatter's Tea Party.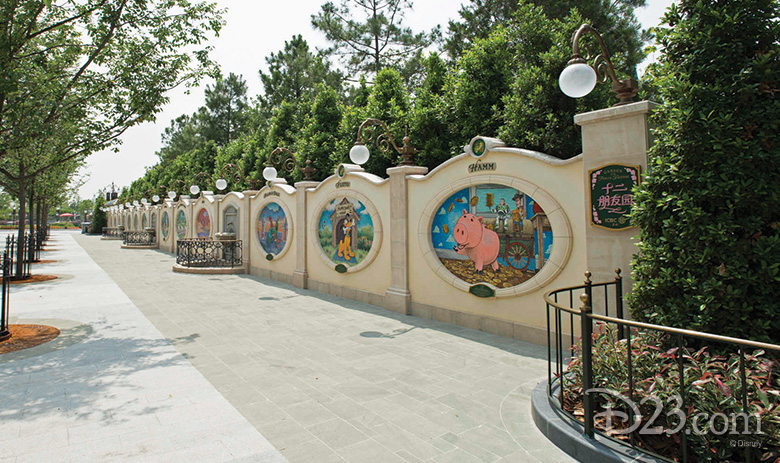 From there we strolled into the Gardens of Imagination, which features Disney and Pixar characters in the 12 signs of the Chinese Zodiac. Seeing them up close is something else. The tilework is extraordinary, bringing characters such as Mushu, Kaa, Thumper, and Remy to life in an entirely new way.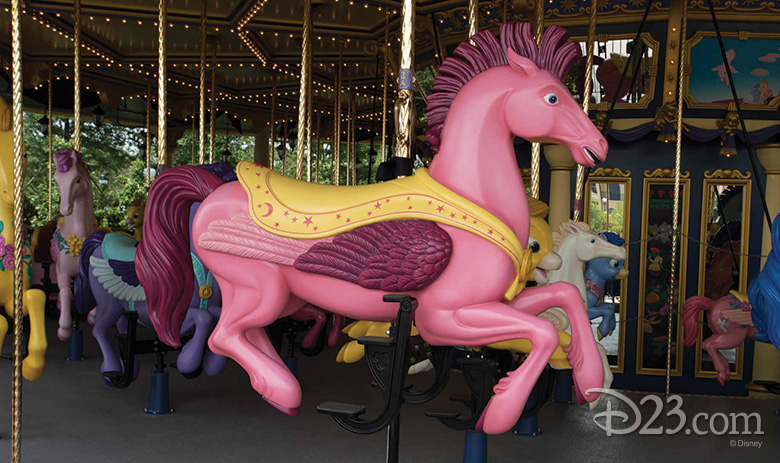 Along with lush greenery, the Gardens features Dumbo the Flying Elephant, and seeing elephants fly in front of the castle is quite a sight to behold. And we adored the Fantasia Carousel, which celebrates one of our Disney favorites with 62 brightly colored horses from the "Pastoral Symphony" section of the film. Along the carousel's façade you'll also catch a glimpse of Sorcerer Mickey and even Yen Sid!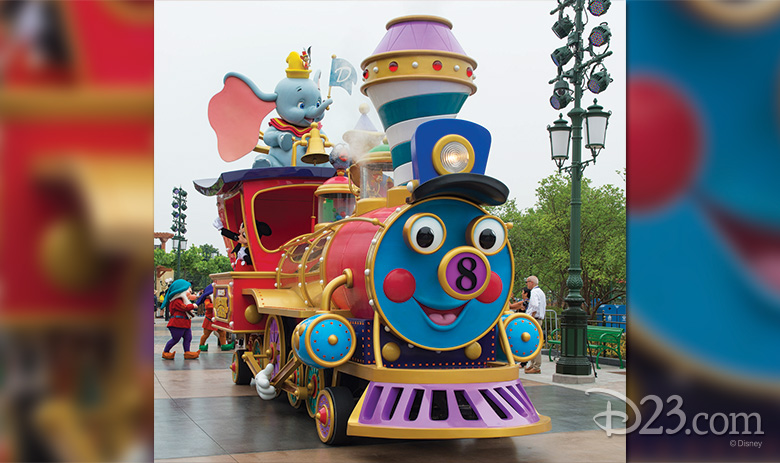 The Gardens acts as the "hub" for the park, so we were in the perfect place to catch Mickey's Storybook Express, an all-new parade led by a colorful locomotive with the number 8 on his "nose" (which signifies good luck!) and Dumbo riding atop! On the Tangled float we finally got to see some of the ruffians we missed at the Tavern (along with Flynn and Rapunzel, of course), and the Frozen segment was led by Sven (let's face it, reindeer are better than people) with Marshmallow bringing up the rear. But perhaps the most spectacular float was Mulan's. Riding atop her trusted steed, Khan, our heroine is surrounded by grandly dressed soldiers, drummers, and an ornate pagoda. Is it just us, or does Mulan look great in her warrior outfit? And keep your eyes peeled for hidden Mickeys throughout!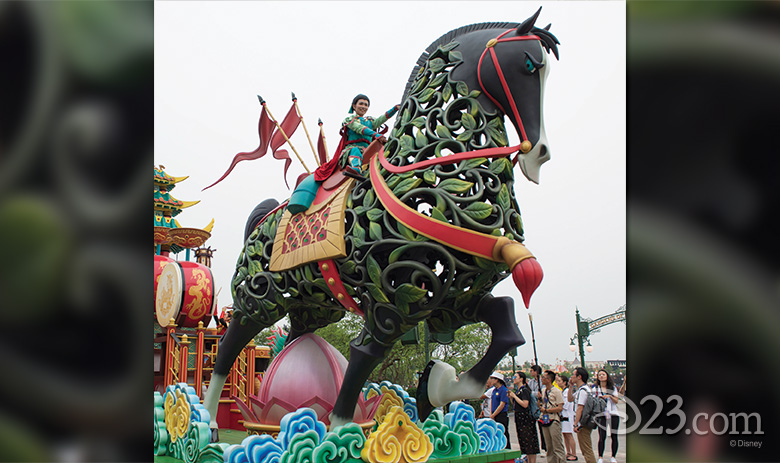 After the parade we needed a break. We still had to hit Tomorrowland and more! We'll be back soon with more on our adventures.