By Tyler Slater
"I only hope that we never lose sight of one thing—that it was all started by a mouse." — Walt Disney
Located just inside the gates of Shanghai Disneyland is the cheerful hometown of Mickey Avenue—a whimsical neighborhood filled with lively shops and restaurants. This beautifully detailed area is the first main entry at a Disney theme park that is home to Mickey Mouse and his pals, including Minnie Mouse, Donald and Daisy Duck, Goofy, and Pluto. D23's Ultimate Countdown to Shanghai Disney Resort continues this grand-circle tour of Shanghai Disneyland with an in-depth look into this cheerful land that welcomes guests to the lands of adventure, fantasy, and tomorrow.
Four neighborhoods make up the marvelous world of Mickey Avenue: Celebration Square is the friendly heart of the community, Park Place lies just beyond the square (near the Gardens of Imagination), the Market District is on the outskirts of the avenue, and across from the Theatre District, an artsy enclave. Each one invites visitors to experience the optimism of Disney magic and shares the opportunity to grab a hug and snap a photo with some all-time favorite characters.
The biggest business in town—and the largest shop in Shanghai Disneyland—is Avenue M Arcade. Here, guests can explore an old-fashioned store selling all kinds of keepsakes and souvenirs. Fans should keep a sharp eye out while looking at the shop's facade, as the design specially honors its most famous residents, who are represented as universal virtues on mosaic panels: Mickey Mouse (hospitality), Minnie Mouse with Figaro (compassion), Goofy (optimism), Donald Duck (worldiness), Daisy Duck (friendliness), Pluto and Fifi (generosity), and Chip 'n' Dale (friendship). Once guests have perused the amazing selection of Shanghai Disney Resort merchandise, including pins, apparel, home décor, collectibles, and so much more, they can head for the trustworthy checkout area—modeled after the nearby First Bank of Scrooge!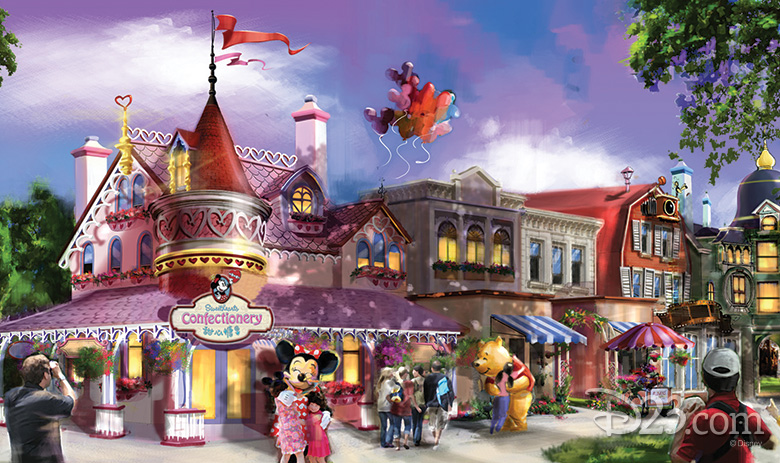 Just a sweet smell away is the cheerful childhood home of Minnie Mouse—Sweethearts Confectionery! Created in a Queen Anne-style, the house is a candy store that celebrates Disney's first couple, Mickey and Minnie. Inside the confectionery, treat aficionados will find murals and sweet scenes that tell the story of this couple's courtship. In Disney parks tradition, fans can watch delectable desserts made in real-time inside the candy kitchen and take home handmade treats inspired by beloved Disney characters.
When it's time for a bite to eat at Mickey Avenue, the toons have come together to create an open-air market that features four exhibition kitchens at Mickey & Pals Market Café! Family and friends can choose a table at Mickey's Galley, Tony's (from Lady and the Tramp), Daisy's Café, and The Three Caballeros, each offering it's own unique style of fare. While enjoying a blend of Chinese and Western foods including stews, dim sum, noodles, and meaty entrees, be sure to gaze upon the beautiful mural that celebrates the agricultural heritage of Mickey Avenue through scenes of Mickey and his pals planting and harvesting.
In a French-inspired bakery not too far away, Rémy from Disney•Pixar's Ratatouille, is preparing something special in the kitchen. Rémy's Patisserie offers a variety of breads, pastries, and muffins, along with fresh desserts from the restaurant. Disney details like wooden shutters, flower boxes, sidewalk seating, and French café-inspired graphics distinguish the shop's exterior. Fans are sure to spot tiny scaffolds and ladders built to make sure Rémy can move around the bakery!
It's a fan-favorite tradition at a Disney park to enjoy a delicious ice cream sundae and in Shanghai Disneyland, this indulgence is brought to you by Donald Duck! Guests can cool off with soft-serve ice cream in a waffle cone or sundae at Il Paparino. If a member of your group is in the mood for something warm, kids of all ages can sink their teeth into fresh-made waffles shaped like popular Disney characters!
Before adventurers depart Mickey Avenue, everyone should pay a visit to Whistle Stop Shop. As the last stop in town, this is the perfect place to discover a storied assortment of toys and keepsakes. Also, it's the only location in all of Shanghai Disneyland where you can find Mickey Mouse ear hats featuring your name embroidered in English or Chinese—available for the very first time in any Disney theme park! This depot-turned-store at the old Mickey Avenue Train Station even includes occasional visits with the one-and-only Duffy, the Disney Bear.
The grand opening of Shanghai Disney Resort is next week! Before concluding D23's Ultimate Countdown, we'll take you on a tour of Disneytown—an exciting shopping, dining, and entertainment destination open to the general public.
In the meantime, tour Shanghai Disney Resort in the links below: