By Tyler Slater
"Ye come seeking adventure and salty old pirates, aye? Sure ye've come to the proper place." Guests who venture into Treasure Cove at the Shanghai Disney Resort will discover the first pirate-themed land at Walt Disney Parks & Resorts! Created especially for Shanghai Disneyland, this land is home to a colorful crew of scoundrels always on the hunt for fun, action, adventure, and, of course, danger. D23's Ultimate Countdown to Shanghai Disney Resort continues with a detailed look inside Treasure Cove—a land that features pirate frivolity, mayhem, and charming personality.
The story of Treasure Cove dates back to the 17th century, when piracy was a thriving enterprise in the Caribbean. In Disney lore, this Age of Piracy featured a band of seafaring rogues who chased after legendary treasure, fought monsters, and battled each other—always with a humorous outlook.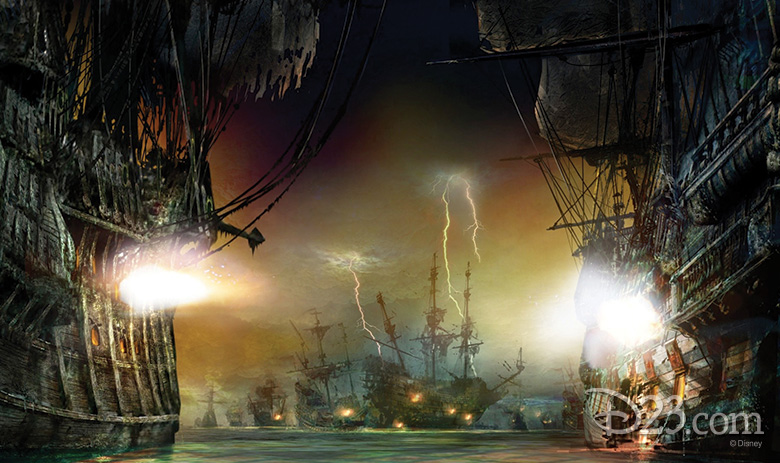 One of the most anticipated attractions at Shanghai Disneyland is Pirates of the Caribbean: Battle for the Sunken Treasure—a daring boat ride that will take guests on a spirited adventure with Captain Jack Sparrow to steal priceless treasure from Davy Jones. Using state-of-the-art technology, each vessel twists, turns, and steers in every direction – including backwards while navigating the treacherous waters in search of Davy Jones' sunken plunder. As guests travel on, over and under the deep blue sea, they will cross paths with pirates, mermaids, and even the savage Kraken! Fans of the beloved Pirates of the Caribbean attraction at other Disney parks around the world will surely not want to miss the brand-new experience.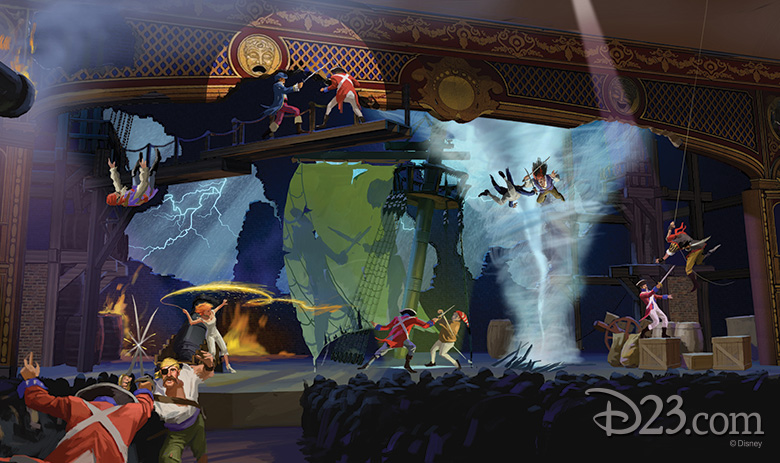 After abandoning their Pirates of the Caribbean: Battle for the Sunken Treasure Cove ship, guests can chart a course towards the elaborate and exciting stage production, Eye of the Storm: Captain Jack's Stunt Spectacular at the El Teatro Fandango. This show will make its global premiere at Shanghai Disneyland and will feature fantastic stunts and swordfights, spectacular scenery, and unforgettable visual effects. The action culminates in truly a one-of-a-kind sword fight that takes place suspended in the eye of a hurricane!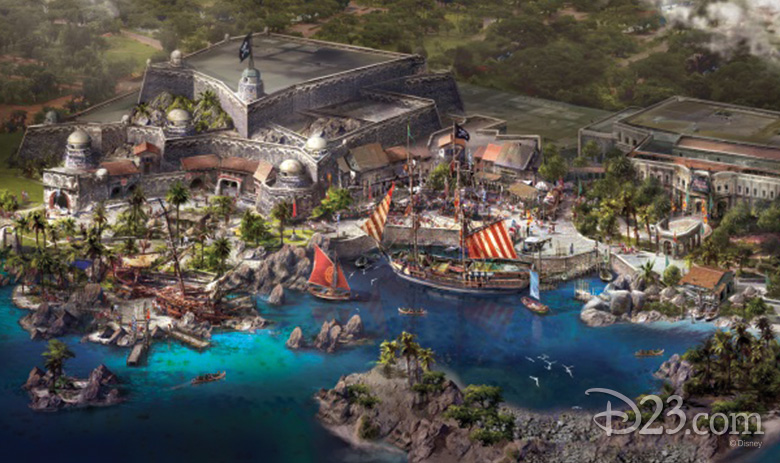 In true pirate fashion, guests can grab a paddle and explore shipwrecks, treasure caves, plantations, and forbidding jungles aboard Explorer Canoes. With the only propulsion coming from guests and their paddles, the ride is quiet and stealthy… but beware of onshore pirates shooting water cannons! There is no better way to discover not only Treasure Cove, but also its neighboring Disney land, Adventure Isle. Canoeing has been a popular tradition at Disneyland and Tokyo Disneyland for decades and will continue to delight guests of all ages at Shanghai Disneyland.
Guests can also explore Siren's Revenge—an authentic pirate ship that has a boatload of rowdy pirate fun and some raucous pirate activities. While roaming the decks, guests will discover hands-on (or hooks-on) pirating activities, experiences and games. Younger pirates can make a splash at Shipwreck Shore—a water play area onboard the remains of a shipwrecked French galleon and the surrounding beach.
All pirates need a hearty meal and fortunately, Barbossa's Bounty is one of the largest restaurants in all of Shanghai Disneyland. Run by Captain Barbossa himself, this quick service grog shop offers BBQ, seafood and vegetarian fare all prepared in a spectacular live show kitchen. Guests may choose the extraordinary experience of dining inside Pirates of the Caribbean: Battle for the Sunken Treasure!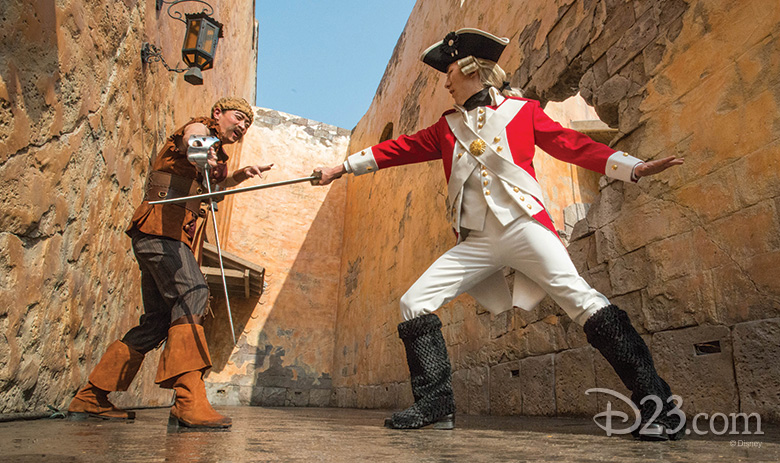 With so much to loot to discover, guests will not want to miss a single detail at Treasure Cove. Is it June 16 yet?
To continue D23's Ultimate Countdown to Shanghai Disney Resort, take a look at these articles: