By Tyler Slater
There's a great big, beautiful Tomorrowland at Shanghai Disney Resort! Created especially for Shanghai Disneyland, this newly imagined land celebrates the hope, optimism, and potential for the future—themes from the original Disneyland—for a whole new culture. With just three weeks until the grand opening, D23's Ultimate Countdown to Shanghai Disney Resort continues with a land that takes guests to infinity and beyond.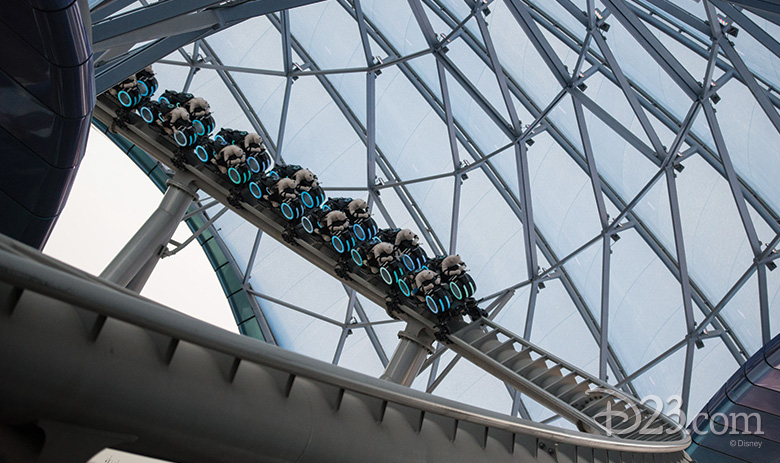 Disney fans around the world are counting down to the opening of one of the most thrilling and exciting attractions at any Disney park: TRON Lightcycle Power Run. Riding atop individual, two-wheeled Lightcycles, guests will be launched across a canopied section of track—the Upload Circuit—before diving high-speed into the Grid, a mysterious game world. Adrenaline-pumping music, lights, and 3-D graphics electrify a multi-sensory environment as "Programs" and "Users" speed, dip, and dive through digitized darkness on one of the fastest coaster attractions in Disney theme park history.
Shifting from the Grid to the Gamma Quadrant, guests can go from zero to Space Ranger hero aboard Buzz Lightyear Planet Rescue. This interactive adventure is inspired by the Disney•Pixar Toy Story films as well as the popular Buzz Lightyear's Space Ranger Spin that premiered at Walt Disney World. At Shanghai Disneyland, the Evil Emperor Zurg is threatening to destroy the home planet of the Aliens so Buzz Lightyear calls out for more Space Rangers to help stop Star Command's most wanted! The immersive, new storyline combined with a new, interactive targeting system will make this one of the most engaging attractions at a Disney park.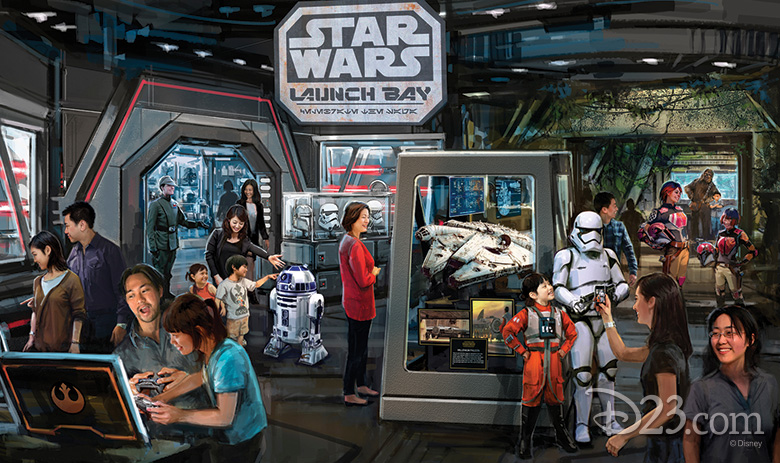 In a galaxy far, far away, Jedi, Sith, and Padawans will discover an experience that honors the Star Wars Saga inside the Star Wars Launch Bay. Iconic intergalactic set pieces, props, and memorabilia help to bring the Star Wars story to life, while guests of all ages can also encounter favorite characters like C-3PO and Darth Vader—and even take photos piloting the Millennium Falcon!
Elsewhere in the galaxy, young space travelers can video chat with none other than Experiment 626 himself during Stitch Encounter. With new humor and content for guests of Shanghai Disney Resort, everyone's favorite blue cosmic alien engages in unrehearsed conversations, plays games, makes jokes, and takes guests for a spin around the galaxy.
Back in Tomorrowland, sky pilots strap in to individual Jet Packs and enjoy the thrill and wonder of flight. Two at a time, guests blast off on transportation of the future, controlling how high their Jet Pack goes. Walt Disney's long affiliation with aviation dates back to the Astro Jets at Disneyland park from 1956 and now, 60 years later, his hope and optimism for the future continues to be expressed at Shanghai Disneyland!
Guests can break away from their travels on the upper concourse of Tomorrowland and enjoy Chinese and Western food at the Stargazer Grill. From the outdoor deck, guests will be able to see the Enchanted Storybook Castle and enjoy a variety of burgers at the largest restaurant in Shanghai Disneyland.
Stay tuned next week as D23's Ultimate Countdown continues with the largest of all the lands in Shanghai Disneyland: Fantasyland.
Tour other areas of Shanghai Disney Resort here: