By Tyler Slater
Disney fans… the time has almost arrived—Shanghai Disney Resort opens June 16! We hope you have enjoyed D23's Ultimate Countdown, but before we see you real soon, enjoy a tour of Disneytown, a charming shopping, dining, and entertainment district! Located right next door to Shanghai Disneyland, visitors feel like they've been transported to the early 20th century and travel the globe in search of quality goods, great food, and the best of times.
The heart of Disneytown is Marketplace, a bustling central plaza filled to the brim with specialty merchandise shops. This district includes three world-class Disney shopping experiences: World of Disney Store, Marketplace specialty shops, and Spoonful of Sugar confectionery.
At the World of Disney Store, families are invited to schedule a stop at this railroad-themed roundhouse and discover a bustling emporium brimming with Shanghai Disney Resort merchandise. Suspended overhead is an eight-foot projected globe that showcases treasured characters and stories from all of Disney's wonderful worlds. In the Marketplace specialty shops adjacent to World of Disney Store, D-Street offers urban trends and personalized D-Tech products, Novel-D features novelty and lifestyle Disney products, and Trend-D is the place for trendy apparel featuring favorite Disney friends! Then, step in time and head over to Spoonful of Sugar—an innovative confectionery boutique for special gifts including signature chocolates, cupcakes, candy apples, and more. This nostalgic candy shop reflects the optimistic lyrics from the beloved song from Mary Poppins and is a can't-miss destination for Disney fans visiting Shanghai Disney Resort.
Inspired by Shanghai's nautical past while also reflecting today's lifestyles, the Lakeshore district features a beautiful blue, white, and golden yellow color scheme. Here, guests can enjoy stunning views and delicious dining opportunities. Lakeshore's natural beauty makes it an ideal location for romantic moments and anniversaries, or even weddings!
Guests can season their day or night at Spice Alley—an eclectic and exotic district with a distinct personality. Here, local life spills out onto the street and communal tables create an irresistible atmosphere. Its narrow cobblestone streets and small courtyards will remind guests of a bygone era, and the international array of foods will reflect the story of many different cultures and people coming together. A variety of Asian cuisine is part of the mix and open kitchens provide a sense of warmth and welcome.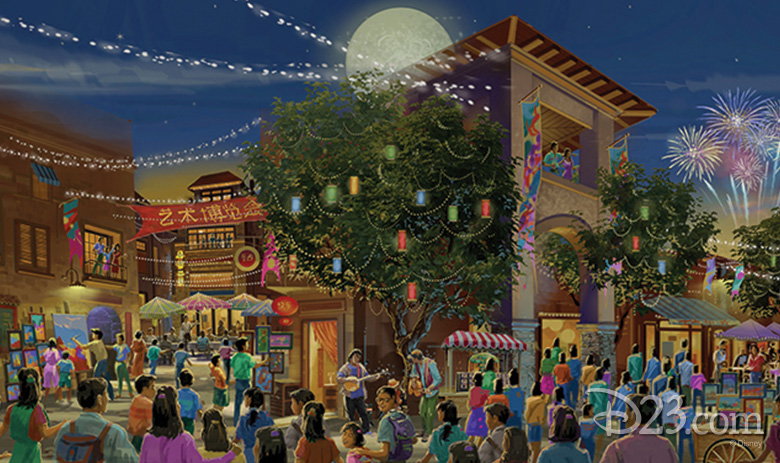 Around the corner is Broadway Boulevard, an upscale street that invites visitors to add some artistic flare to their visit with sophisticated shopping and entertainment. The focal point of this district is the Walt Disney Grand Theatre—home to the first-ever Mandarin stage production of The Lion King This 1,200-seat theatre will become an icon for Disneytown, introducing world-class Disney entertainment experiences to Shanghai and offering fans of all ages the opportunity to celebrate the "Circle of Life" in a whole new way.
To see the list of delicious dining experiences and supercalifragilisticexpialidocious shopping destinations, click here!
Thank you for joining us on D23's Ultimate Countdown to Shanghai Disney Resort! Always remember: "We're just getting started."
To see the entire Ultimate Countdown, click the links below!