By Jeffrey Epstein
D23 is celebrating the opening of Shanghai Disney Resort and bringing you along with us on an exclusive tour of this breathtaking new resort! Our first installment takes you inside two spectacular hotels, and includes a visit to Disneytown and the Walt Disney Grand Theatre. Check back throughout the week for additional updates.
The opportunity to attend the grand opening of Shanghai Disney Resort is any Disney geek's dream. So when D23 was invited to cover, we jumped at the chance…  on to a plane… and into a car… as fast as we could get there.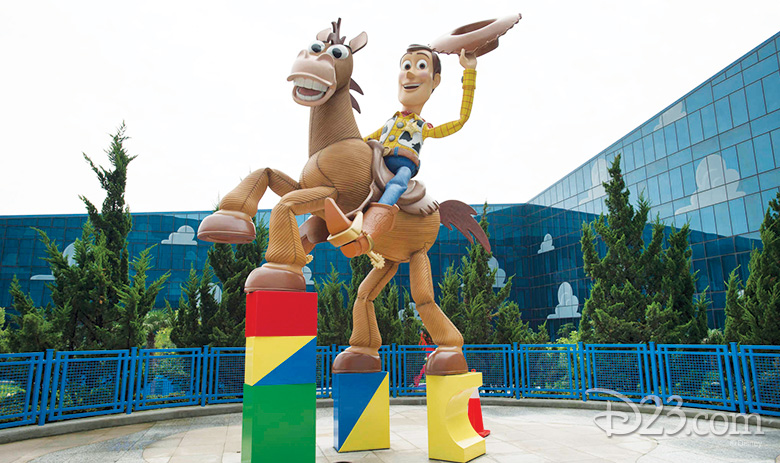 First, we checked into the adorable Toy Story Hotel, our home for the next several days—a gleaming blue glass structure covered with the same puffy white clouds that adorned Andy's room in the beloved films. A fleet of cheery cast members in brightly colored costumes was there to greet us. All smiles and waving their hands, they make every guest feel like a celebrity. Each visitor receives that same level of unbridled enthusiasm—the true Disney difference.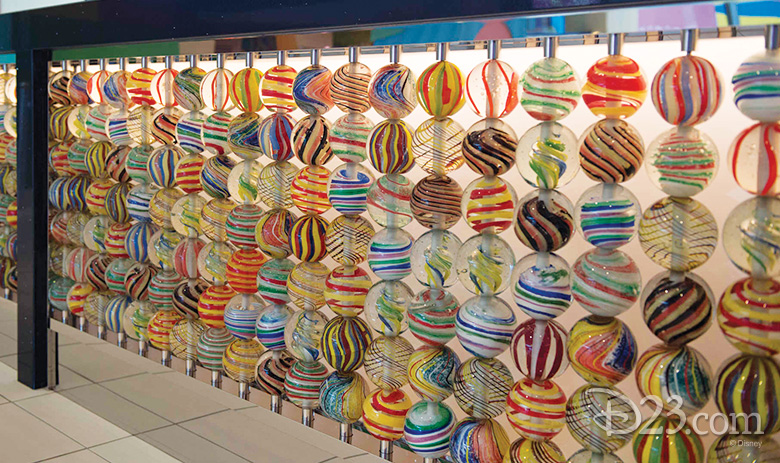 The hotel's colorful details immediately stand out. The reception desk is decorated with racks and racks of oversized, glimmering glass marbles. As we checked in, we noticed Buzz and Jesse posing for photos in the outside courtyard, making magical moments for guests before they even stepped into the park.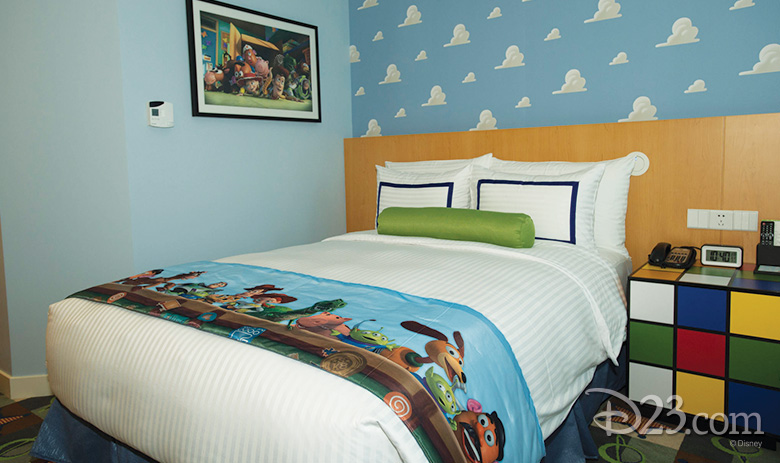 Next it was up to the room. The wallpaper? Again, Andy's signature puffy clouds. The overhead lamp? A mid-century modern-influenced fixture with Slinky Dog chasing his tail. The safe? A Rubik's cube. The shower curtain features beautiful concept art of the characters from the film, and everything from the bed runner to the pad of paper in the room is pulled from the film—even the adorable H2O products for the shower and bath! It's like living in Andy's room, only without the messes a boy is fond of making.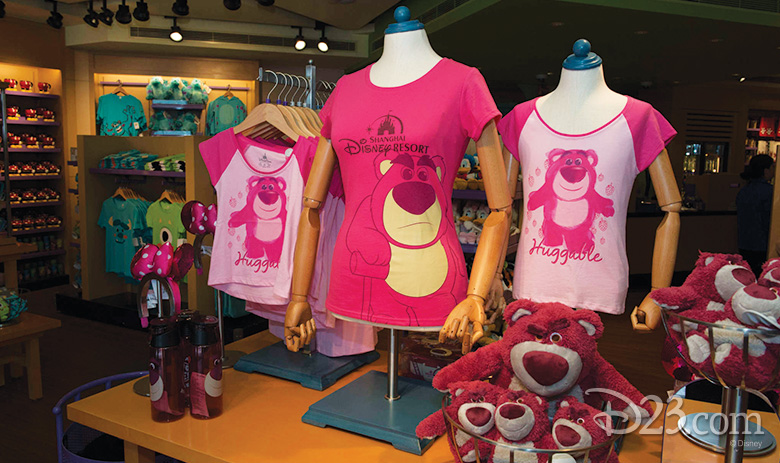 Of course we needed to explore. The hotel—shaped like an 8 (a lucky number in China) or infinity (as in "to infinity and beyond") depending on your perspective—is large but still easy to find your way around. The Lotso Shop is chock-full of Toy Story-themed goods, as well as many other beloved Disney characters and Shanghai Disney Resort-specific items from T-shirts to pins. After grabbing a snack at the Sunnyside Market (which offers a mix of western and Chinese counter service items), we took a moment to stroll through the quick service Sunnyside Café. Both are themed to the daycare center in Toy Story 3. Beautiful kites of the characters billow from the ceiling. It would be easy to sit there all day… but there was too much else to see!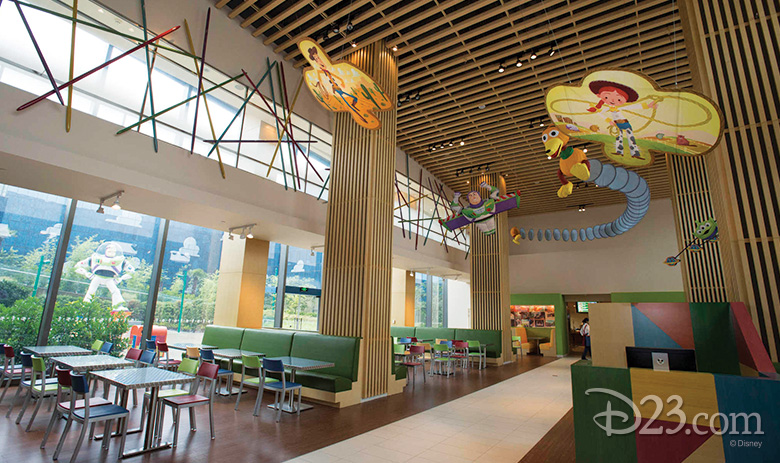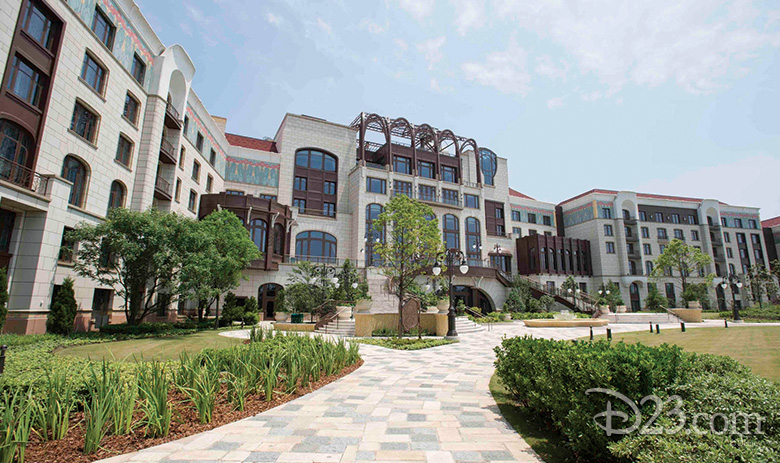 Next it was off for a visit to the Shanghai Disneyland Hotel. The grandeur of the Art Nouveau lobby with its giant columns and breathtaking glasswork is striking. (We may have noticed a hidden Mickey—one of many—at the concierge desk!) A gorgeous bronze statue of the "Fab Five" playing musical instruments forms the centerpiece of the lobby, which is framed by a stunning view of Wishing Star Lake and—just across from it—Disneytown and Shanghai Disneyland.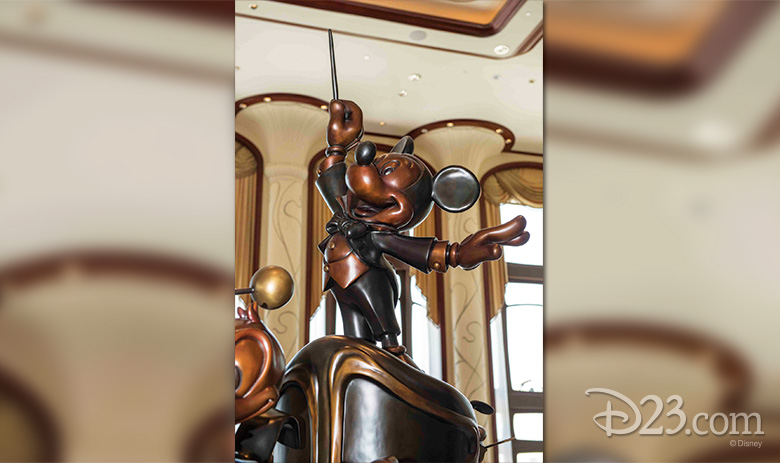 If we'd had more time, we would have kicked back in the Bacchus Lounge, which offers the same dazzling view. With its ornate bar, the lounge offers an array of tasty adult (and kid-friendly) beverages—plus it's named after one of our favorite characters from Fantasia.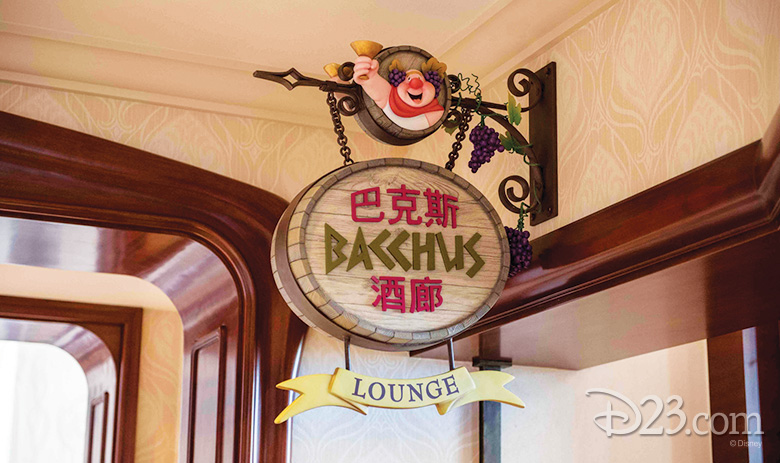 Downstairs, Lumiere's Kitchen offers a buffet feast fit for, well, a beauty, a beast, and their entire wedding party! And when we arrived a perfectly crafted figure of Lumiere himself was watching over an elaborate array of desserts. (Try the grey stuff—we hear it's delicious.) And just down the hall is King Triton's Pool—an indoor watering hole that features motifs of characters from The Little Mermaid, including a stunning one of Ariel.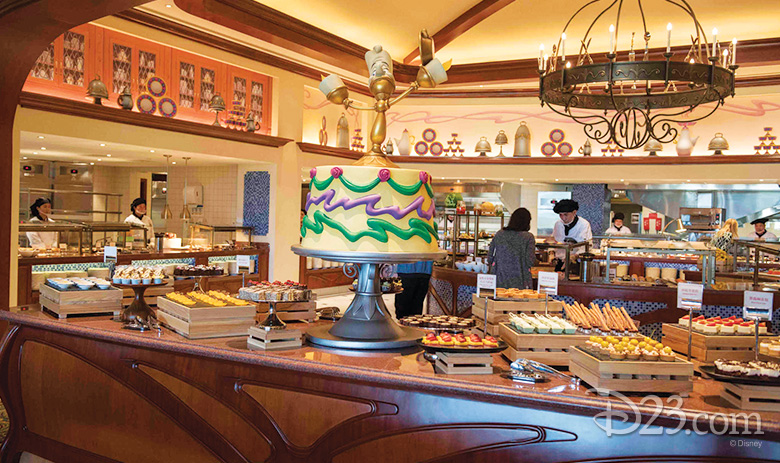 We also got to check out one of the stylish rooms that come complete with pixie-dusted headboards (those who have stayed at the Disneyland Hotel will get a sense of what we mean).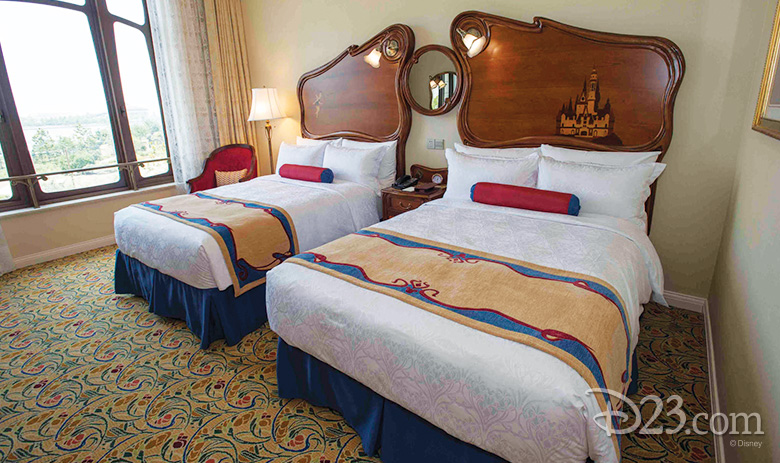 Then we headed to Disneytown (we had some serious shopping to do). It's divided into four distinct districts: Marketplace, Spice Alley, Lakeshore, and Broadway Boulevard. Each offers its own unique Chinese-influenced architecture and an abundance of insider Disney details—from hidden Mickeys and buildings with notable years (one building is dated "1938," the year Snow White and the Seven Dwarfs opened in China) to clever artwork such as a poster for the Lakeshore Sisters—Dolly, Dottie and Ethel—the trio of singers who opened the Fiddler, Fifer & Practical Café on Buena Vista Street (in Anaheim called the "Silver Lake Sisters"—so perhaps they switched it up for their Disneytown appearance?).
Dozens of stores and eateries keep Disneytown bustling day and night. The combination of Disney specialty shops and traditional stores, such as New Balance and Sephora, creates the perfect balance for Shanghai locals and visiting tourists.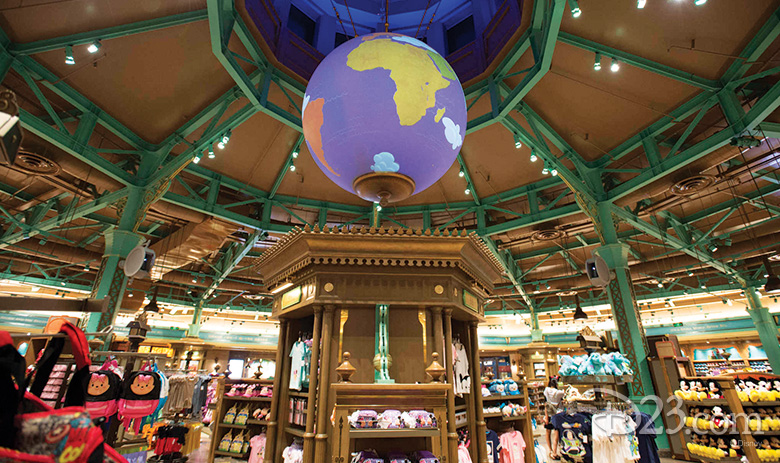 When Disney names a store "World of Disney," they mean it. The first in mainland China, the store is immense and packed to the gills with Disney delights. In the center of the main room is an enormous eight-foot globe that has a variety of landscapes and images projected on it, from maps to animated children that look straight of out it's a small world. Guests can find everything from the familiar plush to Shanghai-exclusive collectibles. Fans will appreciate the design flourishes throughout the store, including kiosks that feature posters for favorite attractions from Disney Parks around the world, past and present, such as Videopolis from Disneyland Paris. Connected to World of Disney are an array of "D" specialty shops, including D-Tech, D-Street, and Novel-D, and behind one of the cash registers is large portrait of Mickey Mouse made up entirely of keys from computer keyboards!
And the food? The Cheesecake Factory stood out to us at first—while it's a common sight back in the States, this is the first Asian flagship site of the popular eatery. And there were plenty of other delicacies to try. The sushi at Hatsune was outstanding. The curry chicken bowl at Blue Frog? Spicy and flavorful. There is literally something for everyone—including an elaborate and welcoming Starbucks for those who need their caffeine fix.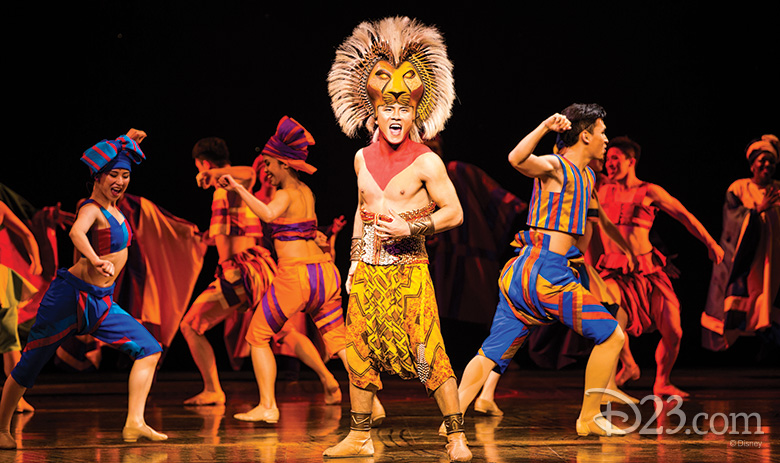 The centerpiece of Broadway Boulevard is the Walt Disney Grand Theatre. This iconic structure is home to the first-ever Mandarin production of The Lion King. And we were fortunate enough to be there for opening night of this theatrical spectacle that has thrilled audiences around the globe. Guests—who included the show's original director, Julie Taymor, as well as Roy P. Disney, and Marty Sklar—were handed flutes of champagne as they entered the stunning theatre where four exquisite paintings done in traditional Chinese style representing Disney Theatrical shows, including Beauty and the Beast, Mary Poppins, Aladdin, and, of course, The Lion King, set the tone for the incredible nighttime experience. One thing guests from around the world can be certain of is, no matter what language The Lion King is presented in, its message and music are universal, as the audience roared (pun intended) with delight at the musical spectacular.
The show capped a spectacular first day at Shanghai Disneyland Resort. And there's so much more to come.