By Steven Vagnini
Since early November, Disney's Hollywood Studios has been host to the Flurry of Fun celebration, which offers all-new immersive entertainment and fresh holiday décor. On Wednesday, December 6, 250 D23 Gold Members and their guests gathered for an insider's look at how it all came together, as well as special access to the unique offerings celebrating "that time of year!"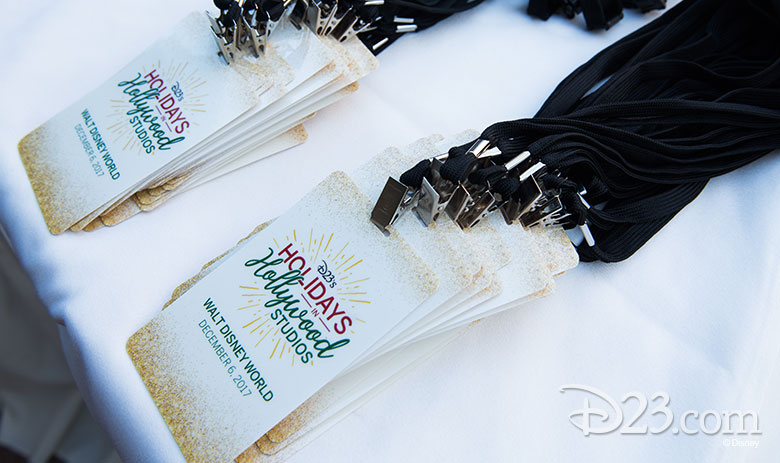 D23's Holidays in Hollywood Studios event kicked off inside Sunset Showcase, where D23 Members enjoyed a mouthwatering spread of savory appetizers—including house-made crab cakes, cheese tortellini in cream sauce, and an elaborate slider bar—while mingling with fellow guests and enjoying jazz renditions of beloved Christmas carols. D23's Tyler Slater, Jen Marie Del Carpio, and Steven Vagnini then took the stage to share some of their favorite Disney holiday memories and introduce special guest Tom Vazzana, show director, Disney Parks Live Entertainment.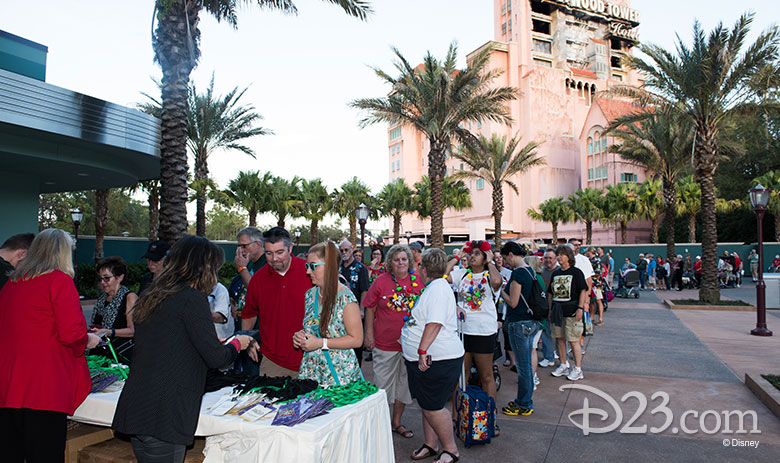 Tom warmed things up with a Disney trivia session and some fun prizes for the winners—"After all, what says 'the holidays' more than an R2-D2 keychain?"—before taking guests on a fascinating journey through the creation of new entertainment at the park. "Flurry of Fun: those words mean everything," Tom explained. "It snows everywhere—in front of the Chinese Theatre and on Sunset Boulevard… And I wanted it to be fun and really immersive. Last year, I got a pop-up holiday card with different cardboard layers. If I could put myself in that, that's what I wanted Disney's Hollywood Studios to feel like. That's the flurry of fun."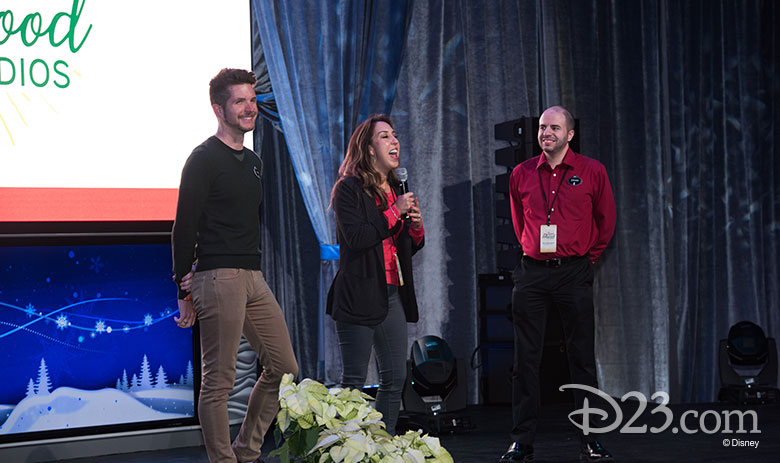 During his dynamic session, Tom shared stories behind some of the special offerings he helped produce, including new enhancements to the Jingle Bell, Jingle BAM! fireworks spectacular and For the First Time in Forever: A Frozen Sing-Along Celebration. Next to Tom's reenactment of Olaf's kickline choreography (of course), the session highlight was a behind-the-scenes look at Sunset Seasons Greetings, which brings Sunset Bouelvard and the Hollywood Tower Hotel to life in a whole new way. Tom demonstrated how Disney magic helps transform the iconic tower into stacks of Toy Story Christmas gifts, a Muppets-themed gingerbread house, and even a unique new view of Frozen's Arendelle, before revealing a few items that didn't make it into the final show (probably for good reasons).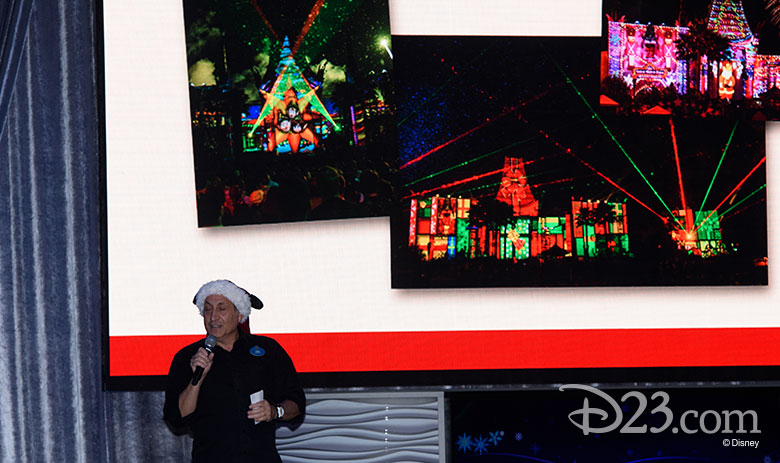 Following the presentation, D23 Members ventured out into the park to enjoy the entertainment they'd just learned about, culminating in two special experiences in front of the Chinese Theatre. First, guests enjoyed a yummy yuletide celebration with holiday-inspired snacks and sweets, delicious desserts (pumpkin spice bread pudding, anyone?), and specialty beverages—along with special character meeting opportunities with Goofy and Mickey dressed in their holiday finest. The evening truly ended with a bang as the 2017–18 Walt Disney World Ambassadors, Ken Facey and Brandon Peters, joined the D23 Team to welcome guests to reserved viewing of two special nighttime spectaculars: Disney Movie Magic and Jingle Bell, Jingle BAM!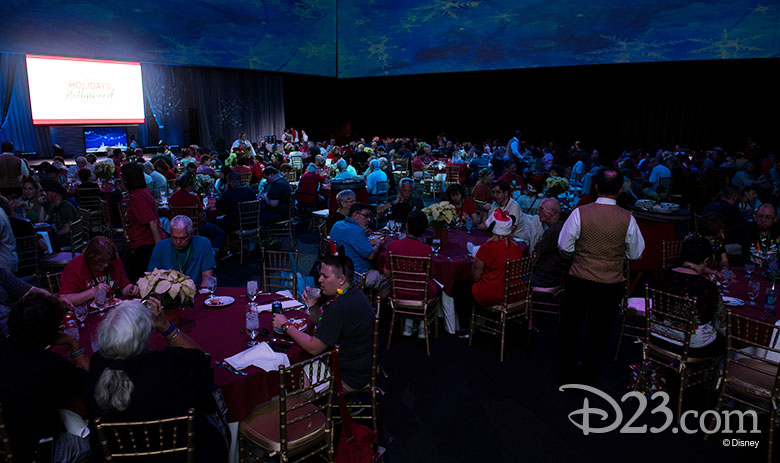 Of course, no D23 event would be complete without a special gift, and guests received three over the course of the evening: an exclusive D23 holiday blanket, a Jingle Bell, Jingle BAM! ornament, and a delectable chocolate bar created in Hollywood, California (complete with white and dark infused chocolate and crushed peppermint)!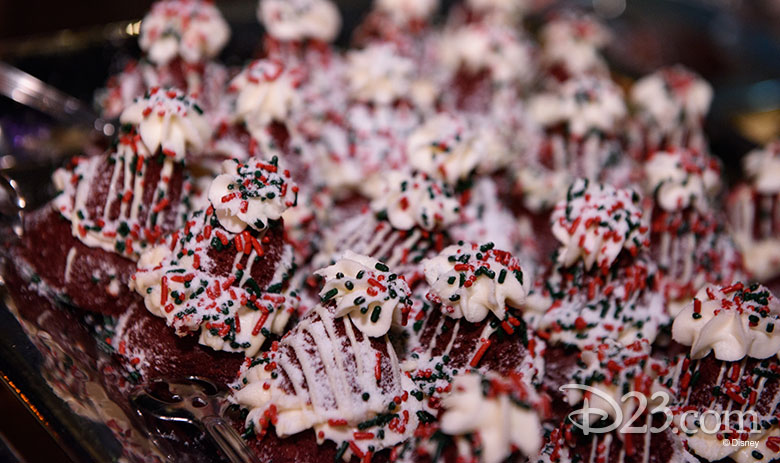 D23's Holidays in Hollywood Studios offered the perfect way to celebrate the holiday season in true Disney fashion and also reflect back on a year of D23 events at the Walt Disney World Resort. Which reminds us: We're excited to continue celebrating all things Disney with you across the country in 2018! Click here to discover D23's exciting lineup events for next year.