By Peyton Liebler & Justin Arthur
Lighting the Black Flame Candle might have some tricky consequences, but it's all worth it when everyone gets to enjoy a sinisterly Sanderson-styled Spell-ebration! In case you didn't know, the Witches are BACK—and D23 Gold Members traveled to their old haunt in Salem, Massachusetts, on October 1 for an unforgettable event commemorating the release of Hocus Pocus 2 on Disney+!
As any Hocus Pocus fan knows, Halloween time has become a season of frolic, where people dress in costumes and run amuck, amuck, AMUCK! So where better to run amuck than the place that started it all... 329 years ago, to be exact!
First up on their run amuck of Salem, D23 Gold Members checked in for the event at the elegant (and reportedly haunted!) Hawthorne Hotel—where they were each gifted a bag full of tricks and treats, courtesy of D23 and some amazing brand partners. Their bag consisted of a limited edition D23 Hocus Pocus 2 Pin; a print featuring album artwork from the movie soundtrack; a pack of "D23 Runs Amuck in Salem" Pumpkin Carving Stencils; a scented candle from Goose Creek; Shimmer body powder from ColourPop; and some hair products from Hally (which can cure 300-year-old dead ends)! They also got some coupons that even the Sandersons would envy, from Swiffer, Walgreens, and RockLove. Check out the full "D23 Runs Amuck in Salem" Trick-or-Treat Bag Breakdown!
Guests also received their event credential, marked with their schedule for the day and a commemorative map to guide them in their magical mischief. And every good witch knows you can't run amuck on an empty stomach, so Gold Members also enjoyed a magical continental breakfast to make sure they could keep flying across the city of Salem with full energy. (No children's souls were harvested in the making of this meal.)
A few hours after check-in, Members arrived at the charming Cinema Salem—each receiving a Hocus Pocus 2 hat, popcorn, and water—for an exclusive theatrical presentation of the Disney+ film (which many in the city were calling "the Salem premiere of Hocus Pocus 2"). The theater marquee even welcomed our D23 Members!
After a short welcome, we pulled out Winifred's spell book and led them in Winifred's incantation to bring back Billy Butcherson... and we surprised the theater with actor Doug Jones himself, who was delighted to be there!
He regaled the audiences with stories of the making of the film, how important Salem was to him, and even gave away a signed Loungefly Billy Butcherson backpack and wallet to one very excited audience members at each showing. (You can grab your own Billy Butcherson Loungefly Products now!)
Jones was so excited to be a part of this that he stuck around and watched the film with D23—and was able to hear the rapturous applause when he appeared back on-screen for the first time in 29 years! After our two Member screenings, we brought back the magic one more time for a variety of kids and teenagers from three local Salem charities, including the Boys and Girls Club, and YMCA. It was amazing to connect with the community and the many people who bring actual magic to Salem...
D23 Members then continued to "run amuck" in Salem with the maps that we created of local sites and filming locations around the city. Black Cat Tours also offered D23 Members complimentary tours of Salem, which several Members took advantage of! The somewhat rainy weather didn't seem to dampen any spirits—as many folks uploaded and shared fan-tastic photos of Hocus Pocus 2 happenings throughout the city, especially at the historic Ropes Mansion, which served as Allison's house in the first film. D23 partnered with the Peabody Essex Museum to decorate the Ropes Mansion just like its first appearance in Hocus Pocus... where Dani had a tearful yet Halloween-adjacent experience on a hay bale before entering Alison's house and thus beginning their adventure.
Once the sun set, the doors to the historic Hamilton Hall swung open, and D23 welcomed guests to the first ever D23 Black Flame Ball—a recreation of the Halloween party from the first film, across 5 rooms of the historic venue. D23 spread All Hallows Eve magic across the three-story hall from top to bottom, including a great photo opportunity from Disney Music Group; dozens of candles and cobwebs; and a very special spell book. Guests showed up dressed to impress with some incredible costumes, including just about every character from Hocus Pocus, and so much more!
We kicked the party off with the very enthusiastic crowd reciting the words to "light" the Black Flame Candle, as a 7-piece band, Atlantic Shake, clad in their skeleton costumes, began the party with a rendition of Sarah Sanderson's eerie song. D23 Members delighted in an abundance of passed hors d'oeuvres, spectacular charcuterie—including Hocus Pocus 2 Babybell cheese—devilish desserts, and an open bar featuring a specialty mocktail, cocktails, and more.
After Members had settled in and started dancing in the main ballroom, Jones returned to greet them on the sweeping balcony, dressed in an epic red ensemble that he wore to the Hocus Pocus 2 premiere—including golden shoes his character the Baron wore on FX's What We do in the Shadows. He was greeted with chants of "Billy, Billy, Billy!" as he told assembled crowd just how much their dedication to this film meant to him and proposed a toast to the Sanderson Sisters. Upon hearing their names, the "Sanderson Sisters" (three drag queens from Salem at their comedic best) burst onto the balcony for some very funny banter with "Billy" himself, who slipped back into character. After all, you can't have a Black Flame Ball without some Sanderson Sister spirit!
The audience went wild, and the sisters pushed their way through the crowd to take over the stage, performing a pitch-perfect lip sync to "I Put a Spell on You"—which, of course, the audience sang along to. Throughout the night, the trio took pictures with delighted guests and never broke character! They later returned to the stage to perform a rendition of "One Way or Another" from the new film. (You can stream more of the Sanderson Sisters' soulful Songs from Hocus Pocus 2 now!) Jones stayed to enjoy the party and was kind enough to take pictures with hundreds of guests...
As D23 Members were swept up in the Sanderson Sisters' spell, they danced the night away and partied until the Candle's magic was at last spent.
But the magic of Hocus Pocus did NOT end there! As the moon rose on the next night, D23 was able to partner with the City of Salem for a public outdoor screening of Hocus Pocus 2 in the Salem Common, featured in many scenes the original film. Though the weather was more chilling than the spookiest of spells, the city had a record-breaking crowd, clocking in at nearly 1,000 hopeful Hocus Pocus fans—including a few of our D23 Gold Members who had seen the film with us the day prior! After being introduced by the Mayor of Salem herself, Kim Driscoll, we announced Jones to the very amped-up crowd, and he kicked off the latest film one last time.
It was a marvelous weekend to relish in the return of the Sandersons—and bring the magic of these movies to all generations of fans. D23 couldn't have asked for a better partnership than with Creative Collective and the City of Salem... The city captures the magic of this enchanting season with such pride and wonder. There really was no better place to run amuck! It was the perfect way to kick off our D23 Halloween Spell-ebration and ring in the most bewitching time of the year. You can check out the new D23 TikTok for more haunting details on this most magical weekend.
Now it's time for us to say byeee-byeeeeee! Keep the Black Flame Candle lit at home by streaming Hocus Pocus, Hocus Pocus 2, and other Halloween classics on Disney+!
Stay tuned for even more D23 Events—and follow along with our D23 Halloween Spell-ebration for a hauntingly good time all month long!
Take your Disney fandom to the next level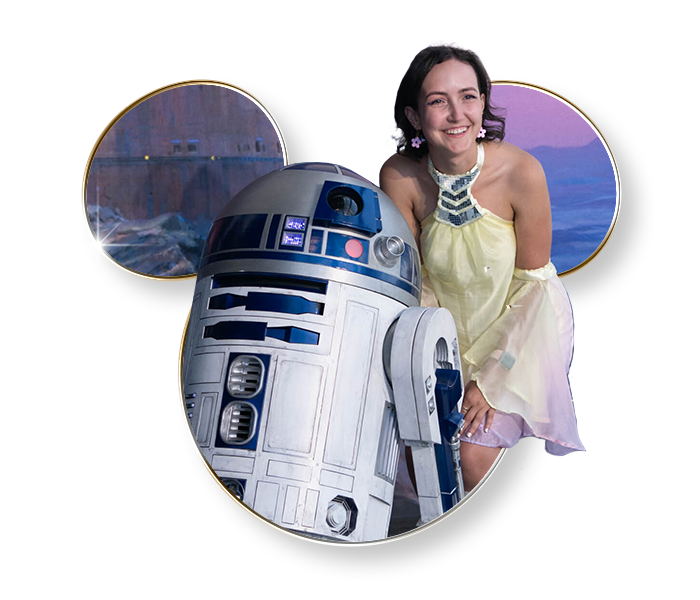 Annual Collector Set.
Can't-miss events.
Quarterly publication.
Exclusive discounts.
The Ultimate Disney Fan Community.