By Courtney Potter
Based on the Newbery Award-winning book by Kate DiCamillo, Flora & Ulysses will bring its hilarious heart to Disney+ beginning this Friday, February 19. The film follows 10-year-old Flora Buckman (Matilda Lawler), an avid comic book fan and a self-avowed cynic whose parents George (DuckTales' Ben Schwartz) and Phyllis (Alyson Hannigan) have recently separated. After rescuing a squirrel she names Ulysses, Flora is amazed to discover he possesses unique superhero powers—which wind up taking them on an adventure of epic (and side-splitting) proportions… one that ultimately changes Flora's life, and her outlook, forever.
Directed by Lena Khan, with a screenplay by Brad Copeland (Arrested Development), Flora & Ulysses also costars Danny Pudi (Schwartz's DuckTales cohort) as Miller, an über-zealous animal control officer. Pudi recently joined Khan, author DiCamillo, Schwartz, Hannigan, and Lawler for a boisterous, laugh-a-minute virtual press conference celebrating the film's upcoming release on the streaming service. Read on for some of the fabulous behind-the-scenes facts the cast and filmmakers offered up…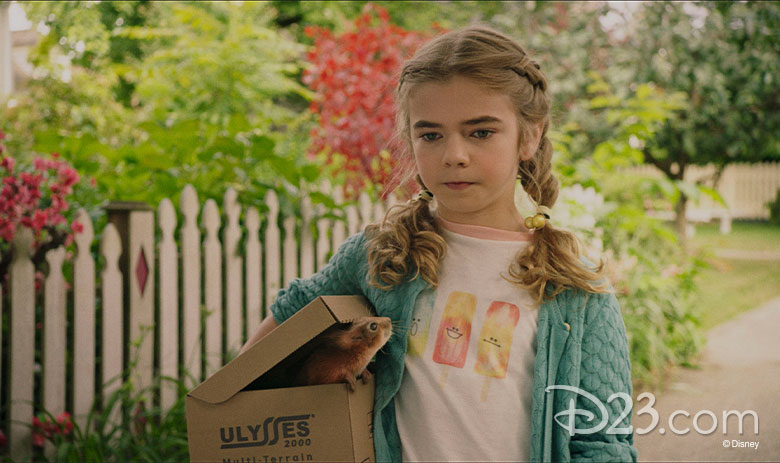 DiCamillo reveals the unique inspiration behind the story of Flora & Ulysses:
"So my mom had a vacuum cleaner that she loved," the author explains. "She passed away in 2009, and in the last year of her life, she kept saying, 'What's gonna happen to the vacuum cleaner when I'm gone?' And I thought, why are we worried about a vacuum cleaner? There are bigger things to worry about! But when she died, as I'd promised her I would do, I took the vacuum cleaner so that it would have a good home. Except that my mom had the world's most evil cat, named Mildew—and I couldn't bring the vacuum into the house because of all the Mildew hair in it; I had to leave it out in the garage. [But] every time I pulled into the garage and saw the vacuum cleaner, it would make my heart hurt. It would make me miss my mother. Then, the spring after my mother died, there was a squirrel on the front steps of my house, draped dramatically across the steps—clearly in distress. And he wouldn't move when I got close to him, and I didn't know what to do or who to call… I thought about ways to save the squirrel's life and combined that with the vacuum cleaner in the garage, and that's the story."
(Don't worry, friends—while the vacuum's fate remains unknown, the squirrel wound up being a-okay!)
Khan discusses bringing Flora & Ulysses to life:
"The blueprint for most of the stuff that happens [in the film] is in the book, so we were kind of lucky there," she says. "Apparently, crazy things like vacuum cleaners and everything ended up in Kate's home! We got to play with all kinds of things, like stunts off of buildings and car crashes. It's just kind of written in Kate's brain—and then our screenwriter Brad Copeland, who wrote for Arrested Development, put all that kind of weirdness and fun into the movie. And then it was just kind of making it all real, which our lovely cast did."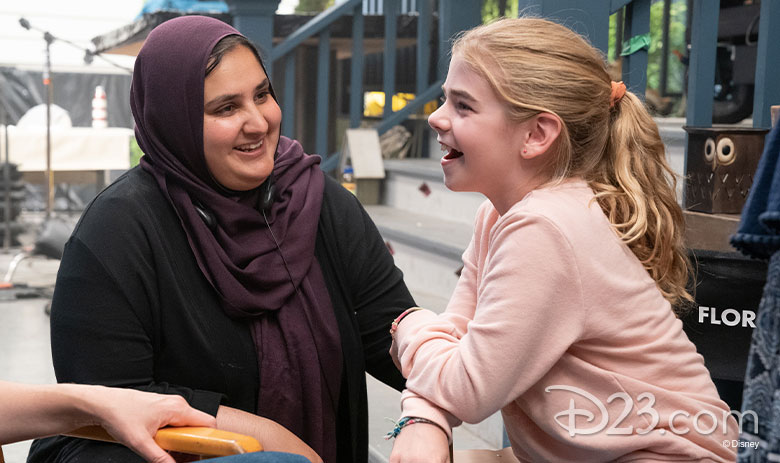 Lawler on how she found out she'd been cast as Flora:
"It was insane," says the actress. "I was in this Broadway show [The Ferryman], and I was actually in the middle of the city—huge crowds everywhere. And I got a phone call from Lena and I hold the phone up to my ear and like, I can barely hear her. [But] I hear her say, 'You want to be in this movie?' And I'm like, 'Yes!!' It was amazing."
Pudi on what a memorable time he had filming Flora & Ulysses—especially when it came to his character's dealings with several energetic animals:
"This is my second time working with Lena," Pudi explains. "I got to work with her on a film called The Tiger Hunter… [And] she told me that this would be a complete departure; there would be a lot of physical comedy involved. I love physical comedy, [and] I thought that was gonna be really exciting and just kind of fun to dive into this world. And in terms of the physicality, they would give me pillows to put under my shirt, [or] sometimes this weird squishy squirrel doll, to simulate what the real squirrel would look like. And then it was just a lot of [being] told, 'Okay, just kind of run—dance, jerk your head around, and move your body.' And it was like dance, it was just letting go! It looked like I was getting electrocuted a lot." He laughs, adding, "I've been attacked by a few animals in my life, so I used that as my acting prep work."
Schwartz and Hannigan recall some notable improvisational moments from the film's shoot:
"The script that Brad wrote was so good," says Schwartz, "and Lena gives us room to play—but with the knowledge [that] we're not going to be like, 'What's going on? What's that dinosaur over there?' Y'know what I mean? It's always within the boundaries of what that scene is, and only if it heightens either the emotion or the comedy of the scene without bringing it somewhere else." Hannigan continues, "I remember having a lot of fun trying to work out the awkward entrance with Ben—do we hug? Do we shake hands? That was really fun to do… I love anything where I get to be awkward. That was a standout moment." "It's very fun to act with someone like Alyson, who's been in so much comedy and she's been doing such great stuff for so long," Schwartz adds. "It was so fun to try to [work out that scene] with her, and with Lena. We literally tried 1,000 ways—there could be a weird 'super-cut' of us trying to say hello to each other!" ("It's on our editor's computer," adds Khan.)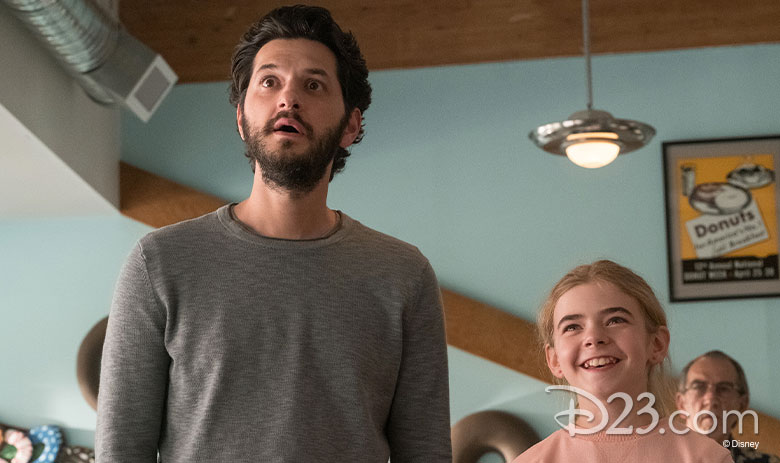 Khan gives a few hints on what kind of Easter eggs viewers can expect, including a mini DuckTales reunion:
"We realized that the best goldmine in all of television was DuckTales," says the director, chuckling. "And we must bring everyone from that show [to our film]!" Besides Schwartz and Pudi, Flora & Ulysses also boasts a turn from DuckTales' Kate Micucci as a nonplused waitress at the town's diner, and a cameo appearance by Bobby Moynihan as a clerk at the local comic book store. "We threw in [things like] Bobby reading a DuckTales comic… You'll see some ducks with different colors on their collars, matching the DuckTales characters, in Danny's office." But wait, there's more: "There's a whole world for comic [lovers] in that comic book store," continues Khan. "There's a giant penny, which would've been in the Bat Cave originally. You'll see Mysterio, with the goldfish thing over his head. Some people will know who the ventriloquist 'mobster' dummy is, next to the TV… There's a lot of Alyson Hannigan love; a lot of stuff from [her past TV and film work] hidden in the background [of the Buckman home]. Different books of Kate DiCamillo's are hidden throughout. There's just a lot of treats everywhere!"
Hannigan recalls the fun of showing the film to her two children:
"Well, they've been asking since the day we wrapped [filming], 'When will we get to see it?'… They were so excited, [while] I was apprehensive [as someone who doesn't like to watch themselves on screen]. But from the moment it started, I sort of forgot that I was even a part of it—because they were so engaged. Watching them, they were just so happy. They were laughing out loud—like, beyond belly laughs; I'd have to pause because I thought well, they're gonna miss the next scene, cuz they were just in tears! And my husband and I kept looking at each other and saying, 'This is so good!' We were so happy… "
Get ready for some hilarious, high-flying adventure when Flora & Ulysses debuts Friday, February 19—only on Disney+!