By Jocelyn Buhlman
If you're a Disney fan, there's no better way to celebrate any season than with a trip to your favorite Disney park. You can dress up in your spooky best for Halloween, enjoy holiday cheer in the winter, but what about for the Fourth of July? If you can't imagine yourself celebrating America's independence anywhere other than Main Street, U.S.A. with a Mickey ice cream sandwich in your hand, why not get an extra dose of American history, patriotism, and fun with these ways to celebrate America at Disney parks.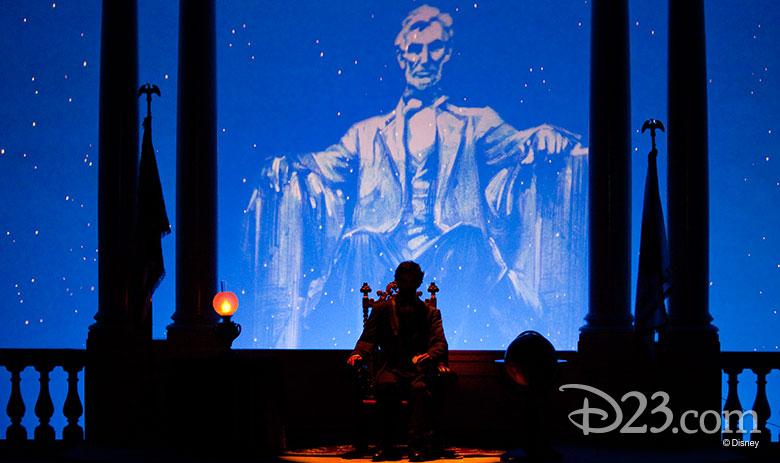 The Disneyland Story Presenting Great Moments with Mr. Lincoln, Disneyland Park
Why not celebrate the American spirit by reliving great moments with the 16th president? Great Moments with Mr. Lincoln is a classic Disneyland attraction and passion project of Walt Disney. Featuring the latest in Audio-Animatronics® technology, President Abraham Lincoln tells the tale of generations past and provides an important vision of the future. A replica of Lincoln's life mask was originally used by late Imagineer Blaine Gibson to bring realism to this famous Audio-Animatronics® figure, to support a historically accurate and deeply moving presentation perfect for celebrating the United States.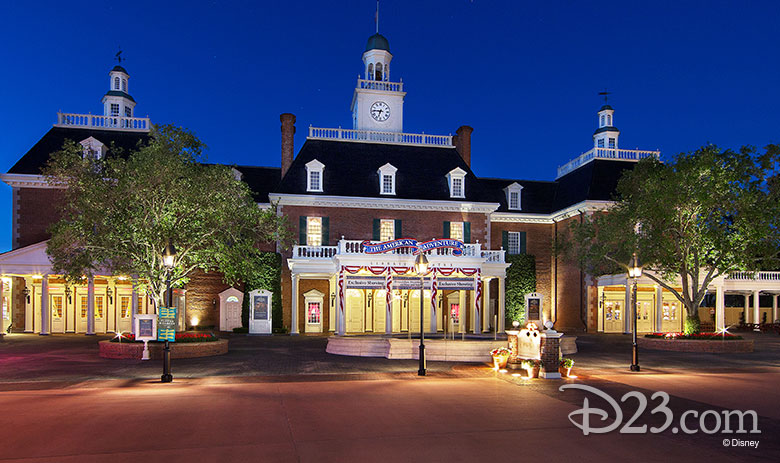 The American Adventure pavilion, Epcot
Epcot is your doorway to the world, but sometimes we need to stop back home—which is why you should take some time and visit The American Adventure pavilion at World Showcase. Enjoy a dramatic retelling of America's story, featuring 35 Audio-Animatronics® figures, and meet famous American figures such as Susan B. Anthony, Frederick Douglass, and Will Rogers. This 30-minute show, hosted by Benjamin Franklin and Mark Twain, is the perfect salute to America's greatest resource: its people.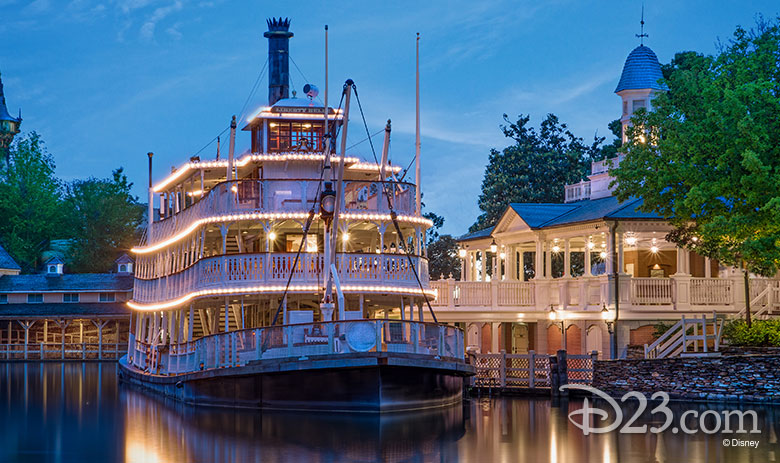 Liberty Square Riverboat, Magic Kingdom Park
What better way to celebrate the United States than by taking a relaxing cruise along the Rivers of America? The Liberty Belle features a working steam engine to ferry guests around Tom Sawyer Island on a trip through the past.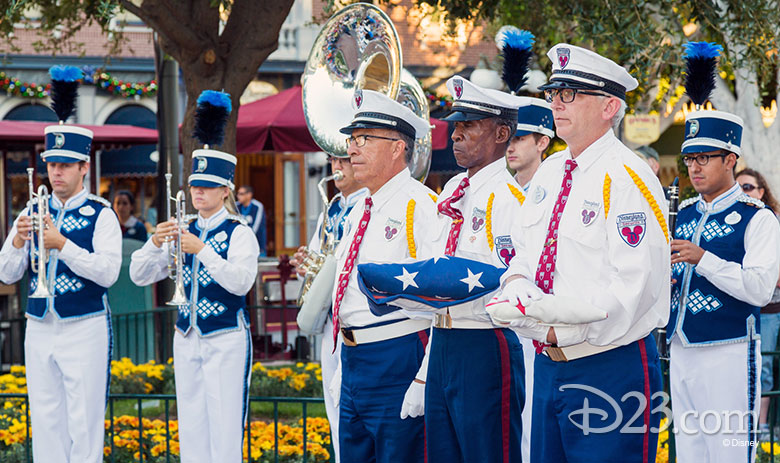 Watch the Flag Retreat, Magic Kingdom Park
At 5 p.m. each night, crowds gather in town square of Main Street, U.S.A. to respectfully observe the nightly retiring of the park's American flag. After reciting the pledge, a special Color Guard lowers the flag to the philharmonic performance of "Star Spangled Banner." Guests can then join in singing "God Bless America." The color guard then hands the flag to a special guest veteran, who joins a procession down Main Street, U.S.A. to conclude this special ceremony. Guests don't always know about this little piece of patriotism happening every afternoon at the Magic Kingdom, but if you're feeling especially spirited, be sure to come by and pay your respects.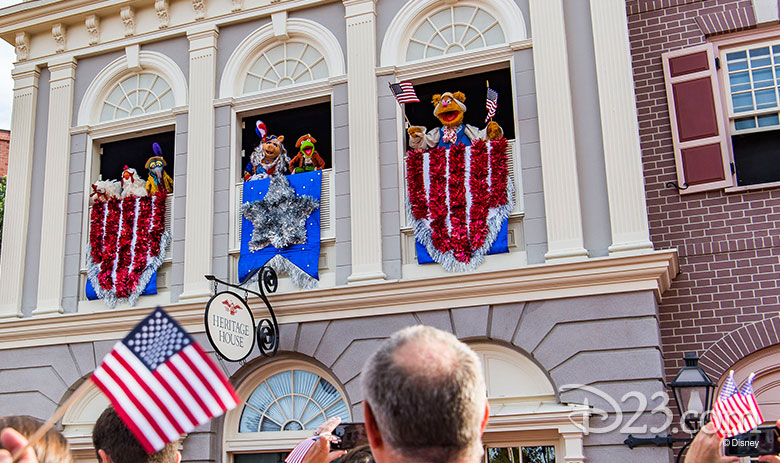 Watch The Muppets Present… Great Moments in American History, Magic Kingdom
Liberty Square at the Magic Kingdom provides guests with many an option to discover American history through unique and authentic experiences. Guests can stop to visit under the Liberty Tree or gaze at an exact replica of the famous Liberty Bell. But only one experience lets them learn about our country through the eyes of a Muppet, however… The Muppets Present… Great Moments in American History is a show unlike anything you've ever seen, featuring original music, flashy costumes, and one very annoyed Sam Eagle. If you want some all-American laughs, be sure to stop and watch the two unique performances that tell either the tale of the midnight ride of Paul Revere or the famous signing of the Declaration of Independence.
Meet Captain America, Disney California Adventure Park
The Star Spangled Man with a Plan is ready to meet fans in Hollywood Land! This red, white, and true-blue hero is waiting to meet you, so make sure to stop by and say hi. While you're visiting Hollywood Land, why not sign up to be a true-blue hero yourself? The Avengers Training Initiative provides aspiring Super Heroes with the chance to wield the famous vibranium shield and prove they can save the world with the Avengers.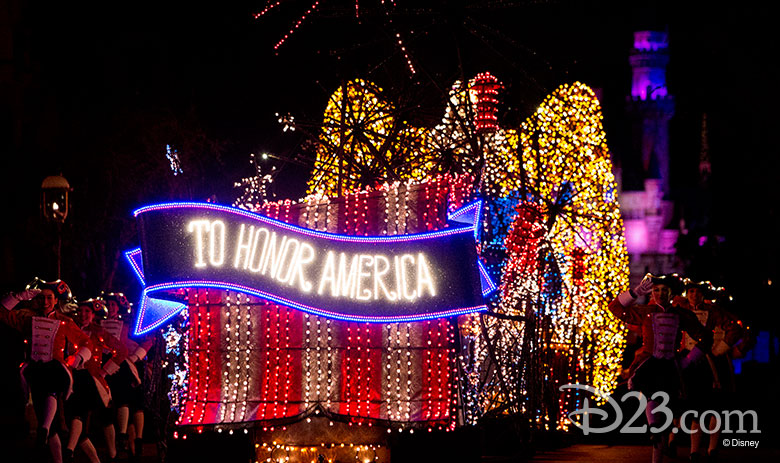 Watch the Main Street Electrical Parade, Disneyland Park
While the Main Street Electrical Parade itself is an American classic of electronic pageantry and lights, one string of floats stands out with its American spirit. While we love the spectacular floats celebrating classic Disney films like Cinderella, Peter Pan, and Pete's Dragon, nothing compares to the finale unit. Covered in dazzling lights, the celebration of Americana is the grand finale that makes any Disneyland day a little more patriotic. Each night, a similar patriotic finale closes the Electrical Water Pageant at Walt Disney World Resort—which was the inspiration for the Main Street Electrical Parade!