By Beth Deitchman
The Muppets are coming! The Muppets are coming!
It's not a midnight ride, but that herald surely reflects the enthusiasm of Muppets fans everywhere who are as thrilled as we are at the thought of the newest show at Magic Kingdom Park—The Muppets Present… Great Moments in American History—which made its debut at Magic Kingdom Park's Liberty Square on October 2.
The show—which can be seen several times daily—is peppered with fun historical facts as the Muppets share their own inimitable interpretations of the signing of the Declaration of Independence and the midnight ride of Paul Revere. James Silson, one of the show's directors, explains, "Everyone tries their hardest to present a truthful show of history but ultimately get it wrong in a lot of places. Partly right but mostly wrong."
Lucky for history buffs, however, James "J.J." Jefferson—no relation to Founding Father Thomas Jefferson—is on hand to provide real historic facts. Show Director Tara Anderson says, "He's going to stroll around before the show starts and get to know people and talk to them about all the wonderful history that's out there in Liberty Square: the replica of the Liberty Bell, the Liberty Tree, the stockades—why were people in stockades? J.J. can tell you this." She observes, "He's kind of our resident history geek, if you will—but in a very cool way."
Tara mentions that her hope is that people are inspired to find out more about American history. "If one kid comes away saying, 'Hey, I want to know more about Thomas Jefferson or Benjamin Franklin,' it's great!" she says.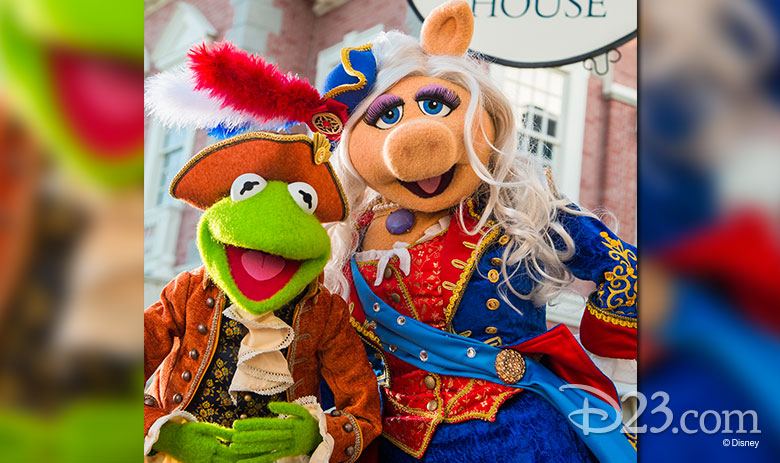 The creative team at Walt Disney World Resort worked closely on the show with Muppet Studios and the Muppet performers. The show features mile-a-minute humor, brand-new music (including a song, "Great Moments in History," written by Valerie Vigoda and Brendan Milburn, who also composed the new songs heard in Mickey's Royal Friendship Faire on the Cinderella Castle Forecourt Stage), and all of your favorite Muppets clad in fantastic period costumes. James reveals, "Piggy is extremely particular about her fashion and what she wears, and she couldn't do a show without multiple costume changes."
There's something for everyone in this outdoor show, which James and Tara think will bring a wonderful energy to the Liberty Square area. "It's just an absolute delight," Tara enthuses. "You're going to see its appeal to everybody—across generations—because the Muppets have such a wonderful history."
James, who, like Tara, is an undeniable Muppets fan himself, points out, "The first time you see the Muppets pop up and appear in Liberty Square is one of the most magical experiences you'll ever have. They're there, seemingly within arm's reach of you, and that's something I think most Muppets fans desire and they never get the chance to do. But there they are right in front of you in Liberty Square."
The Muppets Present… Great Moments in American History is presented multiple times daily. Visit WaltDisneyWorld.com for the most up-to-date schedules and information.