By Jim Fanning
Fan card designed by Alice in Wonderland color stylist and Disney Legend John Hench.
Overflowing with wit, whimsy and wackiness, Lewis Carroll's Wonderland always appealed to the wondrous imagination of Walt Disney. Almost from the start of his cartooning career, Walt found the surreal landscape of Carroll's literary classics to be a rich setting for his animated creations. Before, during and after the production of his 1951 animated feature, full of wild and insanely imaginative dreamings, Walt tumbled again and again into the wondrous world of Alice's fanciful adventures. As we enjoy Tim Burton's new, visually innovative version of Alice in Wonderland, let's follow Walt down the rabbit hole and explore what he called "the most fantastic of all the world's of fantasy."
Alice in Cartoonland
The brilliant word play and unique imagery of both Alice's Adventures in Wonderland and Through the Looking Glass and What Alice Found There fascinated the ever-creative Walt, and he turned to Wonderland for his first Hollywood filmmaking success, the Alice Comedies. These pioneering shorts starred a live little Alice on the loose in an animated fantasy world. In the first short, Alice's Wonderland (1923), the curious little girl pays a visit to Walt Disney in his cartoon studio and is tickled by the "funnies" that come to life through the magic of animation. Later, Alice dreams herself into Cartoonland where, like Carroll's Alice, she finds zany adventures among the bizarre animal folk that populate this impossible realm. Walt produced 56 of little Alice's animated adventures, weaving a quixotic foundation for the fantastical worlds he would explore in his Mickey Mouse and Silly Symphony cartoons.
America's Sweetheart in Wonderland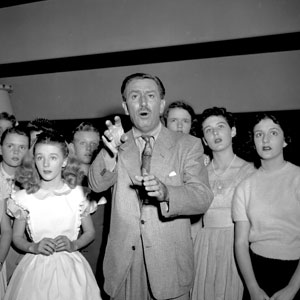 Early on, Walt planned to bring a direct adaptation of Carroll's literary masterpiece to the screen through the magic of Disney animation, and in 1931 he bought the rights to the famous Wonderland illustrations by Sir John Tenniel. A fervent fan of Walt's animated concoctions and one of Hollywood's first superstars, Mary Pickford emulated Alice by wishing she could somehow enter Disney's extravagant cartoon kingdom. Walt was already envisioning an animated feature, and plans formed to star Mary as Alice in a cartooned version of Carroll's Wonderland; a test was filmed with Mary in full Alice costume. But when Paramount Studios produced an all-star version of Alice in Wonderland in 1933, Walt and Mary abandoned their plans. However, Walt turned to an even brighter star than any of the greats in Paramount's film (including Cary Grant) — Mickey Mouse — to headline an animated extravaganza inspired by Carroll's fancies. Thru the Mirror (1936) begins with Mickey slumbering over a copy of Through the Looking Glass and dreaming that he steps into the backward world on the other side of the mirror. A mini marvel of surreal imagery and offbeat antics, Thru the Mirror is one of Mickey's most celebrated cartoons and solidified Walt's search for an animated Wonderland.
Thru the Television Screen
Following the enormous success of Snow White and the Seven Dwarfs (1937), Disney was determined to realize a full-fledged feature version of Wonderland. Artist David Hall concocted many otherworldly story drawings strongly influenced by Tenniel's famed illustrations. Ultimately, Walt chose to develop Disney translations of Tenniel's familiar characterizations. For many years, Walt revisited the conceit of a live-action Alice romp through an animated Wonderland; Ginger Rogers (who recorded a record album version of the story complete with Disney artwork), Margaret O'Brien and Disney's own sweet starlet Luana Patten were all at one time in the running for the plum part but Walt finally decided on an all-animated cast. To féte the release of his long-awaited wonder film, Walt created his first television production, One Hour in Wonderland, which was telecast on the suitably wondrous date of Christmas Day 1950. In this inspired special, Walt welcomed viewers into the wonderland of his fantasy factory with Kathryn Beaumont, the voice of Alice, dressed in the same costume she wore in the live-action film produced for the animated feature.
When Walt debuted his Disneyland TV show in 1954, the great showman gave Alice in Wonderland pride of place as the second episode on November 3, 1954. Thereafter, he showcased the fantasy several times, including on Christmas Day 1959 when Walt compared the mad, mad movie to a beloved British holiday tradition, "the annual Christmas pantomimes. Young and old alike flock to these traditional entertainments to enjoy the annual retelling of such colorful fantasies as Aladdin, Beauty and the Beast and many others. In this same traditional spirit we thought you might like to escape the world of reality to sit briefly at the feet of one of the most famous tellers of nonsense stories. His name was Charles Dodgson and by profession he was a staid teacher of mathematics at Oxford University. But down through the years people the world over have known him as Lewis Carroll, the author of Alice in Wonderland."
In 1956, Walt's studio came up with some truly unique Wonderland TV productions — Disney-animated commercials for Jell-O gelatin. Narrated by Sterling Holloway (voice of the film's Cheshire Cat) and featuring Kathryn Beaumont recreating her vocal role as Alice, these expertly produced commercials even starred two Carroll characters planned for but dropped from the feature — the Mock Turtle and the Gryphon, who showed up with Alice in one of a series of delightfully Disney-animated TV commercials for a gelatin dessert mix in the late 1950s, wherein the Mock Turtle bemoans his inability to take the extras (such as cooking) in school.
The Madcap Music of Wonderland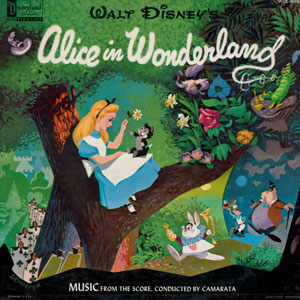 Veteran Disney composer Oliver Wallace spun a suitably surreal musical score for Alice in Wonderland and his sometimes bizarre, sometimes wistful composition was nominated for an Academy® Award. Boasting more songs than any other Disney animated feature, the wonder-filled musical seemed a natural for an original soundtrack album. But in a curious turn worthy of Alice's wandering through Tulgey Wood, the earliest Disney-produced Alice album features the sing-able songs as conducted and recorded by Disney's music director, Tutti Camarata. One of the rarest of Disney record albums, this 1957 LP was a highly sought-after collectors' item. Another album showcasing the beautiful vocalizations of Mouseketeer Darlene Gillespie was released in 1959, brimming with full versions of songs only briefly heard in the film itself. The wishes of Wonderland fans who longed for an original soundtrack album were finally granted in 1997 when Walt Disney Records released a CD of the restored soundtrack.
Curiouser and Curiouser Comic Books
To deluxe comic books inspired by Alice in Wonderland were published to accompany the original release of Walt's weird but wonderful film. The first was a fancifully faithful adaptation of the movie featuring a whimsical cover with an oversized Alice (sporting the traditional red-and-white striped stockings not seen on the animated character but famed in the colored Tenniel drawings) leading a parade of daffy Wonderland denizens. The second comic magazine, entitled Unbirthday Party with
Alice in Wonderland, highlighted hilarious new adventures starring Alice and her mad mavens of merriment. In a delightful departure from Disney's Wonderland reality — such as it is — published in the 1957 Giant comic book Uncle Scrooge Goes to Disneyland, Alice invites Daisy Duck to the Queen of Hearts' birthday party. In this topsy-turvy tale, "A Day in Wonderland," drawn by comic book master Paul Murry, Daisy is dismayed to discover that the citizens of Wonderland are forced to bring two presents to the mad monarch. Daisy and Alice cleverly come up with a solution by convincing the Queen to have a "no birthday" party so that she can remain young and (ahem) beautiful forever. Daisy's peculiar visit to Wonderland is echoed in the recent DVD release Mickey's Adventures in Wonderland, inspired by the Mickey Mouse Clubhouse TV show from Playhouse Disney on Disney Channel. On Daisy's birthday, Mickey and friends enter a Wonderland unusual even by Wonderland standards, complete with Clarabelle Cow playing an unforgettable Queen of Hearts.
Wonderland at Disneyland
Inspiring Cheshire Cat-sized grins, Wonderland came to Disneyland Park when Walt introduced the silly and surreal Alice in Wonderland attraction on the very important date of June 14, 1958. Accompanying Walt and a bizarrely costumed stand-in for the White Rabbit was Mouseketeer Karen Pendleton costumed as Alice (as she sometimes also was in the Mickey Mouse Club segment "Karen in Cartoonland"). In the 1983 "New Fantasyland" re-imagining, an entire Alice in Wonderland area was created featuring the Mad Tea Party teacups and the Alice in Wonderland attraction itself, which, featuring the original voice of Alice, Kathryn Beaumont, re-opened on April 13, 1984. How appropriate that Wonderland wanderers of every age can still experience Walt's version of that delightful dreamscape at that wonderland known as Disneyland.