By Jocelyn Buhlman
When hinges creek in doorless chambers and strange and frightening sounds echo through the halls… That is the time when you are at Disney Parks, prepared to experience Disney's eeriest attractions with ghoulish delight. If you want your Halloween chills and thrills to have that special Disney magic to them, look no further then D23's international list of the spookiest (and sometimes silliest!) attractions that Disney theme parks have to offer. You'll be so captivatedly creeped out that when Halloween comes again next year, you'll be sure to want to hurry baaaack…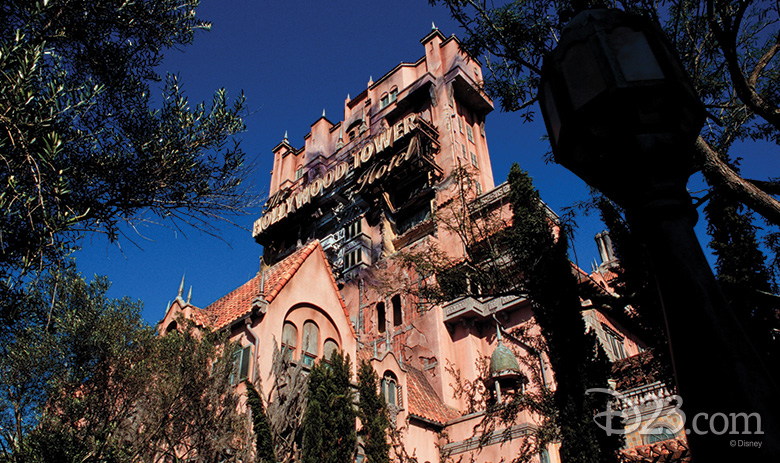 1. Tower of Terror
To start off this creepy tour, let's set the scene: Halloween, 1939. You're standing in a rainy street on the dark side of Hollywood, and lightening crackles across the sky. The hotel in front of you shimmers with a "VACANCY" sign drawing your eye. Are you so desperate for a dry place to stay that you don't even pause to wonder just what kind of vacancy you're filling?
Located at Disney's Hollywood Studios in Florida and Walt Disney Studios Park in France, and operating for a limited time at Disney California Adventure, the The Twilight Zone Tower of Terror immerses you in the world of the iconic series The Twilight Zone. The queue is filled with props and references to all your favorite creepy episodes (did you catch the book To Serve Man sitting on the library shelf?), so that you're already feeling the spooky spirit. But just wait until you enter the maintenance service elevator: Your destination is unknown, but this much is clear—a reservation has been made in your name for an extended stay. Are you prepared to enter the Twilight Zone?
Or perhaps you're looking for a place to stay with a more adventurous flavor. In that case, Tokyo DisneySea has the hotel for you: Hotel Hightower, owned by famed explorer Harrison Hightower III. But his love of collecting stolen artifacts has brought a curse down on his hotel—the ancient idol of Shiriki Utundu has cursed it—and you can experience the curse yourself… if you dare!
Wherever you decide to stay during your tour of creepy Disney attractions, one thing is for sure: They will be so glad that you dropped in.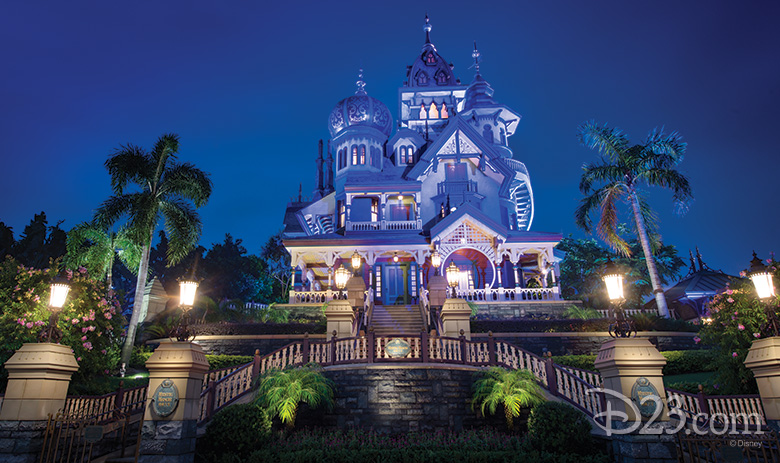 2. Mystic Manor
The next stop on our attractions tour is the colorful and mysterious mansion standing in Mystic Point at Hong Kong Disneyland. Lord Henry Mystic has invited you into his mansion, full of curios and tchotchkes from his travels all over the world—including a magical music box. But what happens when the music box falls into the hands of Albert, Henry's pet monkey? Well, then you're in for the ride of your life as you venture through the manor to face vicious Venus flytraps, paintings that come to life, and suits of armor on the attack. Lord Albert Mystic's treasure collection has always been considered a wonder to view—but no one has ever viewed it like this!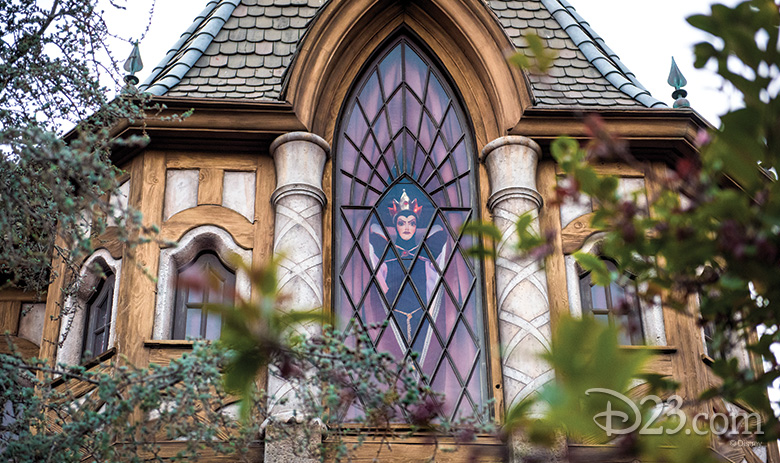 3. Snow White's Scary Adventures
In Disneyland, Tokyo Disneyland, and Disneyland Paris, you can experience the thrills and chills of the animated classic Snow White and the Seven Dwarfs. What starts as a fun night of silliness and dancing with the Seven Dwarfs turns mysterious and sinister as you rush through a forest of glowering trees and stumble through the Queen's dungeons—you may even catch her wicked transformation from beautiful queen to dangerous hag. If you can resist her offers of "Apple?" and enlist the help of the Dwarfs, you'll make it to the end! But not without experiencing the scary adventures that Snow White herself once endured back in Walt Disney's groundbreaking film.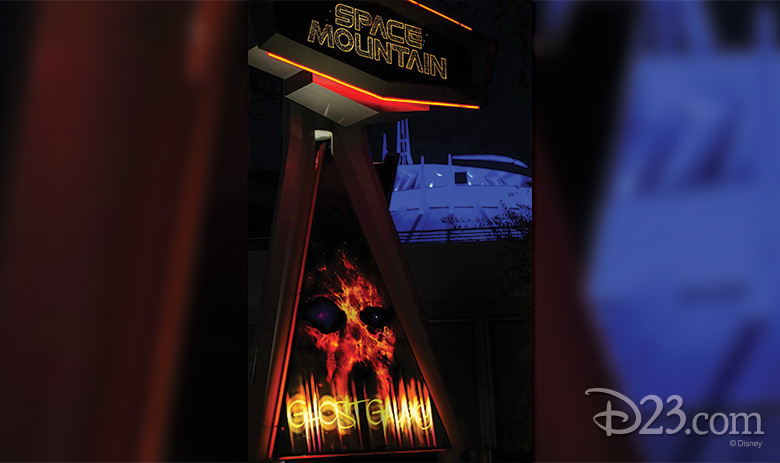 4. Space Mountain: Ghost Galaxy
For this Halloweentime adventure in space, everyone can hear you scream. Unique to the Halloween celebrations of Hong Kong Disneyland and Disneyland park in California, the iconic, domed space station is haunted by galactic ghouls and nefarious nebulae. This is an essential stop on any creepy attraction crawl, as the special ride experience is only available during the Halloween season. With all the ghostly faces and starry spirits swirling around you as you ride this famous thrill ride, you'll be screaming with genuine terror by the time the camera flashes for your on-ride photo.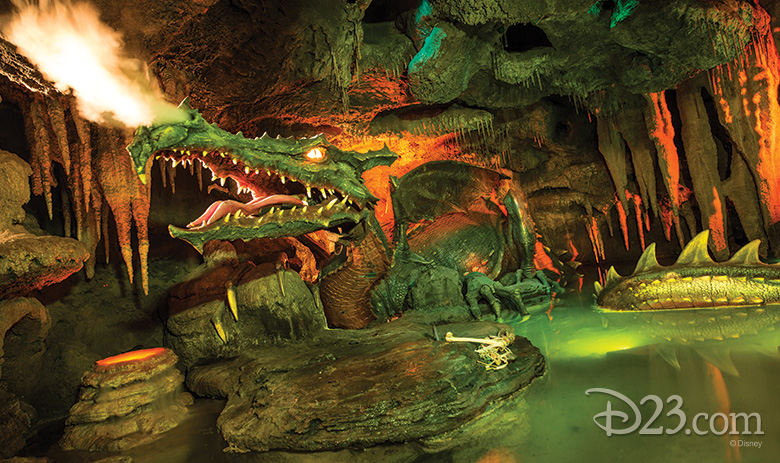 5. La Tanière du Dragon
There is something mysterious lurking under the castle at Disneyland Paris. Below the magical exterior of Le Château de la Belle au Bois Dormant, you can find a monstrous dragon chained against jagged rocks. He is sleeping, but be careful! When he wakes up you'll find that this dragon has a fiery temper.
La Tanière du Dragon is an essential stop for any Disney fan looking for a scare. At 89 feet long, the Audio-Animatronics® dragon at the centerpiece of this attraction was the largest Audio-Animatronics® figure ever built at the time of the park's opening in 1992. Such a spectacular feat of fright and Imagineering is sure to have you shivering in no time.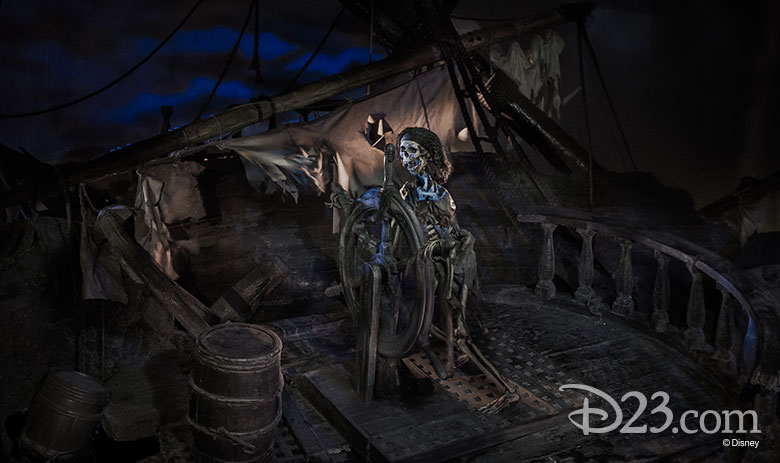 6. Pirates of the Caribbean
So, you come seekin' adventure and salty old pirates, eh? This iconic Disney attraction reminds us that dead men tell no tales in Disneyland, Magic Kingdom, Disneyland Paris, Tokyo Disneyland and the newest iteration in Shanghai Disneyland. And who can resist the life of a pirate? Hop aboard a boat to enter the world of devils and black sheep and really bad eggs—as they lived and as they died. Whether you're sailing through the fiery blasts of a battle between ships and forts or you're watching the lightning flash across the deck of a crashed ship captained by a skeletal buccaneer, you'll soon be saying "a pirate's life for me!" this Halloween.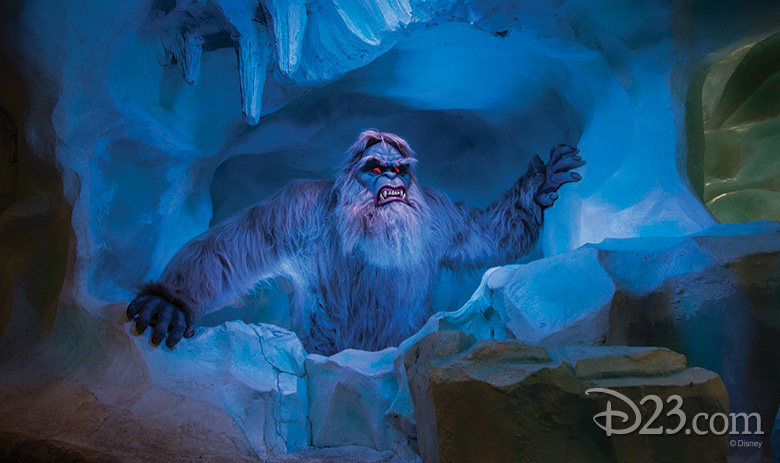 7. Matterhorn Bobsleds
What could possibly be scary about a nice toboggan ride through the Swiss Alps? Wait, did you hear that sound? I don't think that was the wind howling…
Now featuring a brand-new Audio-Animatronics® Abominable Snowman reaching out of the ice caves to come after you, the Matterhorn Bobsleds is one classic roller coaster you must ride if you want to experience thrills that are uniquely Disney. This attraction is not only an iconic Disneyland landmark, but an adventure of snowy scares as you ride your toboggan through the Abominable Snowman's icy lair.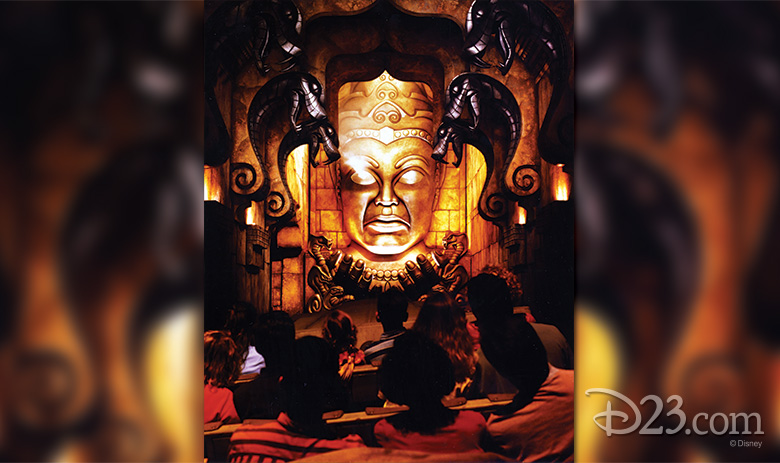 8. Indiana Jones Adventure: Temple of the Forbidden Eye
Deep within the jungles of Disneyland's Adventureland lies a mysterious temple, bearing snakes carved in stone and the remnants of an excavation site. But now, it's a tourist attraction and you are in for a lifetime of opportunity, because this magical temple offers you wondrous treasures of eternal youth, future vision, or earthly riches! Of course, there's only one catch… Don't look into the eyes of the—wait, what do you mean you already looked? Once you lock eyes with the stone visage of the deity Mara, you've booked your entire car on a one-way trip through the Gates of Doom!
Giant snakes, spooky skeletons, tumbling boulders, and more await you on this thrilling journey that's so detailed, you'll feel like you've really entered the world of Indiana Jones. And the creeps aren't just limited to the ride—adventuring through the queue exposes you to the wide variety of booby traps within the mysterious temple. Watch out for falling spikes! And be careful where you step! Danger and mystery are everywhere in the attraction, but so is our hero, Indiana Jones. You may be gripped with fear at the twists and turns of your adventure through The Temple of The Forbidden Eye, but remember that Indy is in there with you, ready to save the day! You'll be begging to ride the attraction again and again, and maybe this time you won't look into the eye of the—oh, man! Someone already looked again. But you're ready for another round of adventure!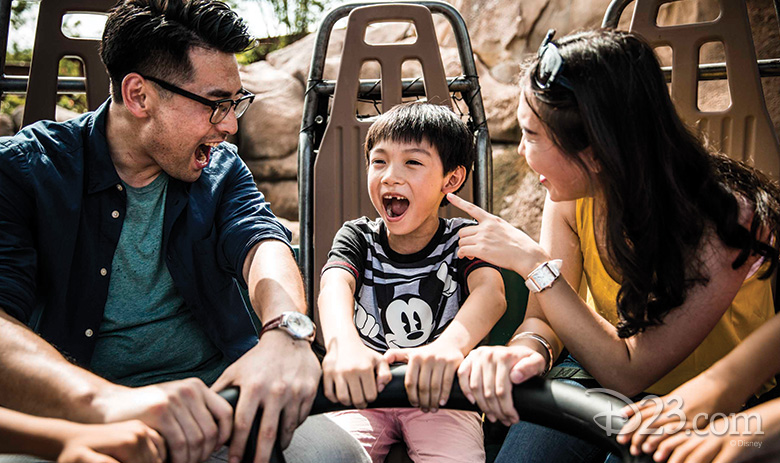 9. Roaring Rapids
Shanghai Disneyland, the newest Disney theme park, holds a mysterious peak called Roaring Mountain, home to a rapids ride that cuts right through the mountain's caves. If the unexpected drops and mysterious caverns aren't enough to send chills down your spine, then perhaps you should consider the legends surrounding Roaring Mountain. They say the mountain is haunted by a beast called the Q'aráq. Do you believe in the fearsome, crocodile-like beast? Do you want to test your belief? Then step into the rafts of Roaring Rapids and prepare for thrilling twists and turns—and perhaps an encounter with a legend will show you why it's a "roaring" good time.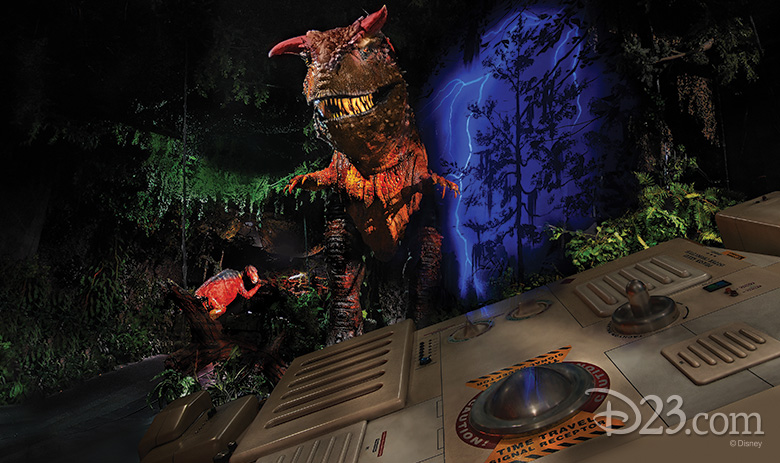 10. DINOSAUR
Our crawl has taken us through pirate caves and mysterious mountains, but now we enter a new destination: the past! At the Dino Institute, you're on a secret mission to rescue an Iguanodon only moments before the meteor that drove the dinosaurs to extinction impacts the earth. But, of course, your mission doesn't go exactly as planned and now you're on a high-speed chase through the jungles of the Cretaceous period, racing to avoid the meteor and the jaws of the massive Carnotaurus! This journey into the past will have you clutching at your seat and screaming as loud as a dinosaur's roar! Will you make it out of the past in time? You still have so many more rides you need to get on, you know…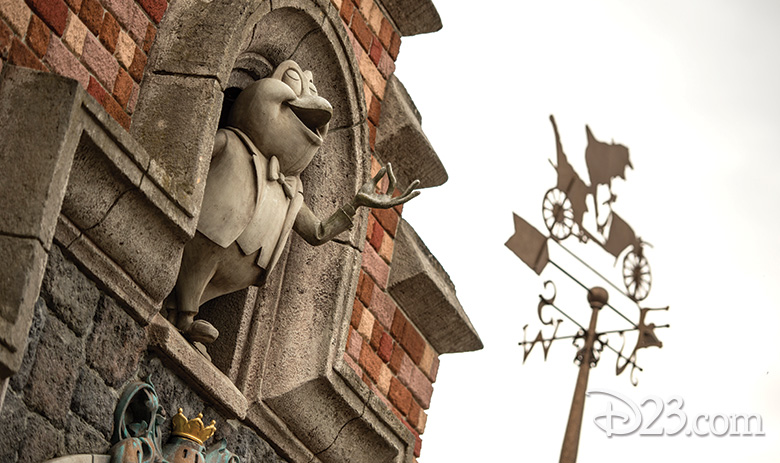 11. Mr. Toad's Wild Ride
Mr. Toad's Wild Ride at Disneyland may seem like a simple attraction based on a whimsical animated movie at first glance, but once you hop in a car and feel your own rush of Motormania, you'll understand why we included this on our list. As you speed along in your joyride around London, you encounter all sorts of dangers—from driving through boxes of dynamite to running headlong into a train! But the real scares come from the unexpected fire-and-brimstone ending, where the devil himself declares you guilty and a dragon greets you with a breath of fire. But you can relax that white-knuckled grip on your steering wheel! Because you're on a journey to nowhere in particular, and you're not stopping just because the devil doesn't like your driving! The next thing you know, you're breathing a sigh of relief back in Toad Hall, swearing you'll never let your Motormania get the best of you again… until you decide to ride the attraction again, of course…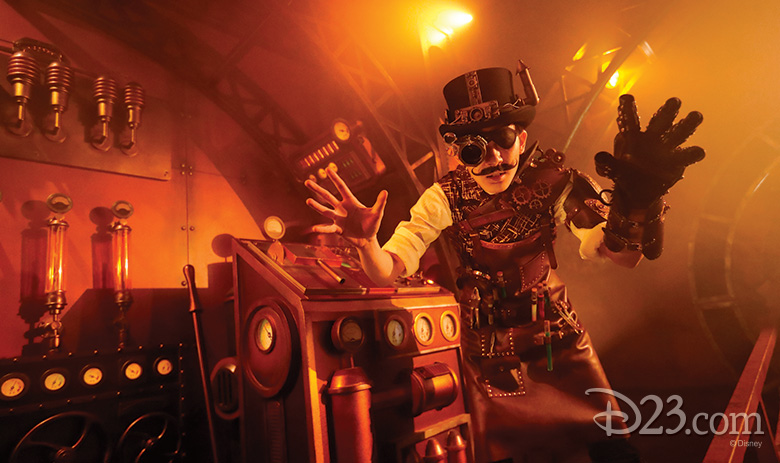 12. The Nightmare Experiment
This creepy crawl is coming to a close, so let's stop by an attraction unique to Hong Kong Disneyland. The Nightmare Experiment is a walk-through attraction that lets you into the dark side of Disney films. Guided by the mysterious Professor Wu, you enter a dark dreamscape exploring frightening scenes like Dr. Facilier's friends from the other side, Captain Jack Sparrow's skeletal pirate jail, Sid's mutant toys come to life, and the Red Queen's insane asylum. Can you handle all the nightmares this experiment has to offer? You'll just have to come visit the professor and find out for yourself…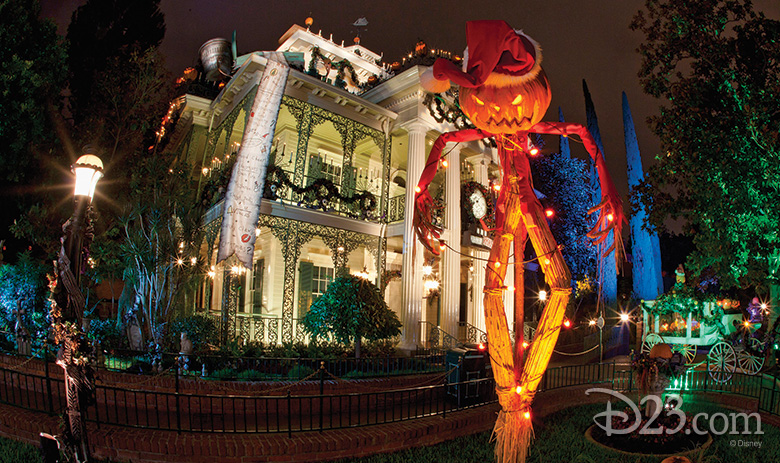 13. Haunted Mansion
Is there any other way to end this crawl than with the original home of 999 happy haunts? And from Halloween through Christmas time, if you walk into New Orleans Square at Disneyland or Fantasyland at Tokyo Disneyland, you'll find that Jack Skellington and his crew have wrecked the halls for <em>Haunted Mansion Holiday. Are you prepared to see what happens when two holidays collide? You've never seen Christmas like it's done in the mansion, with Jack playing "Sandy Claws" and filling you with visions of monsters and skeleton heads!
Are you feeling more feisty than festive? Then the old, Victorian-style house at the edge of Liberty Square in the Magic Kingdom is where you should stop next on your tour. There's no holiday cheer here—only creepy old crypts and mysterious sights. Can you make it through the maze of the queue, reading about the past residents of the mansion when they existed in their "corruptible, mortal" state? Wait—did a shadow just pass through the upstairs window? And your friend swore he saw the face on that tombstone blink. Are you willing to walk through the doors and join in on a swingin' wake?
If you're ever at the Big Thunder Mesa in Disneyland Paris, you must stop by the old ranchhouse out on the hill. What, you heard the rumors about the mysterious phantom who haunts the house? Nonsense! Come inside, as the lady of the house, Melanie Ravenswood, has invited you to a party and she would just die if you didn't show up. Phantom Manor at Disneyland Paris is a little different from the other Haunted Mansion attractions—instead of visiting a swingin' wake, you're here for the party of a macabre debutante and her vanishing groom, for a ghostly celebration of nuptial doom! Once you leave the mansion, can you find your way through the ghost town of Phantom Canyon? The Phantom of the house sure hopes you don't, but Melanie is there to point you to the way out.
Whichever haunted house you choose to explore, you know you will find all the spirits, ghouls, and grinning ghosts that your heart desires. And if you're still craving chills once you step outside the mansions and our creepy crawl has ended, never fear, for a ghost will follow you home!