By Courtney Potter
Kim Possible going back into action, exciting news from "a galaxy far, far away," and a Philadelphia Eagle lands at Walt Disney World… See more, along with other news from around Disney, in this week's news briefs!
So the Drama! A Live Action Kim Possible DCOM Is on the Way
Try not to freak out too much, but the fan-favorite animated series about the girl who can do it all is getting a live-action treatment. Sixteen years after we first met Kim Possible—the high school cheerleader who spends her free time saving the world—casting for the Disney Channel Original Movie has officially begun. Throughout 87 episodes and two original animated movies, Kim Possible proved that the only thing harder than fighting bad guys was surviving high school.
The live-action movie script is in good hands, as the writers are the creators of the animated series—Emmy® Award-winning creators/executive producers Mark McCorkle and Robert Schooley (Kim Possible, Big Hero 6: The Series)—and Josh Cagan (The DUFF, Bandslam). McCorkle and Schooley's fellow executive producer is Zanne Devine, who produced or executive-produced more than a dozen feature films, including I, Tonya and Easy A.
The movie is co-directed and co-produced by Adam B. Stein and Zach Lipovsky, who are no strangers to Disney action and adventure, as each recently directed episodes of Disney XD's sci-fi adventure series MECH X-4.
Adam Bonnett, executive vice president, Original Programming, Disney Channels Worldwide, said, "Mark and Bob created an enduring character and kids all over the world found a friend in her, an average girl who just happens to spend her off-school hours thwarting evil villains. Although Kim Possible 'can do anything,' kids and tweens found that this animated redhead was just like them. As we embark on the fun challenge of making Kim and Ron fully dimensional, I'm thrilled to be working again with Mark and Bob and to welcome the addition of a dynamic creative team—Josh, Zanne, Adam and Zach—into a world where anything is indeed possible."
Save the Date!
Be sure to mark these upcoming Disney events on your calendar:
D23 and Walt Disney Archives


February 10, 2018


D23's Magical Screening Series: Peter Pan in Florida


February 14, 2018


Tour Turner Studios in Partnership with TCM Backlot!


February 14, 2018


Enjoy Complimentary Tickets to a Special 3-D Advance Screening of Marvel Studios' Black Panther


February 20, 2018


D23 Member Night at Disney's The Lion King in Orlando


March 8, 2018


Be a Warrior During a Complimentary Advance Screening of A Wrinkle in Time


March 24, 2018


Celebrate the Opening Weekend of Frozen on Broadway in New York City
Parks


January 12–February 19, 2018




Epcot International Festival of the Arts




January 26–February 18, 2018




Lunar New Year Festival at Disney California Adventure




February 28–May 28, 2018




Epcot International Flower & Garden Festival




March 2–April 12, 2018




Disney California Adventure Food & Wine Festival




April 13, 2018




Pixar Fest begins at the Disneyland Resort




April 26, 2018




Disney•Pixar Toy Story Land opens at Shanghai Disneyland




May 27, 2018




Star Wars: Galactic Nights Returns to Disney's Hollywood Studios




Summer 2018




Pixar Pier opens at Disney California Adventure




Summer 2018




Toy Story Land opens at Disney's Hollywood Studios




2019


Star Wars-Themed Lands Opening at Disneyland and Walt Disney World



Studios




February 16, 2018


Marvel Studios' Black Panther opens in U.S. theaters


March 9, 2018


Disney's A Wrinkle in Time opens in U.S. theaters


May 4, 2018


Marvel Studios' Avengers: Infinity War opens in U.S. theaters


May 25, 2018


Solo: A Star Wars Story opens in U.S. theaters


June 15, 2018


Incredibles 2 opens in U.S. theaters


July 6, 2018


Marvel Studios' Ant-Man and the Wasp opens in U.S. theaters opens in U.S. theaters


August 3, 2018


Disney's Christopher Robin opens in U.S. theaters


November 2, 2018


The Nutcracker and the Four Realms opens in U.S. theaters


December 19, 2018


Mary Poppins Returns opens in U.S. theaters


Television




March 4, 2018


The Oscars air live on ABC (8 p.m. ET/5 p.m. PT)


March 11, 2018


American Idol premieres on ABC (8–10 p.m. ET)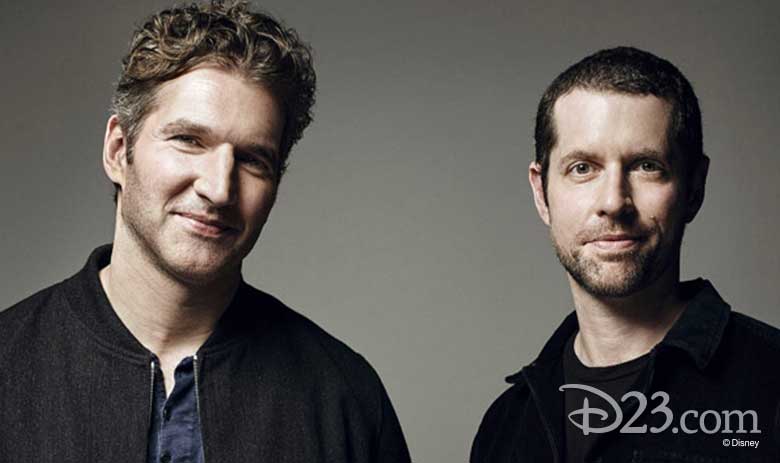 Breaking: Huge Star Wars News!
Did you feel that disturbance in the Force? Did it feel like, perhaps … winter is coming? Breaking news from the world of Star Wars: David Benioff and D.B. Weiss, creators of HBO's hit series Game of Thrones, will write and produce a new series of Star Wars films! Read more right here on D23.com.
Philadelphia Eagles Star Nick Foles Celebrates at Walt Disney World!
What do you do when your team wins their first "big game" championship after a 58-year drought? You go to Walt Disney World, of course! And that's just what Super Bowl MVP Nick Foles of the Philadelphia Eagles did this past Monday morning… Hear from Nick, and check out some footage from his victory parade in front of Cinderella Castle at Magic Kingdom Park, in the clip above.
The Eagles quarterback—who only took on his starting role in late December—brought along his wife and young daughter for the festivities. After the parade, he and his fam spent some quality time enjoying attractions throughout Magic Kingdom and Disney's Animal Kingdom.
Congratulations to Nick and the Eagles on their true "Cinderella story" this season!
First Exciting Look at Solo: A Star Wars Story
Besides the game itself, this past Sunday featured TV that was positively chockablock with brand-new and terrifically thrilling, audio-visual delights. Case in point: We got our very first glimpse at this summer's much-anticipated Solo: A Star Wars Story. And on Monday morning, the full teaser trailer made its debut during ABC's Good Morning America; in case you missed it, or just want another look (that's us), take a gander at the trailer, above.
Beside the new trailer, Lucasfilm also debuted four brand-new character teaser posters for the film. Massively cool, right?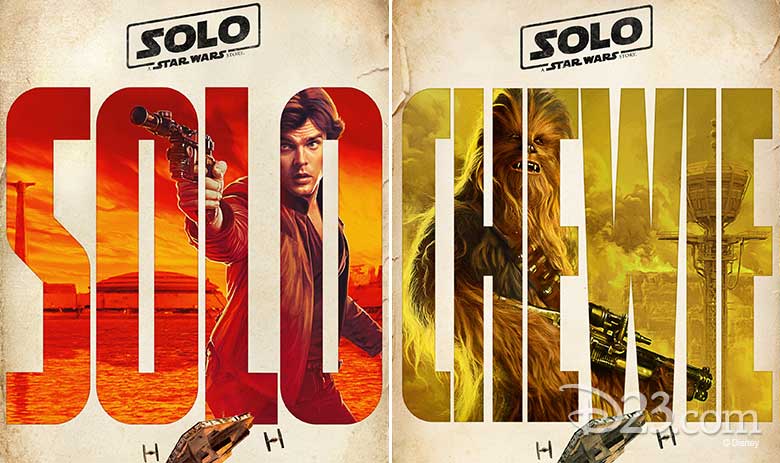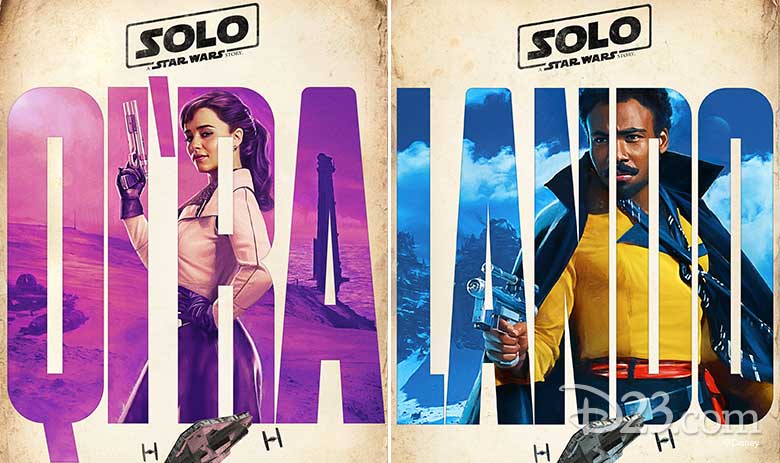 Board the Millennium Falcon and journey to a galaxy far, far away in Solo: A Star Wars Story, an all-new adventure with the most beloved scoundrel this side of Tatooine. Through a series of daring escapades deep within a dark and dangerous criminal underworld, Han Solo (Alden Ehrenreich) befriends his mighty future copilot Chewbacca and meets the notorious gambler Lando Calrissian (Donald Glover), in a journey that will set the course of one of the Star Wars saga's most unlikely heroes.
Also starring Woody Harrelson, Emilia Clarke, Thandie Newton, Phoebe Waller-Bridge, and Paul Bettany, Solo: A Star Wars Story opens in U.S. theaters this May 25!
Latest "Big Game" Trailer from Avengers: Infinity War
Another huge trailer to premiere during all the football shenanigans on Sunday was the latest from Marvel Studios' Avengers: Infinity War! (Have a look at the clip, above.)
An unprecedented cinematic journey 10 years in the making—and spanning the entire Marvel Cinematic Universe—Marvel Studios' Avengers: Infinity War brings to the screen the ultimate, deadliest showdown of all time. The Avengers and their Super Hero allies must be willing to sacrifice all in an attempt to defeat the powerful Thanos before his blitz of devastation and ruin puts an end to the universe.
Directed by Anthony and Joe Russo and produced by Kevin Feige, Avengers: Infinity War rockets into theaters on May 4.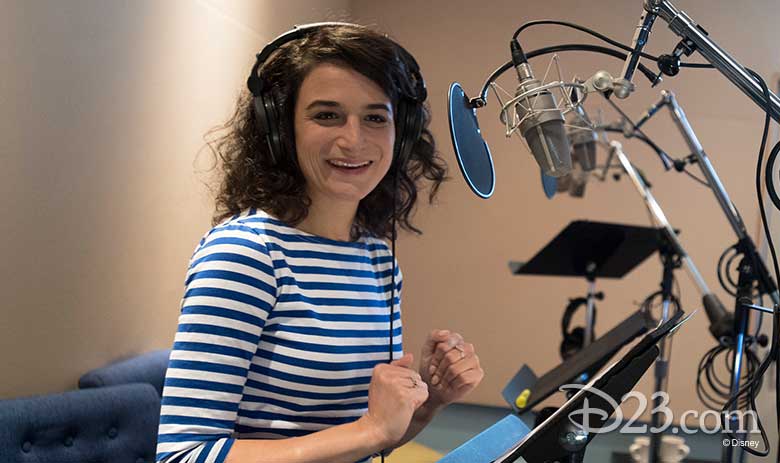 Jenny Slate Joins Cast of Disney Junior's Muppet Babies
Disney Junior's new animated series Muppet Babies premieres on Disney Channel next month, and we're so ready to meet the adorable toddler version of our fave Muppets once again. As an added bonus, Disney Junior just announced that actress Jenny Slate (Zootopia) has joined the cast as Miss Nanny, the babies' loving and playful caregiver—originally voiced by legendary actress Barbara Billingsley (Leave it to Beaver).
As in the original Emmy® Award-winning series, Miss Nanny will only be visible from the torso down. But as a new touch for this reimagined show, the pattern of Miss Nanny's tights will change in each episode to reveal the story's theme. As always, Miss Nanny gently and cheerfully encourages the Muppet Babies to use their imaginations to explore the farthest corners of the universe—and to utilize their creative thinking to solve most any problem…
Other voice cast members include Melanie Harrison (Fish Hooks) as Piggy; Dee Bradley Baker (Milo Murphy's Law) as Animal; Ben Diskin (The Spectacular Spider-Man) as Gonzo; Eric Bauza (The Adventures of Puss in Boots) as Fozzie Bear; Jessica DiCicco (Puppy Dog Pals) as new character Summer Penguin; and Matt Danner (Gravity Falls) as Kermit. Danner also serves as the series' supervising director. "Muppet Babies, we make our dreams come true!"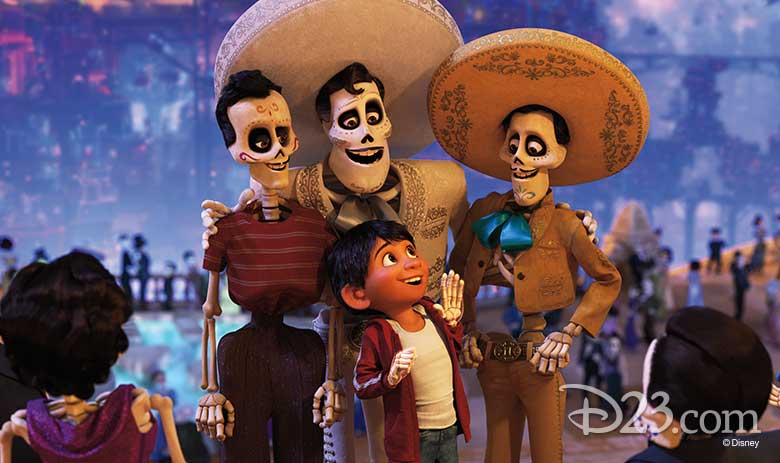 Disney•Pixar's Coco Wins Big at Recent Annie Awards
The best in animation was feted on Saturday, February 3, at the 45th Annual Annie Awards, held at UCLA's Royce Hall in Los Angeles. And guess what? Disney•Pixar's colorful celebration of all things family, Coco, went home a big winner—with a whopping 11 Annies; the film's director, Lee Unkrich, and co-director, Adrian Molina, took home the Outstanding Achievement in Directing for an Animated Feature Production award, and Molina and Matthew Aldrich were honored with the award for Outstanding Achievement in Writing in an Animated Feature Production. The film also won for music (including recent Oscar® nominees Robert Lopez and Kristen Anderson-Lopez); production design; editing; storyboarding; and more. Additionally, Anthony Gonzalez—who voices the role of Miguel—took home the Annie for Outstanding Achievement for Voice Acting in an Animated Feature Production.
On the TV side of things, the Mickey Mouse cartoon shorts series from Disney Television Animation was a big winner, too—with three Annie Awards for direction, music, and storyboards.
Congratulations to all!
An Incredible Summer is Coming to Walt Disney World Resort
It's never too late to start thinking about summer vacation plans, and may we suggest a trip to Walt Disney World Resort? There are a ton of fun new things coming soon, and D23.com has a rundown of what to expect. (We're especially excited about Toy Story Land at Disney's Hollywood Studios!)