By Courtney Potter
Get a sneak peek at Star Wars Forces of Destiny, and mark your calendars for Vampirina's debut… Read more, along with other news from around Disney, in this week's news briefs!
Awesome Star Wars Forces of Destiny Sneak Peek
Look, there on the horizon—there's a brand-new series of animated shorts winging their way across our solar system, and to say we're excited would be putting it mildly! Star Wars Forces of Destiny, a collaboration between the good folks at Disney and Lucasfilm, explores the untold stories that helped shape the circumstances of several beloved Star Wars characters, including Rey, Jyn Erso, Princess Leia, Padme Amidala, Sabine Wren, Ahsoka Tano, and more… and the first short will make its debut on Monday, July 3, at YouTube.com/Disney (followed by a Disney Channel premiere on July 9, plus a two-part TV special in the fall). Check out the amazing new teaser trailer for the series, above.
Perhaps most significantly—and this part is really cool—actresses Daisy Ridley (Rey), Felicity Jones (Jyn Erso), Tiya Sircar (Sabine Wren), Ashley Eckstein (Ahsoka Tano), and Lupita Nyong'o (Maz Kanata, narrating the series) will all reprise their roles for the series! And for those of you who enjoy Star Wars toys and memorabilia, listen up: Hasbro is set to launch a line of Star Wars Forces of Destiny toys (including new "Adventure Figures," which fuse traditional dolls with action figures) later this summer.
Save the Date!
Be sure to mark these upcoming Disney events on your calendar:
D23 and Walt Disney Archives


July 14-16, 2017


D23 Expo 2017


August 19, 2017


D23's Disney Afternoon on the Lot


October 1, 2017


D23's Fanniversary Celebrates 35 Years of Epcot


October 1, 2017


A Progressive Dinner Celebrating 35 Years of Epcot


October 3, 2017


D23's Sip and Stroll
Parks


July 17, 2017


Fantasmic! returns to Disneyland park.


July 29, 2017


Mark Twain Riverboat, Sailing Ship Columbia, Davy Crockett Explorer Canoes return to Disneyland park.


July 29, 2017




The Disneyland Railroad returns to Disneyland park.




August 31-November 13, 2017




Epcot Food & Wine Festival




2019


Star Wars-Themed Lands Opening at Disneyland and Walt Disney World



Studios




November 3, 2017


Thor: Ragnarok opens in theaters


November 22, 2017


Coco opens in theaters


December 15, 2017


Star Wars: The Last Jedi opens in theaters


Television




July 21, 2017


Disney's Descendants 2 debuts on Disney Channel, Disney XD, Freeform, Lifetime and ABC (8 p.m. ET)


July 21, 2017


Raven's Home debuts on Disney Channel (10 p.m. ET)


August 12, 2017


"Woo-oo!" DuckTales Movie premieres at 12 a.m. and airs for 24 consecutive hours


September 23, 2017


DuckTales Series debuts with two new episodes (7 a.m., 11 a.m., 2 p.m., 5 p.m. 8 p.m. and 10:30 p.m. ET/PT)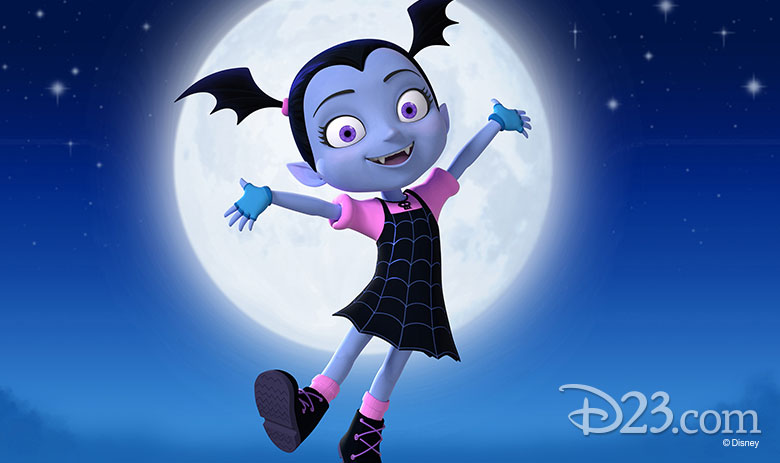 New Animated Series Vampirina Debuts This Fall
Do you love the adorable Vampirina Ballerina book series from Disney Publishing as much as we do? Well then, your day is about to be made! Disney Junior has just announced an animated series based on the books; entitled Vampirina, the series will center around a young vampire and her family as they adjust to life in a new town. Read up on the show and its fabulous voice cast (including James Van Der Beek, Lauren Graham, Wanda Sykes, and Broadway's Patti LuPone), here.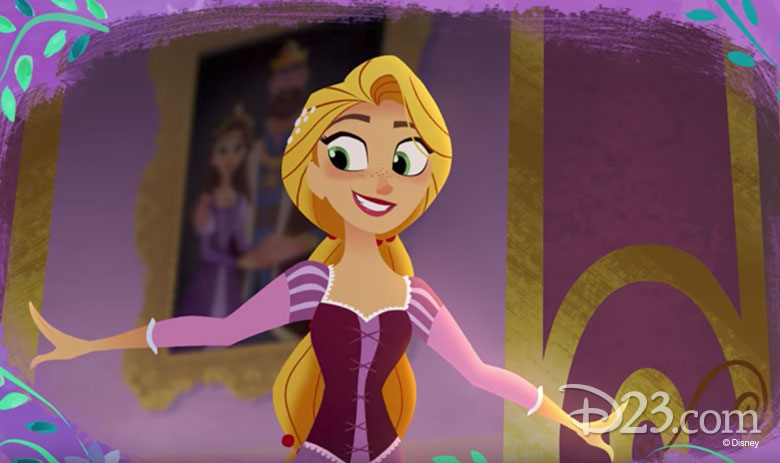 Everything You Ever Wanted to Know About Rapunzel…
Late last week, D23 was lucky enough to obtain a first look at Inside the Journal—a new series of animated shorts that take you inside the world of Tangled: The Series (and Rapunzel's very own diary) like never before. Take a gander at the trailer for the series, which just made its debut on Disney Channel, right here.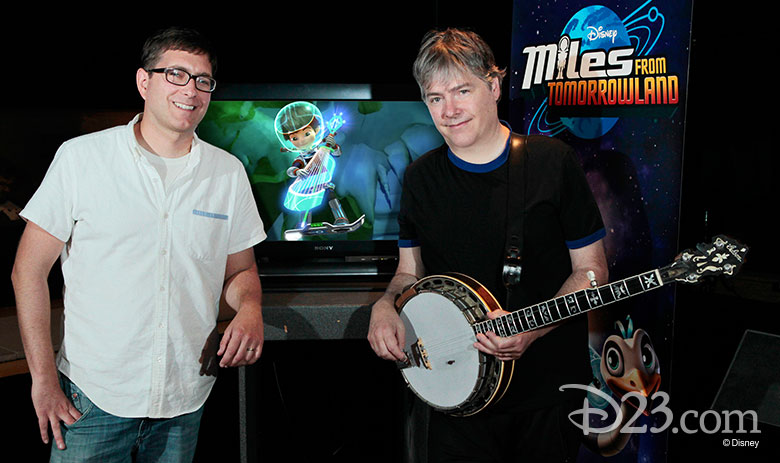 Musician Béla Fleck to Guest Star on Miles from Tomorrowland
It's not every day that a 16-time Grammy® Award-winning musician guest stars on a Disney Junior animated series—so when it does happen, it's something to celebrate! Béla Fleck, the legendary banjo player, will lend his instrumental expertise to a special episode of Miles from Tomorrowland… which happens to have been created by his very own brother, Sascha Paladino. (That's the two of 'em in the photo above.) The ep in question, "Galactech: The Search for the Plectrix," premieres on Saturday, July 8, at 9 a.m. ET/PT on Disney Junior, and features brand-new music written and performed by Béla himself.
The story centers on Miles and his sister, Loretta, as they hunt for a lost musical instrument—one that used to belong to their grandfather—with a very special power. Wanna see Miles and Loretta mid-quest? Check out a clip from the episode, below.
Marvel's Inhumans Premiering on ABC September 29
It's one of the most highly anticipated shows of the upcoming TV season, and it's only on ABC… The new Marvel series Marvel's Inhumans brings the fan-favorite comic book series (and a new kind of family drama) to life on the small screen starting Friday, September 29, with two back-to-back episodes beginning at 8 p.m. EDT.
Marvel's Inhumans explores the never-before-told epic adventure of the royal family including Black Bolt (Anson Mount), the enigmatic, commanding King of the Inhumans, with a voice so powerful that the slightest whisper can destroy a city. After the Royal Family of Inhumans is splintered by a military coup, they barely escape to Hawaii where they are greeted with surprising interactions with the lush world and humanity around them. Now they must find a way to reunite with each other—and return to their home—before their way of life is destroyed forever. The series also stars Iwan Rheon, Serinda Swan, Eme Ikwuakor, and Isabelle Cornish.
If you're looking for a super-special early look at the show, don't forget—a version of the first two episodes will be shown globally in IMAX theatres for a two-week period, starting September 1.
Season Two of Disney Junior's The Lion Guard to Debut Next Week
The adventures of Kion and friends continue when Disney Junior's The Lion Guard roars back onto a TV screen (or mobile device) near you on Friday, July 7, at 8 a.m. EDT… and when they return, they've got some very special guests set to join the Pride Lands. Golden Globe® nominee David Oyelowo (Selma) will voice the role of Scar, the villainous younger brother to Mufasa, in an episode to air later in July; he'll appear in the flames of a volcano after Simba and Nala's young son, Kion, unwittingly summons him (in anger!) by using the Roar of the Elders.
Additional guest stars for the new season include Tony® Award-winning actress Renée Elise Goldsberry (Hamilton) as Dhahabu, a charismatic golden zebra; Oscar®- and Grammy® Award-winning rapper, actor, producer, and poet Common as Kiburi, an arrogant crocodile; and AJ Mclean of the Backstreet Boys as Kuchimba, an adorable golden mole. Y'know, all this good Lion Guard news truly gives us no worries for the rest of our days…
Descendants 2 Behind-the-Scenes Special Coming to Disney Channel
The big debut of Disney's Descendants 2 is just around the corner—and to get us all in an appropriately wicked mood, a new behind-the-scenes special is coming to Disney Channel on Friday, July 7. It's Going Down: Behind the Scenes is hosted by Descendants 2 actress (and Villain Kid super-fan) Anna Cathcart, who gives us an all-access sneak peek at the on-set fun.
See Anna visit Lady Tremaine's Curl Up & Dye! Watch as the cast rehearses their big musical numbers! Marvel as director Kenny Ortega calls the proverbial shots! It's more Descendants 2 scoop than you can shake a wand at. Watch the teaser trailer for It's Going Down, above.
Epcot's Eat to the Beat Concert Series Welcomes 11 New Acts
If you read D23.com with any regularity (and thank you heaps, if so!), you know that we're big fans of the annual Epcot International Food & Wine Festival—which is going into its whopping 22nd year. And for 2017, the fest is welcoming a bevy of new musical acts to its always-entertaining Eat to the Beat Concert Series.
Jazz great Kenny G; renowned pop groups like 10,000 Maniacs and Squeeze; and the Baha Men (of "Who Let the Dogs Out?" fame) will join returning favorites Taylor Dayne, Starship, Plain White T's, Air Supply, Sugar Ray, Christopher Cross, and Billy Ocean for a stellar 75-day line-up of musical magic. Performances kick off when the Festival officially opens on August 31, at 5:30, 6:45, and 8 p.m. each evening… and it's all included in your Epcot admission.
Honestly, if you're anywhere near Walt Disney World Resort this fall, do yourself a favor and check out this year's Epcot International Food & Wine Festival. Good food, good music… how can you go wrong? For more info, including a full Eat to the Beat Concert Series schedule, visit epcotfoodfestival.com.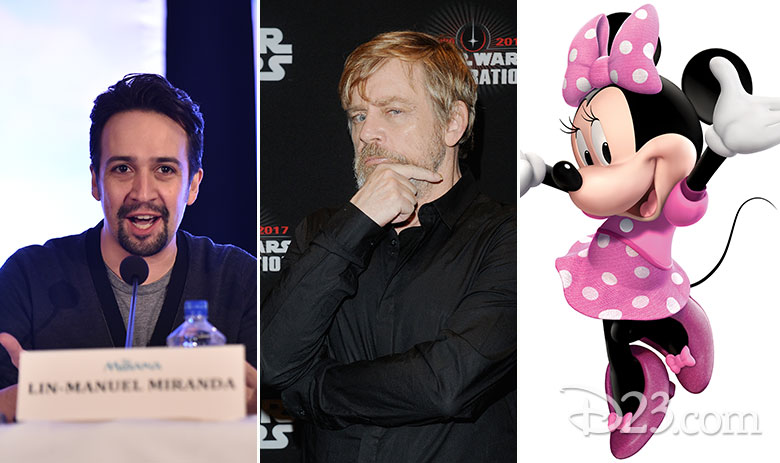 Disney Talents to Join Hollywood Walk of Fame in 2018
At the heart of Hollywood, California, lies the Hollywood Walk of Fame—where the town's Chamber of Commerce fetes all manner of celebrities (from music, TV, film, stage, and more) with their very own star embedded in the storied sidewalk. And next year, a plethora of Disney talents will join that historic roster…
Star Wars superstar (and new Disney Legend) Mark Hamill; Oscar® nominee—and star of Disney's upcoming Mary Poppins Returns—Lin-Manuel Miranda; and even Minnie Mouse herself are all set to receive stars as part of the Class of 2018. Read more about all the honorees courtesy our pals over at Oh My Disney.