By D23 Team
Dragons have always had a special place in our imaginations. With iconic features such as long necks, sharp claws, and leathery wings, they can be found in stories and art from cultures around the world—always with a unique style, but still undeniably dragons. In honor of Pete's Dragon, opening in theaters on August 12, we're taking a look at our favorite Disney dragons. Did yours make our list? Let us know on Facebook and Twitter.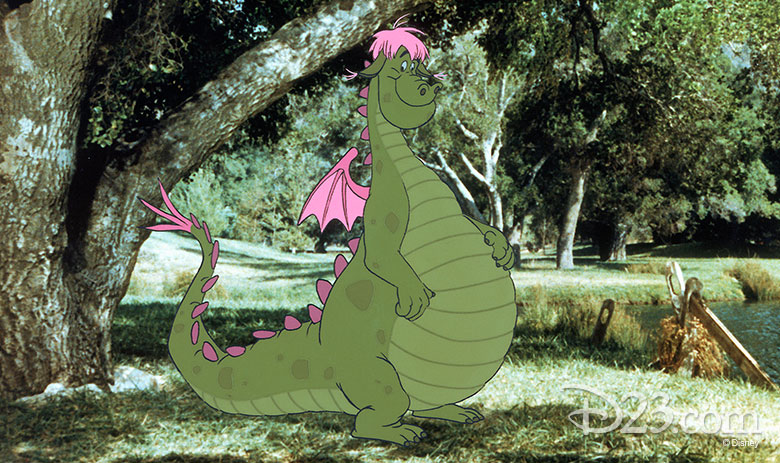 Elliott, Pete's Dragon (1977)
Let's see—head of a camel? Check! Neck of a crocodile? Check! Ears of a cow? Check again! Looks like this is Elliott—the beloved and lovable dragon from the classic Disney film Pete's Dragon. Whether he's cooking apples with his fire breath or scaring away the Gogans with his roar, he's always looking out for little Pete. But unlike most dragons who look ferocious, Elliott has a charm that just makes you want to snuggle him forever! If you ever find yourself with a lovable dragon as your guardian, make sure to hang on tight, because "It's not easy to find someone who cares. It's not easy to find magic in pairs."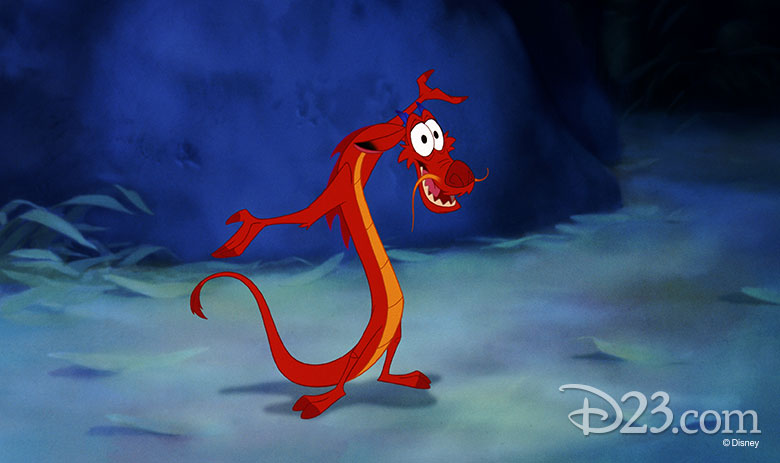 Mushu, Mulan (1998)
"The powerful, the pleasurable, the indestructible Mushu." With an introduction like that, how can Mushu not be one of our favorites? In the Disney animated film Mulan, this diminutive dragon aims to redeem himself as a Fa Family guardian by helping Mulan in her crusade. Whether he's being funny, slinging one of his classic one liners—"I'm travel-size for your convenience."— or being heroic, riding a rocket to help defeat Shan Yu, Mushu proves to be a Disney dragon with true staying power. Just remember one thing: He's a "DRAGON, not lizard. I don't do that tongue thing."
The Reluctant Dragon, The Reluctant Dragon (1941)
A shy dragon that refuses to fight and prefers to recite poetry? That's certainly not the typical dragon. The Reluctant Dragon—from the 1941 film of the same name—may be a bit eccentric, but he manages to mesmerize us with his exquisite prose. In the film, Sir Giles and the Boy try to get him to fight, but he refuses, stating, "It doesn't agree with me." After an impromptu poetry session—including the witty ode "To an Upside-down Cake"—they all hatch a plan to put on a mock fight that will preserve the heroism of Sir Giles and the ferociousness of the dragon in the eyes of the villagers. In the end it appears to the villagers that Sir Giles has reformed the ferocious dragon and the dragon recites to the crowd, "I promise not to rant or roar, and scourge the countryside anymore!"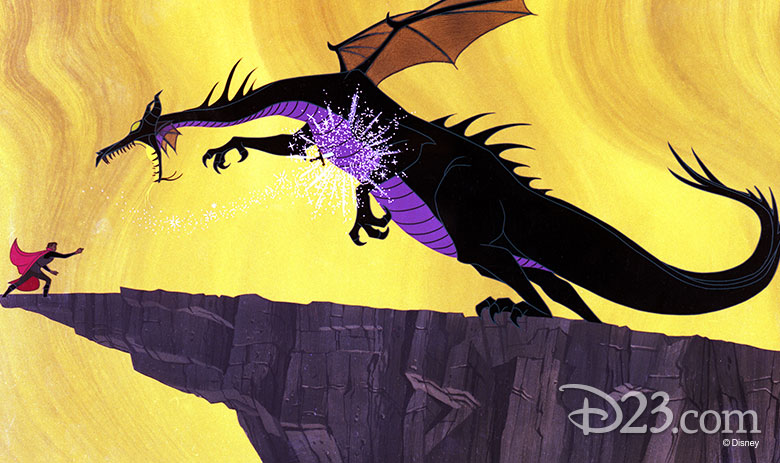 Maleficent, Sleeping Beauty (1959)
While most Disney dragons fight the notion that dragons are evil, vicious creatures, there are a few on our list who lack good intentions… It almost makes sense that the "mistress of all evil" would be able to turn herself into a fire-breathing dragon, doesn't it? This fan-favorite villain uses her powers to transform into a larger-than-life dragon in an attempt to defeat the brave and charming Prince Phillip. But, as in most Disney stories, good defeats evil, and Maleficent's dragon tale ends.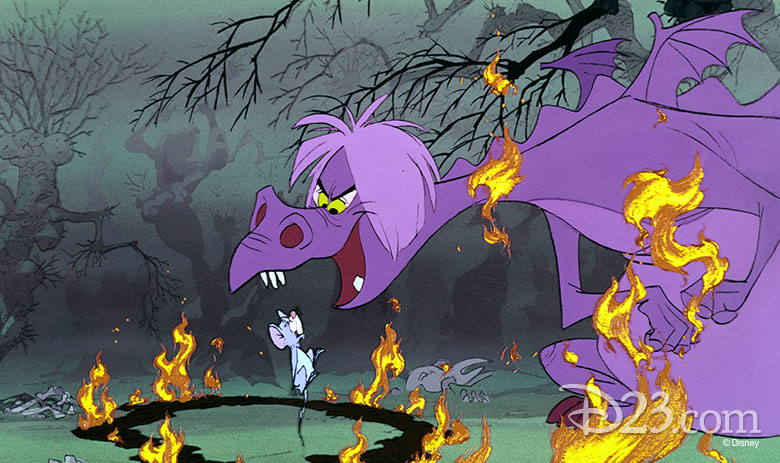 Madam Mim, The Sword and the Stone (1963)
Maleficent isn't the only Disney character with transformative powers! The magnificent, marvelous, mad, mad, mad, mad Madam Mim is also fond of shape-shifting. From a beautiful maiden with long purple hair, to a frightening dragon who's escaped from its lair, Madam Mim battles Merlin as a powerful purple dragon—before coming down with a debilitating case of the pox. If we've learned anything from Madam Mim and Maleficent, it's that transforming into a dragon usually doesn't end in "happily ever after."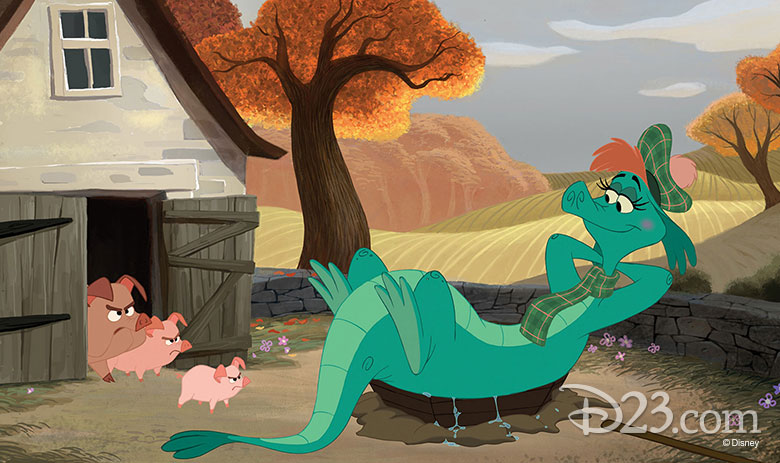 Nessie, The Ballad of Nessie (2011)
Lucky for our friend Nessie, her story does have a happy ending! In the 2011 short, The Ballad of Nessie, this lovable sea dragon is forced out of her home as it is transformed from a quiet sanctuary into a miniature golf course. As Nessie scours the countryside looking for a new space to swim, she—and her companion MacQuack, a rubber duck—become increasingly discouraged with the lack of lakes. After days and days of crying, Nessie realizes her crocodile tears have created a large lake, and she finally has her "loch sweet loch."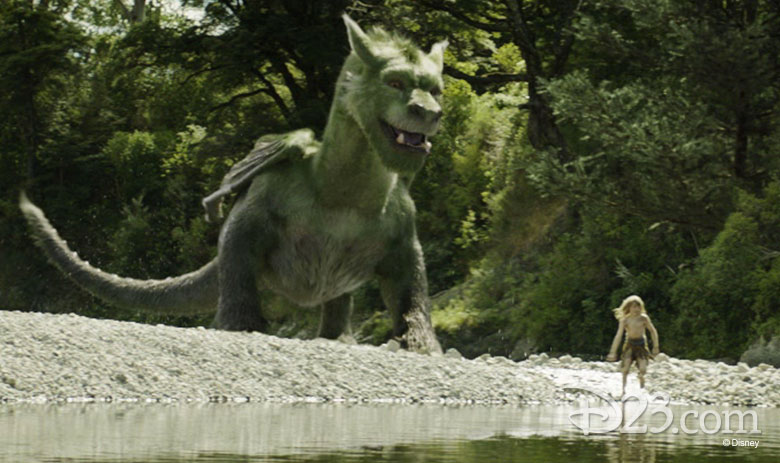 Elliot, Pete's Dragon (2016)
We couldn't round up our favorite dragons without including Elliot, from Pete's Dragon. While Elliot may seem ferocious—he is, after all, a 24-foot-tall fire-breathing dragon—all Pete's furry friend wants is a family. We can't wait to meet Elliot when Pete's Dragon debuts on August 12!