By Jim Fanning
Anyone who has seen Swiss Family Robinson, which was released on December 21, 1960, danced the "Swisskapolka," entranced by the lush scenery, heartwarming familial affection, bold heroics and sweeping adventure. Described by Walt Disney himself as "one of the greatest adventure stories of all time," this widescreen epic tells of the resourceful Robinsons—Mother, Father, and their three sons, Fritz, Ernst, and Francis—who are plunged into the escapade of a lifetime on an uncharted island. "The story starts," related Walt, "with the most memorable of shipwrecks. Abandoned without hope of rescue, this courageous family was faced with a thousand dangers. In spite of their many difficulties they establish themselves in this new world, and build a fabulous treehouse, domesticate wild animals, and create a happy way of life in their island paradise." But danger abounds as the brave family employs ingenious "life hacks" to survive severe weather, wild animals and marauding pirates. The behind-the-scenes struggles of the Disney cast and crew to produce this extravagant epic—filmed on location in the West Indies—mirrored the onscreen perils. Here are some colorful facts culled from the logbook of the filmmakers behind the Swiss family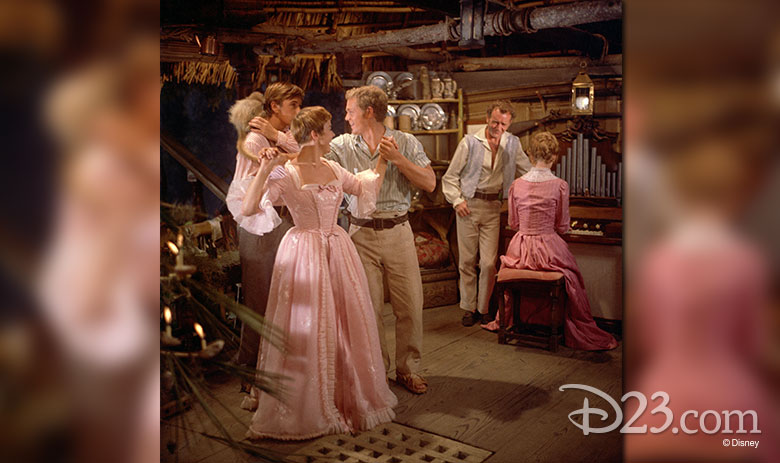 Bringing Swiss to the Screen: An Adventure In Adaptation
Walt had long sought to bring his own version of the famous Swiss Family Robinson book to the screen; at one point he was considering producing the story for the Disney TV show. The book "was written a century a half ago, and countless generations have enjoyed it ever since," noted Walt. "When we decided to bring this story to the screen, we knew it had the elements to make an exciting motion picture." Johann Wyss originally wrote The Swiss Family Robinson in 1812 with his four sons as they made up their own Robinson Crusoe adventures. A Swiss minister, Wyss also tasked himself with conveying life lessons about family and self-sufficiency. When Walt was dissatisfied with the first two treatments of the book, producer Bill Anderson came up with the concept of the pirates as an overarching threat. "What we did was more or less throw Wyss' book away," revealed Ken Annakin, who helmed the action-adventure. Walt was especially intrigued with all the marvelous fun a family could have on an island. "There are endless possibilities," he told Ken. "What I'd like you to do is to start thinking of all the things you'd like to happen to that family if it were yours. Think of anything, no matter how crazy!" "We would go in for a conference each day," said Ken, who was one of Walt's favorite directors, "and Walt would latch on to something we said and then come up with an idea, which was usually far better than anything any of us had thought of. [He] was very creative, and he did put a very strong stamp on the picture."
Walt signed accomplished sketch artist John L. Jensen, whose credits included The Ten Commandments (1956) and The Buccaneer (1958), to storyboard Swiss Family Robinson. "Those pictures became the gospel for the filming of the picture," said Ken.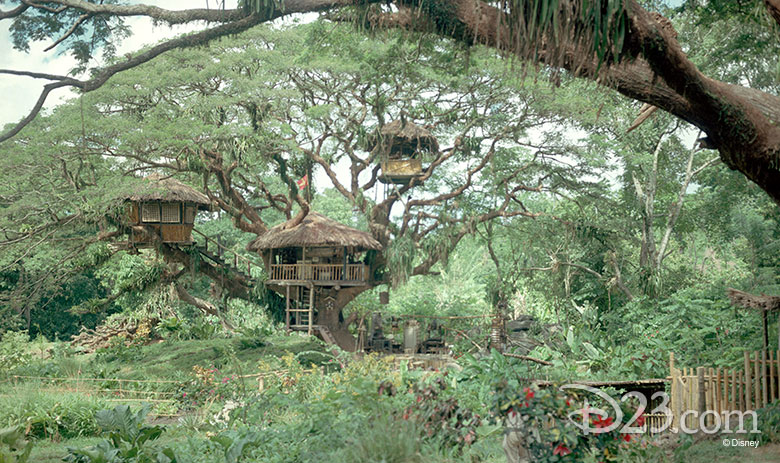 No Movie Set Is An Island (Except in This Case)
"We knew we couldn't do justice to this story on a Hollywood soundstage, so we began a search to find a tropical island such as described in the book," Walt Disney said. "Right off the island of Trinidad in the Caribbean sea is the smaller island of Tobago. Tobago had everything we needed. In fact, it's an island where the adventures of the Swiss Family Robinson could have actually happened." Producer Bill Anderson recalled the "many meetings with Walt to decide how Swiss Family Robinson was going to be produced. There were two opinions. One was that we would make the picture on the Burbank lot using special process photography." The second opinion was Walt's: A soundstage could never do justice to the island exploits he envisioned for the Robinsons. The entire film, Disney decreed, was to be shot on location. How did the Disney team find this little known and unspoiled tropical hideaway? "Our director, Ken Annakin, had worked not only in the Far East but in Africa, and our associate producer, Basil Keys, had also worked on many international productions," said Bill Anderson. "Keys wanted to film in East Africa and Annakin wanted to go to Ceylon to make it. And I insisted they explore the Caribbean. At first, they were discouraged because most of the islands lay flat, and we needed more divergent terrain. Finally, I received a wire saying they had found this island of Tobago situated at the end of the Leeward Isles in the West Indies. I flew down there and found it scenically beautiful and perfect for our filming needs. Not only that, Tobago was the legendary home of Robinson Crusoe, which tied in perfectly with the storyline of Swiss Family Robinson." The island had six different beaches, a giant tree for the Robinsons' famous treehouse, swamps, mountains, and four hotels to house the cast and crew for six months. Most incredible, however, was the natural beauty of the island, undiscovered as yet by tourists. "I've been all over the world to shooting locations," John Mills said years later, "and I don't think I've ever been to a more lovely location." Tommy Kirk concurred, saying Swiss Family Robinson was his favorite movie memory as it was in filmed in such a beautiful place.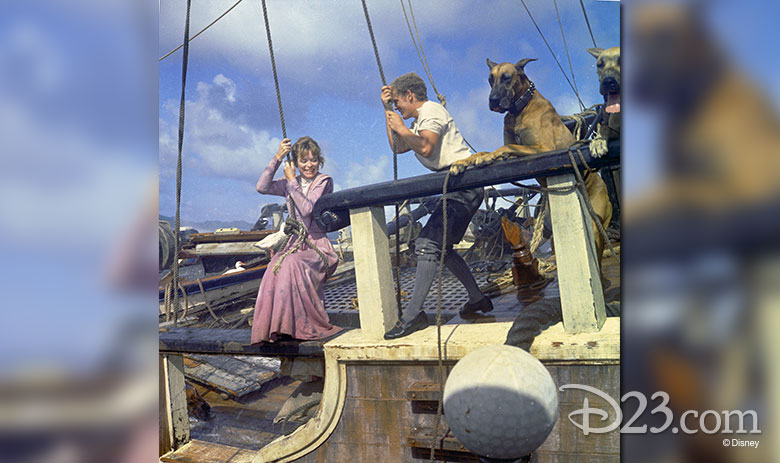 Setting the Swiss Family Scene
The pristine beauty of Tobago came at a price, however. "Since our stage was a tropical island," said Walt of the remote location, "we knew we would be faced with many problems. But like the Swiss Family Robinson, we improvised, invented, and had a wonderful time doing it." "Right away," added Bill Anderson, "it was evident that making a picture there was going to be difficult because of the lack of facilities. We needed a warehouse and a cover stage. Walt realized this was going to be costly but he finally agreed to it. We put all the money into what is seen on the screen but we still had tremendous problems. We had to build our own soundstage out of sheet metal. We had to import everything that was used. It was a tremendous logistical problem." As thousands of tons of equipment and materials were flown in, as a crew of nearly 1,000 descended on the island to construct roads, storm shelters, cooking and dining facilities, and even the inevitable parking lots. Greenery (including green paint) camouflaged any neighboring buildings. The wreckage of the Robinsons' ship was built from scratch on one of the island's reefs. Three months, two sixty-foot towers and the assistance of highly trained divers were required to build the wreck, modeled after Captain Cook's famous three-master, the Endeavour. Mother Nature provided some of the sets, such as the two-tiered Craig Hall Waterfall, where Father and the boys swing on ropes over this natural water park.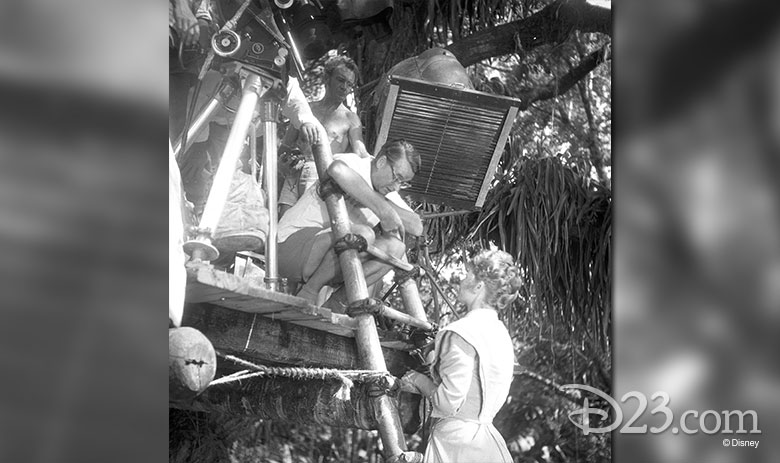 Adventures in Filmmaking
After five months of intense location preparation, the cameras finally rolled on August 17, 1959. "We experienced one of the biggest storms ever to hit the island of Tobago," said Bill Anderson. "It flooded our stage and flooded out our treehouse and other sets. We couldn't shoot for weeks. In fact, the crew set to and helped the natives clean up the debris and reconstruct their homes." The idyllic swimming hole was a difficult shooting site; surrounded by dense foliage, the pool got only three hours of sunlight a day, and it took weeks to film to the fun-filled swimming sequence in it. While shooting James MacArthur's battle with the 22-foot-long, 250-pound anaconda snake, MacArthur almost drowned and had to be pulled from the swampy waters by crewmembers. Second-unit director, legendary stuntman Yakima Canutt, singlehandedly rescued two stunt doubles trapped by the powerful currents of Tobago's coral reef. Athletic James MacArthur loved scuba diving and one time encountered a great white shark that, as Tommy Kirk recalled, "wasn't looking for an autograph." James also loved to climb the palm trees and especially to dive off the set of the topmost mast of the wrecked ship.
Family and Friends (and Foes)
The cast was filled with Disney faves: James MacArthur (who had just played a Swiss lad in Third Man on the Mountain, 1959), Disney Legends Tommy Kirk and Kevin "Moochie" Corcoran (who had just played brothers in The Shaggy Dog, 1959), Dorothy McGuire (who had played Tommy and Kevin's mother in Old Yeller, 1957) and Janet Munro (who was James's love interest in Third Man on the Mountain). Joining this Disney "family" was John Mills. One of Britain's most distinguished stage actors, John had also shone on the silver screen, in flims ranging from David Lean's Great Expectations (1946) to War and Peace (1956). Portraying the wicked pirate chief was Best Supporting Actor Oscar® Nominee (for Bridge on the River Kwai, 1957) Sessue Hayakawa. "He arrived from Japan with two very beautiful young women," noted James MacArthur, "whose entire job was to fan him between shots."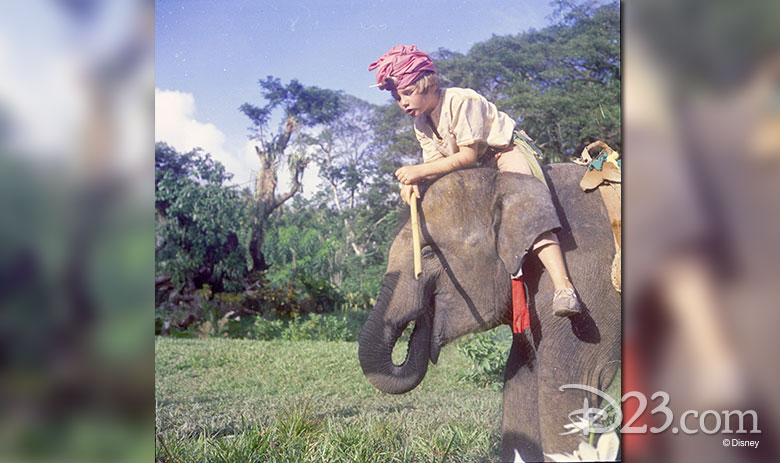 Cast of Critters
To help populate the on-screen island, 500 animals were also shipped in from all over the globe including eight dogs, two giant tortoises, 40 monkeys, two elephants, six ostriches, four zebras, 100 flamingos, six hyenas, two anacondas, and a tiger. These temperamental "stars" caused a few challenges during the lengthy shoot. Filming stopped entirely when the flighty flamingos suddenly migrated south to British Guiana. To the relief of the director, the wayward birds returned the next day at feeding time. One of the animal actors, a 5-year-old elephant named Rocky—so named because she enjoyed having her head rubbed with a rock—almost accidently brought a premature end to Kevin Corcoran's career when a wave washed Moochie underfoot. Luckily, another wave lifted Rocky off long enough for the young actor to surface. As for the tiger, who Walt was determined to have in the film, it leapt out of the Francis-constructed pit after the trainer had assured everyone it would be impossible for the beast to do just that.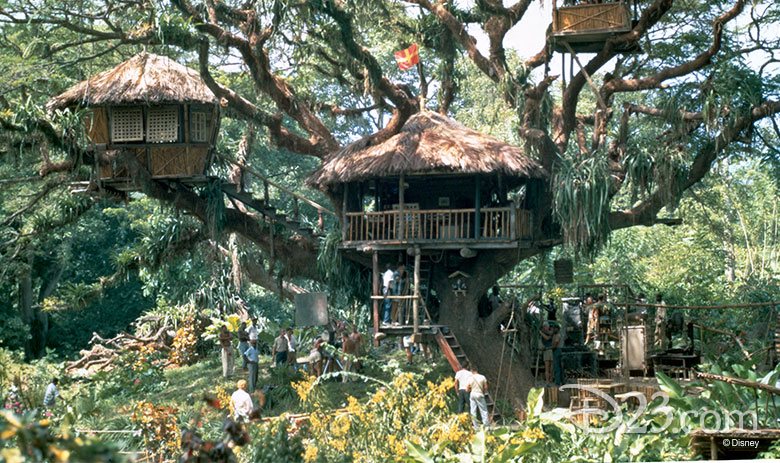 Island Living Reaches New Heights of Luxury
The real "star" of the show was the iconic, triple-deck treehouse. This elaborate treetop dream house was built in the 200-foot spread of a living Samaan tree. Art director John Howell spotted the enormous tree through a fence at the corner of a cricket field just outside the town of Goldsborough. "It was really solid—capable of holding 20 crew and cast and constructed in sections so that it could be taken apart and rebuilt on film by the family," said Ken Annakin. John Mills' son, Jonathan, recalled playing for hours in the treehouse. (Also on set for some of the shoot: Jonathan's sisters Juliette and newly-minted Disney star Hayley, who had just completed Pollyanna, 1960.) The treehouse remained after Swiss Family Robinson wrapped until a hurricane swept the structures away. The Samaan tree itself still survives today, however, a towering reminder of the timeless movie filmed there.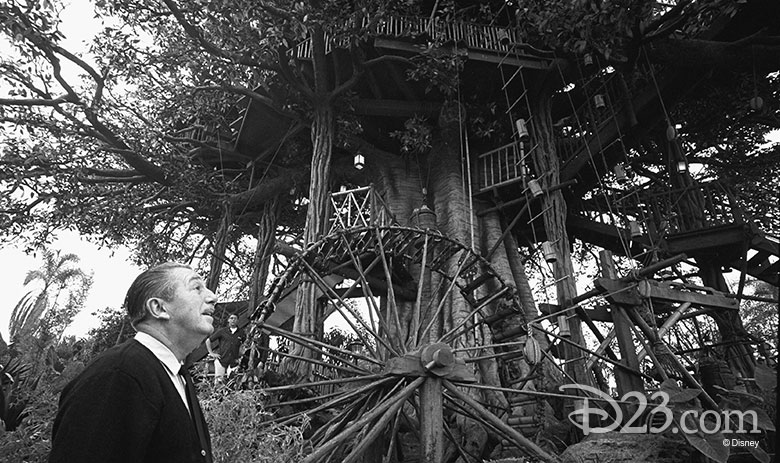 Mind Thy Head
"Every kid has had dreams of living in a treehouse," said Walt Disney, "and the Swiss Family Robinson Treehouse probably tops those dreams"—but Walt was speaking not of film's treehouse but its authentic recreation at Disneyland Park. Imagineers studied the gnarled roots of the mammoth Moreton Bay Fig Tree planted in the 1800s by Anaheim horticulturist Tim Carroll to aid in authentically creating details of the Disneyland tree, including knots and the massive root system at ground level. When the attraction opened on November 18, 1962, John Mills, his wife, Mary, and daughter Hayley were at the dedication with Walt, as was Kevin Corcoran and the Swiss consulate, who presented Walt with a Swiss flag that then flew from the top of the treehouse. Known as a Disneyodendron semperflorens grandis (large ever-blooming Disney tree), the 70-foot-tall and 80-foot-wide man-made tree has concrete roots and steel limbs, covered in concrete, with 300,000 hand-attached plastic leaves. Though the famed Adventureland fixture was transformed in 1999 into Tarzan's Treehouse, there's a Swiss Family Treehouse in Magic Kingdom Park at Walt Disney World Resort and also at Tokyo Disneyland. In Disneyland Park in Disneyland Paris, the attraction, known as La Cabane des Robinson, is located on the north side of Adventure Isle in Adventureland.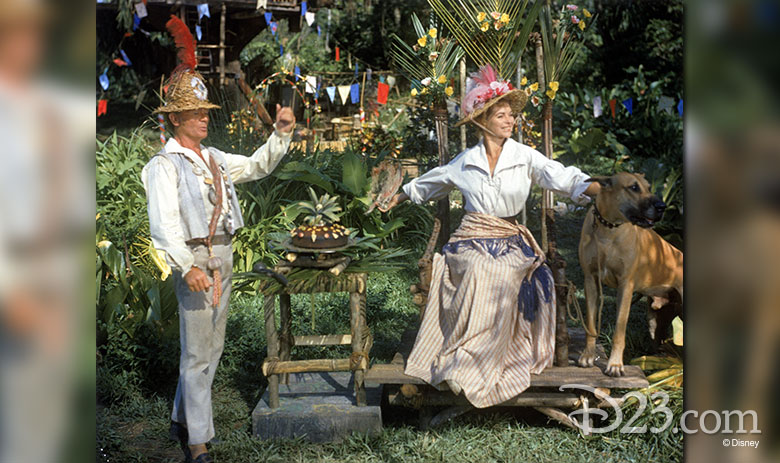 They Turned a Lost Island Into an Exotic Paradise!
The complex location filming resulted in a six-month shoot that went several weeks overschedule. Another glitch arose post-production when the sound was found to be unusable and the entire principal cast had to be regrouped in England for 28 days of re-recording every single word of dialog heard in the film. Filmed in breathtaking widescreen Panavision®, Swiss Family Robinson was the most expensive Disney movie ever filmed up until that time, but as Walt said, "Such a great story as the Swiss Family Robinson deserves every penny we spent on it." Audiences agreed, making Swiss Family Robinson one of the most popular films Walt Disney ever produced. Audiences continue to be swept away into high adventure—and an even higher treehouse—in this unforgettable Disney live-action classic.