By Courtney Potter
Muppets Now: Mirth, Madness, and Merry Mayhem Coming to Disney+!
As unabashed Muppet fans, we nearly went apoplectic when the first trailer for Muppets Now dropped earlier this week, thanks to our pals over at Disney+. If you haven't already taken a gander, delight in the clip, above.
In their first-ever unscripted series, the Muppets make their streaming debut in an all-new show starring Kermit the Frog, Miss Piggy, and the entire gang! Muppets Now is filled with improv comedy, off-the-cuff gags, and a slew of the Muppets' cool celebrity friends. Over the course of the six-episode season, Scooter finds himself rushing to make delivery deadlines and upload a brand-new Muppet series for streaming; it's due, well, now—so he'll need to navigate whatever crazy obstacles, distractions, and complications the rest of the Muppets throws at him.
Overflowing with spontaneous lunacy; surprising guests; and more frogs, pigs, bears, and whatevers than legally allowed, the Muppets cut loose with the kind of startling silliness and chaotic fun that made them famous. Produced by The Muppets Studio and Soapbox Films, episodes of Muppets Now will be released every Friday beginning July 31, only on Disney+!
5 Fantastic Things to Watch This Weekend
Another weekend is upon us (can you believe we're almost through with June, already?!), which brings ample opportunity for quality viewing from around the worlds of Disney. As we here at D23 are wont to do, we've compiled a handy-dandy list of sure-to-be-splendid choices—including a brand-new episode of BUNK'D on Disney Channel and a "4th of July Spectacular" on ABC's Press Your Luck. Read more about your amazing choices by clicking here.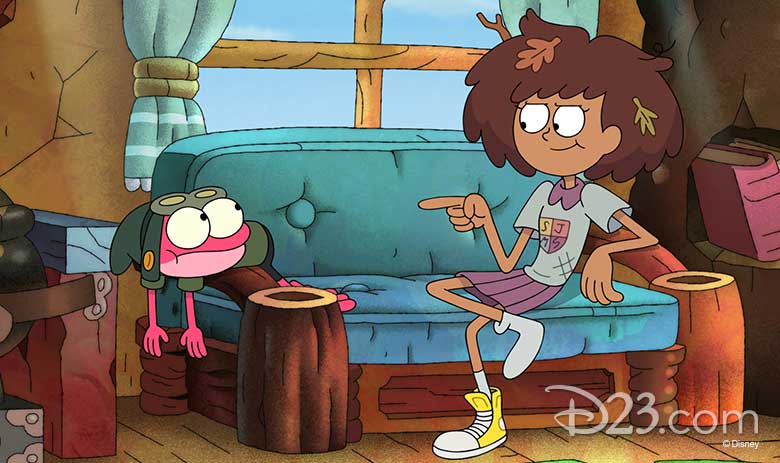 Disney Channel Orders Third Season of Animated Comedy Amphibia
Great news, Amphibia fans: Disney Channel has ordered a third season of its fabulous frog-out-of-water animated comedy ahead of the series' season two premiere, coming up on Saturday, July 11, at 8:20 p.m. EDT/PDT on Disney Channel and DisneyNOW!
Longtime Disney Channel fan favorite Brenda Song (Dollface) voices the lead role of fearlessly independent teen Anne Boonchuy, who is magically transported to the fantastical world of Amphibia—a rural marshland full of frog-people. Created and executive-produced by Annie Award winner Matt Braly (Gravity Falls), the series is inspired by his heritage, family, and childhood trips to Bangkok, Thailand.
The upcoming second season will premiere as part of Disney Channel's brand-new Saturday night animation programming block this summer—and it'll follow along as Anne and the Plantars leave the cozy confines of Wartwood for the distant city of Newtopia, hoping to unlock the mysteries of the music box. Throughout the season, keep your ears peeled (that's a thing, right?) for amazing guest voices including Kermit the Frog (The Muppets); Jenifer Lewis (black-ish); George Takei (Star Trek: The Original Series); Kristen Schaal (Gravity Falls); Hugh Bonneville and Michelle Dockery (both from Downtown Abbey); and many more!
History Has Its Eyes on Hamilton Coming to Disney+ July 3
Hard to believe it's almost July 4th weekend here in these United States… and if you're anything like us (which we're pretty sure you are), you've already blocked out time that holiday weekend for at least one viewing—if not five, or six, or 18—of a certain mega-hit Broadway musical coming to a certain streaming service near you. Read up about the sure-to-be-incredible debut of Hamilton on Disney+ right here at D23.com.
Take a Trip on Disneyland Paris' Indiana Jones and the Temple of Peril
As part of the #DisneyMagicMoments series, we've been able to "ride"—via fantastically fun video clips—some of the coolest attractions at Disney Parks around the world. And the latest installment is no exception… Click the video above to take an incredible journey aboard Indiana Jones and the Temple of Peril at Disneyland Paris.
The video will not only thrill you with a first-person POV of the ride… it'll also supply you with some super interesting trivia tidbits—including the fact that Indiana Jones and the Temple of Peril contains the first-ever perfectly circular inversion on a Disney attraction. Something tells us Indy himself would be pretty proud of that…
Stay tuned for more fun from #DisneyMagicMoments!
Into the Unknown: Making Frozen 2 Debuts This Week on Disney+
It's an unprecedented look into the making of Walt Disney Animation Studios' 2019 mega-hit, and it premieres on Friday, June 26, only on Disney+… Hear from Malerie Walters, one of the animators featured in Into the Unknown: Making Frozen 2—and learn more about what you can expect from the six-episode series—by clicking here.