By Beth Deitchman
Malerie Walters found a way to glide to the top of an icy glacier like Elsa and to sing like a reindeer—a chorus of them, actually—in real life. And Frozen 2's "Into the Unknown" and "Lost in the Woods" sequences just wouldn't be the same without the animator's imagination, dedication, and artistry. Beginning this Friday, June 26, Disney+'s new docuseries Into the Unknown: Making Frozen 2 takes fans on a fascinating behind-the-scenes journey through the production of Walt Disney Animation Studios' 2019 blockbuster. Over six episodes, Into the Unknown: Making Frozen 2 spotlights an incredible team effort while also shining a light on many of the talented artists and technologists, such as Walters, whose individual contributions combined to create the No. 1 animated feature of all time.
Chronicling the year leading up to the film's November 2019 release, Into the Unknown: Making Frozen 2 features the cast and filmmakers we've come to associate with the Frozen franchise—among them actors Kristen Bell, Idina Menzel, Josh Gad, and Jonathan Groff; directors Jennifer Lee and Chris Buck; producer Peter Del Vecho; and songwriters Kristen Anderson-Lopez and Robert Lopez—and allows fans to be flies on the wall for recording sessions, story meetings, screenings, and more. Walters' Frozen 2 experience helps illuminate the staggering number of moving parts that are involved in creating a single animated sequence—let alone a feature-length film.
Walters laughs as she talks about her siblings, who often remark, "My sister animated this movie!" in reference to the projects she's been involved with, which include Ralph Breaks the Internet for Disney Animation and Spies in Disguise and Ferdinand for Blue Sky. "I'm like, 'No, I didn't!' I did such a tiny part," she responds. Walters may see her role in Frozen 2 as "a tiny part," but as audiences watch her sequences for "Into the Unknown" and "Lost in the Woods" come together, it's clear that at Disney Animation, all parts are of the utmost importance—and none could ever be deemed "tiny."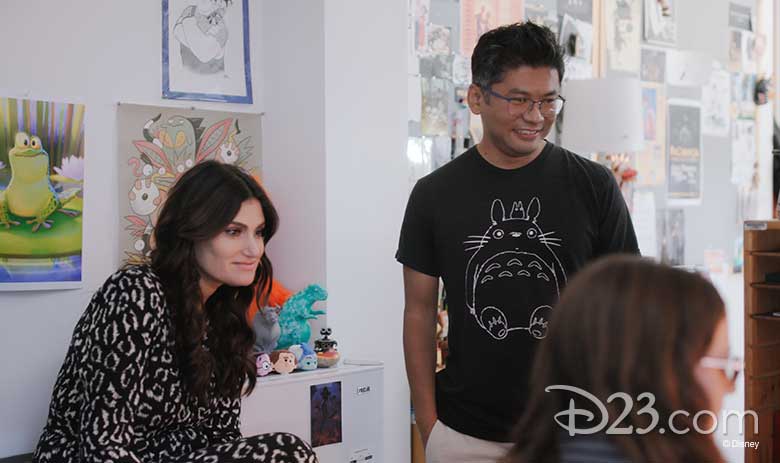 In the first episode of Into the Unknown: Making Frozen 2, viewers will see the painstaking effort Walters undertook to animate Elsa running during a climactic moment of the anthem "Into the Unknown." "Each shot is a new problem that you have to solve," Walters tells D23. "You're going to approach every shot completely differently, and that part is really, really fun." Though animators may have a vision in their heads for how a specific motion or action may look on screen, they'll frequently create reference footage to inspire their animation. Walters' shot in "Into the Unknown" was made more difficult by the fact that the camera is moving along with Elsa. "It's a very tricky moment," Walters notes, but with a little help from her boyfriend, she found a creative—and fun—solution to the problem. "It was actually my boyfriend's idea. He was like, 'I can jump on my skateboard,'" recalls Walters, and with her boyfriend serving as a smartphone cinematographer, she channeled her inner Elsa, running through Arendelle by way of a Southern California street.
"I think the reason I love animation so much is because I can get inside the skin and inside the head of the character and really try to feel what it is like to be that character," Walters shares.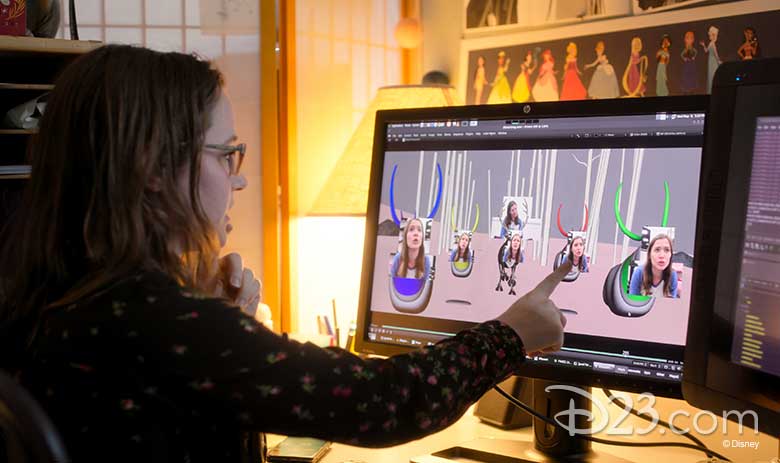 While Walters' "Lost in the Woods" reference video may not feature skateboarding or leaps atop "glaciers," it's just as much of a delight to discover in the docuseries. "The process might change slightly from shot to shot, depending on the moment and what it needs," Walters explains—and what "Lost in the Woods" needed was singing reindeer. To help her animate Kristoff and his reindeer backup singers, Walters created what might be the most magical music video ever, with the animator lip-syncing for each of the many parts. "The song is my favorite in the whole movie," she shares. "It makes me laugh so much, but it's also really heartwarming. I love that it's OK to let out your feelings. I love that message."
Walters also loves the message of Frozen itself. "For me, the story [of Frozen] was really powerful and something I hadn't seen in animation yet—the relationship between two sisters. I see a lot of my relationship with my sisters in their relationship," she says, and when she first joined the production of Frozen 2, Walters knew that she wanted to animate Elsa and Anna. "They're so unique and they're so true to themselves."
Beyond the inside details and specific challenges that went into creating the film, Into the Unknown: Making Frozen 2 provides an incredible overview of the animation process that Walters hopes will strike a chord for future artists and technologists—in much the same way that she was affected by "making-of" videos for her own childhood favorites. "You'll see the tip of the iceberg in the docuseries, but it's great because it's going to get people interested," she says. "I hope that people will want to take a deeper dive and that young artists will be inspired—and that even people who aren't necessarily artistic but [have] creative minds, will think, 'I could do that.' That part gets me really, really excited!"