By Beth Deitchman
To create the beloved characters and breathtaking visuals in Frozen 2, a collection of teams ventured into the unknown together, bringing with them disparate skill sets that include model-making, character design, and writing code. In any other workplace, these experts in their chosen fields might never even meet—but at Walt Disney Animation Studios, it's a vital partnership. As Disney Animation's Chief Technology Officer Nick Cannon says, "We really want the art to challenge the technology and the technology to inspire the art."
D23 recently talked to some of the incredible technologists who worked on Frozen 2. They gave us a behind-the-scenes look at how they built an enchanted forest, designed costumes for Arendelle royalty, and, together with the animators, created new Disney magic. As Frozen 2 comes to Digital HD today (and 4K Ultra HD, Blu-ray, and DVD on February 25), here are some details you'll want to keep an eye out for.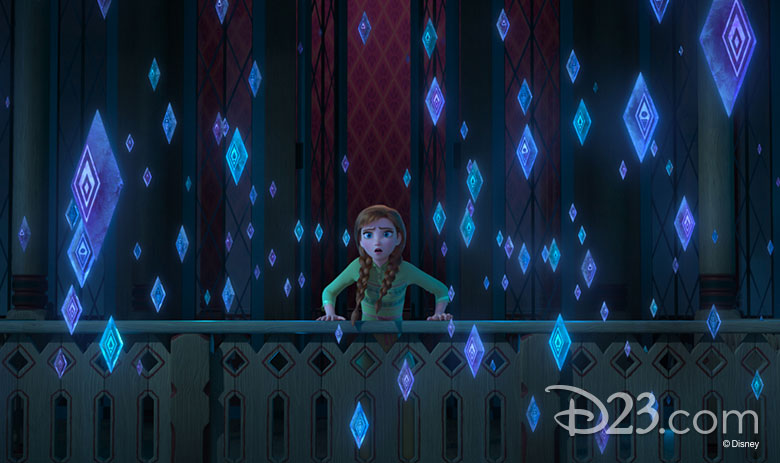 1. The newest film from Disney Animation found inspiration in a Disney animated classic.
The artistry of Disney Legend Eyvind Earle, whose best-known work for Disney might be his designs for Sleeping Beauty, influenced the shape language within the world of Frozen. Audiences might not actually recognize shape language in any given animated film, but Gregory Smith, Frozen 2's Head of Characters and Technical Animation, emphasizes how critical it is to defining a character and making them recognizable to the viewer. "We want [viewers] absorbed in the story, but it does define the characters in terms of silhouettes and other things," he says. He points to Elsa's signature braid, or Kristoff's tousled 'do as examples. "Kristoff's hair has four points that kind of create an almost rectangular shape that the oval his face sits within. If you lose those breaks of those little wings that kind of come out over his ears, if they're not there, it doesn't feel like Kristoff," he says.
While Kristoff's shape language leans into the rectangular, Elsa's main design stems from triangles (which, Smith notes, can be found throughout the world of Frozen) with trapezoidal or diamond shapes, and Anna's adds circles to triangles. That circle and triangle motif can be spotted in the wheat pattern on the dress Anna wears when we first see her in Frozen 2, and in the scallop patterns on her ballgown. Though Anna may say goodbye to pigtails in Frozen 2, her new hairstyle still creates a rounded frame of her face and leads into the triangles that can be found in the design of her costumes.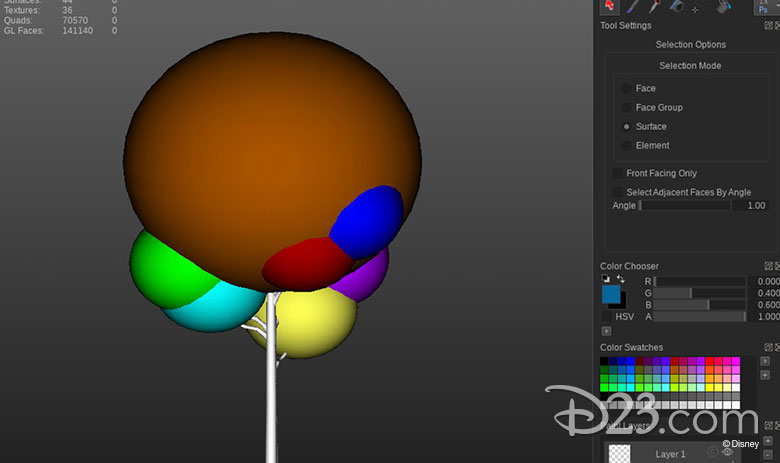 2. Cutting-edge technology enabled the course of nature.
An animated film is typically years in the making—and that's without the prospect of having to place 20,000 trees in a forest. To create efficiencies—and allow the artists to spend more of their time on the intricate details of Frozen 2—Disney Animation developed a tool called Disney XGen, which enables artists to build hair, fur and groundcover such as trees and shrubs. When building a forest, for example, the tool allows an artist to place groups of trees within a given scene. Disney XGen essentially creates a virtual brush that artists can paint with, stamping down groups of trees, rocks, or any asset that is in the Disney Animation stockroom. This "nested proceduralism" would even make it possible for the animators to place large groups of Elsas in the ultimate "let it go" moment, since Elsa technically exists as a digital asset. Once the brush stroke lays down a swath of trees, the artists then have the ability to adjust and make minute changes within a frame.
The filmmakers use an additional tool called Bonsai to actually grow the trees. Through Bonsai they're able to create a "recipe" for a tree, defining a tree's trunk in terms of width, height, gnarl, shape, and more properties; as well as creating nodes that instruct the computer to grow additional branches and leaves off of that initial foundation.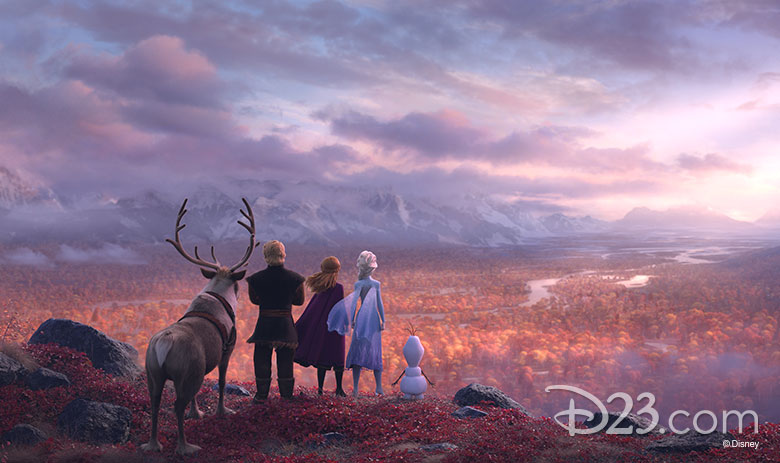 3. In an Arendelle autumn, color is everywhere—not just overhead.
The filmmaking team visited Scandinavia in the fall, and returned with the knowledge that the ground cover in Frozen 2 would need to be as vibrant as the canopy overhead. "That makes our job harder because that's where our characters are," notes Sean D. Jenkins, Head of Environments. The team had to clear paths to create "ease of interaction" as Elsa, Anna, and the gang ventured through the Enchanted Forest—because every leaf or branch they touch would be impacted by their steps—and they also used the Bonsai tool to manipulate the color of the leaves on the forest floor. "To make things look very natural is hard," Jenkins says. "But stylized nature, where you need it to still look real but also have the stylization is even harder."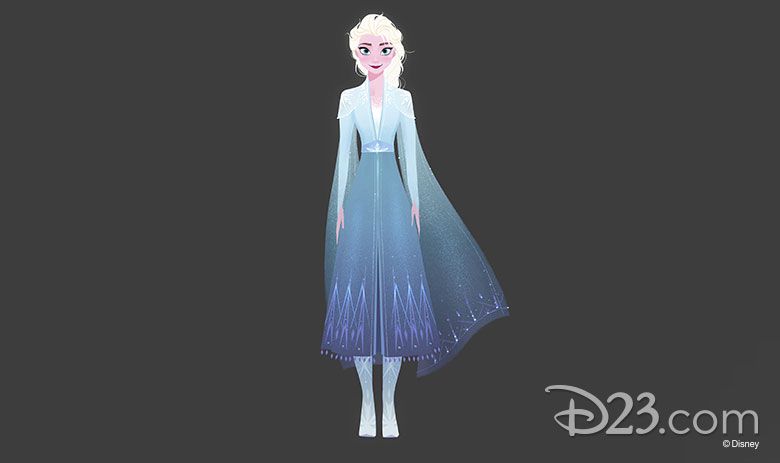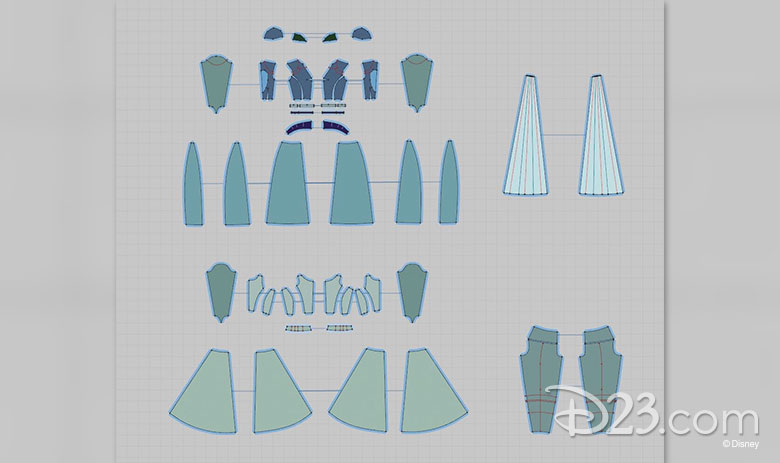 4. Real-world tailoring techniques were incorporated into digitally designing Anna and Elsa's costumes.
To design an animated dress for Elsa, visual development artists needed to essentially create a sewing pattern, the kind that tailors might use to create an item that a person would wear in the real world. Using a software program called Marvelous Designer, the artists were able to define separate panels that would then be stitched together digitally to create the ensemble. Additional detailing, like sequins and beadwork, could then be added onto the panels through both digital tools and hand-placement by the artists, who would then adjust the fit of the garment as needed. This marked a leap forward from the first Frozen film, Smith explains, noting, "We reimagined our cloth pipeline along the idea of the panel. The panel is the thing, not the garment."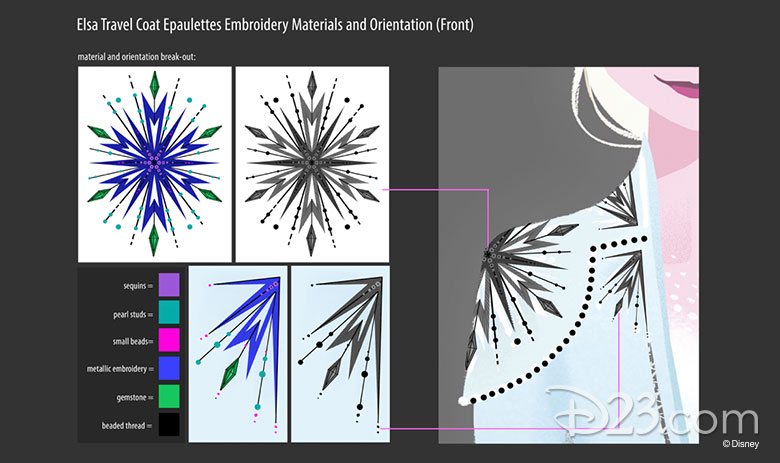 Because the filmmakers so closely simulate the real-world process of designing a garment, they're able to determine that it would take nearly eight yards of fabric just to create Elsa's dress. And if you laid out all of the clothing panels that were used to design the wardrobe for all of the major characters, it would cover two and a half Olympic-sized swimming pools.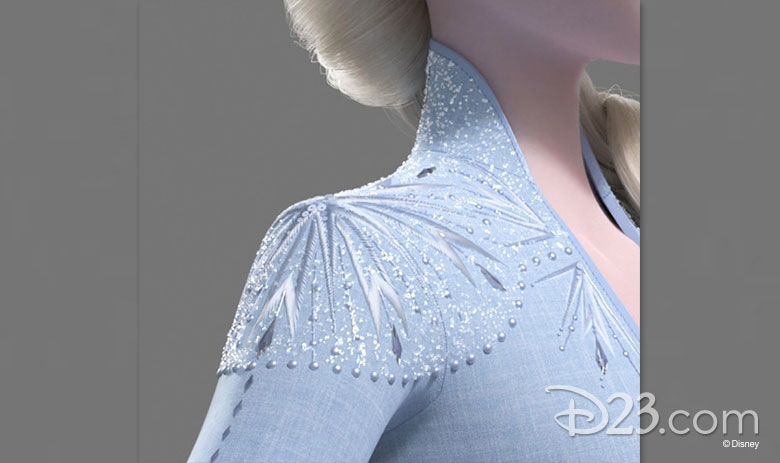 5. Advancements allowed the filmmakers to take embroidery to a new level in Frozen 2.
Embroidery is an important and intricate part of the detailing on both Anna and Elsa's dresses in Frozen 2. Technologists relied upon Disney XGen to create highly detailed, realistic embroidery—taking into account such parameters as the thickness of the thread or the transparency levels for the stitches. Anna's opening scene dress featured what would translate to 82,000 real-world stitches. And while a computer could create perfectly straight lines, the filmmakers' attention to detail is so great that they incorporated a "noise module" to make something that appears to be more lifelike and, thus, a little less perfect.
The important thing that Walt Disney Animation Studios' technologists emphasize is that every innovation in Frozen 2—whether that's a more intricate hairstyle for Anna or the creation of a new character that consists only of wind—is driven by story. "Our goal is to try to achieve what Visual Development is pushing for, and they're always pushing to make the most spectacular thing possible," Smith tells D23. "We all take pride in the fact that anything they can dream up, no one wants to be the one to say we can't do that—so we always find a way."