By Savannah Salazar
For directors Jennifer Lee and Chris Buck, the ending of Frozen was only the beginning. As Anna (voiced by Kristen Bell) and Elsa (voiced by Idina Menzel) came together, that reunion only started a new journey for the sisters—one that Lee and Buck wanted to know about as much as the fans. So, similarly to Anna and Elsa venturing into the enchanted forest in Frozen 2, the filmmakers and cast set off on a new journey to go, well, "Into the Unknown."
"This is a journey Disney Animation doesn't usually do. There's never been a second musical to a feature," Lee said, adding, "We just knew we couldn't wait to find out what was going to happen."
Before Frozen 2 opens in theaters November 22, here are some heartwarming highlights from the press conference: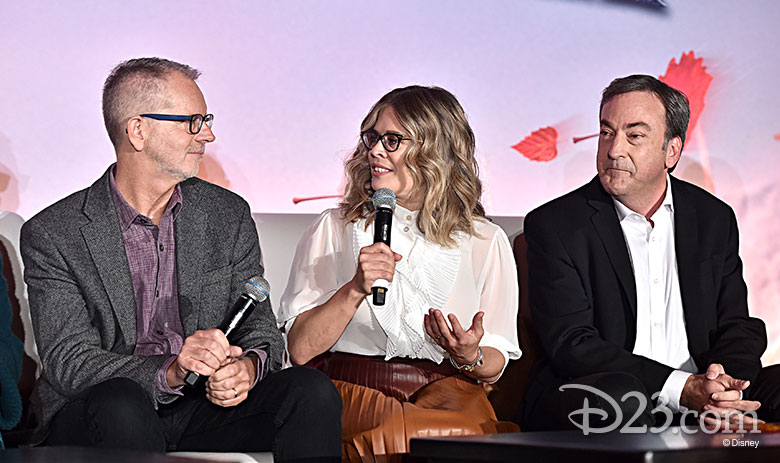 1. Directors Jennifer Lee and Chris Buck missed the Frozen characters.
"We did a small short [Frozen Fever] and when we saw the characters animated again, we got emotional," Lee said. But, it wasn't until Del Vecho, the producer of both Frozen and Frozen 2, had been traveling the world and was always asked "Why does Elsa have powers?"—the same question that had been intriguing Lee and Buck. "The questions kept rolling, and we realized we had been talking about those same questions," Lee said. "And, we naively just said, 'We have more story to tell,' because we're not ready to leave this world. We love this world."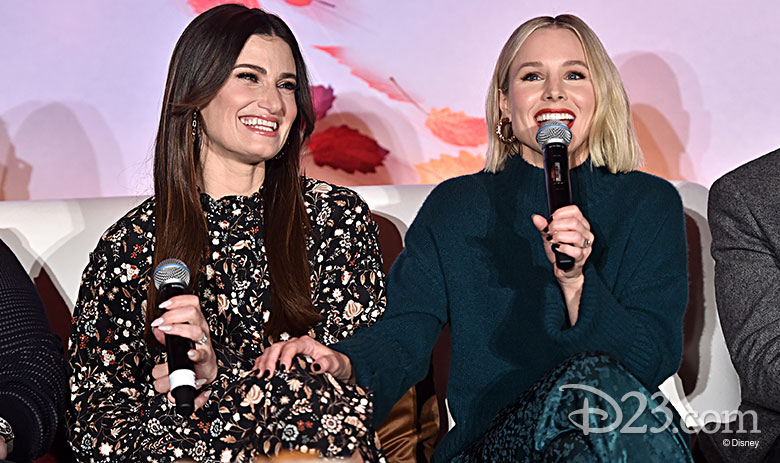 2. For Bell and Menzel, their characters have never left them.
If you ever see Bell and Menzel together, it's hard to tell them apart from Anna and Elsa. "Returning to this family, this beautiful film that's gifted us with so much joy in our lives—and getting to connect with another human being and sister like Kristen—is something we're proud of," Menzel said. Bell jumped in, adding to her co-star's sentiments. "And I think that it generally never really ended. I'm very similar to Anna, and I've tried to infuse a ton of me into this character—maybe more so than I've ever really done," she said.
3. Technically, "For the First Time in Forever" marked the second time in forever that Bell and Menzel sang together.
Before Lee officially joined Frozen and Kristen Anderson-Lopez and Bobby Lopez even wrote a song, Menzel and Bell sang a duet of a song of their choice to test their chemistry for the first Frozen film. "It was Kristen's idea to do a duet of 'Wind Beneath My Wings,'" Idina said, to which Lopez jokingly added, "This has to happen now!", inspiring Menzel and Kristen to burst into song, with everyone in the room cheering and singing along.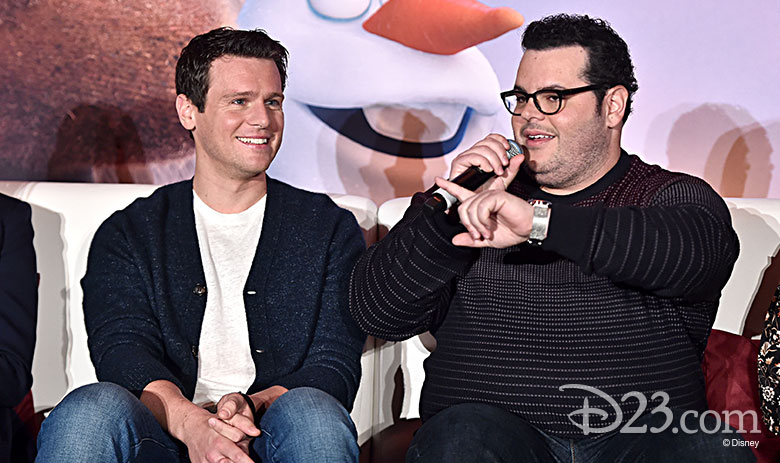 4. Olaf does a bit of growing up in Frozen 2.
"He got a license. He took out an insurance policy," Gad joked. "But, really, he's had a lot of growth."
Early on, when developing Frozen 2, Gad told Lee, Buck, and Del Vecho a story about his daughter, and how her fears of growing up affected his performance as Olaf. "My oldest child was sitting at the table one day, and all of sudden tears started streaming down her face. She looked my wife and me and goes, 'What if I don't want to grow up?'" Gad recalled. "It was so unbelievable, because I think we all have had that experience as kids."
"I still have those moments as an adult!," Evan Rachel Wood quipped.
Gad continued, "That is the way I feel about Olaf in this movie. In the first movie, he was this innocent ball of naiveté who was willing to basically go out into the summer sun because he didn't know any better, and in this movie he's almost gone from toddler to fully grown child. Now, he's starting to ask those questions that don't always have easy answers, and from a comedic perspective, there was so much to play with."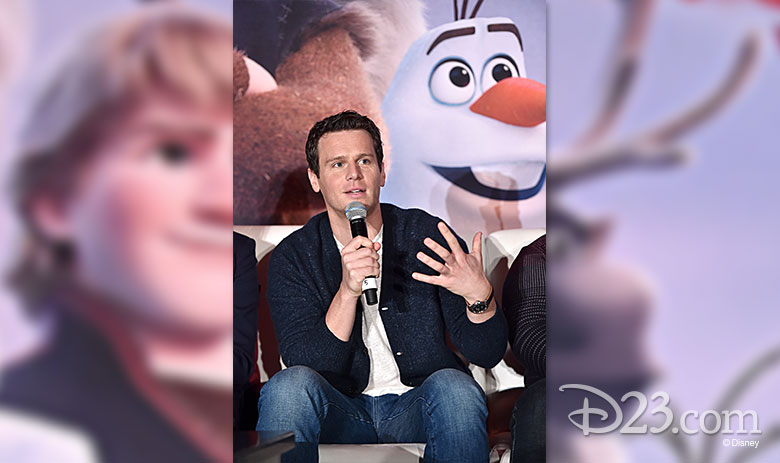 5. The Frozen 2 cast has proclaimed Kristoff's song "Lost in the Woods" as one of the film's best songs.
Kristen Bell had a tiny criticism of the first film: "It's an excellent film but Jonathan Groff doesn't sing!" To which Kristen Anderson-Lopez jokingly replied, "Who knew he was so talented?" But rest assured, because the cast collectively agreed the song Lopez and Anderson-Lopez have written for Groff's character, Kristoff, is brilliant. "Dare I say, it's one of the best, or at least one of the top three moments of the film," Bell explained, while Gad added that Kristoff's song is "the funniest song in Disney Animation history."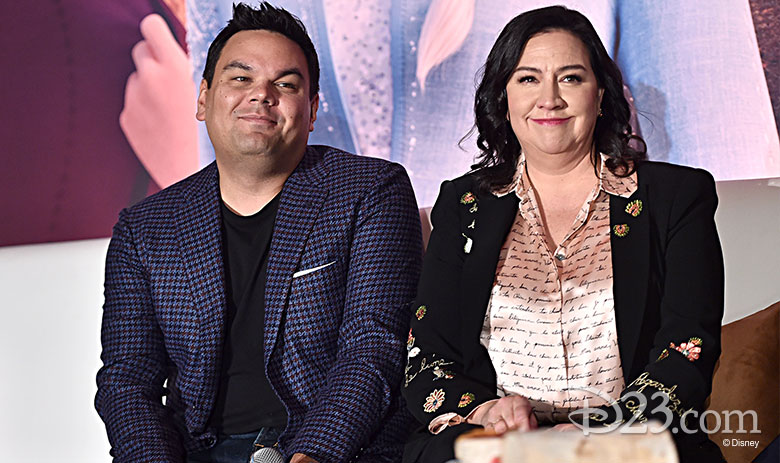 6. The songwriters and Menzel didn't worry too much about outdoing "Let it Go."
When the first Frozen was released, "Let it Go" became a musical phenomenon. Although the song's giant impact could be a bit daunting to try to top, Menzel, Anderson-Lopez, and Lopez never let that bother them anyway. "I feel so trusting of the situation and this creative process… There's something about how Kristen and Bobby can write such memorable and powerful melodies while also telling story that evolves character. [It] is just quite a gift," Menzel said. "So, I can just go in there and have fun."
Intentionally planning to outdo "Let it Go" just wasn't for Lopez and the Frozen 2 team. "We never think about hits or anything like that," he said. "The reason for that is that is because of Jennifer, Chris, and Peter. When they first began this project, they didn't think about trying to top the first one. They just thought about the characters and the story. They pitched us this bit of an idea that they had, and it gave us the chills."
7. Frozen 2 celebrates its representation of both its female and male characters.
"The coolest thing about watching Frozen and now, Frozen 2, with my daughters is that they have Idina and Kristen as their role models," Gad said. "I get to share this with two girls who get to look up to two fiercely independent Disney princesses who I think are changing the way we view what a princess is, and I love that."
Along with Anna and Elsa, Bell explained how Kristoff is a phenomenal role model, as well: "We talk about female empowerment, it's led by two women, but I personally think that the representation Jonathan gives for the guys is out-of-this world." Wood added to the sentiment, saying that there are some moments with Groff's character that are "mind-blowing," and she sums up Kristoff as being "Prince Sincere, not Prince Charming."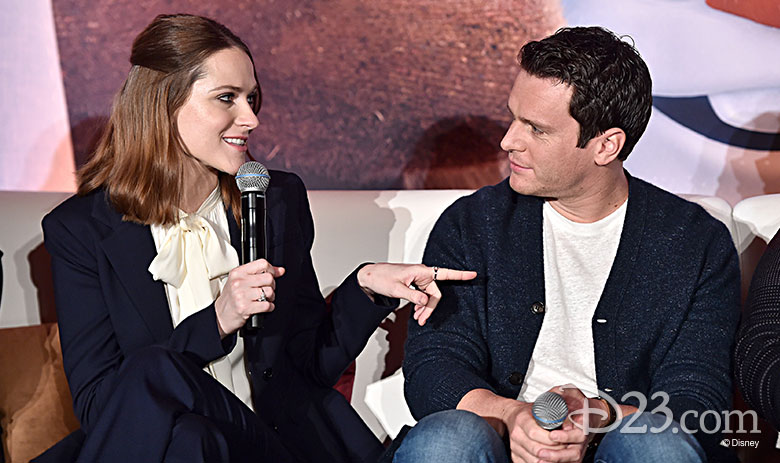 8. Getting to sing in a Disney film is a dream come true for Evan Rachel Wood.
"Disney raised me… These films are just living breathing works of art, and there's so much love and care poured into all of them," Wood said. She's one of the newest cast members, joining the Frozen family as Queen Iduna, Anna and Elsa's mom, in Frozen 2.
"I've been singing Disney lullabies to my son since he was born, so to be welcomed into the Disney family is already huge, and then to be given a Disney lullaby of my own was… I'm still processing it," Wood said.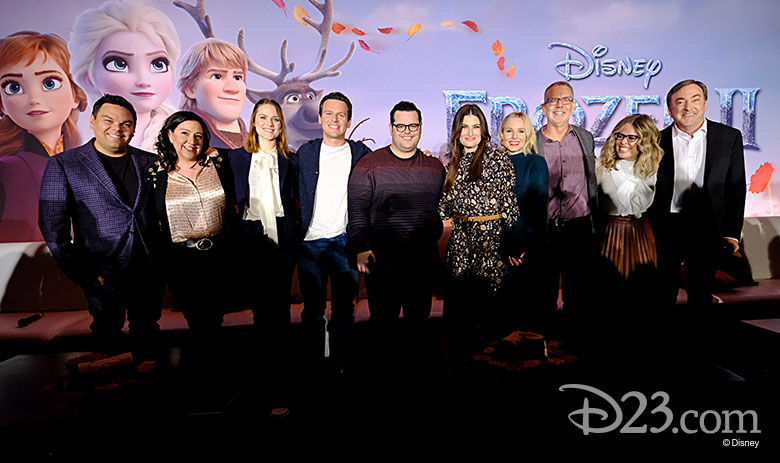 9. Frozen's impact isn't lost on the cast and filmmakers.
The whole team can agree that the Frozen franchise is full of love. "This is a movie which has a lot of action and a lot of emotion and drama," Del Vecho said. "And this is a movie for everyone."
At the close of the press conference, director Chris Buck shared stories of fan's experiences with Frozen, from those who the film inspired to join art school, to those getting through tough times. "We've been floored by the response. People come up to us to say the movie brought their family together, that it's changed their lives, and it's all very, very powerful… everything else is 'whatever' because ultimately, it's all about touching people."