By Jocelyn Buhlman
Last week, Hollywood was turned into an autumn wonderland complete with trees, leaf-shaped confetti, and the occasional troll or two. Why this sudden seasonal transformation? For the enchanting Frozen 2 world premiere, of course. We hit the red carpet to talk with the cast, crew, and celebrity fans of Frozen 2—and had a flurry of fun along the way!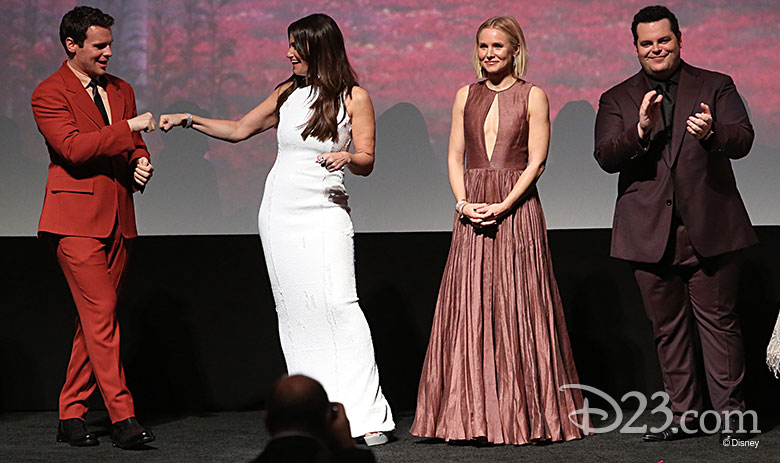 Welcoming New Faces to the Frozen Family
Besides Kristen Bell, Idina Menzel, Jonathan Groff, and other returning stars of the film, we met some new faces (to the Frozen films, anyway) while chilling out on the red carpet. Alfred Molina, who joins as the voice of Anna and Elsa's father, Agnarr, stopped to share what it meant to him to be joining the world of Disney animated films.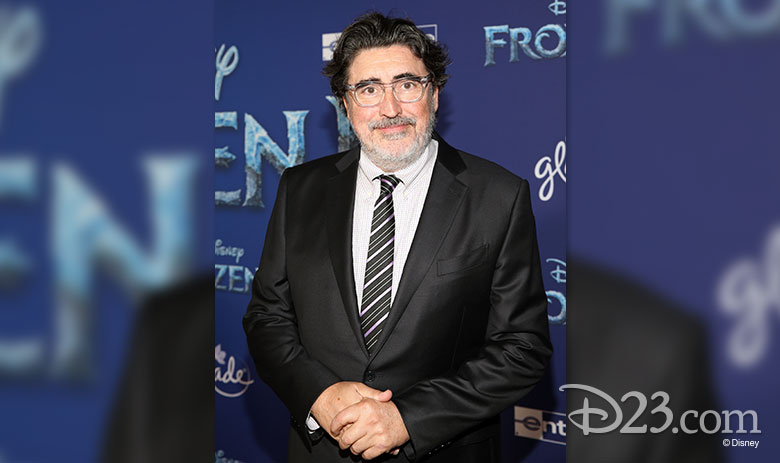 "It's a real privilege," Molina told us. "I've been a Disney fan since I was a kid—like many actors, Disney was my first introduction to storytelling. Being part of a movie that comes from a studio with such hallowed history—it's a big thing!"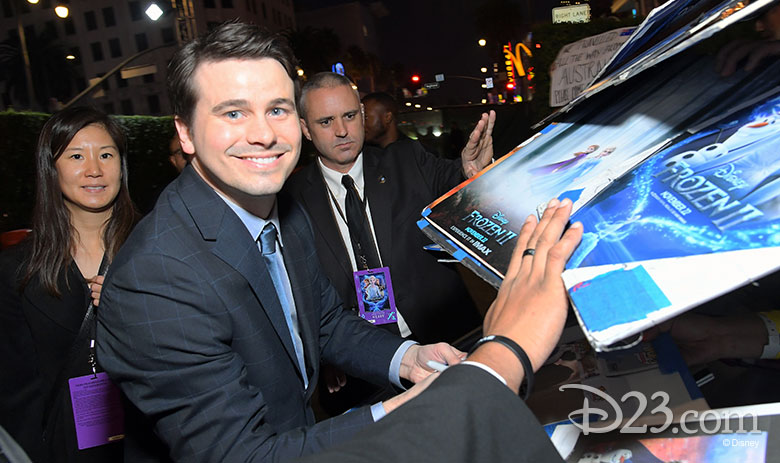 Jason Ritter, who joins the cast as Ryder, is no stranger to the Disney family, having previously voiced Dipper Pines on the beloved Disney Channel original series Gravity Falls. Now, he's swapping his summer at the Mystery Shack for an autumn going into the unknown—and he can't believe his luck!
"I am so excited. It's such a thrill!" he told us. "I almost exploded when I found out I was gonna be in this one."
Ritter had not seen the film in full, and was just as on the edge of his seat as we were to find out what would happen—and specifically, what new music he would hear: "I can't wait to hear all of the songs for the first time along with everybody else!"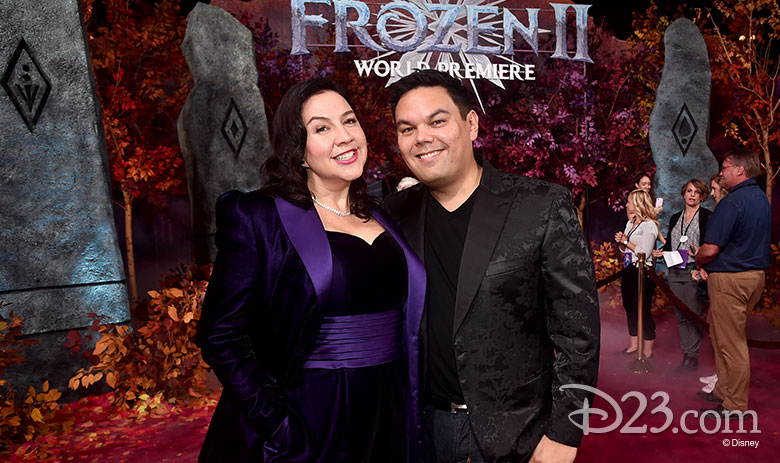 Music to Our Ears
After the smash-hit success of the original film's song, "Let It Go," Disney fans have been eagerly awaiting what new music will capture our hearts (and ears) in Frozen 2. We got a sneak peek of some of the new songs—including the already infectious "Into the Unknown." At the premiere, we had a chance to get even more details from the musical source itself—the Academy Award®-winning songwriting duo of Kristen Anderson-Lopez and Robert Lopez!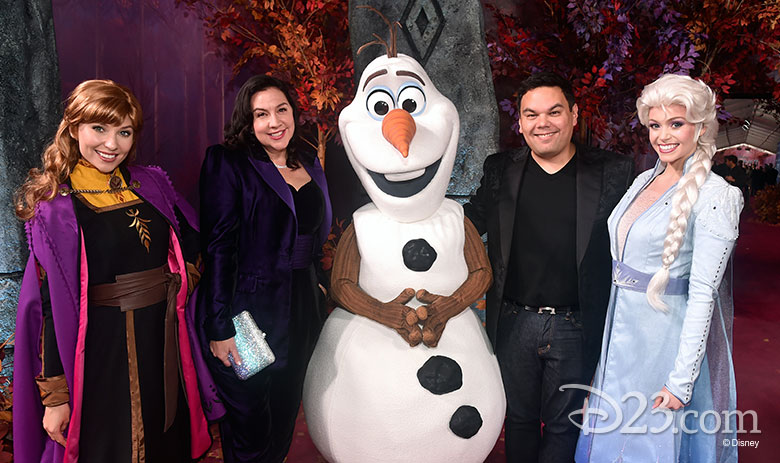 We asked them about their journey with the Frozen story—spanning eight years since the original story's inception.
"It's ok," Lopez joked about their amazing journey that began back in 2011.
Anderson-Lopez added, "It's changed my life certainly. We have our children, and then we have Anna and Elsa that sort of sprang from this incredible collaboration with Jennifer Lee, Chris Buck, and Disney Animation. I think this time around, we were able to see how much the amazing animators bring to this process, and how lucky we are to have these songs brought to life by some of the greatest artists."
The songwriters also share the special distinction of having "story by" credits for Frozen 2 as well. Being part of the storytelling team was a highlight of the Frozen 2 experience. "We have a camera in our office where we video into Burbank every day," Lopez explained. "It's a lot of fun—connecting with a little spaceship far away."
"It's the most important spaceship in our lives!" Anderson-Lopez added. "Out of our talks, they will then have meetings with the storyboard artists, and then they'll come back with pages. Then, the next day maybe we'll read something and we'll say, "Oh my gosh, Jen! What about this? What if we sing here? And she might say, 'Yeah try a verse or two, let's try it. It's like the greatest, longest, weirdest playdate ever."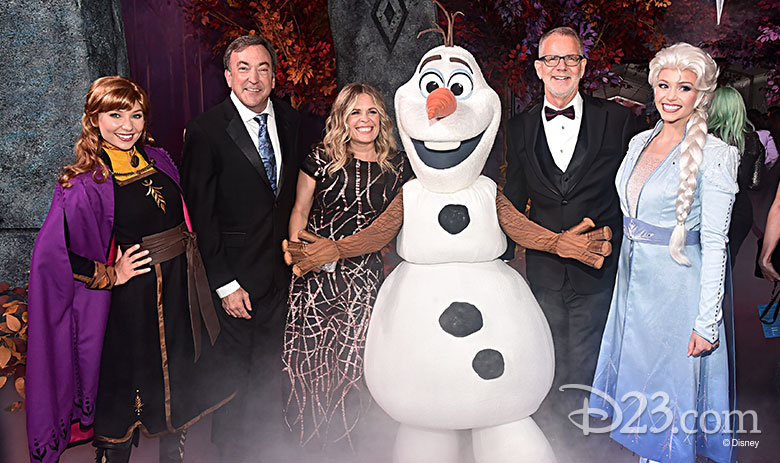 The Next Chapter in Anna and Elsa's Adventures
The creative team behind the film (directors Jennifer Lee and Chris Buck and executive producer Peter Del Vecho) stopped by to answer our burning questions—namely, when they exactly knew there was more to tell in Anna and Elsa's story.
"The 'Aha!' moment was when we found out where Anna and Elsa would end up at the end of this film. Once we had that, it became our true north and we tried to craft a story that would earn that," Buck explained.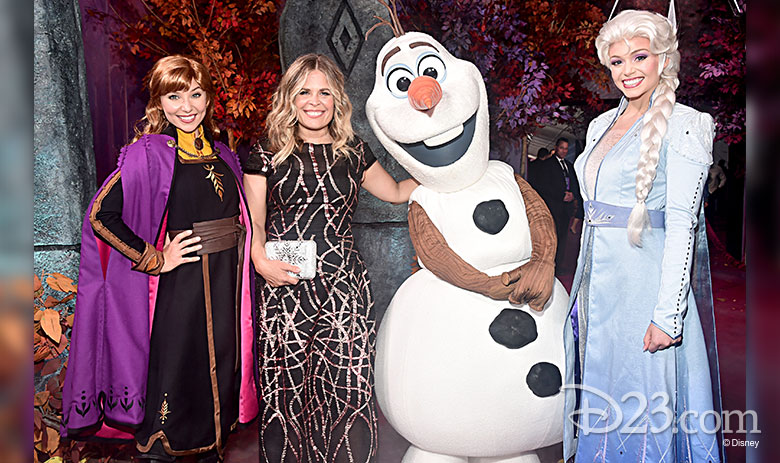 "I know I'm blessed and I feel very grateful" Lee told us, reflecting on her chance to continue telling the story of Anna and Elsa, who after eight years feel "like sisters" to her.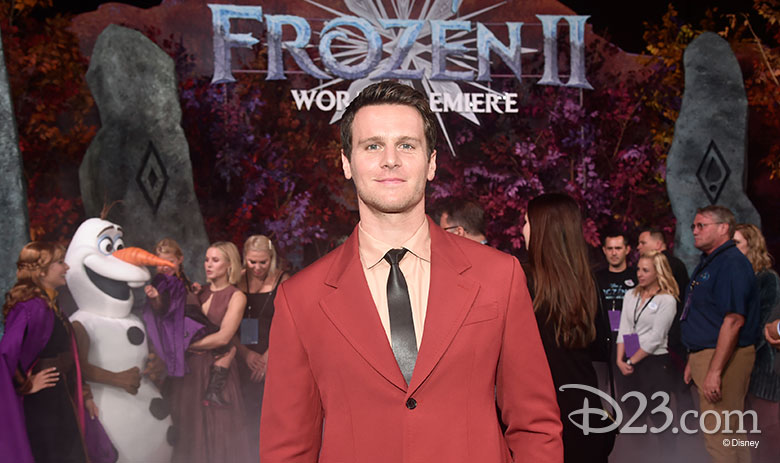 When it comes to the continuation of the story, Jonathan Groff (Kristoff) thinks that the creative team have their sights focused on the right place: "I think there's a lot of humanity in the characters. Chris Buck and Jennifer Lee have kids, and they made this movie for their kids and that trickled down into the project."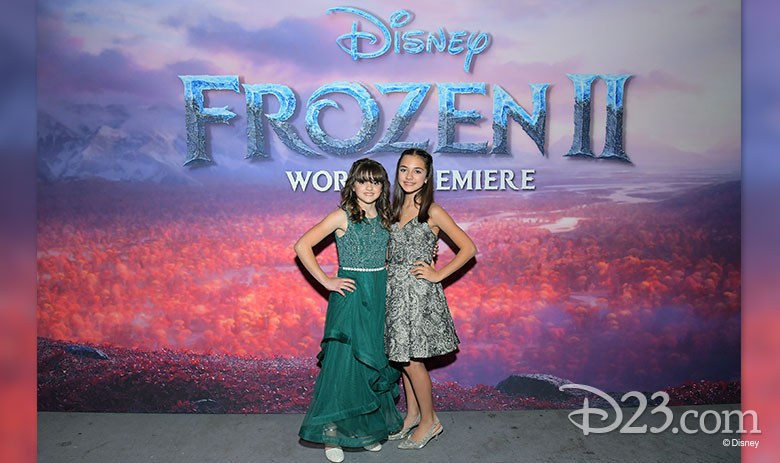 The Young Royals
Kristen Bell and Idina Menzel (the adult voices of Anna and Elsa) weren't the only Arendelle royalty on the carpet—the voices of Anna and Elsa's younger counterparts were also on the scene to share their experiences.
"I'm in awe! I'm an actual Disney princess!" exclaimed Hadley Gannaway (Young Anna), who is a newcomer to the world of Frozen—but delighted to be part of the magic. "My favorite part is going in and doing lines," she told us. "I do them cold, and sometimes it's hard! But I like how Chris Buck and Jennifer Lee always help me with that. It's really fun."
Mattea Conforti is new to the role of Young Elsa—but not to the world of Frozen! Prior to bringing Young Elsa's voice to life, she acted onstage as Young Anna in Frozen on Broadway. Having portrayed both sisters, Conforti was just as excited as Gannaway to be Disney royalty. "I'm a Disney princess! It's incredible!"
Of course, few have the unique insight of playing both sisters, so we had to know: What's it like being both Anna and Elsa? "It's really cool seeing both perspectives," Conforti shared. "Anna is more outgoing, more outspoken. Young Elsa is more mature. She's not as outgoing, but she's very bold."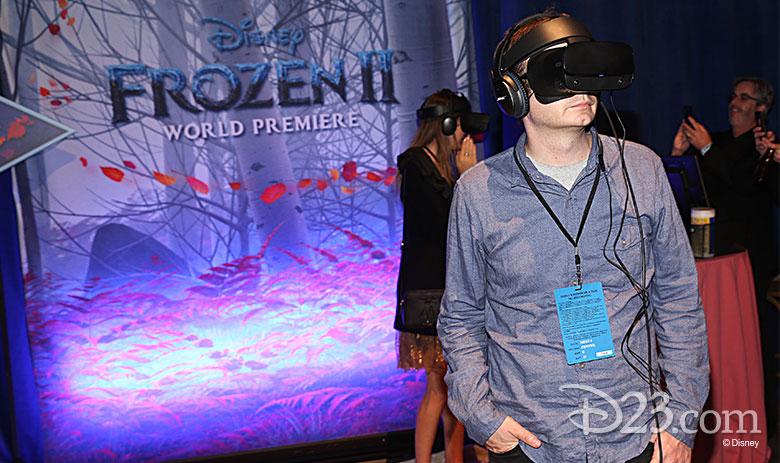 A 360° Bedtime Story
Besides premiering Frozen 2, another peek into Arendelle debuted that night— Walt Disney Animation Studios' groundbreaking new VR short, Myth: A Frozen Tale. The short explores the world of Frozen 2 in an immersive way, using the latest advances in VR technology, an original music score, and stylized art direction from Brittney Lee to deliver a unique virtual and visceral experience.
To celebrate this groundbreaking animation work, we stopped to chat with the short's director, Jeff Gipson, who shed some light on what we can expect from Myth: A Frozen Tale. "It's kind of a bedtime story," he explained. "It's more of a stylized concept—It's animation in a world you can look all the way around."
The short gives us deeper insight into the cultural world of Arendelle, transporting the audience into a mystical and enchanted forest where the elemental spirits come to life. Gibson explains, "Jen and Chris and Peter were all creative advisors on this, so it was great to have them along in the process to create what we'll be showing tonight."
Announcements on where VR and Frozen fans can view the short are still to come—so stay tuned!
See More from the Premiere
Check out this gallery below for a closer look at every moment from the premiere, and make sure to mark your calendar for November 22, when Frozen 2 debuts in theaters!