By Courtney Potter
Get ready to follow jazz musician Joe Gardner on an incredible journey, and go inside the world of Frozen 2 in a whole new way… Read more, along with other news from around Disney, in this week's news briefs!
Disney and Pixar's Soul: Introducing Joe Gardner…
You heard about it at D23 Expo 2019, and now we have our first look at Disney and Pixar's upcoming Soul, set for release June 19, 2020. Take a gander at the tunefully gorgeous new teaser trailer, above.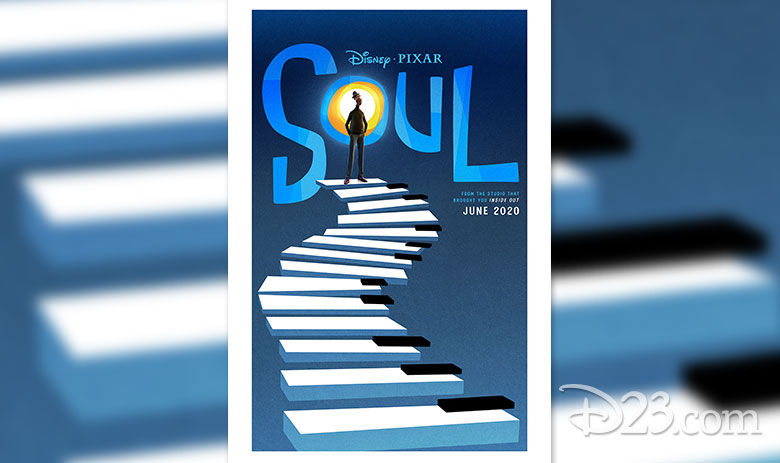 Directed by two-time Academy Award®-winner Pete Docter, co-directed by Kemp Powers, and produced by Academy Award-nominee Dana Murray, Soul introduces audiences to Joe Gardner (voice of Jamie Foxx), a middle-school band teacher whose true passion is playing jazz. But just when he thinks his dream may be within reach, a single unexpected step sends Joe to a fantastical place—where he's forced to think again about what it truly means to have soul. That's where he meets and ultimately teams up with 22 (voice of Tina Fey), a soul who doesn't think life on Earth is all it's cracked up to be. Phylicia Rashad, Ahmir Questlove Thompson, and Daveed Diggs round out the voice cast.
Stay tuned for more info about Disney and Pixar's Soul—which will also feature new music by jazz great Jon Batiste and a score by Oscar® winners Trent Reznor and Atticus Ross (The Social Network)—as it becomes available…
Save the Date!
Be sure to mark these upcoming Disney events on your calendar:
D23 and Walt Disney Archives
November 11, 2019
Advance Screening of Lady and the Tramp at ArcLight Pasadena


November 14, 2019


D23's Behind-the-Scenes Experiences: A Day at the Studio Lot


November 16, 2019


D23's Magical Screening Series: Up at Walt Disney World


November 18, 2019


Behind the Scenes at Walt Disney Animation Studios


November 23, 2019


D23's Magical Screening Series: Up on the Lot


January 17, 2020


Get VIP Tickets to Disney's Frozen The Hit Broadway Musical


January 31, 2020


Disney's Aladdin the Hit Broadway Musical VIP Tickets


August 9, 2020


Adventures by Disney Rhine River Cruise Presented by D23
Parks
August 29—November 23, 2019
2019 Epcot International Food & Wine Festival
November 8, 11, 12, 14, 15, 17, 19, 21, 22, 24;


December 1, 3, 5, 6, 8, 10, 12, 13, 15, 17, 19, 20, 22, 2019


Mickey's Very Merry Christmas Party at Magic Kingdom park
November 29—December 30, 2019
2019 Epcot International Festival of the Holidays
December 5, 2019
Star Wars: Rise of the Resistance opens at Disney's Hollywood Studios
January 17, 2020
Star Wars: Rise of the Resistance opens at Disneyland park
January 17—February 9, 2020
Lunar New Year returns to Disney California Adventure park
February 28—April 21, 2020
Disney California Adventure Food & Wine Festival returns to the Disneyland Resort


March 4

—

June 1, 2020
Epcot International Flower & Garden Festival at Walt Disney World Resort



Studios




November 22, 2019


Frozen 2 opens in U.S. theaters


December 20, 2019


Star Wars: The Rise of Skywalker opens in U.S. theaters


March 6, 2020


Onward opens in U.S. theaters


March 27, 2020


Mulan opens in U.S. theaters


May 29, 2020


Artemis Fowl

opens in U.S. theaters




Television


November 8, 2019
High School Musical: The Series airs on ABC, Disney Channel, and Freeform (8 p.m. EST)
November 8, 2019
The Rocketeer premieres on Disney Channel (11 a.m. EDT), Disney Junior (5 p.m. EDT), and DisneyNOW
November 16, 2019
Big City Greens Kicks Off Season Two on Disney Channel (9:30 a.m. EST/PST)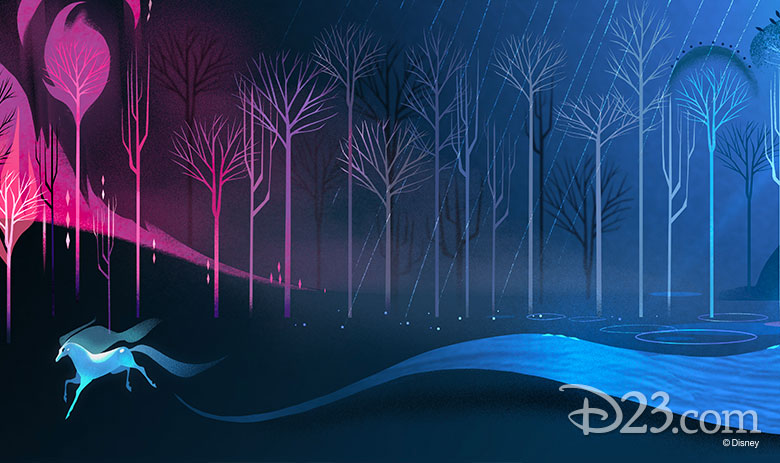 Go Inside the World of Frozen 2 with New Myth: A Frozen Tale VR Short
With Walt Disney Animation Studios' Frozen 2 just around the corner, we're learning about a cool new way to experience Anna and Elsa's world in an incredible, immersive style: Myth: A Frozen Tale, which debuted at the film's world premiere this week at the Dolby Theatre in Hollywood, is a groundbreaking new VR short using the latest advances in VR technology, an original music score, and stylized art direction to deliver a unique virtual and visceral experience.
"The idea for Myth: A Frozen Tale came from a personal place for me," director Jeff Gipson (who helmed Disney's first-ever VR short, Cycles, in 2018) recently said, "and was inspired by my family's tradition of telling bedtime stories. This led me to start thinking about what the world of Frozen and some of the film's new elemental characters would look like in VR. Myth: A Frozen Tale is set in a forest outside of Arendelle as a family sits down for a bedtime story. As the mother reads, the audience is transported to a mystical and enchanted forest where the elemental spirits come to life and the myths of their past and future is revealed. With breathtaking production design by Brittney Lee, and a brilliant musical score by Joseph Trapanese, this film follows in the Fantasia legacy of using imagery and music together in an experimental way, using the latest advances in virtual reality to achieve that."
Look for announcements on how you can experience Myth: A Frozen Tale in the near future…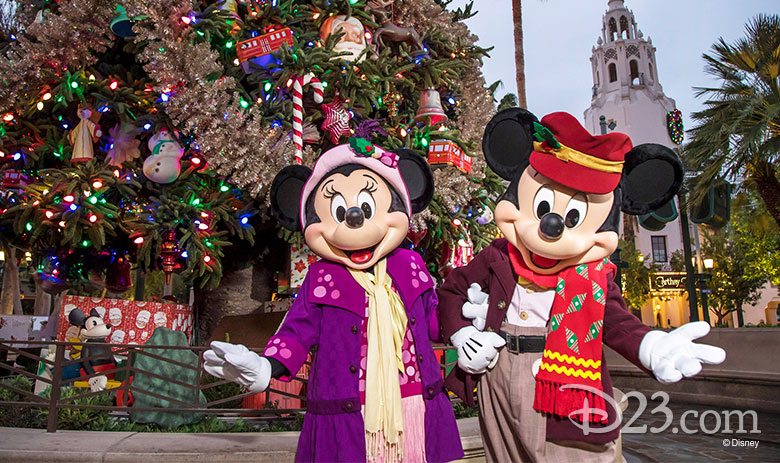 Disney Festival of Holidays Jingles All the Way to Disney California Adventure
Now that All Hallows Eve has come and gone, it's about that time… time for all things holiday! (And all things Disney+, naturally—debuting next week!) In just a few days' time, the Disneyland Resort will be resplendent with festive fun around every corner. Disney California Adventure park will once again welcome the Disney Festival of Holidays; inspired by the vibrant cultural diversity of Southern California, this colorful celebration brings the holiday season to life with music and dance performances; the amazing Festival Foods Marketplace; unique crafts; and plenty of beloved Disney characters who invite you to delight in the spirit of the holidays. It'll truly warm those heart cockles like never before!
New this year is "Mickey's Happy Holidays"; this fresh and fun character celebration will delight guests twice a day with high-energy holiday music (featuring the very merry Holiday Toy Drummers) and a slew of Disney and Pixar favorites, including our pal Mickey Mouse! Look for the party at the Paradise Gardens Park Obelisk and in Carthay Circle.
But that's not all: The Holiday Sunset Concerts on the Palisades Stage will feature several new bands—including The Suffragettes, a cover band that'll rock the holidays with their own take on chart-topping hits, as well as Phat Cat Swinger, the West Coast's "Little-Big Band" that offers a swingin' selection of irresistible holiday tunes. They'll be joined by returning favorites including Mosher Kosher, Blue13 Dance Company, The Sound, and the Grammy® Award-winning Mariachi Divas. And make sure to visit Santa Claus over at Redwood Creek Challenge Trail!
Disney Festival of Holidays kicks off at Disney California Adventure park this Friday, November 8.
… And Then There's the Disney Festival of Holidays Food!
One simply cannot discuss Disney Festival of Holidays at Disney California Adventure park without a peek at all the delicious food and drink available all season long. From the Festival Foods Marketplace to other quick-service carts around the park, there's a sweet or savory somethin' for everyone! Take a gander at what'll be tickling your taste buds beginning this week by clicking here.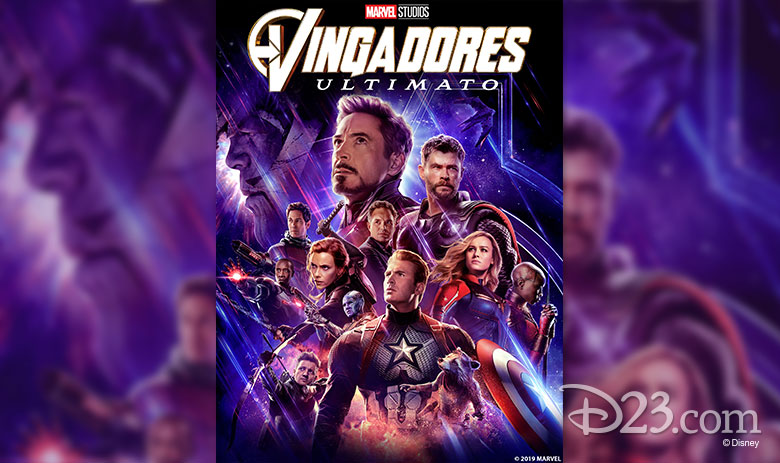 We Love This Avengers: Endgame/Disney+ News 3000
We've already alluded to Disney+'s super-insanely anticipated launch on next Tuesday, November 12—and just this week, we received some truly stellar Marvel-related news: Avengers: Endgame will be available on the streaming service on Day One!
The highest-grossing film of all time (amazing, right?) will join other previously announced Marvel titles on Disney+, including Iron Man, Thor, Ant-Man, Captain Marvel, and many more!
Avengers: Endgame caps off an unprecedented 11-year cinematic journey that spans 22 individual movies with one epic conclusion. The Infinity Saga sees some of Earth's Mightiest Heroes go up against Thanos in an effort to stop him once and for all and reverse the events of Marvel Studios' Avengers: Infinity War.
If you're ready to feel all those feels again, make sure to add it to your Disney+ queue!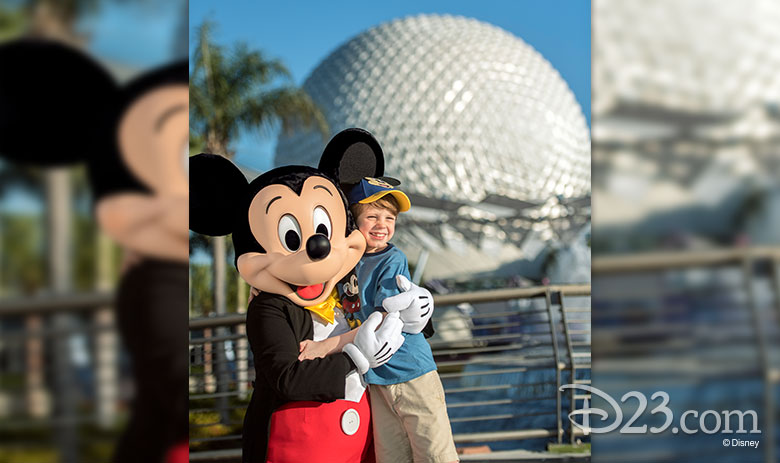 Coming Soon: Meet Mickey Mouse at Epcot in a Whole New Way!
If you've been reading News Briefs with any regularity (and thank you, if so!), you know that Epcot has just kicked off an incredible multi-year transformation, just in time for Walt Disney World Resort's upcoming 50th anniversary. As part of that transformation, Mickey Mouse will soon be making some Epcot appearances in a whole new way…
As part of the Disney and Pixar Short Film Festival, inside the Imagination! pavilion, Mickey will be greeting his friends—and celebrating his hilarious on-screen antics—just inside the pavilion's entrance.
Mickey's colorful imagination has led to an amazing career in the movies, featuring roles in literally dozens of short films—including Get A Horse! (a personal fave), which you'll be able to enjoy as part of the festival. Look for Mickey to arrive at the Disney and Pixar Short Film Festival in early 2020!
ICYMI: Freeform's "25 Days of Christmas" is Just Around the Corner…
We love turning on our TV (or mobile device; it is 2019, after all) and not experiencing one ounce of worry that we'll find something entertaining to watch. Case in point? Any day during Freeform's "25 Days of Christmas"… Movies and specials galore, and even a few brand-new holiday-themed episodes of your Freeform favorites! In case you missed our rundown of this year's "25 days of Christmas" schedule, check it out by clicking here.