By Beth Deitchman
With an abundance of parks and squares, along with its picturesque riverfront, Savannah, Georgia, is a positively fetching city for a dog—refined, purebred cocker spaniel and charming, mildly mischievous mixed breed alike. Add the city's timeless quality to that stunning vista and it's no wonder why the filmmakers behind Disney+'s Lady and the Tramp decided to make this metropolis its home base for their re-telling of the 1955 animated classic—which is available to stream on Disney+ on November 12, the day the service launches.
Last year, we traveled to the set of Lady and the Tramp near the end of production, where we met the film's "leading Lady" and her Tramp—Rose and Monte—along with their human co-stars and filmmakers. Here are some of the behind-the-scenes tales (and tails) that we discovered.
1. Director Charlie Bean is as passionate a fan of the 1955 original film as we are.
Disney+'s Lady and the Tramp is rich with themes that feel relevant for 2019 audiences, while paying homage to the animated classic. "I knew when I first talked to Charlie that he was going to be the right guy for the job because he is steeped in Disney history," the film's producer, Brigham Taylor, told us. "He knew the names of the animators and the directors and storyboard artists who made that film. He's very respectful of the animation history."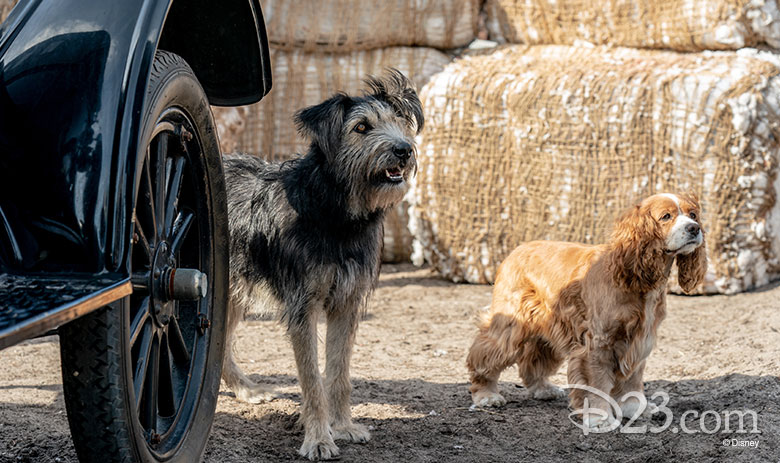 2. Canine co-stars Rose and Monte have some serious acting chops.
As the pampered house dog Lady, Rose is playing a little against type, said her on-set trainer, Mathilde de Cagny: "She's more of a tomboy and she likes to give orders and take charge and all that stuff." The cocker spaniel was originally trained to be a hunting dog, and de Cagny observed that the pup is always thinking. "She is very strong-willed, determined, dominant, and very smart," the trainer emphasized.
"[Monte] isn't necessarily a tramp, but he's more of a rascal," said animal trainer Mark Forbes, who first discovered the Airedale-Schnauzer mix on Petfinder, before adopting him from a shelter in Arizona. "He's just playful—he's very mouthy and footy, and just wants to play all the time."
3. The actors who play Jim Dear and Darling had no problem bonding with their on-screen pet.
"The movie is all about the bond between humans and dogs, and vice versa," said Thomas Mann (Jim Dear). That's just an extension of what we're experiencing on set. They're my co-stars, just like any other actor would be. The only difference is they don't really know they're at work."
Kiersey Clemons, who plays Darling, joked that Rose "runs this set. I can tell when she's not into it that day. She's so smart and she's so 'on it,' that when she's not, I'm like, oooh, she knows this is her movie and she knows 'I don't feel like it today so I don't have to.' I have lots of respect for Rose."
Having a cast of canines made coming to work every day a treat for the Lady and the Tramp cast and crew.  "You work with tremendously creative and talented people," said Taylor, "But it's just an added bonus that you have these wonderful dogs that are so well-trained. And when they're not hitting their marks, they're just being dogs and they'll come up and give you some love and nuzzle."
4. The film's "villains" had to work hard to muster animosity toward their canine co-stars.
Yvette Nicole Brown, who plays Darling's Aunt Sarah—a cat lady at heart—revealed, "The toughest scene for me to film was the pet store scene, when I had to be mean to Rose." Brown adored Rose and even adopted one of her doubles, Harley, after production wrapped. "For me, to even have to put the crate down and just be hateful to this beautiful puppy was the hardest thing for me to film," she said. As the main antagonist, dog catcher Elliott, actor Adrian Martinez went out of his way to build a rapport with Monte: "I just doused him with love, and ever since then he was able to make the separation between character and actor."
5. Brown has a unique take on the character of Aunt Sarah.
The actress—a Disney fan through and through—joked, "In the original film, some would say she's the villain but I feel she's the star of the story, because without Aunt Sarah, Lady doesn't meet Tramp. So let's just change our perspective and appreciate Aunt Sarah!" Brown was drawn to Lady and the Tramp for its inspiring, quintessentially Disney story. "It's told through the eyes of a dog that's on the streets and being followed every day by a dog catcher, and his life is in danger; and he meets another dog, helps her, and his whole life changes. So by giving and doing for other people, his life gets better," she detailed, adding, "If that's not the perfect thing that we need right now for people to hear, I don't know what is. And that's Disney."
6. Hair and makeup isn't just for humans.
Though Rose and Monte are the primary "actors" bringing to life Lady and Tramp, each had several doubles to serve as stand-ins or pull off more specialized stunts and skills. "We try to get the double as close as we can, and then [hair and makeup] helps us the rest of the way," said Forbes. The dogs had their own trailer and tent where they would go for grooming, which might involve fake dirt, to create the look for a grimy street dog; or even dog-safe hair color, so that Rose's cocker spaniel doubles could sport the same "blaze" seen on her face.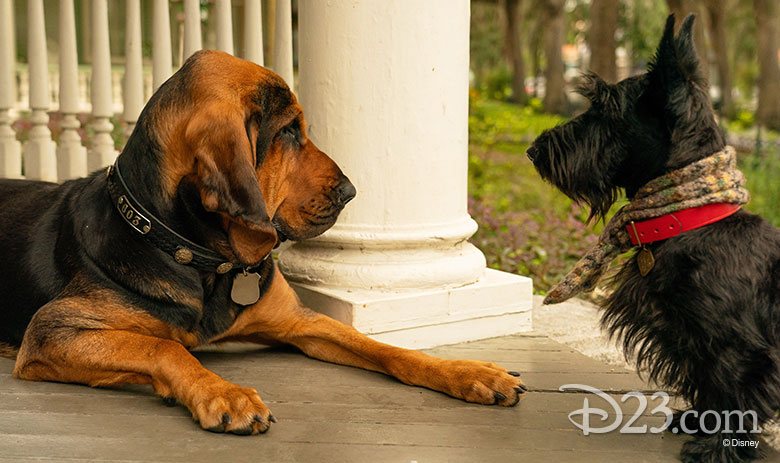 7. The dogs spent four months training for their breakout roles.
According to Forbes, a veteran animal trainer for film and television, "If one dog in a scene is hard, two are twice as hard. Three are three times as hard as that second one. Every time you add a dog it just compounds the difficulty of it." The trainers had their work cut out for them, with 16 principal dogs, including the two leads. And Forbes believes that the hardest thing to achieve with dogs is the eyeline, or where the dog is looking. While training the dogs, Forbes and his team modified sunglasses, placing a treat in the middle, so that the pups would learn to look into a human actor's eyes.
8. What training can't accomplish, cutting-edge animation technology can.
In the new retelling of Lady and the Tramp, the filmmakers seamlessly move between live-action footage of real dogs and CG-animated sequences with the pups' digital doubles. And that animation goes beyond simply moving the dog's mouths to make it appear they are really speaking to each other. "The whole body is a performance," said Forbes, pointing out that when people speak, they typically use their hands and eyes, along with their mouths. That will be the case for Rose and Monte and their digital doubles. "The hope is that you don't notice any difference," Forbes said.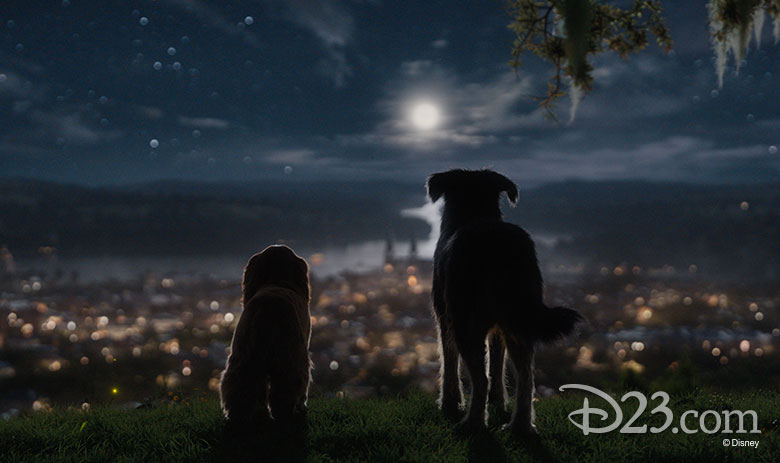 9. Disney+'s Lady and the Tramp is filled with Easter eggs for fans of the original.
As a Disney fan himself, production designer John Myhre—whose Disney credits include his Oscar®-nominated work on last year's Mary Poppins Returns—wanted to honor the 1955 film, as well as Walt's legacy. Noting that Disneyland opened in California the same year that Lady and the Tramp was released, Myhre kept Main Street, U.S.A. in mind as he was envisioning the Disney+ film's "anytown, U.S.A." Viewers may take note of riverboats and trolley cars in the new film, which he sees as nods to Walt's first park.
Lady's house has been furnished with Victorian-era furnishings that, coincidentally, happen to have ornate detailing closest to the floor—at about the level of a cocker spaniel. As in the original film, Lady's house has two stories, with a stained glass window at the top of the interior staircase. Myhre took inspiration from the original window in the animated film and made it more realistic and appropriate for the turn-of-the-century era.
Myhre and his team went back to the animated film and studied every sign and anything else with lettering. "In the original film, there was Francois Pastries with this really beautiful pink and green, very unusual awning, so I re-created the awning, I re-created the lettering style, and even re-created [the pastries] in the window," he explained.
And, of course, Tony's Restaurant is still the romantic café where Lady and Tramp share their first strand of spaghetti and their first kiss. "We took the Tony's sign but made it look more real to the period," Myhre said, noting that they used a more detailed font but kept the iconic red and white awnings.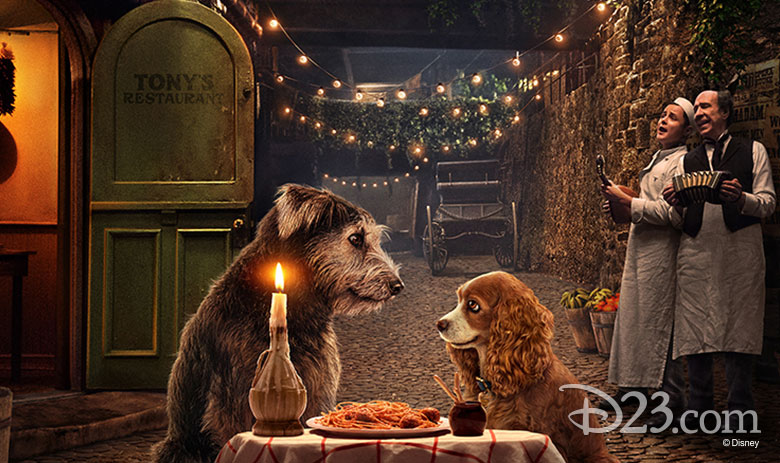 10. The film's stars deliver the loveliest live-action bella notte.
Is there a Disney fan who ever looked at a plate of spaghetti the same way after their first viewing of the animated Lady and the Tramp? The new retelling will make fans' hearts sing once again during the adorable couple's romantic dinner at Tony's. In addition to Tramp's dashing nudge of the last meatball, the canine stars re-created the shared spaghetti strand on set. "They actually both chewed on it," recalled de Cagny. "The best part of it was that you could hear a pin drop. The whole crew was behind the camera, just wide open. It was so emotional for every one of us."
Meet Lady (along with Jim Dear and Darling) in the exclusive clip below, and stream the movie in its entirety on November 12 when Disney+ launches.
Want more Disney+ news? Click here to stay up-to-date with what's streaming!