By Courtney Potter
Follow two adorable dogs as they come to understand the true meaning of "home," and read up on Disney+'s legitimately incredible catalogue… See more, along with other news from around Disney, in this week's news briefs!
Lady and the Tramp Finds Enchantment on Disney+ Next Month…
We can hardly contain our excitement for the launch of Disney+ in just a few weeks' time; we may or may not have recently gone to our local box store and laid in a cache of binge-watching snacks (we take our streaming very seriously). And one of the marquee debuts is Disney's Lady and the Tramp—a retelling of the timeless 1955 animated classic. Take a peek at the film's most recent trailer, above.
Despite their different upbringings, a pampered house dog and a lovably tough stray grow closer—and soon come to understand the true meaning of "home." Directed by Charlie Bean, from a screenplay by Andrew Bujalski, Lady and the Tramp stars Tessa Thompson as the voice of Lady and Justin Theroux as the voice of Tramp, with Kiersey Clemons (Darling), Thomas Mann (Jim Dear), Janelle Monáe (voice of Peg), Yvette Nicole Brown (Aunt Sarah), and Sam Elliot (voice of Trusty). Enjoy a "bella notte" with some seriously adorable puppers beginning November 12.
Save the Date!
Be sure to mark these upcoming Disney events on your calendar:
D23 and Walt Disney Archives


October 21, 2019


The Official Walt Disney Studios Tour—Presented by D23
October 21, 2019
D23's Sip & Stroll at Epcot


October 29, 2019


D23's Mostly Ghostly Halloween on The Walt Disney Studios Lot


November 14, 2019


D23's Behind-the-Scenes Experiences: A Day at the Studio Lot


January 17, 2020


Get VIP Tickets to Disney's Frozen The Hit Broadway Musical


January 31, 2020


Disney's Aladdin the Hit Broadway Musical VIP Tickets


August 9, 2020


Adventures by Disney Rhine River Cruise Presented by D23
Parks
August 16, 20, 23, 27, 30;
September 2, 6, 8, 10, 13, 15, 17, 20, 22, 24, 27, 29; October 1, 3, 4, 6, 8, 10, 11, 14, 15, 17, 18, 20, 21, 24, 25, 27, 29, 31;
November 1, 2019


Mickey's Not-So-Scary Halloween Party at Magic Kingdom park


August 29—November 23, 2019
2019 Epcot International Food & Wine Festival
September 17, 19, 22, 24, 26, 29, 2019;
October 1, 3, 6, 8, 10, 13, 15, 17, 20, 22, 24, 27, 29, 31, 2019


Oogie Boogie Bash – A Disney Halloween Party at Disney California Adventure park


November 8, 11, 12, 14, 15, 17, 19, 21, 22, 24;


December 1, 3, 5, 6, 8, 10, 12, 13, 15, 17, 19, 20, 22, 2019


Mickey's Very Merry Christmas Party at Magic Kingdom park
November 29—December 30, 2019
2019 Epcot International Festival of the Holidays
December 5, 2019
Star Wars: Rise of the Resistance opens at Disney's Hollywood Studios
January 17, 2020
Star Wars: Rise of the Resistance opens at Disneyland park


March 4

—

June 1, 2020
Epcot International Flower & Garden Festival at Walt Disney World Resort



Studios




October 18, 2019


Maleficent: Mistress of Evil opens in U.S. theaters


November 22, 2019


Frozen 2 opens in U.S. theaters


December 20, 2019


Star Wars: The Rise of Skywalker opens in U.S. theaters


March 6, 2020


Onward opens in U.S. theaters


March 27, 2020


Mulan opens in U.S. theaters


May 29, 2020


Artemis Fowl

opens in U.S. theaters




Television


October 1-31, 2019
Freeform's 31 Nights of Halloween
November 5, 2019
ABC airs The Wonderful Word of Disney Presents The Little Mermaid Live! (8—10 p.m. EST)
November 8, 2019
High School Musical: The Series airs on ABC, Disney Channel, and Freeform (8 p.m. EST)
November 8, 2019
The Rocketeer premieres on Disney Channel (11 a.m. EDT), Disney Junior (5 p.m. EDT), and DisneyNOW
November 16, 2019
Big City Greens Kicks Off Season Two on Disney Channel (9:30 a.m. EST/PST)
This Just In: Disney+ Content Catalogue, Ahoy!
Speaking of Disney+, D23 has a roundup of everything—and we mean everything—you'll be able to watch when the streaming service begins beaming into all our homes. Classics like Snow White and the Seven Dwarfs? Check! Disney Channel Original Movies from the '90s? Check! Essentially the entire Muppets catalog? Check! (We're particularly excited about that.) Have a look, and see how many of your all-time faves are listed, by clicking here.
Go Behind the "Sea"-nes with ABC's The Little Mermaid Live
Disney's The Little Mermaid celebrates its 30th anniversary this year, and it stands to reason that one of the most beloved animated films of all time would get a truly unique and memorable TV event! The Wonderful World of Disney and ABC are proud to present The Wonderful World of Disney presents The Little Mermaid Live!, a special tribute to the original animated classic and its timeless music; catch a glimpse of some behind-the-scenes magic in the new clip, above.
The Little Mermaid Live! will take viewers on an incredible adventure "under the sea" as live musical performances by a star-studded cast will be interwoven into the broadcast of the original feature film. This never-before-seen hybrid format will feature amazing sets and colorful costumes, with music from the 1989 animated hit as well as the Tony Award®-nominated Broadway stage version—both composed by Oscar®-winning composer, Alan Menken. Howard Ashman's iconic film lyrics will also be showcased; Glenn Slater, lyricist for the Broadway adaptation, will contribute to the star-studded spectacular as well.
Look for The Little Mermaid Live!—starring Auli'i Cravalho as Ariel, Graham Phillips as Prince Eric, Queen Latifah as Ursula, Shaggy as Sebastian, and John Stamos as Chef Louis—on Tuesday, November 5, at 8 p.m. ET on ABC.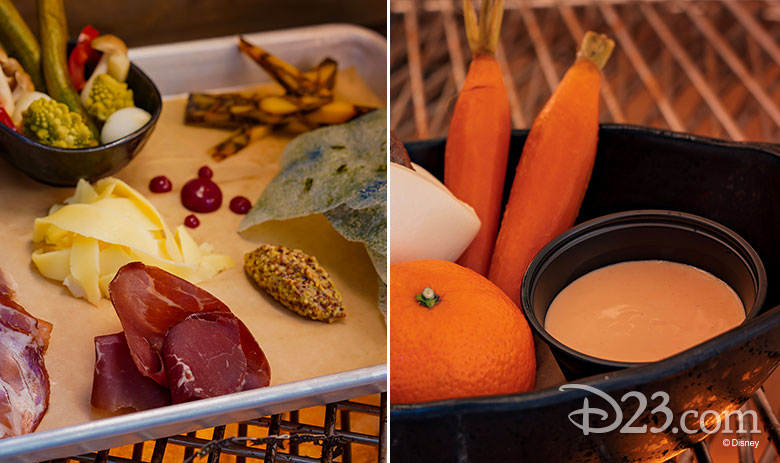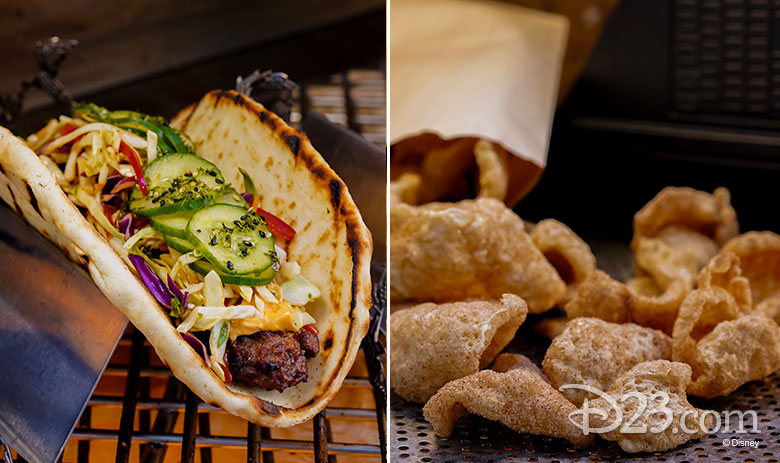 Star Wars: Galaxy's Edge Debuts Enticing New Eats and 60-Day Reservations
News you can use from the world of Batuu: There are several new food items now available at Star Wars: Galaxy's Edge, at Disneyland park, to satiate even the hungriest of resistance fighters… Veggie lovers will enjoy the new plant-based Ronto-less Garden Wrap coming to Ronto Roasters, featuring a plant-based sausage with spicy kimchi slaw, sweet pickled cucumber, and Gochujang spread all wrapped in pita bread. And for a really interesting—not to mention tasty—treat, try some of Ronto Roasters' new Kyryll Pork Rinds with cinnamon-sugar served in a MSE-6 Series Repair Droid souvenir vessel. Meanwhile, next door at Kat Saka's Kettle, delight in some chocolate popcorn with Crait Red Salt (sprinkled with sale salt from Crait, a now-uninhabited red mineral world). Docking Bay 7 Food and Cargo is offering up a new kid's meal, the Garden Patty Bun, while Oga's Cantina features a brand-new charcuterie plate, the Happabore Sampler.
Speaking of Oga's Cantina, beginning October 17, that popular watering hole will begin offering advance reservations up to 60 days in advance—following the 60-day reservation process currently offered for other reservation-accommodating restaurants and experiences throughout the Disneyland Resort. And that same new 60-day window also goes for Savi's Workshop and Droid Depot! Check out the Disneyland Resort website or the Disneyland app for more info, or to make your reservations today.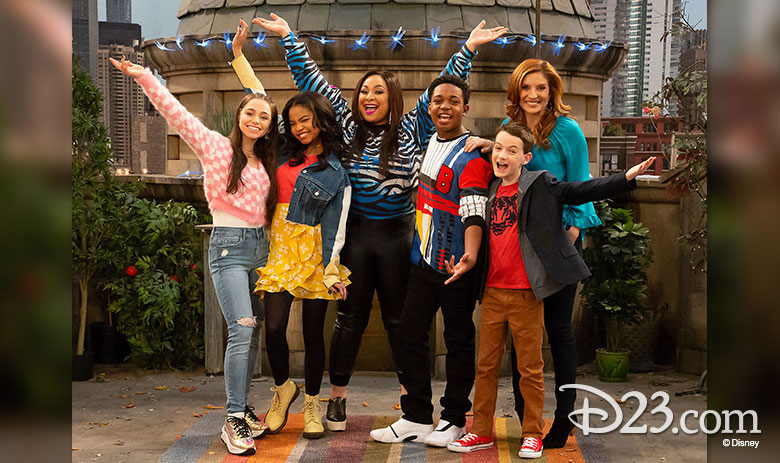 Disney Channel Announces Fourth Season for Raven's Home
Raven-Symoné has been a part of the Disney Channel family for years… and the fun will continue with a fourth season of her hit series Raven's Home! Production on Season 4 will kick off later this year.
Made for kids age 6–14 and their families, Raven's Home (a spinoff of the iconic Disney Channel comedy That's So Raven) finds whimsical, somewhat psychic teen Raven Baxter now a divorced single mom of teen twins, Nia (Navia Robinson) and Booker (Issac Ryan Brown)—and she's not the only one in the family who can catch glimpses of the future! Booker has inherited his mom's gift, seeing just enough of the future to try and change it. Hilarity—as it so often does—ensues, as Raven and Booker try to understand their unpredictable visions while navigating a hectic but loving household that also includes Raven's longtime best friend Chelsea (Anneliese van der Pol) and her son Levi (Jason Maybaum), and Nia's best friend Tess (Sky Katz).
Catch Raven's Home on Fridays (8–8:30 p.m. ET) on Disney Channel and in DisneyNOW!