By Savannah Salazar
This Haul-O-Ween, prepare to be "spoked" because Mater, Lightning McQueen, and the residents of Cars Land have turned Radiators Spring into Radiator Screams! As you cruise through the land, you can spot a variety of frightfully fun additions and décor for Halloween time at Disneyland Resort, so we rounded up some magical facts about Radiator Screams. Have you spotted all of these spooktacular fun facts?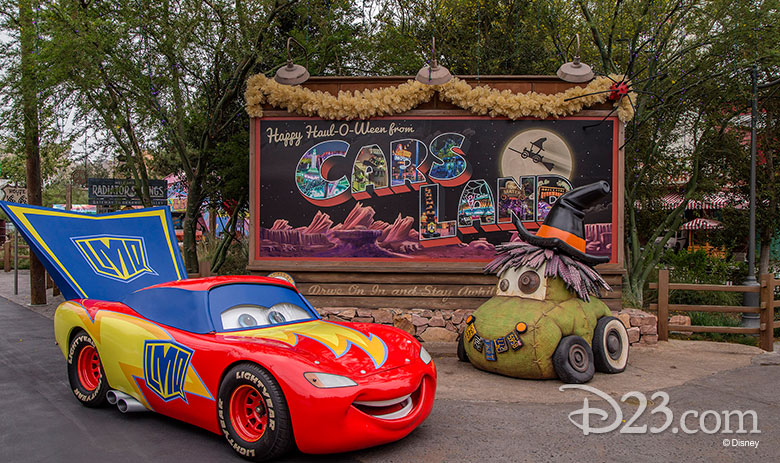 Scary the Scare-car, Car-stumes, Spiders, Oh My!
The residents of Radiators Screams know how to celebrate Halloween in style—with car-stumes! Meet Mater as a count "van-pire," Lightning McQueen as a superhero, Cruz Ramirez as a pirate, and the Fire Truck dressed as a clown.
But that's not everyone because for Haul-O-Ween, you can meet Scary the Scare-car greeting everyone who dares to enter Radiator Screams. If you travel onto Luigi's Honkin' Haul-O-Ween, you can find out more about how Scary came to be.
And last but not least, watch out for the creepy, crawly cruiser! The spooky eight-legged spider-car was repurposed from a "Toadmobile" (Mr. Toad's Wild Ride) and can now be found in front of Flo's V8 Café.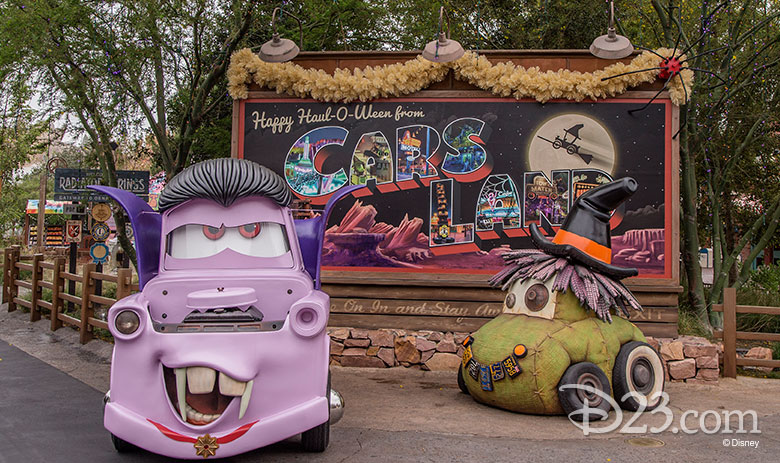 Spoke-y Ghost Stories
What's Halloween without some ghostly tales? Different spots around Radiator Screams have their own lore that add to the scary good fun of Cars Land. In front of Lizzie's Radiator Springs Curios, visitors can find an out-of-service car with an undead battery who refuses to rust in peace, but contrary to popular belief, this stubborn car is not the remains of her beloved Stanley.
Over by Luigi's Honkin' Haul-O-Ween, you may spot Radiator Springs' famous Horn-O-Plenty, which was found on one fateful Haul-O-Ween night in 1936. Since then, the mysterious artifact is displayed every Haul-O-Ween decorated with seasonal gifts from the residents of Radiator Screams.
And speaking of curious tales, remember Scary the Scare-car? Luigi and Guido will tell you all about the town's beloved Scare-car with their "Terror-antella" over by Luigi's Honkin' Haul-O-Ween.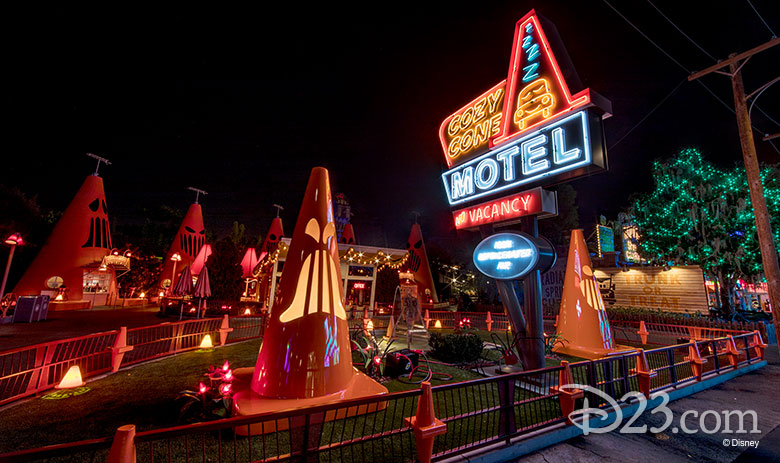 Boo-tiful Décor
In Cars Land, everywhere you turn, there is something to look at! There's Sarge's Pump-kin Patch where he's growing gas cans on a vine, which he plans to give to Fillmore as a gift to make organic fuel; and Fillmore's Yard Art next door, where you can spot his most prominent piece: a spinning mobile of "jack-oil-lanterns!"
If you fly over to Cadillac Range, you can spot Witchy Miss Lizzie flying above her shop, which specializes in special Haul-O-Ween Boo-veniers. Walking a little farther past Cadillac Range will get you to the old courthouse, where a mad scientist has hooked up jumper cables, giving the old building a life of its own. You may be able to see the building's eyes move in the window—if you dare!
Lastly, Cozy Cone Hotel is host to fine eateries, but if you look in the lobby at the center of the cones, you'll see Sally's seasonal miniature model of the Cozy Cone Hotel made of candy.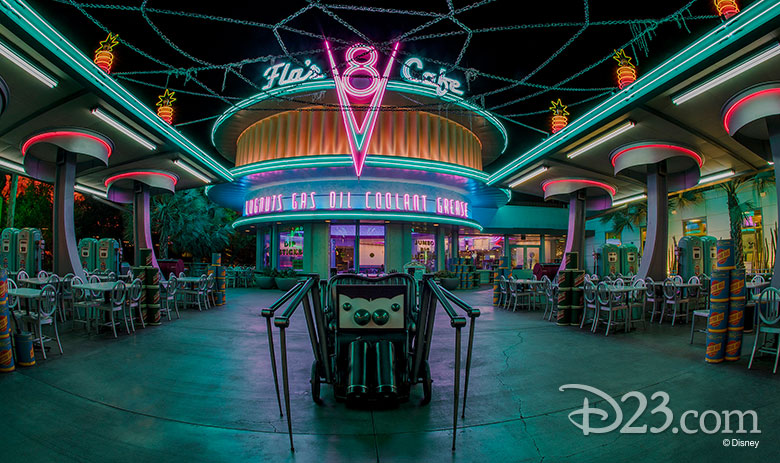 The Sounds of Haul-O-Ween
All throughout Cars Land, there is a spooky attention to detail from the sights to, yes, the sounds! Listen for the trunk-or-treating Halloween-inspired tunes playing across Radiator Screams, and in Mater's Junkyard JamBOOree, you can hear Haul-O-Ween themed takes on popular songs like the Monster Mash (Monster Truck Smash) and Purple People Eater (Purple Fender Bender).
And if you listen closely, the supernatural spirits of Cars Land create a commotion each evening as Sha-BOO! Sheriff's voice tries to return the town to order while also welcoming visitors to Radiator Screams.