By Jocelyn Buhlman
When the Halloween season is nigh and creepy sights are around every corner at Disneyland Resort, you can't help but feel inspired to snap a spooky shot or two to commemorate your trip. Whether you're showing off your Halloween-inspired outfit or hoping a grim, grinning ghost materializes in your final shot, we've rounded up some of the best places to capture that perfect picture
Disneyland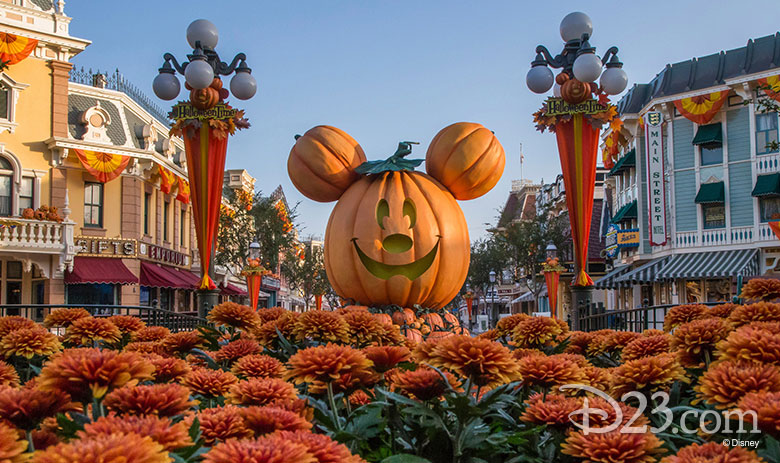 Main Street Mickey Pumpkin
Nothing fills us with Halloween cheer more than this giant, gord-geous depiction of Mickey's face, the icon of Disneyland's Halloween celebration. No spooky soirée at the park is complete without posing in front of the Mickey Pumpkin.
Partners Statue and Pumpkins
Already an iconic Disneyland photo location, the Partner's Statue gets extra festive during the Halloween season with cheerful Jack-o-lanterns representing each land at the park. Pose in front of your favorite carving, or take a pic with Walt, Mickey, and the full pumpkin assemblage for a classic fall photo.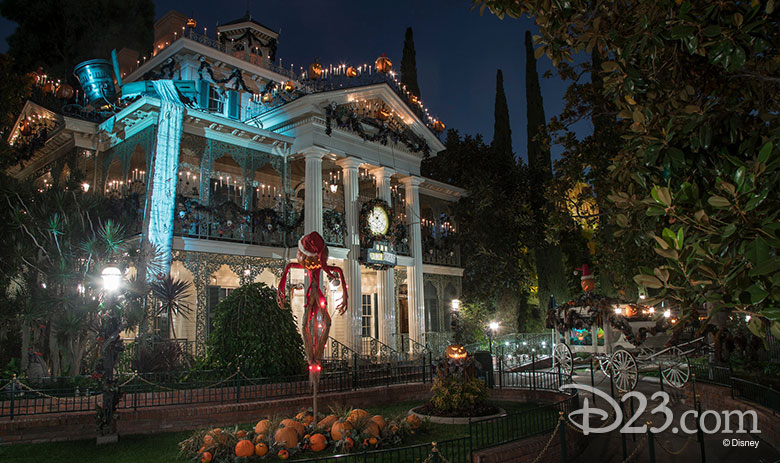 Haunted Mansion Holiday
When two holidays collide, it's the perfect time to take a photo perfect for your Halloween décor—and a future Christmas card? Jack has decorated the mansion in his best attempt at holiday decor, but when Halloween creates Christmas, you never know what's in store
When you see it… pic.twitter.com/kITLv854lJ

— Disneyland Today (@DisneylandToday) September 13, 2019
Pumpkin Display in front of Pioneer Mercantile
Tucked away in Frontierland, this celebration of the fall season features pumpkins, a scarecrow, and a couple of festive surprises. Strike a pose and channel that fall festive energy you've been craving all season long.
Downtown Disney and Disneyland Resort Hotels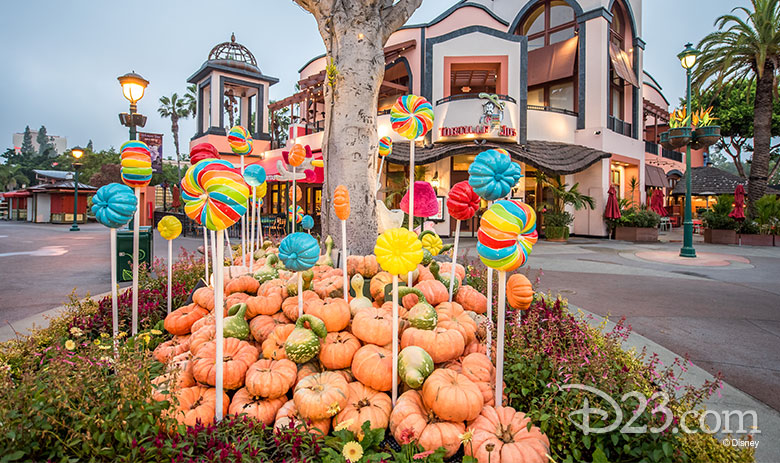 Pumpkin Displays
The world is a carousel of color—colorful pumpkins, that is! When you're visiting the Downton Disney District, make sure to stop and take a picture with your favorite color configuration of pumpkins. From autumn hues to bright-colored rainbows, these pumpkins are the perfect backdrop for any mood you're in.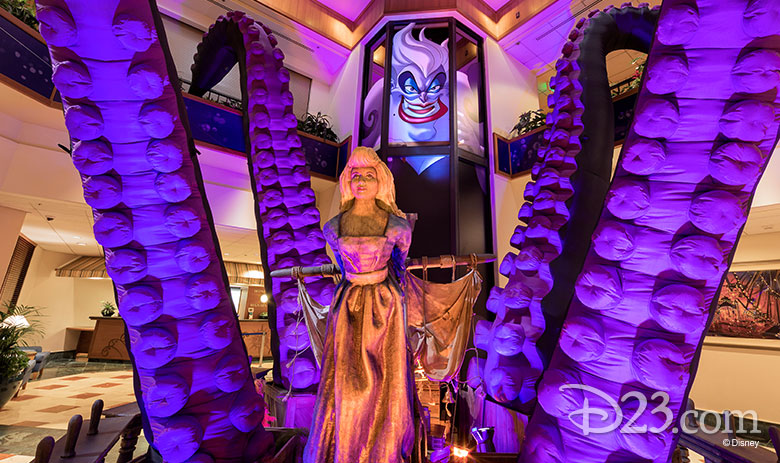 Ursula Lobby installation at Disney's Paradise Pier Hotel
As one of the many ghostly good Halloween decorations enchanting Disneyland Resort's Hotels, this Ursula display in the lobby of Disney's Paradise Pier Hotel is ideal for all the poor, unfortunate souls looking for the perfect picture.
Oogie Boogie at Disney's Grand Californian Hotel and Spa
Well, well, well. What have we here? The Oogie Boogie man makes the perfect backdrop for those of us who are more "Nightmare" than "Before Christmas." Decorated with bugs, snakes, and creepy cute jack-o-lanterns, you're sure to snap a spooky shot in front of this display.
Disney California Adventure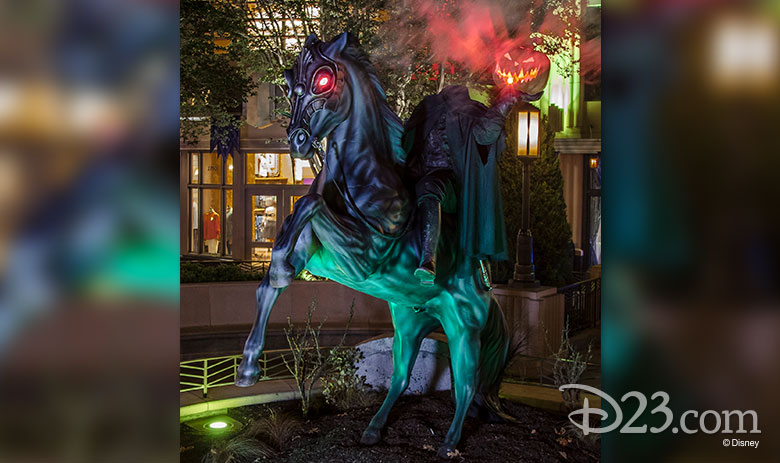 The Headless Horseman
If you're trying to find the best spot at Disney California Adventure to take a photo, don't lose your head! The Headless Horseman statue by the Carthay Circle Restaurant is your place to be headed for a spooky photo shoot.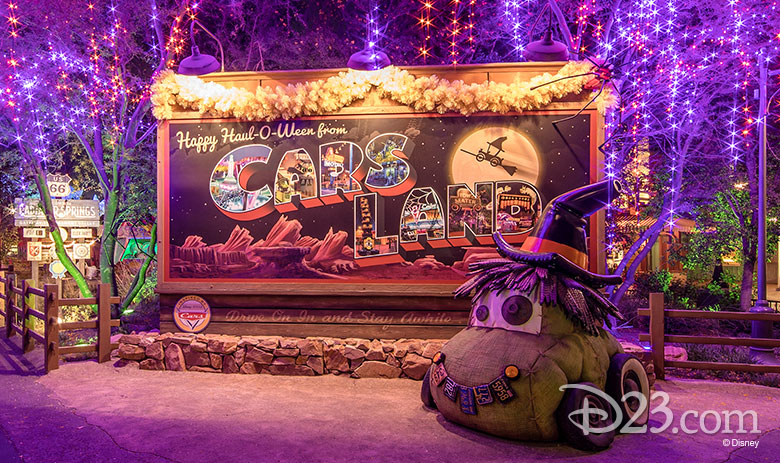 Cars Land Sign
Over at Radiator Springs, everyone's got their car-stumes on and their haul-o-ween decorations up! The "Cars Land" sign is already a must-do photo spot, but with its extra spoke-y decorations, it's perfect to commemorate your Halloween visit to Disney California Adventure.
He vants to vite your radiator! Ahhh!!! Visit Tow Mater in Radiator Screams and show him that you're not afraid of a tow truck dressed up like a vampire! pic.twitter.com/2twtjgA06E

— Disneyland Today (@DisneylandToday) September 15, 2019
Trunk or Treat Sign
If you're looking to mix things up a little bit when commemorating your time in Radiator Springs, we recommend stopping by this cute sign next to the Cozy Cone Motel. There's no tricks here—just spooky good fun!
?Trick or treat, be so sweet, give us something bear-y sweet to eat! ?? Park Hours: Disneyland 8am–12am & Disney California Adventure 8am–10pm pic.twitter.com/50nk4AaWq1

— Disneyland Today (@DisneylandToday) October 5, 2019
Grizzly River Run Bear
Now here's a photo location that's un-bear-ably cute! If you're ready for trick or treating, stop by Grizzly River Run and say, "Hi!"