By Jocelyn Buhlman
Halloween time is when the goblins and ghoulies come out from their hiding places to cause frightful fun around Disneyland Resort—but some days we'd rather kick back, relax, and stay out our hotels. Do ghosts ever lounge by the pool? Do creepy creeps eat crepes at brunch? What is there to do when you love spooky sights but also love relaxing at your hotel?
Never fear—there's plenty of Halloween treats to be found at the Disneyland Hotel, Disney's Grand Californian Hotel & Spa, and Disney's Paradise Pier Hotel.
Disney's Grand Californian Hotel & Spa
Oogie Boogie's New Lair
Everyone's favorite boogieman has taken center stage in the lobby of Disney's Grand Californian Hotel & Spa in his sweetest form yet: a ghoulishly good confectionary delight! Featuring a 4-foot-tall cauldron, this rendition of Oogie Boogie took a lot of spirit to create. Here's some more scary good numbers about the display:
260 pounds of powdered sugar
380 eggs
220 pounds of rice cereal
95 pounds of marshmallow
80 pounds of butter
120 pounds of dark chocolate
80 pounds of white chocolate
480 pounds of fondant
370 hours of planning and hands-on work
13 hidden Mickeys!
To learn more sugary secrets, meet a pastry chef from 3 to 3:30 p.m. on Wednesdays and Saturdays now through October 2019.
Eerie A Cappella
The Skeletones singers perform in front of Oogie Boogie at Disney's Grand Californian Hotel & Spa on select evenings in October. Be mesmerized by their harmonizing tunes!
Disney's Paradise Pier Hotel
Beware the Sea Witch!
If you're looking for someone to cast wicked spells, just find Ursula and her "poor unfortunate souls" at Disney's Paradise Pier Hotel—you can see her tentacles enveloping the lobby in a deviously good display of her villainous powers. Just be careful about any contracts you sign with her!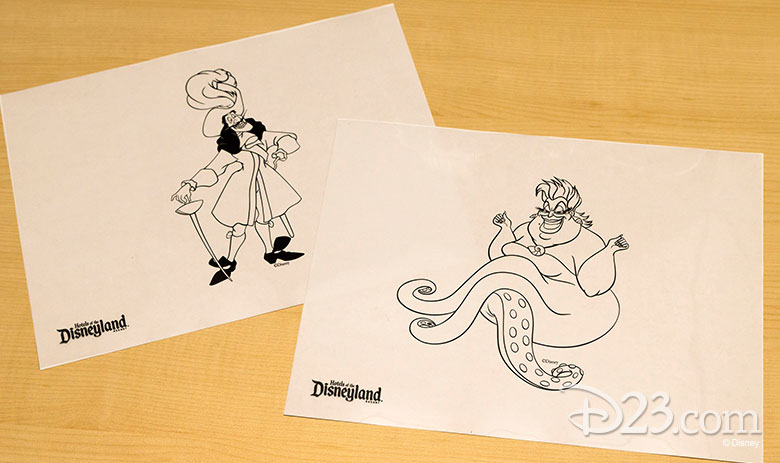 Create Your Own Villainously Good Art
During select days this Halloween season, you can paint Ursula or Captain Hook and learn about the history of the Disney hand-drawn animation cel process at Disney's Paradise Pier Hotel. This complimentary, one-hour class is for guests of the Hotels of the Disneyland Resort and is recommended for ages 6 and older. Supplies are provided; space is limited and registration is required.
All Disneyland Resort Hotels
A Ghoulishly Good Room Makeover
Surprise your loved one with Disney Halloween-themed goodies delivered right to your Disneyland Resort hotel room. The magic makers from Disney Floral & Gifts can either deliver a Halloween treats pumpkin bucket, candies, and plush to your room, or more fully decorate with a Disney Halloween In-Room Celebration including a door sash, blanket, a Mickey Mouse collapsible bucket, plush, luminaries, glow necklaces, and more. Some of these items are available only through Disney Floral & Gifts. For more details and prices, please call (714) 781-4438 or visit www.DisneyFloralAndGifts.com.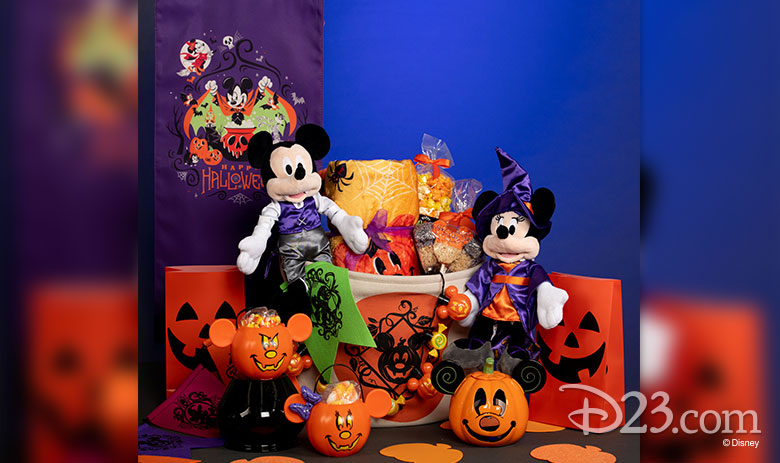 Trick-or-Treating for Hotel Guests
On select afternoons in October, overnight guests of the Hotels of the Disneyland Resort are invited to enjoy exclusive, complimentary trick-or-treat festivities. Disney's Grand Californian Hotel & Spa, the Disneyland Hotel, and Disney's Paradise Pier Hotel will have a treat map of locations, so little ghosts and goblins (and their parents) can visit all three hotels. Hotel guests are encouraged to sign up at the Guest Services desk upon check-in.