By Zach Johnson
Let's creep it real, guys and ghouls: There's no better way to get into the Halloween spirit than by embracing the magic of Disney. This year, the delightful, frightful fun will begin two months before All Hallow's Eve when the fan-favorite Mickey's Not-So-Scary Halloween Party returns to Magic Kingdom Park at Walt Disney World Resort on August 16. Read on to find out which other tricks and treats guests can experience from ghost to ghost—er, coast to coast—and around the world at Disney Parks and Resorts.
Disneyland Resort
From September 6 through October 31, Halloween magic will enchant guests in both parks. Get spirited away at Disneyland, where Main Street, U.S.A., will feature themed décor, including a giant Mickey Mouse jack-o'-lantern and Pumpkin Festival perfect for taking selfies. Inspired by the animated classic Tim Burton's The Nightmare Before Christmas, Haunted Mansion—celebrating its 50th anniversary—will transform into its annual holiday theme: Haunted Mansion Holiday. And, for the first time in nearly a decade, every guest visiting Disneyland will get to enjoy a version of the supernatural projection and special effects show Halloween Screams. Hosted by Jack Skellington, this nighttime spectacular will add to the spooky fun of the season. On select nights, Halloween Screams will also go sky high with the addition of show-stopping fireworks.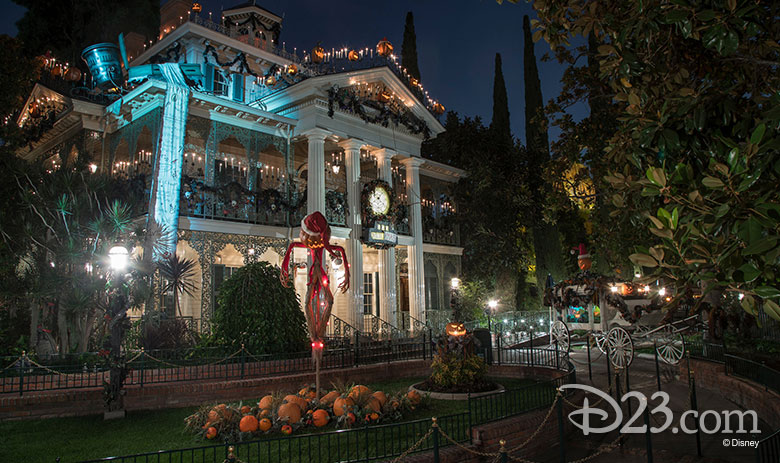 Over at Disney California Adventure park, Oogie Boogie's oversized silhouette will summon guests through the main entrance. Bats will swarm the façade of Carthay Circle, as projections transform the tower structure with spellbinding moments. Guests will also find a 10-foot-tall statue of the Headless Horseman, from The Adventures of Ichabod and Mr. Toad, holding his jack-o'-lantern head up high on Buena Vista Street.
The citizens of Cars Land will turn Radiator Springs into Radiator Screams. The entire land will be transformed with a Haul-O-Ween makeover as the townsfolk of Radiator Springs don costumes and decorate their respective homes for the season. Guests will encounter Lightning McQueen, Mater, Cruz, and Red in "car-stume" as they get ready to go "trunk-or-treating." Popular Cars Land attractions transform as well: Mater's Junkyard Jamboree will get spooky as Mater's Graveyard JamBOOree, while Luigi's Rollickin' Roadsters will get a seasonal twist to become Luigi's Honkin' Haul-O-Ween.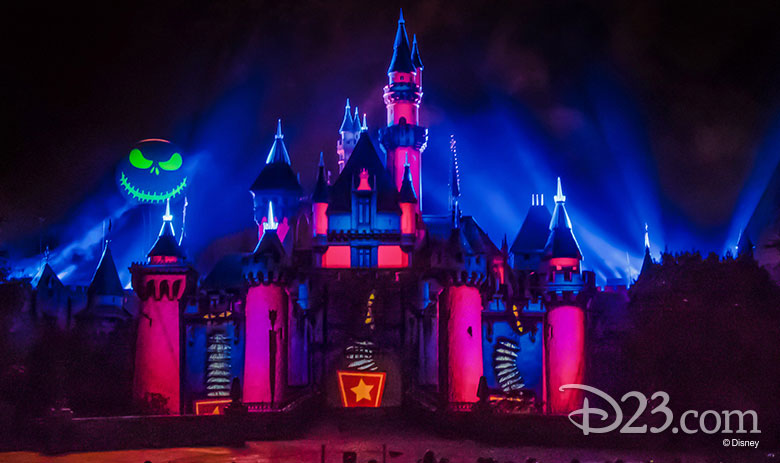 Marvel fans will begin a daring adventure when Guardians of the Galaxy – Mission: BREAKOUT! transforms nightly into Guardians of the Galaxy – Monsters After Dark. As the sun sets, the attraction's exterior will go dark, only to suddenly power back up with lighting effects. Although the Guardians have successfully escaped The Collector's Fortress, the team accidentally left Groot behind—and in the sensational seasonal overlay, guests will help Rocket distract the escaped creatures so he can rescue Groot.
The new Oogie Boogie Bash – A Disney Halloween Party, replacing Mickey's Halloween Party, will start September 17 and run for 20 select nights at Disney California Adventure. Oogie Boogie will cast his spell and summon the Disney villains to scare up some thrilling surprises. The entire park will add party flair, from special music and décor to character encounters, treat trails and fresh live entertainment experiences.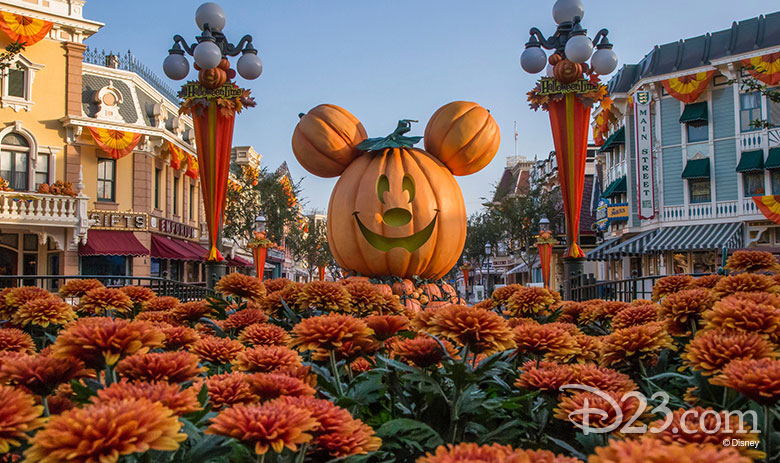 Oogie Boogie Bash is a separate-ticket event featuring Villainous!, a new World of Color show starring Shelley Marie, an original character who has a decision to make about her Halloween costume. Can she really be as strong and unique as some of her favorite Disney characters? Shelley Marie is determined to find out, and this twisted tale will carry her on an unforgettable journey as she explores the villainous side of Disney characters in a show containing fountains, lights, lasers, projections, and special effects.
Head to the Backlot area of Hollywood Land for the pulsing new "DescenDANCE Party," inspired by Disney Channel's popular Descendants franchise. A spell will be cast, calling the greatest dance crew from the Isle of the Lost to throw down and lead everyone in moves that are set to the biggest hit songs from all three Descendants movies. Videos of the original "Villain Kids" may even materialize through magic mirrors!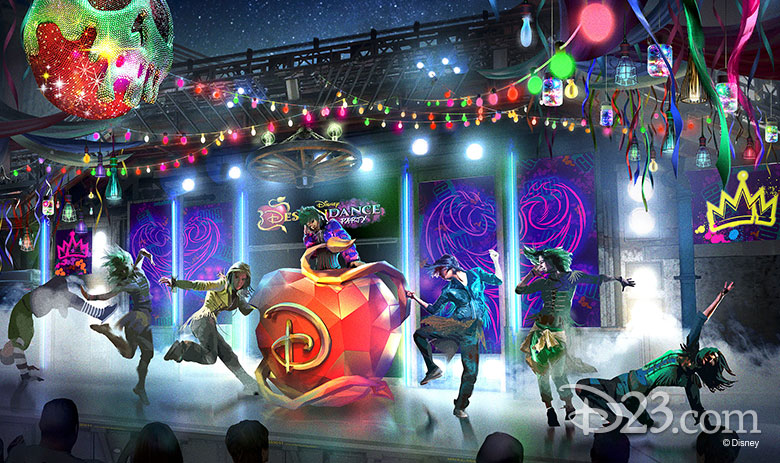 Additionally, Redwood Creek Challenge Trail will transform into a wondrous and ethereal world of Disney villains unlike anything seen before. This new experience will unfold in a series of scenes—each creating a hauntingly beautiful dream-space of color, sound, light, and shadow—as stories emerge from the darkest night to create an enchanting world. Throughout Disney California Adventure, Guests can trick-or-treat under the watchful eyes of characters such as the Mad Hatter or Oogie Boogie himself.
Walt Disney World Resort
Mickey's Not-So-Scary Halloween Party will introduce "Disney's Not-So-Spooky Spectacular," a new evening extravaganza presented on select nights from August 16 through November 1, featuring state-of-the-art projection effects, lasers, lighting and dazzling fireworks. Jack Skellington will host this spooky affair, telling a not-so-scary story about how anything can happen on Halloween night. Jack's ghost dog, Zero, will fly off carrying everyone along on a trick-or-treating adventure, where Mickey Mouse, Minnie Mouse, Donald Duck and Goofy will find themselves drawn into a mysterious haunted house. Their journey will take them from one room of the house to another, where they'll encounter dancing skeletons, waltzing ghosts—and even Disney villains!
Mickey's Not-So-Scary Halloween Party is an after-hours special event, with ticket prices starting at $79. Held for a record 36 select nights from August 16 through November 1, Mickey's Not-So-Scary Halloween Party is a specially ticketed celebration that captures the spirit of the season through spooky décor, lighting, and music, along with returning favorites such as Mickey's Boo to You Parade, the Hocus Pocus Villains Spelltacular castle stage show, and trick-or-treating throughout the park. Also returning for this year's party will be special attraction experiences for Mad Tea Party, Pirates of the Caribbean, and Space Mountain. New this year, when guests follow the treat trail into the Monster World at Monsters Inc. Laugh Floor, they will interact in unique ways with the comic cast of monsters as they learn about the Human World holiday we call "Halloween." To get into the spirit, guests of all ages are encouraged to wear costumes for Mickey's Not-So-Scary Halloween Party. (Review the costume policy for guidelines.)
Dates for Mickey's Not-So-Scary Halloween Party are as follows:
August: 16, 20, 23, 27 and 30
September: 2, 6, 8, 10, 13, 15, 17, 20, 22, 24, 27 and 29
October: 1, 3, 4, 6, 8, 10, 11, 14, 15, 17, 18, 20, 21, 24, 25, 27, 29 and 31
November: 1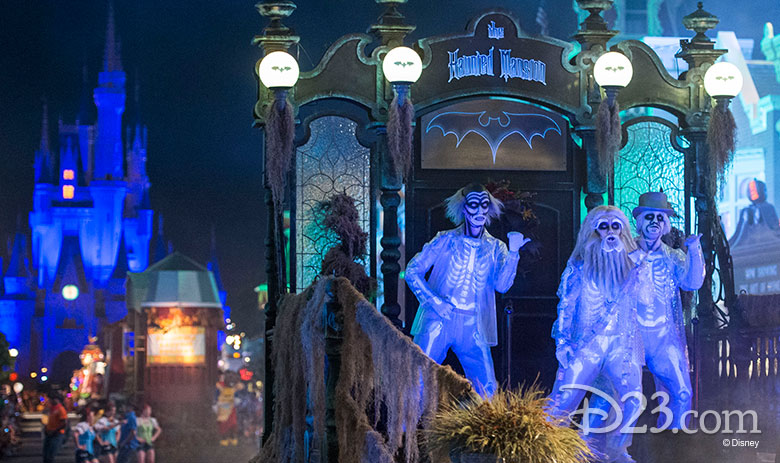 On select nights beginning at 9:30 p.m., join one of the most glamorous Disney villains—Cruella De Vil—for a fur-raising good time at a sinister soiree at Tony's Town Square Restaurant ($99 plus tax). Cruella's Halloween Hide-Away will allow Guests to pop in and out at their leisure and indulge in savory hors d'oeuvres with a taste from the Witches Cauldron: a kettle of gooey and creamy spinach dip with ciabatta crostini, assorted flatbreads, and more! Sweet treats will include chocolate-dipped strawberries, cheesecake and mini cannoli, Kanine Krunchy cake, and Mini De Vil brownies, complemented by a variety of beverages including beer and wine selections, and more!
Guests will also have access to a special reserved viewing area for the truly enchanting Mickey's Boo-To-You Halloween Parade at 11:15 p.m., featuring Cruella's villainous pals. Post-parade, the fun continues at Tony's Town Square Restaurant until 12:30 a.m.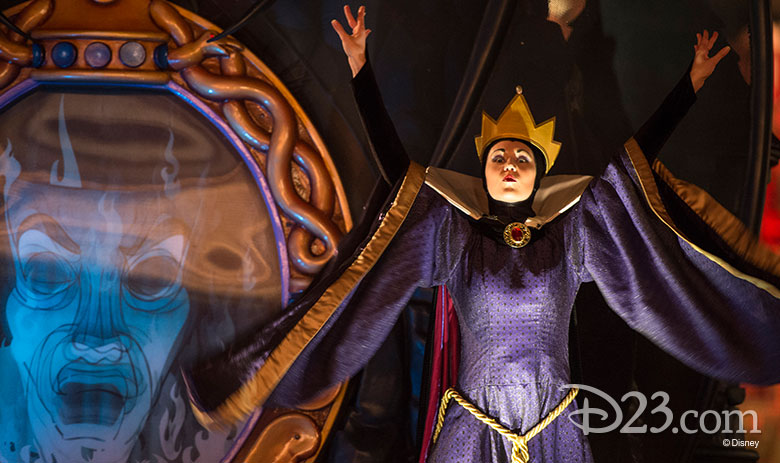 Disneyland Paris
From September 28 to November 3, Disneyland Paris will be deadicated to all things Halloween. Disney Villains always have a few surprises in store, and this year they will be joined in a new show by Ursula, the devilish sea witch from The Little Mermaid. Mickey Mouse and Minnie Mouse will once again be up to their mischievous tricks, taking part in the "Mickey's Halloween Party" cavalcade with Donald Duck; his nephews, Huey, Dewey, and Louie; Daisy Duck; the Three Little Pigs; and more fan-favorites. Guests can see "Mickey's Illusion Manor" again, featuring Mélanie Ravenswood in her wedding dress and the zombies from Phantom Manor. Maleficent will hold court in the Sleeping Beauty Castle Courtyard, inviting the bravest guests for a terrifying meet and greet as her dragon-like thorn wall spans as far as the Sleeping Beauty Castle Theatre.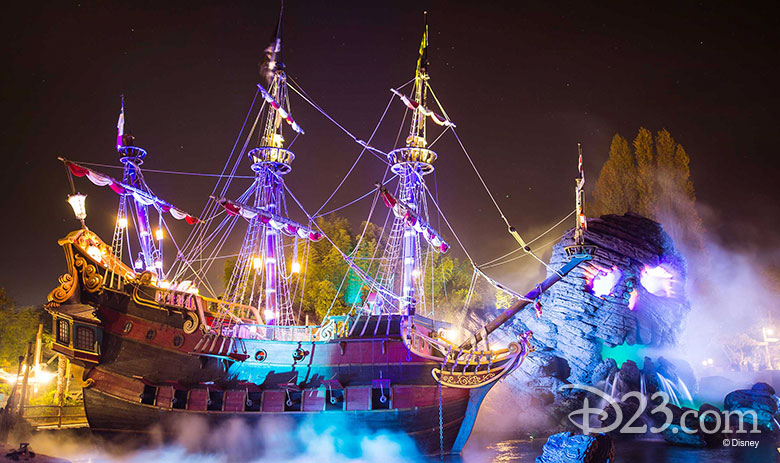 From Main Street, U.S.A., to Sleeping Beauty Castle, pumpkins and ghosts will float around to amuse guests of all ages. And fans of thrills and spills will enjoy the new version of The Twilight Zone Tower of Terror, the top attraction at Walt Disney Studios Park. Past the familiar corridors of the Hollywood Tower Hotel, guests will embark in one of the elevator shafts for a spooky experience with new immersive storylines enhanced by updated sound and visual effects. These intense new stories will "drop" guests into the heart of the story, featuring an iconic character already present in the attraction. Of course, more thrills abound at the legendary Phantom Manor, which has many surprises in store after recently completing its biggest refurbishment since 1992.
Keep an eye out for Disney characters wearing new Halloween costumes, including Stitch, Max, and the Cheshire Cat, and prepare to take some fangtastic photos together.
Tokyo Disney Resort
From September 10 through October 31 at Tokyo Disneyland and Tokyo DisneySea, guests of all ages can get into the Halloween spirit by dressing up with simple Disney character touches or going all the way with full Disney character costumes* on any day during the special event period. (For restrictions, visit the Tokyo Disney Resort website.)
Starting September 9, for a limited time only, the Haunted Mansion will be made over into Haunted Mansion "Holiday Nightmare" to honor The Nightmare Before Christmas.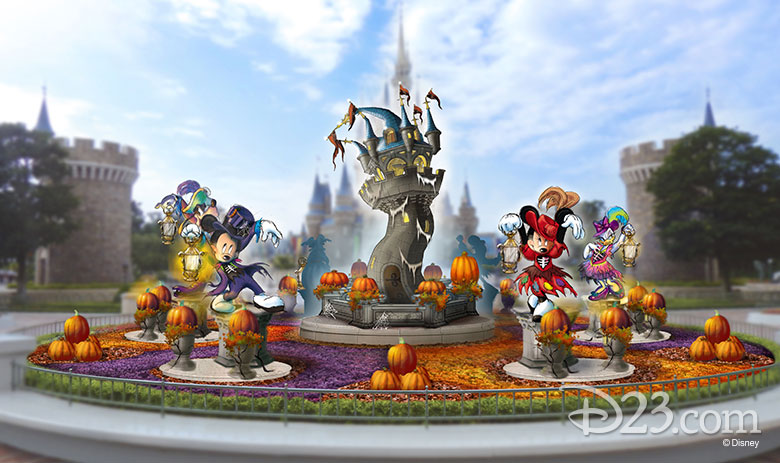 This year, guests are also encouraged to participate in the eeriest celebration of the season. In the new harbor show, Festival of Mystique, an air of strange foreboding falls upon the Halloween celebrations of Porto Paradiso. Mickey, Minnie, Donald, Daisy, Goofy, Pluto, Chip, Dale, and Clarice must come together to stop the "Sea Witches," who have devised a plan to bring the festivities under their control. Together, the pals must prevent the rise of the wicked sea king and release Halloween from the evil spell.
Around 60 different types of merchandise inspired by the show will be available, including a batwing cape, spider-web-pattern lace gloves, and a flameless candle item. About 60 different types of special merchandise will be available just for the Tokyo Disneyland Halloween event, including those with motifs themed to Spooky 'Boo!' Parade such as headbands with a ghostly bridal veil; heart-shaped, light-up pendants; plush badges depicting the bear statue in front of Country Bear Theater; and more!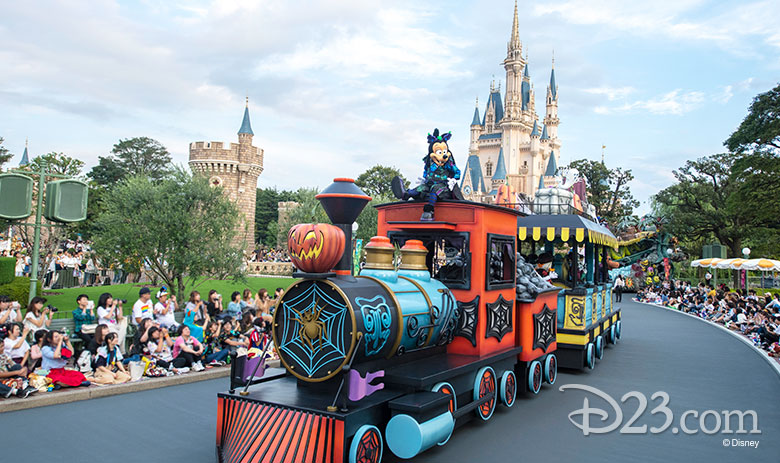 Mickey and Minnie will both appear in new costumes for the Spooky 'Boo!' Parade, featuring floats inspired by various attractions and themed lands with an eerie twist. After dark, World Bazaar will be transformed with Halloween music and visuals. Fireworks will light up the night at both parks, all set to music inspired by the holiday.
A special set menu at Cafe Portofino will offer five different cocktails themed to the event, including one inspired by the "Sea Witches." Throughout both parks, guests can taste themed menu items, including churros (maple-pumpkin) and tipo torta (purple sweet potato). At Plaza Pavilion Restaurant, guests can try a meat patty topped with cheese featuring a Jack Skellington motif. And for the first time, a caramel popcorn-flavored beverage (which comes with a doughnut) will be available. Restaurants and lounges at three Disney Hotels will offer special menu items throughout the celebration.