By Courtney Potter
Get ready to meet one of the most infamous bounty hunters in the galaxy, and find out the latest from the world of Disney Junior's Puppy Dog Pals… Read more, along with other news from around Disney, in this week's news briefs!
Brand-New The Mandalorian Trailer: You've Just Got to See This!
It's the moment we've all been waiting for, and it'll be here before you know it—when Disney+ begins streaming its sure-to-be-incredible content in just about two weeks' time. And one piece of said incredible content? The first-ever live-action Star Wars series, The Mandalorian. To wet our proverbial whistle, the good folks at Lucasfilm just released a brand-new trailer for the series, and it's seriously exciting… Check it out, above!
After the stories of Jango and Boba Fett, another warrior emerges in the Star Wars universe… The Mandalorian is set after the fall of the Empire and before the emergence of the First Order. Viewers will follow the travails of a lone gunfighter in the outer reaches of the galaxy far from the authority of the New Republic.
Starring Pedro Pascal, Gina Carano, Carl Weathers, Werner Herzog, Nick Nolte, Emily Swallow, Taika Waititi, Giancarlo Esposito, and Omid Abtahi, The Mandalorian debuts November 12 exclusively on Disney+.
Save the Date!
Be sure to mark these upcoming Disney events on your calendar:
D23 and Walt Disney Archives

November 4, 2019
Frozen 2 Sneak Peek Fan Event in Toronto!
November 14, 2019
D23's Behind-the-Scenes Experiences: A Day at the Studio Lot
November 16, 2019
D23's Magical Screening Series: Up at Walt Disney World
November 18, 2019
Behind the Scenes at Walt Disney Animation Studios
November 23, 2019
D23's Magical Screening Series: Up on the Lot
January 17, 2020
Get VIP Tickets to Disney's Frozen The Hit Broadway Musical
January 31, 2020
Disney's Aladdin the Hit Broadway Musical VIP Tickets
August 9, 2020
Adventures by Disney Rhine River Cruise Presented by D23
Parks
August 16, 20, 23, 27, 30;
September 2, 6, 8, 10, 13, 15, 17, 20, 22, 24, 27, 29; October 1, 3, 4, 6, 8, 10, 11, 14, 15, 17, 18, 20, 21, 24, 25, 27, 29, 31;
November 1, 2019
Mickey's Not-So-Scary Halloween Party at Magic Kingdom park
August 29—November 23, 2019
2019 Epcot International Food & Wine Festival
November 8, 11, 12, 14, 15, 17, 19, 21, 22, 24;
December 1, 3, 5, 6, 8, 10, 12, 13, 15, 17, 19, 20, 22, 2019
Mickey's Very Merry Christmas Party at Magic Kingdom park
November 29—December 30, 2019
2019 Epcot International Festival of the Holidays
December 5, 2019
Star Wars: Rise of the Resistance opens at Disney's Hollywood Studios
January 17, 2020
Star Wars: Rise of the Resistance opens at Disneyland park
January 17—February 9, 2020
Lunar New Year returns to Disney California Adventure park
February 28—April 21, 2020
Disney California Adventure Food & Wine Festival returns to the Disneyland Resort
March 4—June 1, 2020
Epcot International Flower & Garden Festival at Walt Disney World Resort




Studios




November 22, 2019


Frozen 2 opens in U.S. theaters


December 20, 2019


Star Wars: The Rise of Skywalker opens in U.S. theaters


March 6, 2020


Onward opens in U.S. theaters


March 27, 2020


Mulan opens in U.S. theaters


May 29, 2020


Artemis Fowl

opens in U.S. theaters




Television


November 5, 2019
ABC airs The Wonderful Word of Disney Presents The Little Mermaid Live! (8—10 p.m. EST)
November 8, 2019
High School Musical: The Series airs on ABC, Disney Channel, and Freeform (8 p.m. EST)
November 8, 2019
The Rocketeer premieres on Disney Channel (11 a.m. EDT), Disney Junior (5 p.m. EDT), and DisneyNOW
November 16, 2019
Big City Greens Kicks Off Season Two on Disney Channel (9:30 a.m. EST/PST)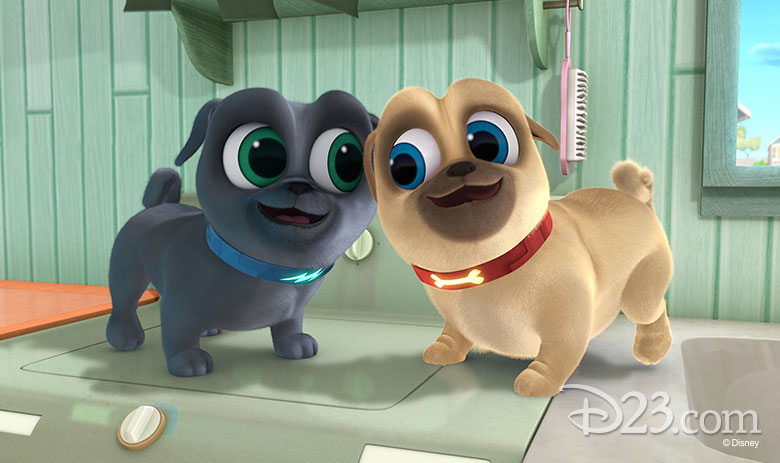 Disney Junior's Puppy Dog Pals Announces Fourth Season
There's nothing quite like the antics of adorable puppies, so we're tickled to learn that Disney Junior has just greenlit a fourth season of their popular animated series Puppy Dog Pals, ahead of its Season 3 debut on Friday, November 8, at 10 a.m. on Disney Channel.
Created by comedian Harland Williams, the series centers on fun-loving pug puppy brothers Bingo and Rolly, whose thrill-seeking appetites take them on adventures in their neighborhood and around the globe. Whether helping their owner Bob, exploring with their pal Keia, or overseeing their own Puppy Playcare center, the pugs' motto is that life is more exciting with your best friend by your side!
Season 3 guest stars include Hootie and the Blowfish's Darius Rucker as musician Ramblin' Rhodes; country music star Jennifer Nettles as Capo, a guitar guru dog; Jaime Camil (Star vs. The Forces of Evil) as Hector, a dancer; comedian Bill Burr as Butch, a quirky dog who lives at a tire shop; sitcom veteran Stephen Tobolowsky as a worried elf; Hawaii Five-0's Chi McBride as Mr. Kimble, the host of the television program Mr. Kimble's Community; and Malcolm-Jamal Warner (The Resident) as Mr. Kimble's dog, Floyd.
Here's Who You'll be Meeting on One Day at Disney…
If you've ever wondered what it's like to be a Disney cast member or employee—from more interesting and exciting departments than we can count—you cannot miss Disney+'s new short-form series One Day at Disney. (Its accompanying book would make a lovely present this holiday season; just sayin'.) Mere hours ago, we here at D23.com were gifted with an exclusive listing of who you'll see on that series and in that book, and you can check out the rundown by clicking here!
Disney's Animal Kingdom Makes Merry This Holiday Season
Spending time at Walt Disney World Resort during the holidays is always memorable, with fan-favorite frolics at every park… and this year, Disney's Animal Kingdom is getting in on the holly-jolly action in a whole new way!
Guests will delight in new entertainment and holiday décor in every land—beginning on Discovery Island, where they'll be surrounded by a celebration of winter. Look for the village to be filled with sparkling white holiday decorations and colorful, animal-inspired luminaries… and throughout the day, the area springs to life with a "Merry Menagerie" of winter animals, accompanied by serenading musicians as they create a playful atmosphere of festive fun.
Want to see just how the team at Disney Parks Live Entertainment brought this amazing collection of adorable critters to life? Take a gander at the new video from our friends at the Disney Parks Blog, above—and look for the "Merry Menagerie" at Disney's Animal Kingdom beginning November 8!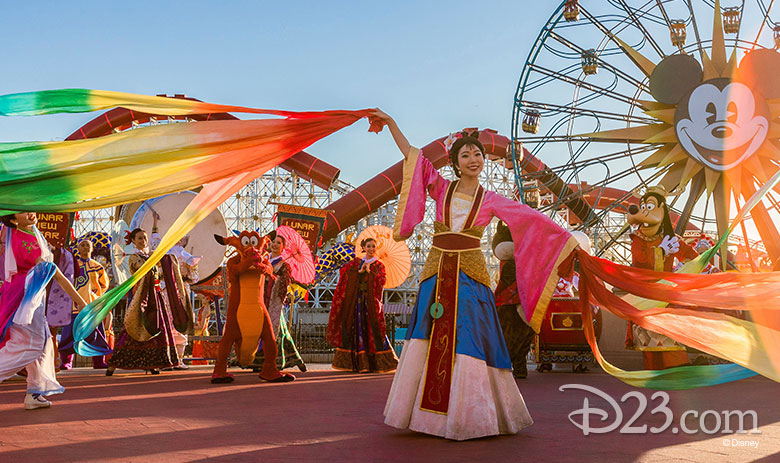 Mark Your 2020 Calendars for Disney California Adventure Fun
Hard to believe, but 2020 is just around the corner—which means that Disney Parks and Resorts around the world are announcing their special events. Break out that new day planner we know you already bought (no shame; we're suckers for a sale, too!), and make sure to mark down these two highly anticipated Disney California Adventure park events…
Welcome another year of good fortune with 24 days of Lunar New Year celebrations, from January 17 to February 9. This year, we're celebrating the Year of the Mouse with memorable multicultural performances; fun-filled activities for the whole family; gorgeous décor around every corner; delicious cuisine; and specialty merchandise. Lunar New Year is a joyous celebration for all ages to commemorate traditions of Chinese, Korean, and Vietnamese cultures, along with favorite Disney characters. One of the event's many highlights is "Mulan's Lunar New Year Procession," hosted by Mulan and her faithful dragon, Mushu.
Later in the spring, look for the Disney California Adventure Food & Wine Festival—from February 28 to April 21. Foodies of all stripes will enjoy the all live entertainment, culinary seminars, and demonstrations (with a distinctly Disney twist) the event has to offer…
The popular culinary festival will feature more than a dozen mouthwatering Festival Marketplaces, featuring small plates, specialty wines, and craft beers; guests looking to try a variety of Marketplace dishes may appreciate the special Sip and Savor Pass. Additionally, a new line of event merchandise will be offered—from festival-themed headwear and apparel, to kitchen gadgets and décor. Kids can even join in on the fun with hands-on "cooking" experiences with Chef Goofy.
We can't wait for all this DCA fun to come!