By Courtney Potter
This Brand-New Avengers: Endgame Trailer is Everything We Needed Today…
You know it's gonna be a good day when you can catch a new glimpse at some of the world's greatest Super Heroes. Yes, we were just gifted with a brand-new trailer for Avengers: Endgame, Marvel Studios' sure-to-be-monumental conclusion to a whopping 22 films.
Directed by Anthony and Joe Russo and produced by Marvel Studios' Kevin Feige, Avengers: Endgame follows the grave course of events set in motion by Thanos—y'know, the one that wiped out half the universe and completely fractured the Avengers' ranks. Naturally, this compels the remaining Avengers to take one final, truly epic stand.
Save the Date!
Be sure to mark these upcoming Disney events on your calendar:
D23 and Walt Disney Archives


March 18, 2018


The Official Walt Disney Studios Tour – Presented by D23


March 20, 2018


D23's Sip and Stroll at Disney California Adventure


March 25, 2018


Be Among the First to see Disney's Dumbo!


April 5, 2018


Lunch with a Disney Legend–Linda Larkin


April 6, 2018


D23's Behind-the-Scenes Experience: The Lion King on Broadway


April 6, 2018


The Official Walt Disney Studios Tour – GOLD FAMILY EXCLUSIVE


April 15, 2018


The Official Walt Disney Studios Tour – Presented by D23


May 4, 2018


D23's Magical Screening Series: The Lion King at Walt Disney World


May 6, 2018


The Official Walt Disney Studios Tour – Presented by D23


May 11, 2018


D23's Magical Screening Series: The Lion King on the Lot


May 16, 2018


D23 Celebrates Mickey Mouse: From Walt to the World


June 1, 2018


D23's Behind-the-Scenes Experience: Return to Walt's Chicago


June 8, 2018


Lunch with a Disney Legend – Paige O'Hara


August 23-25, 2019


D23 Expo 2019
Parks


March 1-April 23, 2019




Disney California Adventure Food & Wine Festival




March 6-June 3, 2019




Epcot International Flower & Garden Festival




Summer 2019


Star Wars: Galaxy's Edge Opening at Disneyland Resort


Fall 2019


Star Wars: Galaxy's Edge Opening at and Walt Disney World Resort



Studios




March 8, 2019


Marvel Studios' Captain Marvel opens in U.S. theaters


March 29, 2019


Dumbo opens in U.S. theaters


April 17, 2019


Penguins opens in U.S. theaters


April 26, 2019


Avengers: Endgame opens in U.S. theaters


May 24, 2019


Aladdin opens in U.S. theaters


June 21, 2019


Toy Story 4 opens in U.S. theaters


July 19, 2019


The Lion King opens in U.S. theaters


August 9, 2019


Artemis Fowl opens in U.S. theaters


Television




March 3, 2019


American Idol kicks off second season on ABC (8–10:01 p.m. EST)

A Whole New Aladdin Trailer—Plus Colorful New Poster
We've got a few more months to wait 'til the live-action retelling of Aladdin—directed by Guy Ritchie—soars, tumbles, and freewheels its way into a movie theater near you. But to tide us over, our wish for a new trailer was just granted. If you haven't had a chance to delight in the music and merriment, check it out, above!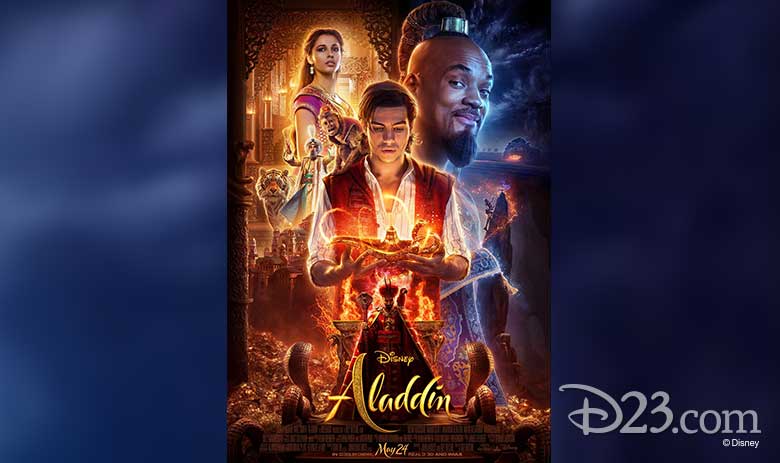 That's not all—the trailer's release was accompanied by this fantastical new poster. Disney's Aladdin is a thrilling, vibrant tale that follows that über-charming street rat of the same name (Mena Massoud); the courageous and self-determined Princess Jasmine (Naomi Scott); and the larger-than-life Genie (Will Smith) who may just be the key to their future… With new recordings of the original Aladdin songs (written by Howard Ashman, Alan Menken, and Tim Rice)—plus several new songs penned by Menken and Oscar®-winning songwriting duo Benj Pasek and Justin Paul (La La Land, Dear Evan Hansen)—Aladdin opens in theaters around the world on May 24.
Go Behind the Scenes of Dumbo's Dreamland in New Clip
Speaking of "Disney films we're ridiculously excited to see": Dumbo, brought to life by Tim Burton (the mastermind behind The Nightmare Before Christmas, among many other terrifically unique films), soars into theaters at the end of the month. Go behind the scenes of this adventurous live-action retelling of Disney's 1941 animated classic in the new clip, above. Plus, if you're visiting Disneyland park, Disney's Hollywood Studios, or even taking a trip aboard a Disney Cruise Line ship in the next few weeks, you'll get to see an exclusive sneak peek of the film…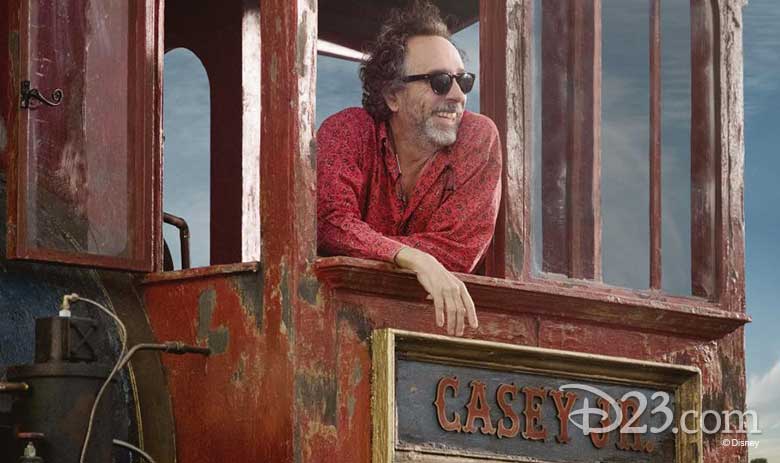 And in case you're wondering whether the director himself is excited for fans to finally see the film, wonder no more: Burton showed up at Disneyland park last weekend to surprise and delight guests both at the park's Dumbo sneak peek (located inside the Main Street Opera House) and at the Dumbo the Flying Elephant attraction in Fantasyland!
Look for Disney's Dumbo, starring Colin Farrell, Danny DeVito, Michael Keaton, and Eva Green, beginning March 29.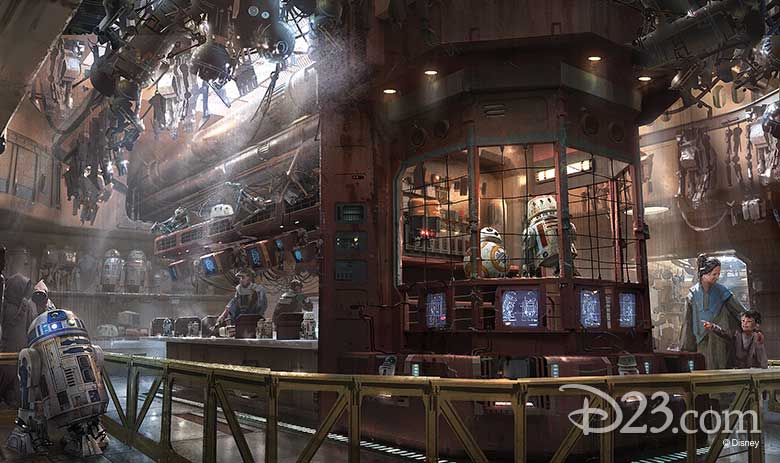 Special Star Wars: Galaxy's Edge Sneak at Star Wars Celebration Chicago
Great news for Star Wars fans either local to the Windy City or willing to make a (road/train/plane) trip—if you attend the huge Star Wars Celebration Chicago event on Saturday, April 13, you'll be privy to a very special panel… all about what's to come at Star Wars: Galaxy's Edge at both Disneyland and Walt Disney World Resorts.
Walt Disney Imagineering and Lucasfilm will join forces to present "Bringing Star Wars: Galaxy's Edge to Life at Disney Parks," a panel featuring revealing discussions about the immersive land, and how guests can live their very own Star Wars story. And do take heed: There might just be a couple of fun surprises during the panel!
The ultimate fan experience focused on "a galaxy far, far away," Star Wars Celebration Chicago will take place from April 11–15—and will give fans from all over the world the chance to gather together to enjoy big announcements, immersive exhibits, exclusive merchandise, autograph sessions, and so much more. For more information, visit StarWarsCelebration.com.
See the Disney California Adventure Food & Wine Festival in Action!
Warning: Don't watch this video if you're hungry in the slightest… because you will immediately feel the need to head down to Disneyland Resort for the Disney California Adventure Food & Wine Festival, tickling the taste buds of guests now through April 23! See some of the delectable delights available in the clip, above.
DCA's Food & Wine Festival allows foodies of all ages to explore California-inspired cuisine and beverages, as well as enjoy live entertainment, family-friendly seminars, and cooking demonstrations. Kids can even join the fun with hands-on "cooking" experiences that end with a yummy surprise! And for those of you looking to really dig in, the Sip and Savor Pass is now available to all guests—entitling holders to eight select food and non-alcoholic drink items from any participating Festival Marketplaces, Paradise Garden Grill, and other select Festival Food & Beverage Carts. Click here for more information… now, if you'll excuse us, we need to go grab a lil' snack.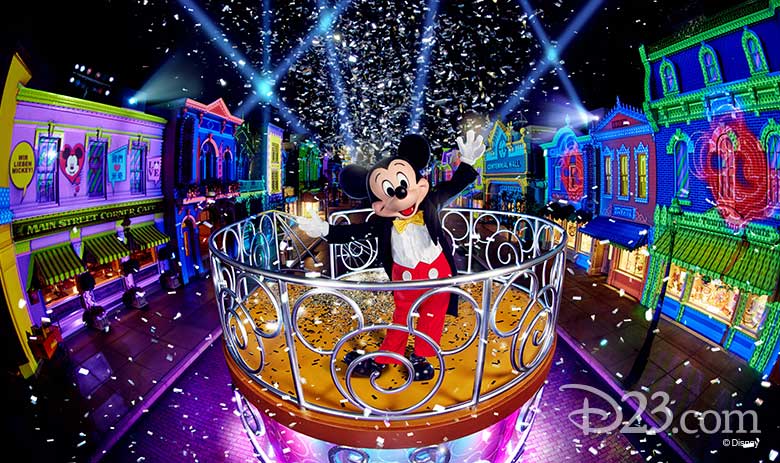 Hong Kong Disneyland Springs into Spring with Carnivale of Stars
Looking to put a little spring in your step? So is Hong Kong Disneyland! For a limited time, guests can enjoy the fabulous spring-themed offerings and vibrant decorations of the park's Carnivale of Stars—for a limited time, now through June 26.
What can guests expect? Well, the all-new Disney Stars Springtime Celebration at the Castle Hub Stage invites guests to welcome spring with favorite Disney characters in adorable seasonal outfits, while the center of the park and Fantasy Gardens feature beautiful landscapes re-creating scenes from Disney animated hits including Moana, The Lion King, Bambi, and more. Plus, the popular Disney Character Egg Hunt is back this year with more than 100 charming Disney character-themed eggs scattered across the entire resort—including new eggs featuring Bo Peep and Slinky Dog from Toy Story; Violet, Dash, and Jack-Jack from The Incredibles; Ralph and Vanellope from Ralph Breaks the Internet; and Marvel's own The Wasp and Captain Marvel. Look out for more than 50 delicious spring-themed eats and treats, and a slew of exclusive seasonal merchandise items… and lest we forget—the highly anticipated new attraction, Ant-Man and The Wasp: Nano Battle!, opens in just a few weeks' time!
In addition, guests staying at Hong Kong Disneyland Resort's three hotels will also discover a cool, large-scale, outdoor Easter "Magicarnival" from April 19 to 28. Stay tuned for more info to spring forth from Hong Kong Disneyland in the coming weeks.