Go behind-the-scenes with D23 the following day during an exclusive event celebrating The Lion King on Broadway! Learn more here.
OVERVIEW
Sit down for an intimate lunch with Disney Legend Linda Larkin inside Broadway's spectacular New Amsterdam Theatre!
DETAILS
Available to Gold and Gold Family Members.
You will be required to show a photo ID. Members will be required to show their D23 Membership Card.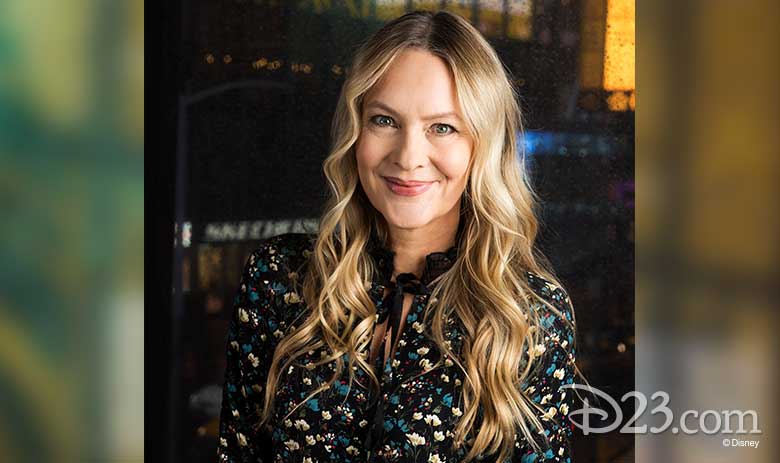 Linda Larkin grew up with Disney princesses—Cinderella and Princess Aurora were childhood favorites—and she had a sense of fate when she went to audition for the animated feature Aladdin.
Linda's childhood was steeped in the performing arts, and while visiting a friend in Los Angeles in 1989, she was cast in her first film and followed that role with appearances on popular television programs such as Doogie Howser, M.D. and Murder, She Wrote. She continued refining her craft in both Los Angeles and New York, as well as in regional stage roles around the country, before being cast as the speaking voice of the fiery Princess Jasmine in Aladdin.
She continued acting in TV series such as Wings and Law & Order: Criminal Intent, and feature films such as Our Son, the Matchmaker, Basquiat, Childhood's End, Runaway Bride, The Next Best Thing, Joshua, and You Belong to Me.
Over the years, she has often returned to the role of Jasmine in the sequels The Return of Jafar and Aladdin and the King of Thieves; the 1994-1996 Aladdin TV series; and in games, including Kingdom Hearts and Kingdom Hearts II. Linda most recently reprised the role of Jasmine in the blockbuster animated film Ralph Breaks the Internet.
On Friday, April 5, D23 Gold and Gold Family Members will be treated to an intimate, three-course luncheon with Linda inside the historic New Amsterdam Theatre. During this exclusive event, guests will spend time with Linda, and discover what it is like to have voiced an iconic Disney character for generations of fans.
This one-of-a-kind experience will also include an exclusive gift created just for you!
Experience begins at 12 p.m. ET and will last approximately an hour and a half.
Check-in details will be communicated in future confirmation emails.
NOTES
D23 Gold and Gold Family Members may reserve a ticket for themselves and one (1) guest.
There is a very limited number of tickets available. D23 Members will be required to provide their membership number when reserving tickets. D23 Members who do not bring their membership card and tickets may not be admitted to the event.
Ticketed Members who do not attend the event forfeit their place as well as all experiences, benefits, and gifts associated with the event. D23 Members must be present or guests will not gain admittance to event.
All D23 Events are subject to change without notice. There are strictly no cancellations or refunds, and tickets are not transferable.
PLEASE BE ADVISED: Filming, photography, and other recording will take place at the New Amsterdam Theatre during the event you will be attending. The Walt Disney Company will be taking photos and filming at the New Amsterdam Theatre located at 214 W 42nd St, New York, NY 10036. By entering the premises, you irrevocably consent to and authorize The Walt Disney Company, its affiliates, successors, and assigns (collectively "Producer"), to photograph you, make sound recordings of you, and use such photographs and recordings throughout the world, for any purpose whatsoever in perpetuity, including, but not limited to, television broadcasts and home entertainment products, including, but not limited to, home video and DVD. All such photographs and sound recordings will be the sole property of Producer.