By Jim Fanning
Muppets ahoy! On February 16, 1996, X marked the spot for pirate zaniness as Muppet Treasure Island sailed into theaters. Treasure and treachery abound in this insanely amusing adaptation of Robert Louis Stevenson's classic tale. Brave Jim Hawkins tangles with legendary pirate Long John Silver as they and some motley Muppet pirates follow a mysterious map to a buried fortune in pirate booty. On hand are seaworthy Muppet superstars Kermit the Frog as Captain Smollett, Fozzie Bear as Squire Trelawney, and—marooned on the fabled island of treasure by (in Piggy's words), the "totally co-dependent" Captain Flint—Miss Piggy as Benjamina Gunn, fabulous queen of the wild boars.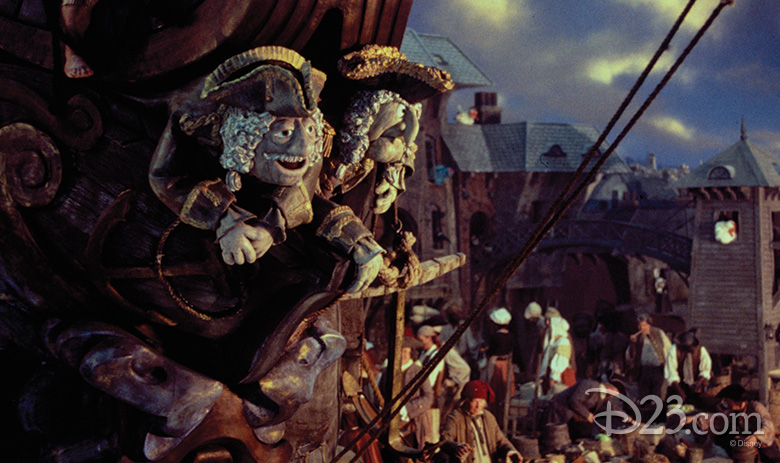 Casting The Muppets in a Classic Adventure Tale
For the Muppets' fifth movie, the filmmakers wanted another classic story to follow the 1992 hit, The Muppet Christmas Carol. "Christmas Carol was a genre classic tale," director Brian Henson (son of the Muppets creator and Disney Legend Jim Henson) explained, "but we wanted this one to be a lot funnier, more absurd and with a lot more action. Treasure Island is where we ended up, but it's not a very faithful adaptation. We really twisted the story in order to make it funnier. There is a lot of action and intrigue on the high seas, and it works tremendously well. Of course, we have Kermit, Miss Piggy, Fozzie Bear, Gonzo, and Rizzo in starring roles, and we have found parts for all of the others." Of Captain Smollett, Kermit said, "I try to play him the way Robert Louis Stevenson wrote him in his book, only I haven't found any mention that Smollett was a frog—so that's the one liberty I took with my portrayal." As for her appearance as Benjamina, Miss Piggy stated, "The role has everything that moi's fans, moi's agent, and moi's lawyers demand. Lots and lots of moi! Eat your heart out, Streep!" Other members of the Muppet troupe include Sam the Eagle as overly strict first mate Mr. Arrow, Dr. Bunsen Honeydew as Dr. Livesey, the Swedish Chef as the boar tribe's cook (he even has a false boar's nose)—and Statler and Waldorf as the ship's masthead.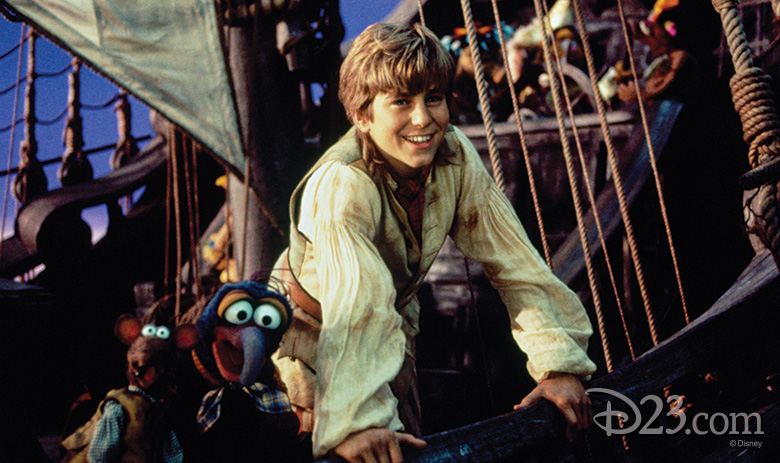 Gonzo and Rizzo Were Set to be the Stars (But That's Showbiz)
After their popular turn as the narrators of The Muppet Christmas Carol, the Great Gonzo and Rizzo the Rat were at first pegged as the heroes of this piratical tale, a duo to be called "Jim and Hawkins." However, the Muppet movie maestros soon realized that any retelling of Treasure Island needed to center on a young boy experiencing the adventure of a lifetime—and whatever Rizzo and (especially) Gonzo are, they aren't growing boys. So the odd couple of Muppetdom became the silly but loyal sidekicks of Jim Hawkins, named, oddly enough, Gonzo and Rizzo. As for Jim himself, young Kevin Bishop— the very first boy auditioned out of about 100 hopefuls—was cast as the young hero. "It has been a lot of fun, it really, really has," Kevin said of acting alongside the Muppets. "There is absolutely no limit to the amount of fun you can have on a Muppet set! Since I first started shooting, every day has been, more or less, an event. It's been action-packed and everyone has been so supportive, not just at the beginning but all the way through." Jim even has his own song, "Something Better," recorded by Kevin Bishop before his voice started to change (and heard in a higher register than his dialog).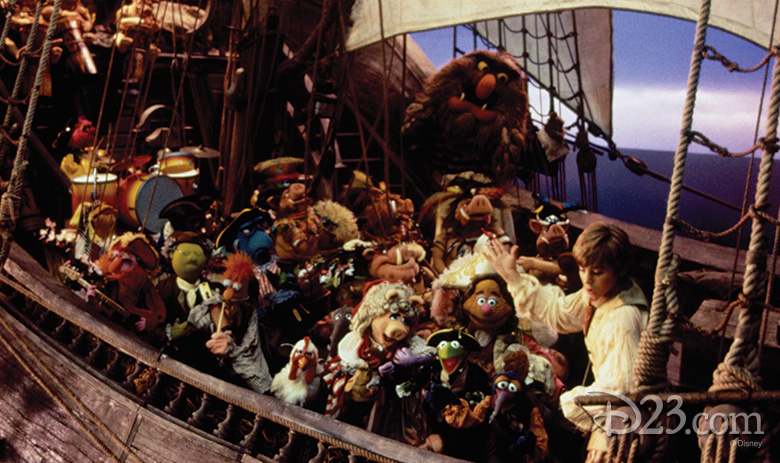 A Cast of Thousands (well, Hundreds)
More than 400 Muppets, alongside more humans than had ever before appeared in a Muppet movie, pop up in this pirate yarn, including a whole crew of newly created characters. "I would say that the three pirates—Polly the Lobster [the Muppet version of Long John Silver's parrot], Clueless Morgan, and Mad Monty—steal the show," noted Brian Henson. "Clueless was a real surprise. He was originally a small part but ended up one of the best characters in the movie." For the two big musical numbers, "Sailing For Adventure" and "Cabin Fever," 25 extra puppeteers were signed on to help operate over forty Muppets.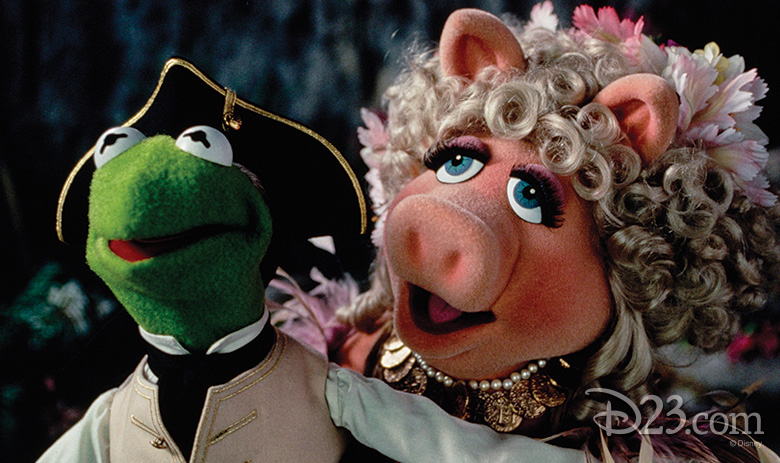 Setting Sail with Muppet Songs
With "Love Led Us Here," a love ballad being sung by Kermit and Miss Piggy as they hang upside down over a cliff, it's pretty clear Muppet Treasure Island is not your everyday musical. Barry Mann and Cynthia Weil were Brian Henson's first choice to provide the songs. "We didn't know how they would work in terms of the Muppets," said producer Martin Baker, "but after a couple of meetings it started to click and it has just been a dream. They have written some wonderful songs and they also brought in [Academy Award®-winning scorer of The Lion King, 1994] Hans Zimmer to write the score." "Cabin Fever" was composed simply to have a completely ridiculous, over-the-top musical number in the middle of the movie. "Professional Pirate" was penned before the songwriters knew who would be Long John Silver. "Brian had some very definite ideas about what the song needed to accomplish and reveal dramatically in the relationship of Long John and Jim and that called for a certain kind of lyric," Baker adds. "Barry and I really worked together on this one and when we finished, I just hoped that Brian would cast someone who could handle it. We were overjoyed when Tim was cast. It was a dream come true to have a real singer dig into the material. Tim is incredibly talented, professional, and the answer to a songwriter's dream!"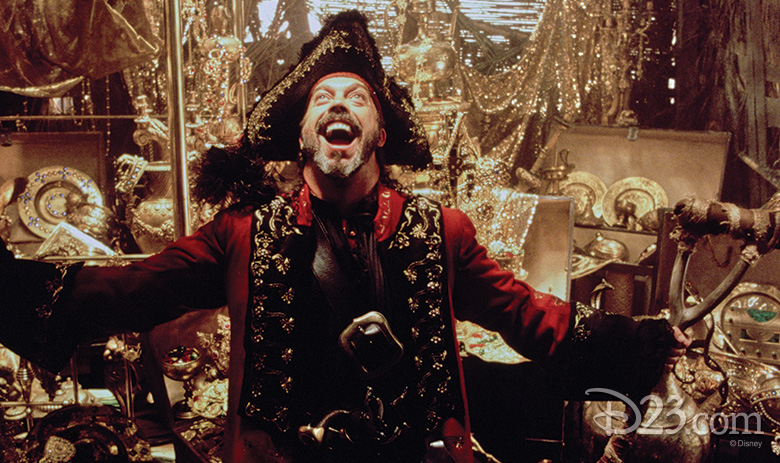 Tim Curry Matched Muppet Madness with One Leg Tied Behind His Back
In portraying Long John Silver, the colorful Treasure Island pirate he had always wanted to play, Tim Curry essayed the key role of Long John Silver as a human very much outnumbered by Muppets. "Forget the usual adage, Muppets can upstage you much easier than animals or children!" he once said. The versatile performer, who used the voice of his own seafaring grandfather to vocally characterize the role of the one-legged pirate, described Kermit, Miss Piggy, and the rest as "legends. They trail all this charisma behind them and you feel you know them as friends. My big problem was that I was so fascinated by what they were doing, that I often forgot to concentrate on what I was meant to be doing myself!" The actor was at first fitted for a wooden leg, but found it too uncomfortable and decided instead to have his leg, when visible, strapped up. (In some shots the leg was removed via green-screen special effects.) "Michael Caine said that the great thing about doing the Muppets is that you can wear your own shoes," Tim once revealed. "They tend to be shot shoulder height and your feet rarely appear on screen. That made hopping around on one leg a lot easier. Actually, by the end of the film, I quite liked being a uniped."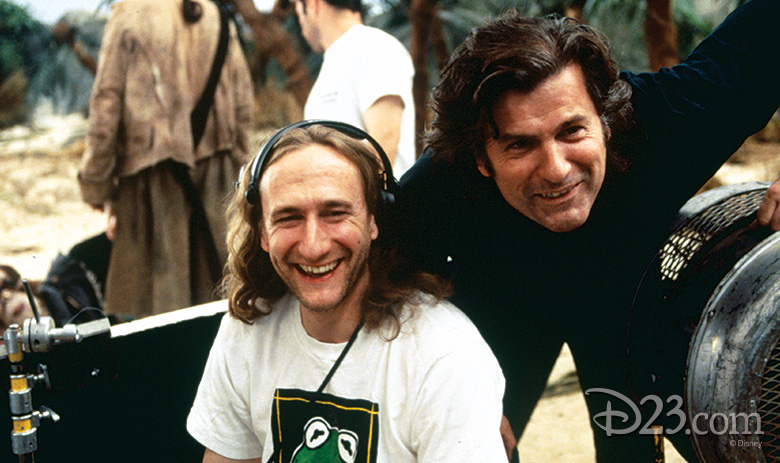 The Treasure's in the Details
The elaborate Muppety adventure was shot on seven stages at England's legendary Shepperton Studio. The extravagant sets included a complete seaport; an inn, with interiors and exteriors; a 40-foot beach with palm trees and 200,000 gallons of surf; portions of the island with mountains and jungle; and detailed sets of boat interiors. Veteran designer Polly Smith, who had created uncountable costumes for The Muppet Show, created the period wardrobe for Kermit and the other Muppet stars. "I knew from the script what each character was playing and from the research I picked out little elements. I have to think about their body types, what they can handle, and also what I need to hide. Usually it is a lot, because they have very peculiar shaped bodies." Polly started from scratch on every costume. "When I was thinking about Miss Piggy's outfits, I had already designed what the boars would look like," she once said. "I took a couple of trips to this fabulous feather place in New York and decided Piggy's skirt should be feathers. I don't think they are quite ostrich, more like vulture! They just looked really wonderful and I was reminded of a skirt I had seen in the American Indian Museum. Each one of those feathers had to be dyed individually and they are two-tone dipped. Her leopard skin sarong fabric was also painted and her shoes handmade." As for Kermit's costumes, there were three versions of his Captain's uniform, and each coat was hand embroidered. But as Polly pointed out, a Muppet design project is like no other, because the Muppets "are whacky guys, so there's always some weird element."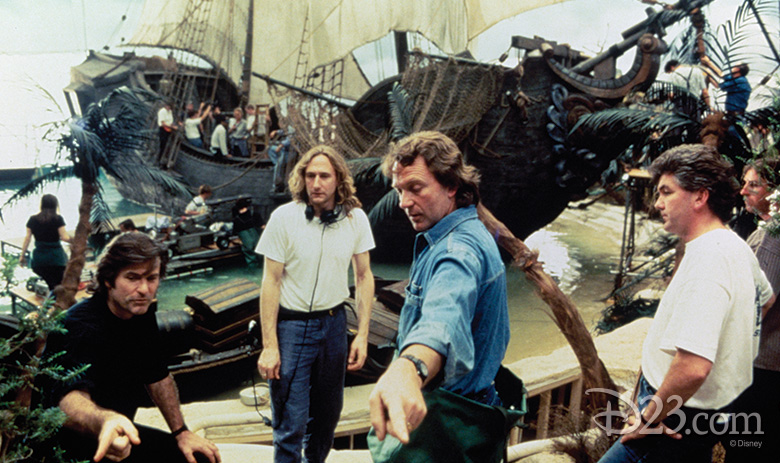 A Seaworthy Stage for Muppet-Style Piratical Pyrotechnics
Principal photography began on Muppet Treasure Island on April 3, 1995, and Muppet mayhem ruled the cinematic seas for 14 weeks on 13 major sets. Shooting started on Bristol Docks, one of the vast sets designed by Val Strazovec. It covered a complete stage, with the port dominated by the majestic ship, the Hispaniola. "I originally thought that the boat and the port should be on separate stages," Val once explained, "but I realized that it would be nicer to have the ship right there on the port. This meant, with only a relatively small area to work with, that I had to force the perspective tremendously. It became very technical working out how much I could force the perspective without making it look obvious." Actors, Muppet performers, live animals, and crew vied for space on the docks that had 80,000 gallons of water on one side and houses diminishing in size on the other. The 18-ton galleon, constructed of fiberglass and wood, was set on a computer-driven gimbal, the first of its kind. "The whole of the boat was pivoted on one center point with huge hydraulic cylinders that were capable of pushing 50 tons either side," explained special effects supervisor Nick Allder. "We could select any basic speed, which would be repeated until changed." Unfortunately for the cast and crew, the movement was too realistic. "Quite a few got seasick when we were shooting in the galley," Allder once said. "Then we found that the seasick pills put them to sleep!" The floor of the boat was taken out most of the time to allow the Muppet performers to operate.