Years before Disneyland opened, Walt Disney and his staff considered building an amusement enterprise right across the street from their Burbank studio.
Long-time Disney fans will likely know the story about how, in 1951, Walt Disney approached artist Harper Goff to create some illustrations for a potential amusement enterprise (what we know today as a "theme park.") While Walt's notion eventually blossomed into the reality of Disneyland, this early concept was actually designed to be built on a parcel of land across the street from the Disney Studio. The lot, facing Burbank's Riverside Drive, is now home to the Walt Disney Animation Studios and the West Coast headquarters of ABC.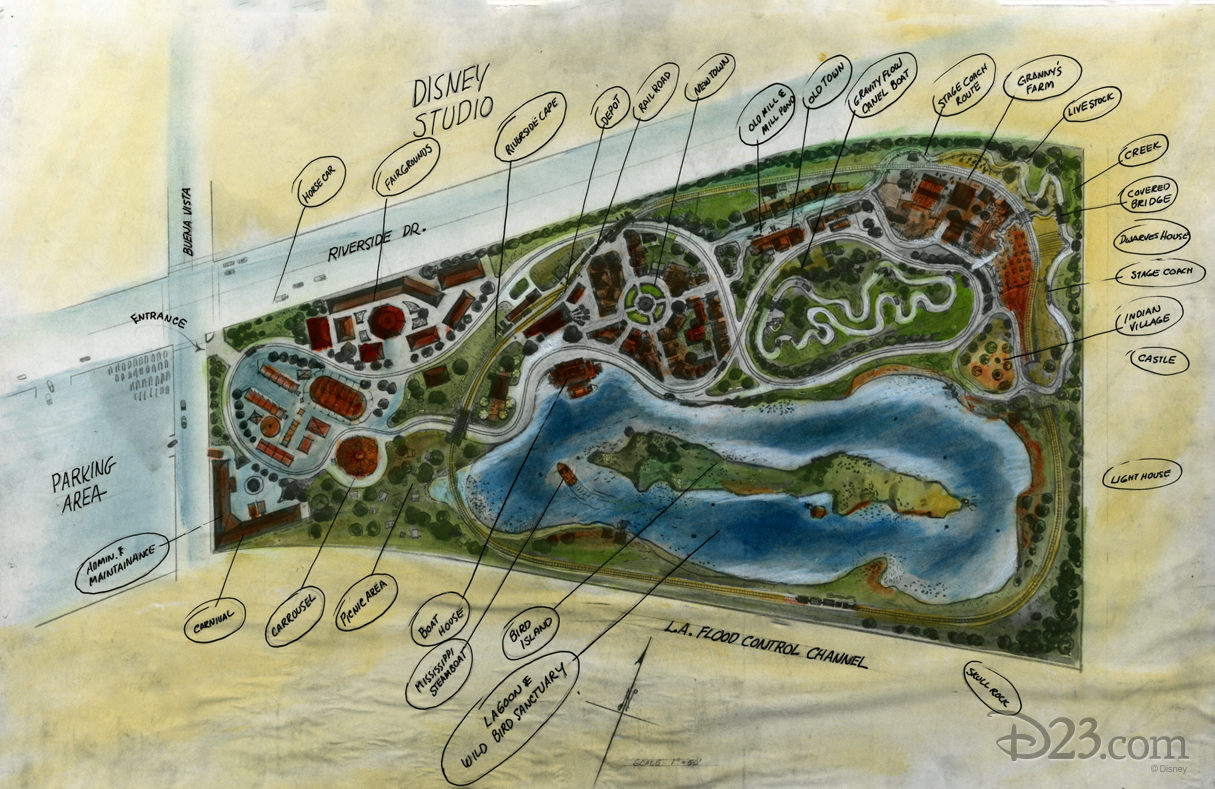 This selection of artwork, along with the related piece above, was sourced by the staff of the Walt Disney Archives among other assorted Disneyland historical materials, under a cardboard divider labeled "Proposed Disneyland in Burbank Drawings." Though not the original pieces of artwork, these small, hand-colored reproductions reveal details that help us understand how these early visions eventually became the Disneyland we know and love today.

One original idea for the park, as seen here, features a railroad (of course!) as well as a Mississippi Steamboat. Many highlights—a stagecoach, an Indian village, a castle, and Skull Rock—would make their way to Disneyland. Others, like Granny's Farm, would not.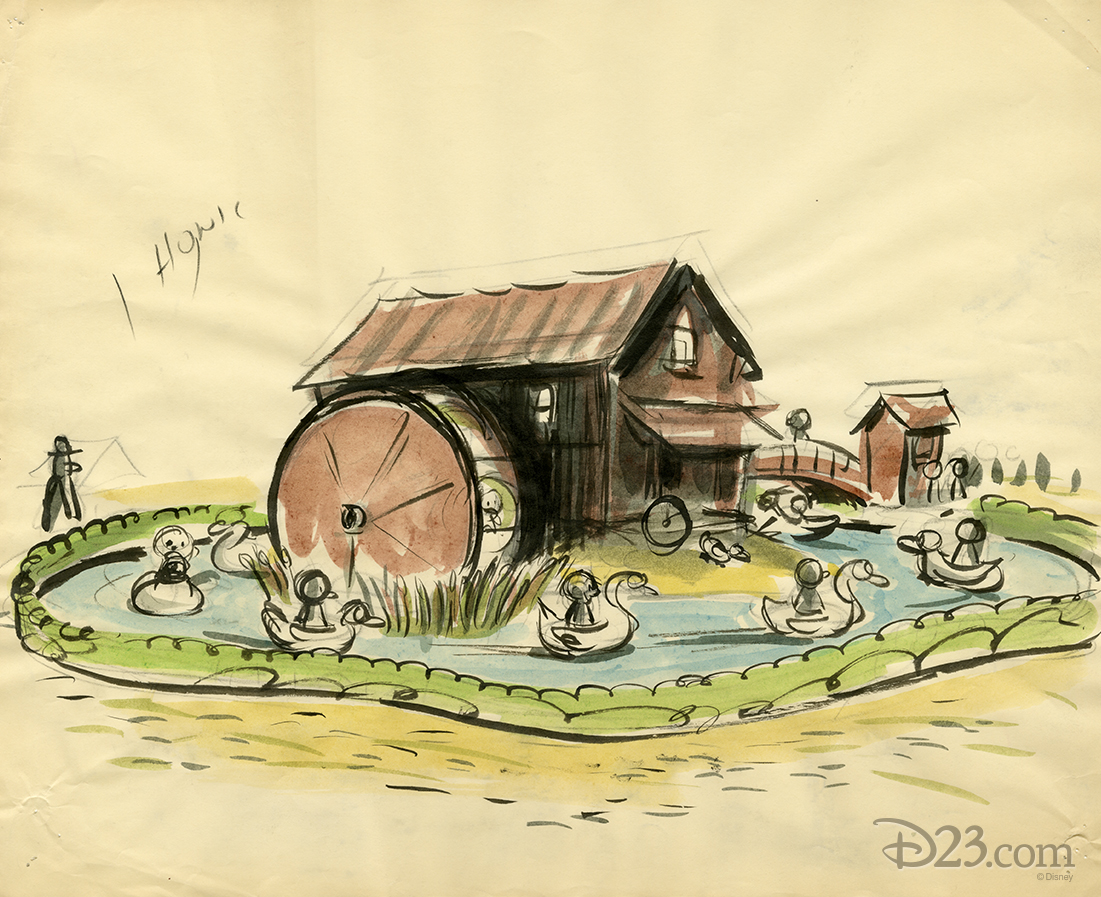 These sketches show concepts for a duck boat attraction, an experience that could have provided a relaxing excursion on the Old Mill Pond, which can be seen on the large map. The idea of a Ferris Wheel, likely based on 1937's The Old Mill, would be revived decades later for Disneyland Paris.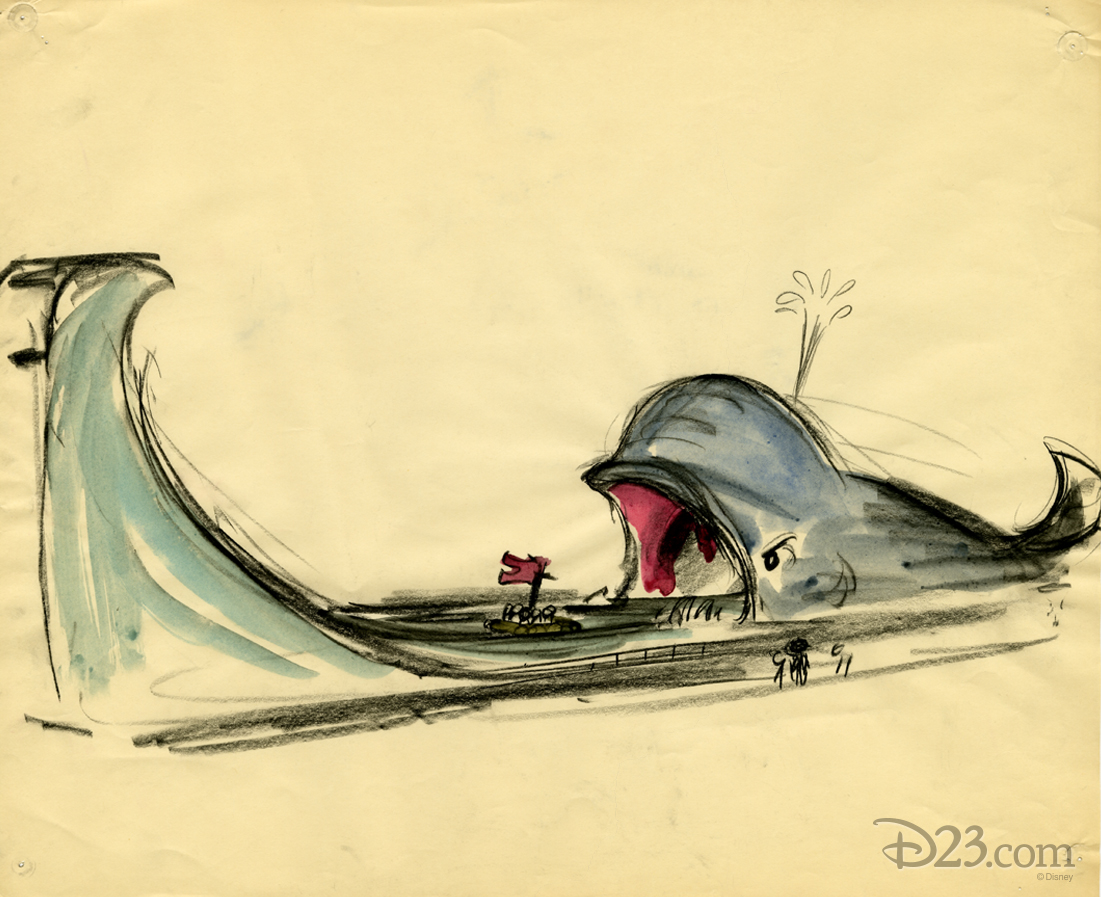 This final sketch shows an exciting ride based on Pinocchio's daring journey and fright-filled experience careening into the gaping jaws of the whale, Monstro. Where the 1951 park plan features a canal boat ride, eventually Monstro would appear in Disneyland's very own Storybook Land Canal Boats. These early attraction designs may convince you that the future is truly in the past.