By Greg Ehrbar
Aglow with idyllic charm suggesting the "Shipoopi" bandstand in The Music Man, Carnation Plaza Gardens brought a variety of joyous entertainment to Disneyland park beginning in 1956.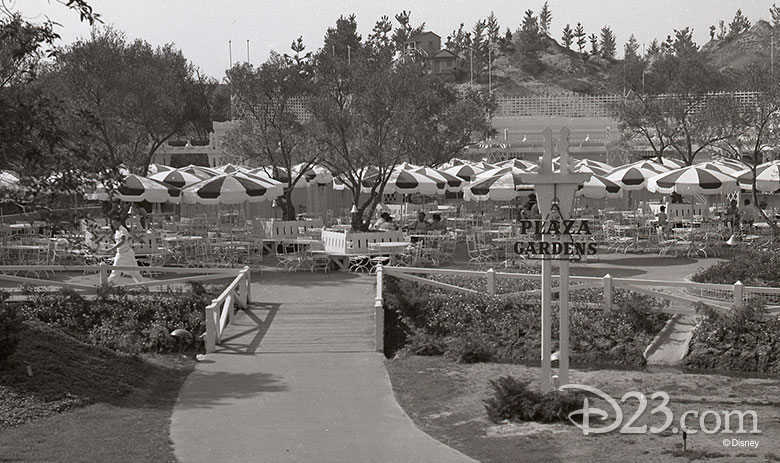 We asked Tim O'Day about the beloved location, since he was a Stage Manager there as a young Cast Member, as well as a PR executive for the Resort. (And don't look ahead, but there's a celebrity guest in this article too. You looked, didn't you? I probably would have, too.)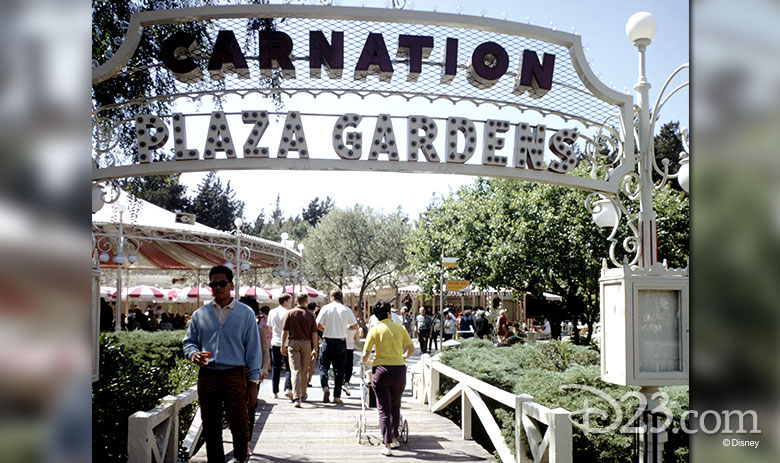 "Carnation Plaza Gardens was the site for a great many shows and events," O'Day recalls. "There were Disney Character greetings and shows—including one called 'Fantasy Follies' that ran for years. Its biggest claim to fame was that it was one of the places that kept the big band era alive."
Here are a few factoids O'Day shared with D23: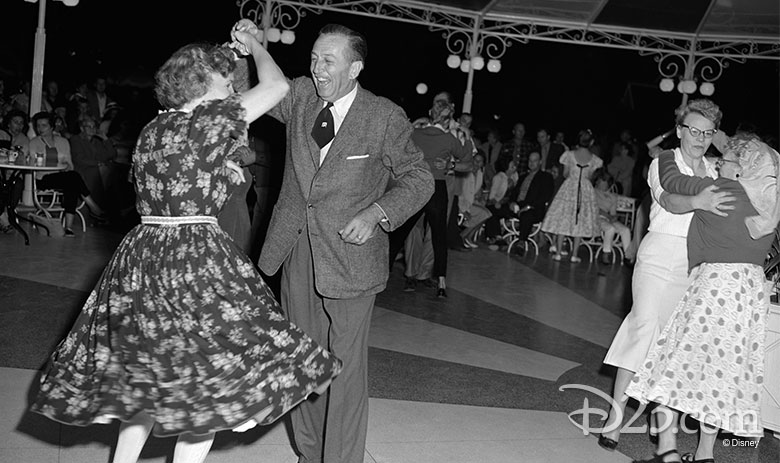 · On one occasion, Walt presented each bandleader with an inscribed miniature piano as a special thanks for his or her Disneyland performance.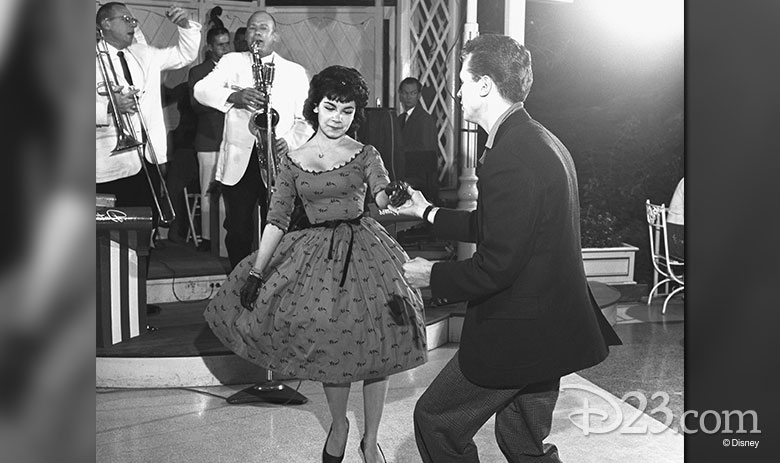 · The plaza was a location in the April 15, 1962 episode of Walt Disney's Wonderful World of Color, Disneyland After Dark. Hosted by Walt, it starred Annette Funicello (pictured above), Louis Armstrong, Bobby Rydell, The Osmond Brothers, the Dapper Dans and the Elliott Brothers Orchestra. The episode was also released as a theatrical featurette.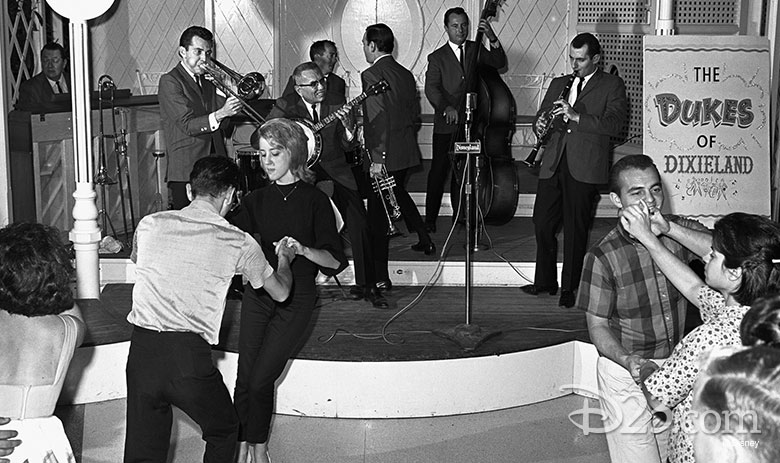 · A TV dance show originating from Plaza Gardens was broadcast locally on Los Angeles station KHJ Channel 9, which is now KCAL.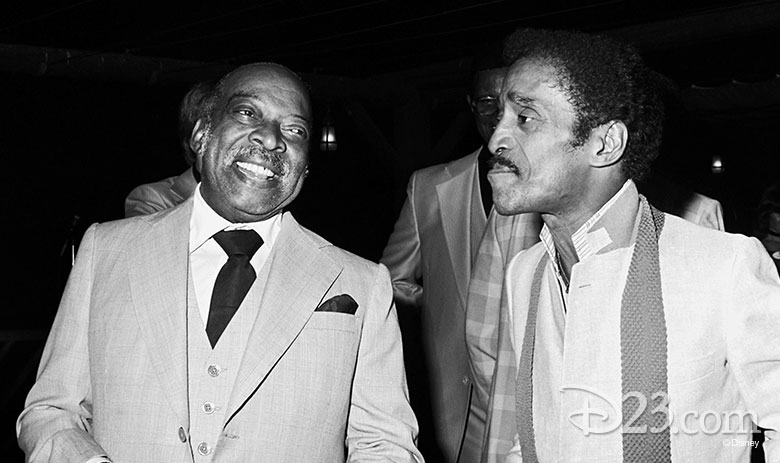 · One year, on Count Basie's (pictured above left) birthday, Sammy Davis (pictured above right), Jr. and Ella Fitzgerald visited for a surprise visit with cake at Plaza Inn.
· Before Plaza Gardens was built, there was a gazebo on the site where the first incarnation of the Candlelight ceremony took place in 1958 (known then as the Christmas Bowl).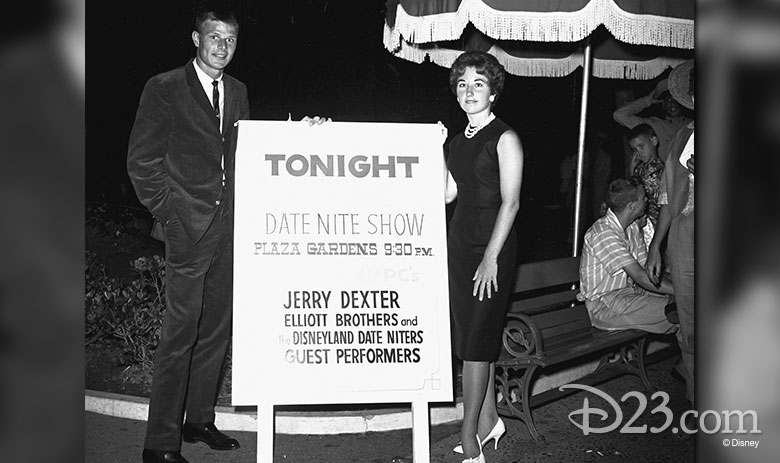 · In June of 1958, Disneyland Records released an album of music from the Plaza called "Date Nite at Disneyland," with the Elliott Brothers Orchestra, a favorite among patrons of the Plaza in the 1960s. The title track, "Let's Dance at Disneyland," was used for commercials and a 1962 Grad Nite 45-RPM record. .
· In the Winter of 1983, it was a setting in a TV special celebrating New Fantasyland called Believe You Can… and You Can!, starring Morey Amsterdam (The Dick Van Dyke Show) and Heather O'Rourke (Poltergeist). Morey played a leprechaun named "Jiffy."
· On May 5, 2005, during the Disneyland 50th Anniversary celebration, film composer Alan Silvestri (Who Framed Roger Rabbit), who had composed a special suite for the occasion, conducted a live orchestra at Plaza Gardens to underscore events at Sleeping Beauty Castle featuring Julie Andrews, Christina Aguilera, and LeAnn Rimes.
Plaza Gardens also holds a special place in the heart of four-time Emmy® winner Peter Marshall (Hollywood Squares), who hosted the 1984 Disney Channel series Big Bands at Disneyland.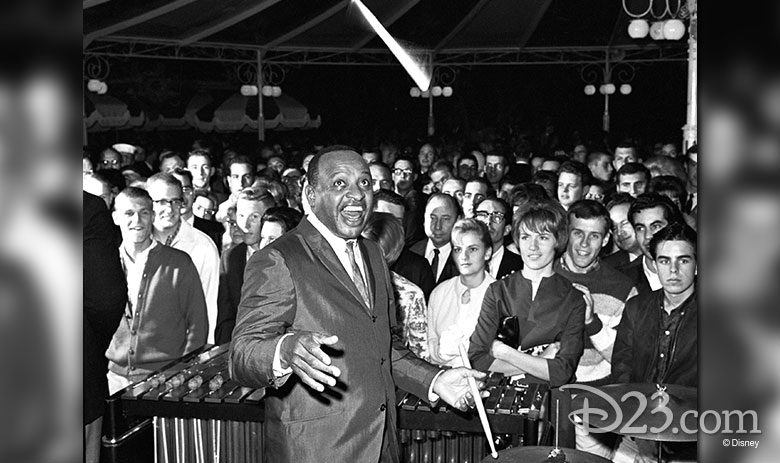 "I was more than thrilled to do the show," Marshall told us. "Basically, I would introduce the performers and then do an interview. It was fun because most of them were already good friends. We had Woody Herman, Buddy Rich, Lionel Hampton (pictured above), Artie Shaw, Les Brown, Bob Crosby and the Bobcats, Bob Eberle, and Helen O'Connell, all the greats. They were all terrific."
A few more fun facts: Marshall's sister, actress Joanne Dru, was married to C.V. Wood, a key figure in the early days of Disneyland Park! He describes himself as a "boy singer" and still appears in concert, on CDs, and daily on the long-running radio show The Music of Your Life. Last March, hundreds of fans and friends (including Hollywood Squares co-star Rose Marie) celebrated his 90th birthday with an event held at The Paley Center for Media in Beverly Hills, California.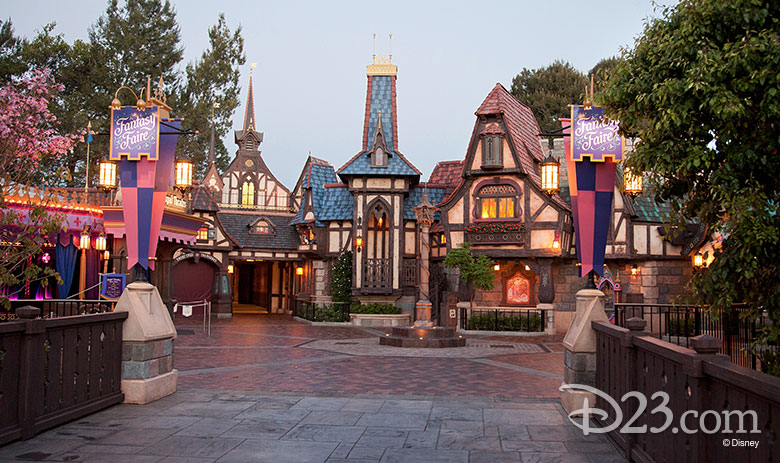 And the beat goes on… on select nights, members of big-band royalty still entertain for your listening and dancing pleasure in Fantasy Faire's Royal Theatre which stands on the site of Carnation Plaza Gardens.
Swing on over to the Disney Parks Blog for more archival images of Carnation Plaza Gardens.