By Courtney Potter
What combines the best of a Disney Park attraction, and the beat-the-heat advantages of a resort pool? Why, a Disney-designed water slide, of course! Perfect for every member of your family, Disney water slides offer thrills, chills, and spills that you won't find anywhere else in the world. These unique attractions are the best way to cool off after a long day at the park, while still having a lot of fun.
The summer season may be winding down (with the first day of school just around the corner), but there's still time for a Disney diversion or two. D23 has combed through Disney Parks and Resorts worldwide to highlight some of our very favorite water slides… Did your fave make the list? Plan on visiting one (or two) before summer vacation is over? Let us know on Facebook and Twitter.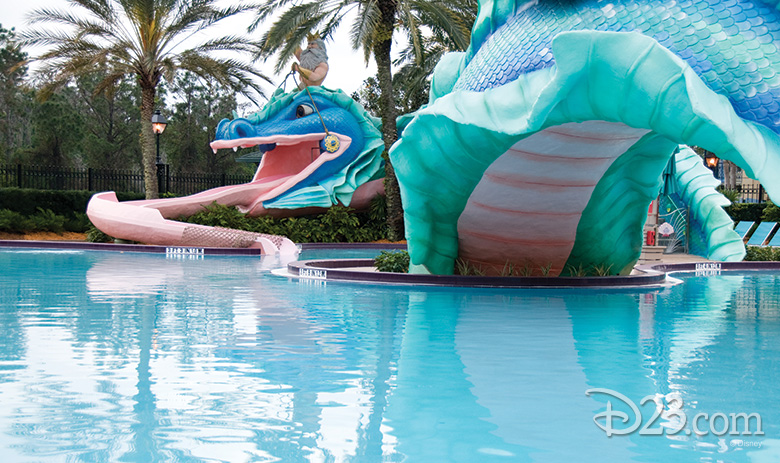 Doubloon Lagoon's "Scales" Slide at Port Orleans Resort—French Quarter
Meet Scales, the 51-foot-long, blue sea serpent that lives at the Port Orleans Resort. Don't worry, he's very friendly; once you take a ride on this snaking water slide, Scales' "tongue" deposits you safely into the Doubloon Lagoon pool lagoon with a mighty spray. And here's a fun fact: Scales' name was partially inspired by the song "Scales and Arpeggios" from the 1970 Disney film The Aristocats.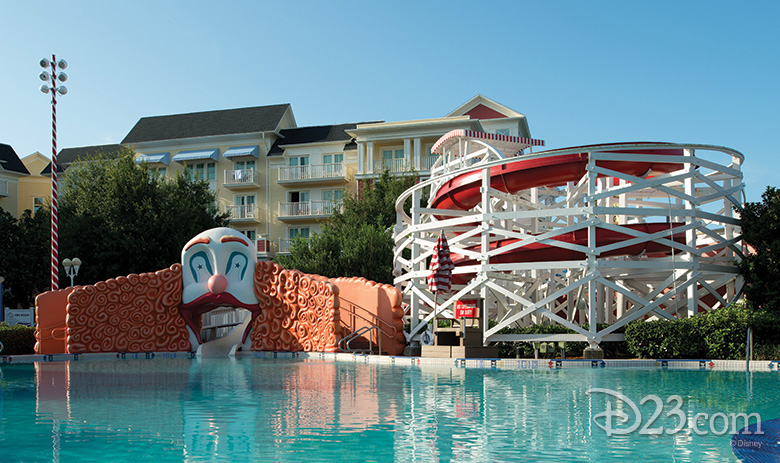 Luna Park Pool Slide at Disney's BoardWalk Inn
Stepping into Disney's BoardWalk Inn, you're transported to Atlantic City of the 1920s… and that goes for the resort's Luna Park pool area too, which is themed after a whimsical, old-timey carnival. A fantastic 200-foot-long water slide ends in a 184,217-gallon basin. (If you're hungry after your slide sojourn, check out the nearby lounge and bar.)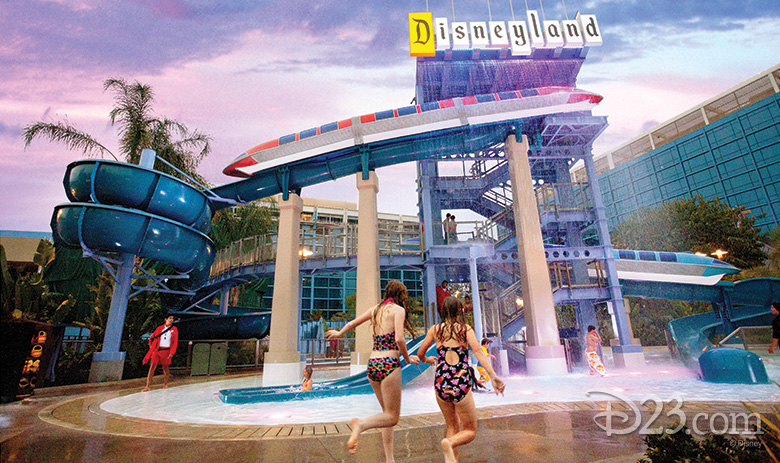 Monorail Slides at Disneyland Hotel
There are two Monorail-themed slides at the Disneyland Hotel: the 180-foot-long slide, and 80-foot-long slide. Both are replicas of the original Mark 1 Monorail trains that opened on June 14, 1959. We can't ever choose between the two, so we ride both… multiple times… until we're ready for a drink over at Trader Sam's.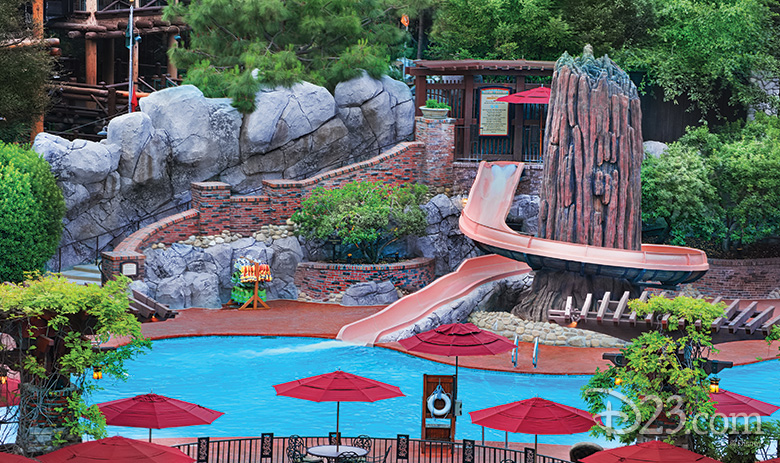 Redwood Pool Slide at Disney's Grand Californian Hotel
The Redwood Pool area at Disney's Grand Californian is just about as majestic as the stately California tree it's named after. The pool includes a 90-foot-long waterslide that curves around the giant Redwood "stump"; you'll fly down this wild slide—bordered by beautiful pine trees and craggy boulders—before splashing down into the pool at the bottom.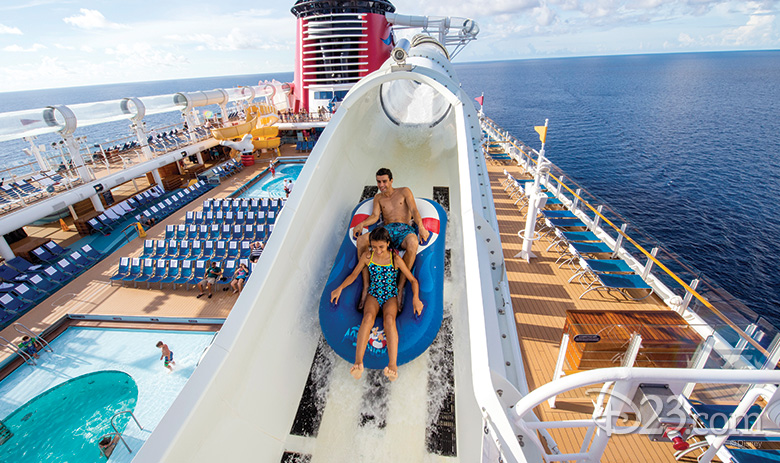 AquaDuck on Disney Dream & Disney Fantasy (Disney Cruise Line)
Developed by Walt Disney Imagineers, this amazing, totally unprecedented water slide is found only on Disney Cruise Line (specifically, on the Disney Dream and Disney Fantasy ships). The AquaDuck takes riders on a crazy, waterlogged journey up, down, around, and even off the side of the ship through 765 feet of snaking tubes. Transparent, uncovered sections of the slide allow for breathtaking views of the ship—and ocean—below. Ride if you dare!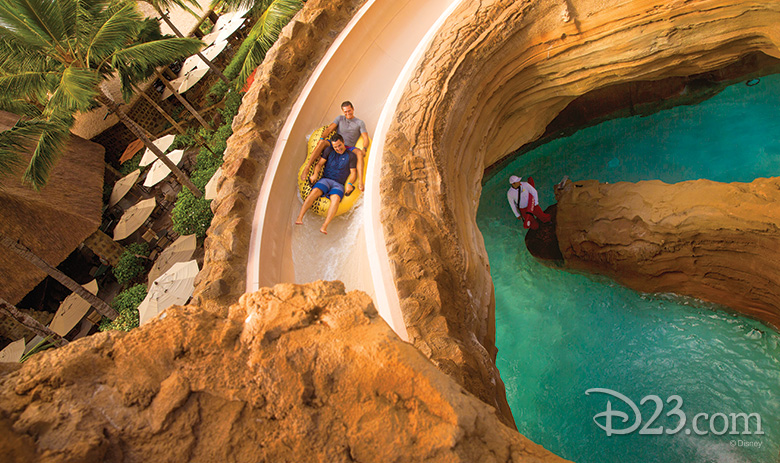 Tubestone Curl Slide at Aulani, A Disney Resort & Spa
The Tubestone Curl water slide is an open-air, twisty-turny tube adventure that eventually launches you into the beautiful Waikolohe Stream pool area (Waikolohe means "mischievous water" in Hawaiian, so the area is aptly named). Feel free to ride it solo, or with a partner; along the way, you can explore the Imagineering-designed Waikolohe Valley and discover all kinds of details inspired by natural Hawaiian beauty.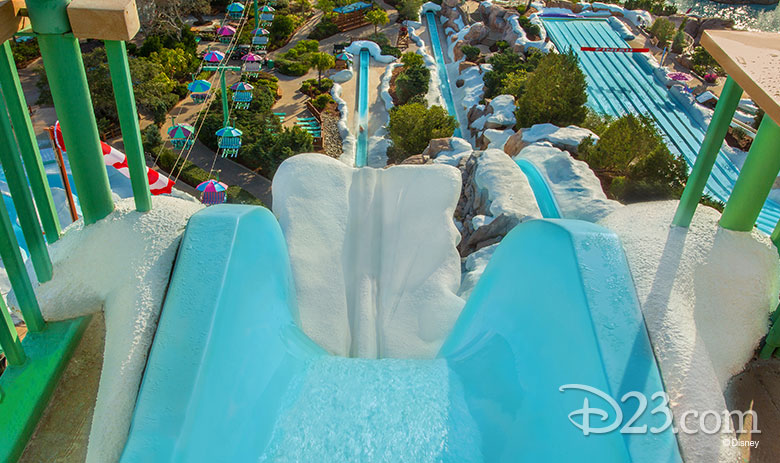 Summit Plummet at Disney's Blizzard Beach
A mind-boggling 120-foot sheer slope awaits you at Disney's Blizzard Beach's most extreme water attraction! Summit Plummet is a "ski-jump"-like slide that's so steep, you can't see where you're going… until you get there, of course! You'll plunge 12 stories down, then rocket through a darkened tunnel before emerging into a massive whitewater spray. Are you game?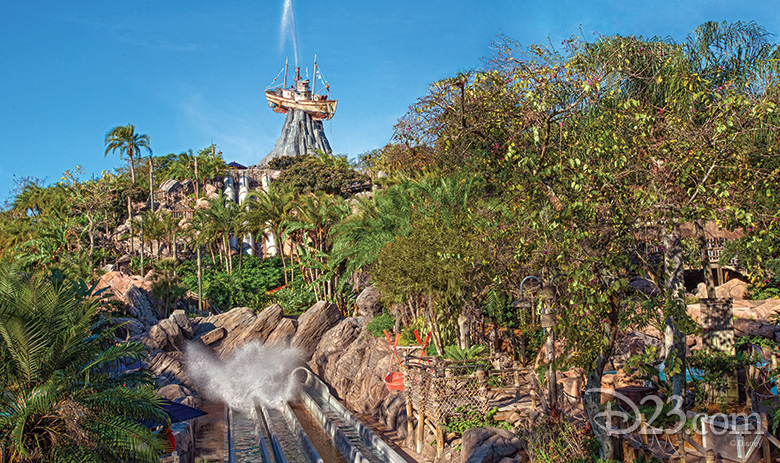 Humunga Kowabunga at Disney's Typhoon Lagoon
Not to be outdone, Disney's Typhoon Lagoon Water Park has its own outrageously thrilling water slide. Humunga Kowabunga sends you 214 feet downhill at a 60-degree angle! Three side-by-side enclosed body slides mean there are thrills and spills for (big) kids, teens, and adults alike. You'll zoom downhill in the dark, dropping five full stories before a mega-cool surprise ending. Never been? Don't worry, we won't spoil it for you…